Droid Charge case review: Mobi Products Skin Case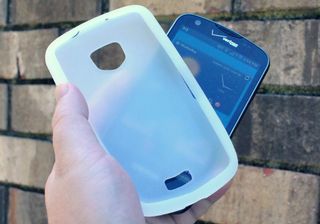 Here's the Mobi Products skin case for the Samsung Droid Charge, one of the first cases for the new 4G LTE phone on Verizon. And it's a simple case, providing basic protection.
What you've got is a simple but durable skin that wraps around your phone. Or you slide the phone inside it. Your call. Regardless of how you get it in there, the case protects the shell of your phone from scratches or dings and helps improve your grip, which is good, seeing how the Droid Charge is a large device. It slips on and off fairly easily, but not so easy that it should come off without warning.
The skin case also sports an anti-dust coating, which is good for these rubberized types of skins. It has cutouts for the camera, microUSB port, lanyard holder, microphone and HDMI port. The volume rocker and power button are covered, but you can use them easily through the case.
The Mobi Products Skin Case, available in black, clear (seen here), purple or pink, is available for $9.99 from the Android Central Store. We've got more pics after the break.
Samsung Droid Charge | More Droid Charge Cases | All Droid Charge Accessories
Nice simple case, keeps it from getting scratched up, but as usual no one launches with a case to support the extended battery crowd. Like it or not people buy them and want the case to fit them. So how do you get a hold of Mobi Products?
Android Central Newsletter
Get the best of Android Central in in your inbox, every day!
Thank you for signing up to Android Central. You will receive a verification email shortly.
There was a problem. Please refresh the page and try again.