Best Android apps for learning a language in 2022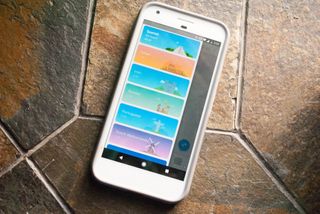 A new year means new resolutions, and for some folks, that means sitting down and deciding to learn a new language. After all, in a world that is becoming increasingly multicultural, being multilingual is a handy skill. If you've been trying to figure out if there's a good app that will let you learn while commuting or at home, then we've got good news for you.
We've collected the best language learning apps on Android for you right here!
Learn languages: Rosetta Stone
Why you can trust Android Central Our expert reviewers spend hours testing and comparing products and services so you can choose the best for you. Find out more about how we test.
Rosetta Stone is already well known as a great way to begin learning a new language, but you may not have realized that it was available on your phone. With access to 28 different languages, a slow and steady pace that is great for building up your confidence, and optional live tutoring, there is a reason that Rosetta Stone is king when it comes to language learning apps. Whether you're aiming to learn for fun, or you want to become fluent, this is a great place to start. This program will let you learn how to speak, write, and read in a new language, with an emphasis on building confidence in pronunciation and the ability to sync progress across your desktop and mobile devices.
When it comes to language apps, Rosetta Stone may already be the first software you think of. There's a good reason for that too. For years Rosetta Stone has dominated language learning on PC and its mobile version is just as solid. While getting access to the full program is a bit pricey, if you're motivated to really learn a new language it's worth the hit to your wallet in the long run.
Jill Duffy of PCMag gave it high marks for a foundation in a new language.
While Rosetta Stone does have it's limitations, for those without a background in the language they're trying to learn, this is the most solid all-around program. While it can be repetitive, that's to make sure that your new vocabulary sticks in your brain. At higher levels, you'll also be able to read to the program while it listens to your pronunciation. Additionally, it employs games like bingo to help your association between individual words and their meanings.
One of the biggest perks to Rosetta Stone is how they introduce everything. Immersion is the key to learning with Rosetta Stone, combined with deductive reasoning. At time you'll need to guess a new word, but it's made easier by giving you choices of other words that you've already learned.
Download: Rosetta Stone(Subscription required)
Duolingo
While price isn't an option for some people, if you're looking for the best way to begin learning a new language on a budget then Duolingo is definitely the best bet. This free app has access to over 20 different languages to learn from Vietnamese and Irish to Spanish and German. Unlike most other programs, Duolingo employs XP and leaderboards so that you can learn with your friends and turns language into a game to be played.
Each language is a little bit different, and the more popular languages do have access to far more module lessons. Each one starts out the same though. You'll deal with the basics before moving on to phrases and language-specific lessons. The leaderboards will show you which friends on Facebook use the app and will let you compete against each other. By completing modules you'll also earn EXP and Lingots which you can use to purchase extra modules. If you're learning with friends, you can also start clubs which allows you to turn learning a language into a group activity.
Duolingo makes learning a language fun, and with its social aspects, it's easy to learn a language with friends. Absolutely free, you never need to pay a penny in order to learn everything it has to offer. It even also allows people coming back to a language to test past the basics and jump right back into learning new content.
Babbel
If you're looking for a solid middle of the road option for learning a new language, then Babbel ought to be your go to. It offers a subscription for access to the full catalog, but it isn't nearly as expensive as picking up a copy of Rosetta Stone. Each language is made up of a variety of courses from beginning vocabulary to grammar and writing in the language you are learning.
Each lesson must be downloaded to your phone, but they only take a moment or two and then you can properly jump in. Those lessons are also fairly short, making them easy to rock through when you're sitting on the train during your commute. There are currently 14 languages in the Babbel arsenal, from Spanish to Brazilian Portuguese.
Babbel offers an affordable middle of the road option for learning a new language. There are 14 different languages available, with plenty of courses to get you working towards fluency in a new language. Each language must be downloaded as a different app, which can be a bit bulky if you download more than one at a time but this does make it easier to stick with a language once you get started.
Download: Babbel(Subscription required after free trial)
Questions?
Whether you're looking for a free option that will let you learn in your free time, or you're willing to go all in and pay for a subscription, you've got options when it comes to learning a new language. Unlike days past, you won't need to head into a classroom because everything that you need is right on your phone! Is your favorite language learning app on our list? Is there another app that we ought to add? Let us know in the comments below!
Updated January 2018: We've updated this post with new features for the best language learning apps on Android!
Get the Android Central Newsletter
Instant access to breaking news, the hottest reviews, great deals and helpful tips.
Jen is a staff writer who spends her time researching the products you didn't know you needed. She's also a fantasy novelist and has a serious Civ VI addiction. You can follow her on Twitter.