Best VPN services in 2023
Keep your devices secure and shore up your privacy with the best Windows VPNs.
A VPN (or Virtual Private Network) is a handy privacy tool that keeps your devices secure when you're online. VPNs encrypt your data and send it through secure servers, making it much more difficult to decipher. You'll also get a new IP address that'll make it look as though you're in the location of your choice. This comes in handy if you're trying to unblock geo-restricted sites, and the VPN's encryption prevents invasive third parties from keeping tabs on your browsing habits.
Our team at Android Central has spent several years testing and evaluating VPNs and other internet security solutions. We physically test dozens of VPN servers more than once each year and won't recommend one that we ourselves don't feel comfortable using.
Whether you need a VPN for torrenting, streaming TV shows while traveling, or just want to be more secure online, we've rounded up the best providers on the market today to help you find your perfect match. Our guide has helpful information on what to look for in a VPN, how we test VPNs, and answers to commonly asked questions. To get started, here are our top three VPN picks.
The best VPN services in 2023
Check out our shortlist of the best VPNs in the industry today. We'll dig into how each service compares to the competition, recent test results, and all the features we did (and didn't) like.
The best VPN overall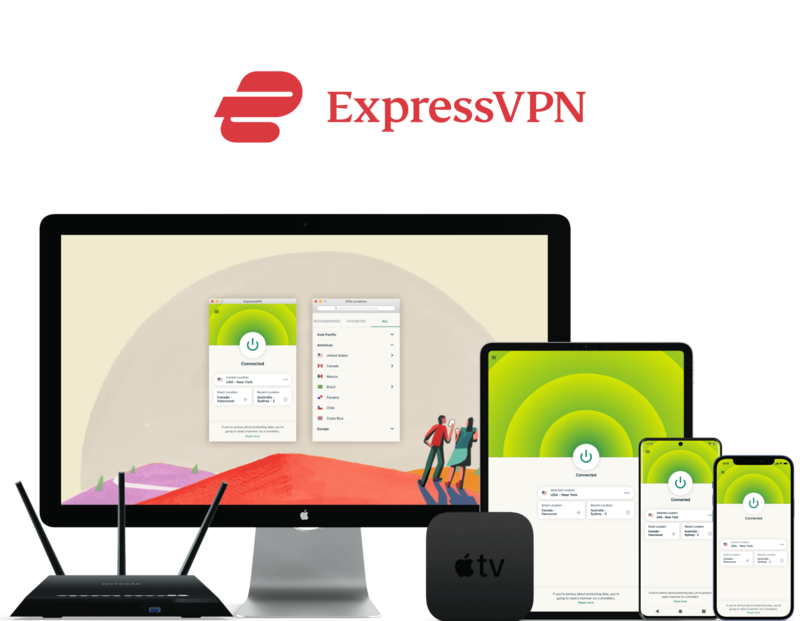 When it comes to being safe, ExpressVPN puts a lot into its apps to ensure your online history isn't traceable, your privacy isn't logged, and your online experience isn't interrupted by lag. We tested it on a lot of different devices and put it under a lot of pressure to make it leak data, even a little bit. But it held fast. What's more, we've been testing VPNs for many years, and ExpressVPN has always put on a great performance. In reality, we weren't expecting anything different this time around.
ExpressVPN uses the highest AES 256-bit encryption level available. This is on the same plane as militaries, governments, and even financial institutions. If by some chance your info is intercepted, it will be impossible to decode. ExpressVPN also takes your physical privacy seriously, too, so it doesn't keep any personal information on file.
▶ Try ExpressVPN with a 30-day money-back guarantee.
This VPN service allows third-party audits of some of its services. Though it isn't as deep, or as frequent as other VPN services, the fact ExpressVPN allows someone else to peek at its service gives us more confidence in its overall security.
ExpressVPN is designed to more than simply shield your identity as you casually browse online. It has tools and features to help you with other important tasks. For example, when you connect to an ExpressVPN server, your device is given a different IP address. This is handy if you travel outside of your home country and need to access important files or apps that may be restricted because you are now on foreign soil. Connecting to a server close to home gets you around these geo-restrictions.
You can use ExpressVPN to tap into tv streaming services when you travel. It isn't the best for Netflix. When we tested it we couldn't always unblock Netflix in either the US or the UK. We were never able to access Netflix Canada. All other regions were okay, and we didn't have issues watching shows on other streaming sites. These include Amazon, BBC iPlayer, Hulu, and Disney+. You can watch on more than one device, too, because ExpressVPN allows up to five simultaneous connections.
ExpressVPN checks most of the boxes when it comes to overall service. While it isn't perfect (no VPN is), it gets pretty close. However, it does charge a premium price for all its services. In fact, it's one of the most expensive VPN services we reviewed. Plus, it gets more costly as the years go by since it advertised prices are usually for the first year and for new users. Renewals jump up, sometimes, by 49%. You do get a 30-day money-back guarantee if you want to try it out and then change your mind.
Best VPN with antivirus
When it comes to security, NordVPN is on par with ExpressVPN. It has had to work to get there and hasn't been on top as long as Express has. But we're seeing a positive trend as NordVPN is more consistent in passing our rigorous security tests. NordVPN does add a few tools that Express doesn't have. Firstly, it sends your data through two servers. This double-encrypts the information to make it twice as hard to decode. This also assigned an IP address that is impossible to trace back to you or your device.
Another tool NordVPN adds to its service is an antivirus. This malware protection tool is limited to online threats, and even more specifically to blocking malicious websites known to harbor threats. These could be malware files or phishing schemes. Both are blocked by NordVPN. This isn't as effective as true antivirus software, but it is a definite start.
▶ Try NordVPN with a 30-day money-back guarantee.
NordVPN also includes ad blockers. Ad blockers strip websites you visit of advertisements. This helps the page look less cluttered but also cuts down on the risk of a dangerous ad that contains a malicious link.
For unblocking geo-restricted content, NordVPN is one of the best. In fact, it's the best for unblocking all Netflix in all regions. It also lets you watch shows on your Amazon Prime, Hulu, and Disney+ accounts when you're traveling away from home. You don't have to watch on a mobile device or a small laptop screen. NordVPN is compatible with game consoles and streaming devices like Roku, AppleTV, and Amazon Firestick.
We don't recommend using NordVPN's Chrome browser, though. This is a proxy rather than a true VPN client. This means your IP address will change, but it won't encrypt your info. This essentially allows the website you're on to potentially peel back the layers and see where you really are. It can be done if you use the Chrome browser in conjunction with the full NordVPN client. You'll need to be a little tech-savvy to get it to work since the apps already aren't the easiest for new users to figure out.
When signing up for NordVPN, you can opt to pay for just a single month of access or go with a one-year or two-year plan. The cost per month drops significantly as you commit to a longer period of time, with the best pricing being on the two-year plan.
Best cheap VPN
Surfshark is the fastest VPN on our list. It topped other VPNs with an impressive 960 Mbps. To put this in perspective, you need 14 Mbps to stream Netflix on a single device, and 45 Mbps to run a VPN without experiencing a slowdown to your internet connection. Surfshark's speed means you can have so many devices connected at the same time, which is good since you get unlimited connections with this VPN.
With this much speed, Surfshark can handle streaming tv services. We tested it out with several streaming sites, and it unblocked everything from Netflix in every region to Amazon and Disney+. It also lets you watch the BBC iPlayer from your UK accounts.
▶ Try Surfshark with a 30-day money-back guarantee.
These speeds are also good for torrenting, also known as P2P transfers. However, Surfshark hasn't put a lot of details into this service, so there are some hiccups getting it to work, and we saw some dips in speed when we tested it.
For international travel, or tapping into geo-restricted content, Surfshark has over travel 3,200 servers in 100 countries. It will be hard to find one in an area you need. There are VPN services with more servers. For example, Private Internet Access has over 20,000 servers worldwide.
Surfshark, like most VPN clients, encrypts your data using the highest level of encryption available. It also has a solid no-log policy. Both of these help keep you both secure and private while using its VPN service. However, when testing Surfshark's overall security, we did notice a glitch with the kill switch on Windows. Usually, the kill switch will turn on when the VPN is compromised. This shields your data from being seen while the VPN connection is reestablished, or your internet connection is severed. We noticed that sometimes the kill switch turned on without notifying us of any VPN issue. Other times it said it was on, but we still detected small leaks. These issues didn't happen all the time, but enough that we feel it important to report on it.
Overall, Surfshark is secure enough and easy to use. Plus, it's the cheapest VPN service on our list, especially if you choose its 2-year plan. You can try it out for 30 days with its money-back guarantee.
Best Linux VPN
Private Internet Access – or PIA as it is more commonly known – is a good choice if you use a Linux computer. While other VPNs are compatible with Linux machines, PIA uses a GUI, or graphical user interface rather than a command line user interface (CLI). Regardless of the device you use this VPN service on, it is highly configurable, which makes it difficult for beginners. If you're new to VPN, we recommend either Surfshark or CyberGhost. Both have easier apps for beginners.
One area PIA excels is in torrenting. It has dedicated servers just for this purpose and adds additional safeguards to ensure your privacy and a secure connection while downloading or sharing files. One tool includes is port forwards. This helps speed up your connections so file transfers happen quicker.
▶ Try Private Internet Access on unlimited devices
Overall speeds are just okay. They are good for general browsing, but compared to other VPN services we tested, Private Internet Access clocked below-average speeds. You can still watch tv streaming services, but it won't be as good compared to using a VPN with faster speeds.
You will be extremely secure while using this VPN. It has a no-nonsense, no-log privacy policy. This has been challenged in court, twice. Both times, PIA was able to prove that it doesn't in any way keep a history of your online activity, nor does it log personal information. In short, it doesn't have anything on you for companies, law enforcement, or others to trace browser history back to you, or even prove you use the service at all.
If you need a US VPN, PIS is one of the best. For starters, it has over 20,000 servers worldwide. Many of these are located in popular US cities, so you can tap into North American content even if you're overseas. This includes tv streaming services. We checked to see which services PIA is able to unblock. For US content, it did well. We could watch Netflix, Hulu, Amazon Prime, and Disney+. It struggled a bit with other Netflix regions, and popular channels located in the UK and Australia.
For technical support, you're directed first to the Private Internet Access online support library. There are some good articles there that can help, but not everything is clear or easy to find. You can reach out via live chat to an agent for more personalized assistance. We've found that wait times are about 1-2 minutes and answers are helpful and clear to follow.
Best Chromebook VPN