Best unlimited data plans 2023: Verizon, AT&T, and beyond
The best options for every type of data user.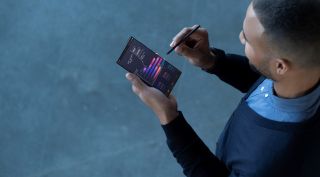 (Image credit: Samsung)
Whether you want to go with a "Big Three" carrier like Verizon or try out a smaller MVNO like Mint Mobile, if you're trying to select a new unlimited data plan, you've come to the right place. Below you'll find all of the best unlimited plans for every type of user and every budget under the sun.
There was once a time when you couldn't sign up for an unlimited plan without expecting to spend an arm and a leg, but those days are over. Wireless carriers have made their unlimited plans more accessible than ever before, to the point where even the most affordable prepaid carriers give you the option to go unlimited. Of course, if cost isn't an issue, there are plenty of feature-packed plans that come with more data and perks than you could shake a stick at. The key is finding the right balance in a plan that works for you. So without further ado, let's move onto the best unlimited data plans for Android phones and beyond.
The possibilities are endless when you go Unlimited
Why you can trust Android Central Our expert reviewers spend hours testing and comparing products and services so you can choose the best for you. Find out more about how we test.
Visible Plus
Best overall
Reasons to buy
+
Verizon 5G coverage
+
Only $45 per month
+
Taxes and fees are included
+
Unlimited data with 50GB of premium
+
Great for international calls and texts
Reasons to avoid
-
Mobile hotspot speeds are capped
-
No discounts for additional lines
-
No retail presence
We were understandably a little concerned when Visible got rid of their popular Party Pay plan last August, but little did we know that the Verizon-owned carrier would soon add a data plan that would give the Big Three a run for their money. For just $45 per month, the Visible Plus plan offers premium features that you don't usually find with a prepaid carrier, such as 50GB of premium data and unthrottled access to C-band 5G provided by Verizon.
The Visible Plus plan also introduces some great international perks, such as unlimited calls and texts to Mexico and Canada, international calling to over 30 countries, and international texting to over 200 countries worldwide. You'll also get an unlimited mobile hotspot (speeds may slow after 50GB) and some premium spam protection.
Unlike traditional MVNO carriers that piggyback off larger wireless networks, Visible is a full-stack digital carrier that's wholly owned by Verizon. This means that you get nearly all of the benefits of a big carrier without paying the big carrier price. Plus, no hidden fees and you can cancel at any time. Visible also offers some great deals on a regular basis, so check those out before signing up.
Verizon 5G Play More
Best for big data users
Reasons to buy
+
Unlimited 5G Ultra Wideband
+
50GB premium network data
+
25GB of hotspot data
+
Tons of entertainment perks
Reasons to avoid
-
Expensive
-
Taxes and fees aren't included in price
It may not be Verizon's most feature-packed plan (that title belongs to the even-more expensive 5G Get More) but the Play More unlimited plan is an excellent choice if you want loads of great data and entertainment perks.
Starting at $80/month for a single line, the Play More plan will give you access to Verizon's enormous 5G network (including 5G Ultra Wideband), plus 50GB of premium network data and 25GB of premium mobile hotspot data before dropping to unlimited lower-speed data. You'll also get some nice entertainment perks, such as a free subscription to the Disney Bundle, a streaming package that comes with access to Disney Plus, Hulu, and ESPN Plus.
Unfortunately, the Play More plan is a little price-y, but you can save money by adding additional lines or taking advantage of the many Verizon deals that are out there. Just keep in mind that fees and taxes aren't included in the price.
Mint Mobile Unlimited
Best prepaid option
Reasons to buy
+
Access to T-Mobile's 5G network
+
Free calling to Mexico and Canada
+
Tons of compatible phones
+
5GB mobile hotspot
+
Easy setup
+
Affordable
Reasons to avoid
-
You have to pay for service in 3, 6, and 12-month increments
-
No multi-line discounts
If you're interested in taking the MVNO route, Mint Mobile is one of the best options. The carrier uses T-Mobile's network to provide great coverage at a lower cost, and with the Unlimited plan, you'll get to enjoy up to 35GB of 5G / 4G LTE data before speeds drop.
Mint is unique in that you have to buy your service in 3, 6, or 12-month chunks of time, with extra savings the more you buy. If you're uncertain, you can also try the carrier for a full week before committing, thanks to a convenient free trial system that runs right alongside your existing service with zero interruptions. New customers can pay $90 for the first three months of the Unlimited plan, which breaks down to just $30 per month. After that, three months will jump up to $40/month (or $120), so you might want to switch to buying 12 months at a time if you're trying to keep costs low.
With Mint Unlimited, you'll also enjoy free calls to Mexico and Canada, a free 5GB mobile hotspot, and all of the benefits of T-Mobile's nationwide 5G network.
Tello Data Unlimited
Best on a tight budget
Reasons to buy
+
Very affordable
+
T-Mobile coverage
+
Plans are customizable
+
Free calls to over 60 countries
Reasons to avoid
-
Not many perks
-
Speeds drop after 25GB
Shopping on a tight budget doesn't necessarily mean you have to forego an unlimited plan, thanks to carriers like Tello. For just $29 per month, you can get up to 25GB of 5G / 4G LTE data provided by T-Mobile before speeds start to drop, plus Wi-Fi calling, a 5GB mobile hotspot, and free calls to over 60 countries worldwide.
Tello is very much a no-frills carrier, so don't expect many fancy perks, but if you value simplicity and transparent business practices, they might be the right MVNO for you. It's also worth noting that Tello plans are extremely customizable. The ready-made plan described above costs $29 per month, but you can easily create your own plan to meet your needs and budget. Need less data one month? Simply adjust your plan using the Tello app and the changes will go into effect instantly. That means you can pay $29 to enjoy a month of Tello's unlimited plan then switch to their $10/month Economy plan and face no penalties.
AT&T Unlimited Premium
Best premium option
Reasons to buy
+
Unlimited high-speed data that isn't capped
+
50GB mobile hotspot data each month
+
4K UHD streaming
+
Unlimited talk, text, and data in Mexico, Canada, and 19 Latin American countries
Reasons to avoid
-
Expensive
-
Taxes and fees not included
If money isn't an object, go big with AT&T's Unlimited Premium plan and you won't be sorry. The luxurious plan comes with unlimited premium data on AT&T's growing 5G network, so you can stream, game, and browse the web to your heart's content without worrying about speeds ever dropping. You'll also get unlimited talk, text, and data in Mexico, Canada, and 19 Latin American countries, plus unlimited texting to over 200 countries worldwide.
Although AT&T dropped the free HBO Max subscription that used to come with select unlimited plans, you'll get access to 4K UHD streaming, alongside the carrier's ActiveArmor mobile security app and a whopping 50GB of mobile hotspot data.
Again, $85 per month isn't cheap, but you can always save a little cash by taking advantage of multi-line discounts, signing up for AutoPay, and opting for paperless billing. For example, you can sign up for three lines with the Unlimited Premium plan and pay $60 per month per line. Add five lines and you're looking at $45 per month per line. Military personnel, nurses, and teachers might also be eligible to receive additional discounts.
Google Fi Unlimited Plus
Best for international travelers
Reasons to buy
+
Excellent international coverage
+
Unlimited hotspot tethering
+
Bill protection
+
One free year of YouTube premium
Reasons to avoid
-
Limited phone options if you want to unlock all features
-
SD streaming
-
Taxes and fees aren't included
Google Fi is an MVNO that uses both T-Mobile and U.S. Cellular to provide consistently great coverage no matter where you are, including overseas. With the Unlimited Plus plan, you get free calls to over 50 countries worldwide, free data in over 200 countries, and unlimited free texts in any country where Google Fi coverage is available. Naturally, your speeds can vary depending on the country you're in, but it still beats the international coverage offered by most competing carriers.
There are additional benefits to the Unlimited Plus plan as well, such as unlimited hotspot tethering, 100GB of free cloud storage (provided by Google), and up to 50GB of data before speeds begin to slow. They'll even hook you up with a full year of YouTube Premium for free. Like all Google Fi plans, you'll also get a built-in VPN and solid spam blocking with your wireless service, and of course, you can cancel at any time.
One issue with Google Fi is that you'll only get full access to everything that they carrier has to offer if you pick up a "Designed for Fi" phone. These include most newer Samsung, Google Pixel, and Motorola phones since they're able to seamlessly switch between the wireless networks and Wi-Fi hotspots that Fi uses. The majority of unlocked devices will still work, the service just may not be as smooth.
So what's the best unlimited data plan for me?
As you can probably tell by reading through the listings above, there really is no single unlimited plan that's perfect for everyone. Instead, you need to think about your own individual needs when customizing your wireless service. Do you prioritize loads of premium data? Do you want flexibility? What about something affordable?
What kind of data user are you? Once you are able to answer that question, you'll find the pieces fall into place quite nicely. If you simply can't decide, we selected the Visible Plus plan as the best overall unlimited plan for most people, primarily because it has a sophisticated balance of great coverage provided by Verizon, a flexible, no hassle setup, and good old-fashioned bang for the buck.
Get the Android Central Newsletter
Instant access to breaking news, the hottest reviews, great deals and helpful tips.
After years of working as a freelancer, Patrick Farmer (he/him) began his career at Android Central as a deals and commerce writer before being brought into the fold as a staff writer in early 2023. When he's not sharing his thoughts on smartphones, wireless carriers, and streaming services, you'll often find him listening to music, camping out at a brewery, or treating his cat like a human child.