Amazon Alexa: Routines, compatible smart home tech, hidden tricks, and more
Features
Contributions from
last updated
Your all-in-one guide to all things Alexa.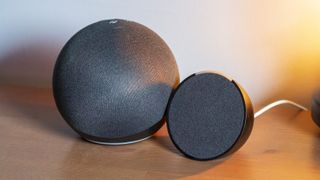 (Image credit: Andrew Myrick / Android Central)
Back in the ancient times of 2014, Amazon invited some lucky Prime members to buy a new product it had created called the "Amazon Echo." We weren't sure what to make of the unusual speaker when it debuted, but just a few short years later, it has served as the catalyst for one of the most popular virtual assistant platforms in the world.
Amazon Alexa was at the heart of the original Echo and continues to power all of Amazon's smart devices to this very day, while also serving as a smart assistant for phones and smartwatches.
Despite its popularity, many people only use Alexa and their Echo devices for simple questions and requests. You may not know everything that has changed or improved with Alexa over the past few years.
On that note, here's everything you need to know about Amazon Alexa!
Alexa vs. Echo
First things first, let's clear up the biggest point of confusion for a lot of people. Alexa and Echo are two different things.
Alexa is Amazon's virtual assistant that powers the company's first-party Echo speakers, plus third-party speakers from different companies. Similar to something like Apple's Siri or Google Assistant, Alexa can tell you about the local weather, check calendar appointments, control smart home devices, and so much more.
Smart speakers are the most common form factor you'll find Alexa on, but the virtual assistant has also made its way to smartphones and smartwatches. You'll also find it on Amazon devices like its Fire TV Sticks.
Amazon updates Alexa all the time to make it smarter than the day before, meaning that it's constantly changing and evolving.
On the other hand, Echo is the brand Amazon uses to market and sell its smart speakers, plus many of its Alexa-powered devices.
You're probably most familiar with Echo smart speakers, but Amazon actually sells a variety of devices under the Echo name:
The number, size, and form factor of the best Alexa devices exploded a few years back, but Amazon is now more focused on releasing new generations of Echo products. We're not sure if any new Echo form factors are on the way anytime soon, given Amazon's recent massive job cuts from the Devices & Services unit.
Which Echo is right for you?
There are a few great third-party Alexa speakers out there, but if you want the best possible experience, we recommend getting an official Amazon Echo device. While that does help to narrow things down a bit, there's still a lot you need to consider before throwing your money down for one.
Focusing on standard speakers first, your latest options are the Echo 4th Gen, Echo Dot with Clock 5th Gen, Echo Pop, or Echo Studio. Ranging from $40 to $200, these speakers give you a similar experience with Alexa, only differing in the quality of the built-in audio drivers.
Really, it depends on your budget and if you can spot a good deal on one. But if you want more specific guidance, our guide to the best Alexa speakers will set you on track.
Moving on to smart displays, you're choosing between the Echo Show 5, Echo Show 8, Echo Show 10, and Echo Show 15. Each number corresponds to the display's diagonal size, so the most obvious consideration is what size you want (or can fit) in your living room.
We generally consider the Echo Show 8 the best Echo Show display because it strikes the right balance between size and affordability. But each other option has its upsides.
The Echo Show 5 is the cheapest option, with the same AZ2 neural processor as the flagship Show 15 for fast Alexa commands; but the small speaker and low-res display definitely have their downsides.
The Echo Show 10 rotates to follow motion (without actually recording or uploading any private video, so don't worry), making sure you never lose track of the display wherever you are. It has the best camera and speakers of the Echo family.
Lastly, the jumbo-sized Echo Show 15 is the only display large enough to support permanent widgets like local weather or to-do lists, giving you more info without having to constantly ask Alexa for it. It even works with the Fire TV OS thanks to a recent update, allowing it to stream your favorite video apps.
For more head-to-head specs comparisons, see our Echo Show 5 vs. 8 and Echo Show 15 vs. 10 buying guides.
Skills supercharge the Alexa experience
Alexa can do a lot out of the box, but if you want to supercharge your experience, you'll want to check out Alexa Skills. Skills are essentially add-ons for Alexa that enable new functionality for specific things. For example, the iRobot skill allows Alexa to talk to Roomba vacuums, whereas the Relax My Dog skill plays special music that's designed to keep your good boy calm and less anxious.
It's easy to find, enable, and disable Alexa Skills at will through the Alexa app or on Amazon's website. There are a ton of great options, but some of our favorite Alexa skills include Animal Workout, Food Network Kitchen, and Cleaning Buddy.
Alexa Routines and Blueprints
Amazon has given its power users some impressive (and relatively easy to use) tools to harness Alexa's capabilities in the form of Routines and Alexa Blueprints.
Alexa Routines are a quick and easy way to use Alexa to automate various tasks in and around your smart home and your daily life. You can do things like creating triggers based on voice commands, sensors, or actions that instruct Alexa to adjust the lighting and temperature of your home or wake your kids up to a funny song.
You can create them directly from the Alexa app, and Amazon offers some excellent step-by-step guides, as well as many preselected actions and suggestions to get you started. We ourselves have a guide on how to set up routines on your Amazon Echo if you need help.
Alexa Blueprints are similar to Routines in that they allow you to design a program to get Alexa to perform a task or series of functions, but they can also be thought of as a way for anyone to create their own personalized Alexa Skill. As with Routines, Amazon has created many different templates that you can use to create your own Blueprint, or you can go rogue and design your own.
For example, my son and I created a Compliment Mom Bot last Mother's Day, so now, any time we ask one of our Echos to open Christie compliments, she's treated to a series of nice little quips that we wrote about her. Here's a step-by-step guide on how to create an Alexa Blueprint from your Amazon Echo to get you started.
Getting started with Alexa and Echo
Amazon does a reasonably good job at helping you get started with an Alexa speaker during the setup process, but there are some features here and there that can be tricky to find/enable if you don't know where to look. Thankfully, we've got you covered.
For starters, our guide on how to set up an Amazon Echo takes you through steps like setting up the Alexa app and adding compatible smart devices.
You may want to know how to change your Alexa's voice to a different gender or to a celebrity's voice — though Amazon is cutting back on celebrity options in 2023.
Whichever voice you choose, you may get annoyed by its constant wave of notifications. So you can check our guide on how to stop Alexa from spamming you with info if that becomes a problem.
If you're specifically setting up an Echo Show, the screen saver is Amazon's way of spamming you with ads. So instead, we'll explain how to add custom photo slideshows of family and friends to brighten up your living room.
Finally, we'll remind you that Alexa isn't just available on Echo devices. You can see how to add Alexa to a smartwatch to get useful information or trigger routines away from home.
New Alexa & Echo tips and tricks
We don't have a specific guide for every Alexa feature you need to know about, but we'll point out relatively new tricks that will make your Echo feature smarter.
First off, Amazon added a tool called Conversation Mode that lets you talk to Alexa without using a wake word, so long as your Echo Show detects someone looking at it through the camera. Say "Alexa, turn on/off Conversation Mode" to enable or disable the feature.
Since this mode is experimental and may record things not meant for it, check our guide on how to delete your recorded Alexa data if you're at all concerned.
Next, you can sync Amazon Music, Apple Music, Pandora, or Spotify to stream through your Echo via Alexa commands, rather than having to rely on Bluetooth. In the Alexa app, go to More > Settings, tap Music & Podcasts under Alexa Preferences, and select Link New Service.
In the U.S., Amazon partnered with 300 local news services so you can get the latest neighborhood info via Echo. "Alexa, play local news" or "Alexa, play news from [City Name]" will get you started.
Need to ask Alexa something, but worried you'll wake someone up or give away something about an incoming gift package? You can whisper a question to your Echo, and Alexa will automatically responded in hushed tones. More generally, you can tell Alexa to "speak faster" or "speak slower," whichever you prefer.
If you have multiple Alexa devices in your Amazon Household, you can use your Echo as an intercom and either "announce" something to other devices in your home or "drop in" on a different Alexa device to speak with someone. This is probably most useful for people with fairly large homes that don't want to shout across the house.
You probably know that you can ask Alexa to remind you of something, but you may not know that you can have it "create a follow-up reminder" so that it continues to pester you about something important until you mark it as complete in the Alexa app. That way, you don't just brush something important aside.
The Echo Show 15 puts widgets front and center, but you may not know that the Echo Show 8 and 10 now support them, too. Swipe right from the main display to make them visible.
You may also want to enable Gestures, which lets you do things like disable an alarm by raising your hand at the display instead of tapping the screen or ordering Alexa around. Go to Settings > Device Options > Gestures on your Echo Show to turn them on.
If you own an Echo device for kids, or just have kids in general, you may want to know some of the more lighthearted Alexa tricks. Say "Alexa, tell me a joke" and it'll pull from its library of "thousands" of jokes, according to Amazon. Or "Alexa, let's play a game" will pull up all of the on-device options like Heads Up or Jeopardy to choose for family fun.
For some parent-kid fun, you can say "Alexa, create a story" and watch as Alexa uses generative AI and cute graphics to make a "unique story with a narrative arc, colorful graphics, and complementary background music," guided by choices the kid makes on the screen. Or, around Christmas, you can ask "Where's Santa?" to see his current location.
For more tips, this guide on every new Alexa feature from 2022 is pretty darn comprehensive. And you can expect more cool features to pop up in future years.
Creating an Alexa-based smart home
Smart home devices like smart bulbs, smart locks, smart plugs, and smart thermostats can make life a lot easier, especially when paired with Alexa.
Most major smart home devices work with Alexa just fine, allowing you to control light bulbs or turn on the heat by only using your voice. There are a lot out there, so be sure to check out our roundups of the best Alexa devices to help you pick the right products for your smart home.
An all-around great speaker
Amazon once again improved the sound and design of its latest Amazon Echo and managed to price it competitively for the best overall experience.
Sign up for Black Friday email alerts!
Get the hottest deals available in your inbox plus news, reviews, opinion, analysis and more from the Android Central team.
Joe Maring was a Senior Editor for Android Central between 2017 and 2021. You can reach him on Twitter at @JoeMaring1.