Amazon Alexa: Everything you need to know about the heart of the Echo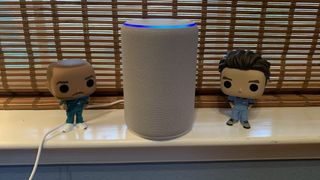 (Image credit: Jeramy Johnson / Android Central)
Back in the ancient times of 2014, Amazon invited some lucky Prime members to buy a new product it had created called the "Amazon Echo." We weren't sure what to make of the unusual speaker when it debuted, but just a few short years later, it has served as the catalyst for one of the most popular virtual assistant platforms in the world.
Amazon Alexa was at the heart of the original Echo and continues to power all of Amazon's smart devices to this very day. Need a refresher on everything going on with it? We don't blame you.
Here's everything you need to know!
The Goldilocks speaker
An all-a-round great speaker
Amazon once again improved the sound and design of its latest Amazon Echo and managed to price it competitively for the best overall experience.
Let's break down the difference between Alexa and Echo speakers
First things first, let's clear up the biggest point of confusion for a lot of people. Alexa and Echo are two different things. Here's a simple explanation of the two:
Alexa
Alexa is Amazon's virtual assistant that powers the company's first-party Echo speakers and other ones from different companies. Similar to something like Apple's Siri or the Google Assistant, Alexa can tell you about the local weather, check calendar appointments, control smart home devices, and so much more.
Smart speakers are the most common form factor you'll find Alexa on, but the AI has also made its way to smartphones, true wireless earbuds, smart glasses, and even some smartwatches like the Fitbit Versa 3.
Amazon updates Alexa all the time to make it smarter than the day before, meaning that it's constantly changing and evolving.
Echo
On the other hand, Echo is the brand Amazon uses to market and sell its smart speakers and many of its devices that are powered by Alexa.
The number, size, and form factor of the best Alexa devices has exploded over the past few years, from small smart plug style gadgets like the Echo Flex on up to room-filling audiophile speakers like the Echo Studio. The best Echo show speakers even come with screens and touch interfaces for an added dimension of usefulness.
The Echo Show 5, Echo Show 8, and Echo Show 10 are three of the most recent examples of this form factor.
Amazon's Echo speakers aren't the only ones you can buy that have Alexa, but they do offer the best overall experience. Alexa works mostly the same on Echo speakers as it does on third-party ones, but some things like Alexa Guard only work with Echo devices.
Which Echo is right for you?
There are plenty of third-party Alexa speakers out there, but if you want the best possible experience, we recommend getting an official Amazon Echo device. While that does help to narrow things down a bit, there's still a lot you need to consider before throwing your money down for one.
A lot of people might be inclined to go with the regular Echo (4th Gen), but if you want to save some cash, the Echo Dot (4th Gen) or Echo Dot with Clock (4th Gen) offer a virtually identical experience in a smaller form factor and for less money. If you need easy Alexa access in a tight space like a washroom, hallway, or garage, the Echo Flex puts an Echo device wherever there is an outlet. On the opposite end of the spectrum, the Echo Studio and Echo Show 10 raise the price, sound quality, and features and also include extras like a built-in Zigbee smart home hub.
If you're already getting a little overwhelmed, check out our guide to the best Alexa speakers, where we help find the perfect Echo for your wants and needs.
Skills supercharge the Alexa experience
Source: Android Central
Alexa can do a lot out of the box, but if you want to supercharge your experience, you'll want to check out Alexa Skills. Skills are essentially add-ons for Alexa that enable new functionality for specific things. For example, the iRobot skill allows Alexa to talk to Roomba vacuums, whereas the Relax My Dog skill plays special music that's designed to keep your good boy calm and less anxious.
It's easy to find, enable, and disable Alexa Skills at will through the Alexa app or on Amazon's website. There are a ton of great options, but some of our favorite Alexa skills include Animal Workout, Food Network Kitchen, and Cleaning Buddy.
Routines and Blueprints demonstrate Alexa's flexibility
Amazon has given its power users some impressive (and relatively easy to use) tools to harness Alexa's capabilities in the form of Routines and Alexa Blueprints.
Alexa Routines are a quick and easy way to use Alexa to automate various tasks in and around your smart home and your daily life. You can do things like creating triggers based on voice commands, sensors, or actions that instruct Alexa to adjust the lighting and temperature of your home or wake your kids up to a funny song. You can create them directly from the Alexa app, and Amazon offers some excellent step-by-step guides, as well as many preselected actions and suggestions to get you started.
We've curated some helpful guides on how to set up routines on your Amazon Echo, how to set up kids routines, and we've also compiled a running list of our the best Alexa routines.
Alexa Blueprints are similar to Routines in that they allow you to design a program to get Alexa to perform a task or series of functions, but they can also be thought of as a way for anyone to create their own personalized Alexa Skill. As with Routines, Amazon has created many different templates that you can use to create your own Blueprint, or you can go rogue and design your own. For example, my son and I created a Compliment Mom Bot last Mother's Day, so now, any time we ask one of our Echo's to open Christie compliments, she's treated to a series of nice little quips that we wrote about her. Here's a step-by-step guide on how to create an Alexa Blueprint from your Amazon Echo to get you started.
Getting started with Alexa and Echo
Amazon does a reasonably good job at helping you get started with an Alexa speaker, but there are some features here and there that can be tricky to find/enable if you don't know where to look. Thankfully, we've got you covered.
There's so much Alexa can do, and to make sure you're getting the most out of it, we've put together a few how-to guides for some of the AI's most popular and powerful tools. Want to know how to set up your Amazon Echo? We've got you covered. Once that's done, you can learn how to control your smart lights and set up Alexa Guard to keep your home protected.
And once you've set up your Echo, there are all kinds of things you can do to personalize your experience with Alexa. Don't like the name Alexa? We'll show you how to change the wake word on your Echo device. Alexa not recognizing your voice? We'll show you how to set up Alexa voice profiles. If you have a bilingual household or if you just want to work on your foreign language skills, we can show you how to change the language preferences on your Echo device.
Finally, if privacy is a major concern, we'll show you how to access and navigate Amazon's privacy hub, disable the microphone and camera, and delete your Alexa voice recordings.
Did you know Alexa works with Sonos?
Sonos has gained a lot of popularity over the years for being one of the most straightforward home audio solutions you can buy. Not only do the company's speakers seamlessly pair with one another for simultaneous music playback throughout your house, but they also work with Alexa!
If you have a Sonos One or Sonos Beam, you can talk to them as if they were Echo speakers. Just say "Alexa," whatever you want to ask/say, and it'll respond. Other Sonos products also allow you to use an existing Echo to communicate with and control the Sonos speaker. Setting up Alexa on your Sonos devices is easy, and yes, we have a guide to show you how to do just that!
A lot of smart home gadgets support it
Smart home devices like smart bulbs, smart locks, smart plugs, and smart thermostats can make life a lot easier, especially when paired with Alexa.
Most major smart home devices work with Alexa just fine, allowing you to control light bulbs or turn on the heat by only using your voice. There are a lot out there, so be sure to check out our roundups of the best Alexa devices to help you pick the right products for your smart home.
The Goldilocks speaker
An all-a-round great speaker
Amazon once again improved the sound and design of its latest Amazon Echo and managed to price it competitively for the best overall experience.
Get the Android Central Newsletter
Instant access to breaking news, the hottest reviews, great deals and helpful tips.
Joe Maring was a Senior Editor for Android Central between 2017 and 2021. You can reach him on Twitter at @JoeMaring1.