Best smart speaker 2023
Use a digital assistant at home.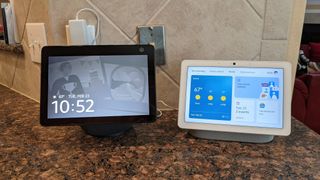 (Image credit: Jeramy Johnson / Android Central)
If you're looking for the best smart speaker but don't know where to start, fear not! We've lined up a list of the best smart speakers in various categories to help you decide which one to add to your home. Our best overall choice is the Sonos One (Gen 2) due to its price, performance, and interoperability with multiple platforms.
What are the best smart speakers?
Why you can trust Android Central Our expert reviewers spend hours testing and comparing products and services so you can choose the best for you. Find out more about how we test.
When we talk about the best smart speakers, many minds jump to the Alexa and Amazon's Echo devices. The voice assistant's name has practically become synonymous with the category, yet Amazon wasn't the first player in this space. Its speakers are also not necessarily the best for every consumer.
Our top pick for the best smart speaker comes from one of, if not the category pioneer — Sonos, and it's the Sonos One (Gen 2). It's the perfect size to set on an end table, desk, or bookshelf and can be paired with dozens of other Sonos devices as part of a larger speaker ecosystem. It has a vibrant, room-filling sound for its size, and it is compatible with Amazon Alexa, Google Assistant, and even Apple's AirPlay protocols.
If you're looking for the best Alexa speaker, we think the best all-around option is the Amazon Echo (4th Gen). This iteration of the popular smart speaker underwent its most drastic design change ever, taking on a futuristic spherical shape to better spread the sound around the room. It also packs a Zigbee smart hub for better home automation controls.
For those considering a smart speaker with a screen, the Nest Hub Max is the best option right now. It's the perfect device for video calls, and Google is continuously adding new features and controls for privacy and the smart home. Plus, it makes for a killer digital photo frame!
Now that the preliminaries are over, let's jump right into our guide to the best smart speakers you can buy in 2022!
The best smart speakers for all of your needs
The best overall smart speaker
Specifications
Dimensions:
4.72 x 4.72 x 6.34 inches
Speakers:
Two Class-D digital amps, one tweeter, one mid-woofer
Privacy Features:
Microphone mute button
Reasons to buy
+
Dynamic, room-filling sound
+
Integrates with Sonos ecosystem
+
Supports a wide variety of music services
+
Works well with Alexa and Google Assistant
Reasons to avoid
-
Not as powerful as bigger speakers like Echo Studio
-
Not for TV audio
-
No Bluetooth support
Like most Sonos speakers, the Sonos One offers audiophile quality sound at a compelling price. In particular, the One punches above its weight class, considering its relatively small size at less than four pounds. This allows the device to fit in just about any space, from a bookshelf to a fireplace mantel, to your kitchen counter.
The One packs two Class-D digital amplifiers, one tweeter, and one mid-woofer in that small-ish frame. You can combine it with other Sonos devices in multi-device groups, or you can create a stereo pair. The device has a far-field microphone array to enable it (and whatever smart assistant you use) to hear your commands from across the room, and there is also a physical mute switch for when you don't want it to hear you.
We love the Sonos One (and the family of Sonos products in general) because it's as platform-agnostic as possible when working with the widest range of content providers and smart voice assistants. As a result, Sonos speakers support more music services than Amazon or Google/Nest and work with Google Assistant, Alex, and AirPlay 2. You can also control the One and any other Sonos speakers you may have through the Sonos app.
The biggest downside to the Sonos One is that it does not support Bluetooth playback, and you can't use these speakers to stream TV audio unless you have an Apple TV and use AirPlay 2. While it puts out a strong sound, it can't quite compete with bigger, more room-filling devices like the Echo Studio.
The best smart speaker for Amazon Alexa
Specifications
Dimensions:
5.7 x 5.7 x 5.2 inches
Speakers:
dual front-firing 8-inch tweeters and 3-inch woofer
Privacy Features:
Physical mute button with red LED indicator light
Reasons to buy
+
Better sounding front-firing speakers
+
Built-in Zigbee hub
+
Newer AZ1 Neural Edge processor
+
3.5mm audio jack and 1/4-inch thread mount
Reasons to avoid
-
No smart display or LED clock
-
Inconsistent button response
Amazon introduced the original Echo to Prime users in late 2014. Since then, the product has spawned not only a whole line of Amazon smart speakers but an industry full of competition. The Echo, in particular, is now on its fourth iteration, with a completely new spherical design and enhanced functionality that has made it our pick for the best overall Alexa speaker.
The Amazon Echo (4th Gen) has a rounded design and front-firing speakers that contribute to a richer overall sound. It's eye-catching for sure but doesn't stand out more than it needs to. The components are largely made from recycled materials, and Amazon has engineered the device to be more sustainable for energy usage. The speakers are still not as complex as the Sonos One's, but the Echo does come with a line-out 3.5mm cable and Bluetooth capability, so you can pair with other speakers or connect with other Echos.
As with smartphone iterations, the likes of Amazon and Google have distinguished minor outward upgrades to add new colors, and this year, the Echo brought back a fan favorite in Twilight Blue. I'm a big fan of this color palette and am happy that we're now seeing it come to more Echo speakers across the line.
Amazon has even gone so far as to introduce some new features to the Echo and Echo Dot. If you have one of the 4th-generation models or newer, you'll now enjoy motion detection. This enables the ability to create Occupancy Routines, meaning that your lights can automatically turn off if everyone leaves the room or turn on some music while you're cleaning the house. This feature is also available on the 2022 model Echo Dot, later on this list.
The best smart speaker for Google Assistant
Specifications
Dimensions:
6.89 x 4.89 x 3.07 inches
Speakers:
Two .75-inch tweeters and 2.95-inch woofer
Privacy Features:
Two-stage physical mute switch with orange LED indicator lights
Reasons to buy
+
Fantastic sound for the price
+
Understated design
+
Multiple color options
+
Intuitive touch controls
Google's newest smart speaker is the understated yet impressive-sounding Nest Audio. With a look somewhere between the Nest Mini (2nd Gen) diminutive puck and the shelf-sized Google Home Max, the Nest Audio is more than capable of serving as your primary smart speaker or part of a stereo pair. The device is a huge improvement over the original Google Home smart speaker, which resembled a Glade scented air freshener. It's available in five soft colors, including Chalk, Charcoal, and our favorites, Sand, Sage, and Sky.
We've been so impressed by the Nest Audio's performance that we even called it the best Google Assistant speaker available. We think it can go toe-to-toe with the latest regular-sized Amazon Echo or even the Sonos One (2nd Gen). Where it beats those speakers is in its next-generation Google Assistant integration. It can get up to 75% louder than the original Google Home and features 50% more bass than that first-generation smart speaker.
Like the Nest Mini (2nd Gen) before it, the Nest Audio's fabric shell is made from 70% post-consumer recycled materials like plastic water bottles. We applaud these efforts and look forward to future designs incorporating even more recycled and recyclable materials.
The best sounding Amazon Alexa smart speaker
Specifications
Dimensions:
8.1 x 6.9 inches
Speakers:
1-inch tweeter, 3 2-inch speakers, and a 5.25-inch woofer
Privacy Features:
Physical mute button with red LED indicator light
Reasons to buy
+
Multi-directional, immersive sound
+
Supports multi-room audio
+
Can be paired with another Echo Studio or Fire TV
+
Supports multiple music services, Airplay 2
+
Physical microphone mute switch
+
Built-in Zigbee smart home hub
Reasons to avoid
-
First-gen product
-
Most expensive Echo device
The Echo Studio is Amazon's first big bet on big sound. Think Apple's HomePod, but bigger, with arguably more room-filling sound and at about half the price.
It's no coincidence that this product follows hot on the tail of Amazon's HD music service launch. It has three midrange 2-inch speakers, a 1-inch tweeter, a large 5.250-inch woofer, and Dolby Atmos technology, making it more than capable of handling high bitrate music formats that have been mastered for 3D music. And now that Amazon is offering its HD tier at no additional cost to new and existing subscribers, everyone who purchases an Echo Studio will be able to get the full experience.
The Echo Studio also nods smart home management and security, with a physical microphone mute switch and a built-in Zigbee smart hub. Amazon recently introduced a new program it calls "Certified for Humans," which aims to help smart device partners make their setup and user experiences much easier for novices. In the interim (and for older smart devices), the Zigbee hub should help make that smart device setup and interoperability much easier.
Like all Echo devices, you can pair two Echo Studio speakers together for stereo sound, or you can group them with other speakers in multi-room groups. You can also pair them with your Fire TV for a richer TV viewing and listening experience.
There are a few drawbacks to these big boys. They are bulky, weighing in at eight pounds each! They are also the most expensive Echo speaker on the market to date. Amazon made a few improvements to its high-end audio device that were announced at the Fall 2022 Devices and Services event to give you even more bang for your buck. While this speaker is anything but cheap, I think they're worth it if you put a high value on audio quality.
The best sounding Google Assistant smart speaker
Specifications
Dimensions:
9.44 x 6.29 x 4.96 inches
Speakers:
Two Class-D digital amps, one tweeter, one mid-woofer
Privacy Features:
Microphone mute button
Reasons to buy
+
The best sound in a portable speaker
+
Built-in handle for easy transport
+
Up to 10-hour battery life
+
It has Bluetooth!
+
It's tough with water and dust resistance
Reasons to avoid
-
Even though it's technically portable, it's still pretty big
-
Available in your favorite color, as long as it's black
-
Very expensive, particularly for a portable
The Sonos Move appears to have met or even exceeded expectations as the outdoor speaker that many audiophiles have been waiting for. It brings the great sound quality that Sonos is renowned for and Sonos' great connectivity and multi-platform, multi-assistant support.
As with other Sonos speakers, the Move works just as well with the Google Assistant as it will with Alexa, and it can handle Apple's AirPlay 2 support on WiFi. Perhaps most interestingly (to me) is that it's one of the first Sonos speakers to be able to stream via Bluetooth (though Sonos advises you to do this only when out of WiFi range, as Sonos streaming still works best over WiFi).
This portable speaker is durable too. It comes with an IP56 rating, which means it can tolerate a fair amount of outdoor moisture, including humidity, rain, snow, and sea spray. It's not quite as tough to take a tumble as the Ultimate Ears speakers, but it can certainly hold up to extreme heat and cold, as well as UV rays (bet you never thought your speakers needed sunblock, too!).
This outstanding outdoor speaker's biggest drawbacks come down to its size (it's a bit of a chunky monkey) and its price. The Move weighs in at almost 7 pounds, which is more than double what another outdoor speaker like the Ultimate Ears Blast weighs. It's also more than four times as expensive as the Blast and twice as much as the indoor-only Sonos One (2nd Gen)
The best Amazon Alexa smart speaker value
Specifications
Dimensions:
3.9 x 3.9 x 3.5 inches
Speakers:
1.73-inch front-firing speaker
Privacy Features:
Physical mute button with red LED indicator light
Reasons to buy
+
Improved sound quality
+
Built-in temperature sensor for home automation routines
+
LED display can show more than just time
+
New tap-to-control functions
+
Can extend Wi-Fi coverage up to 1000sqft
Reasons to avoid
-
The 3.5mm audio jack has been removed
-
Only available in two colors
Amazon kept the spherical design from the Echo Dot with Clock (4th gen), down to the exact same dimensions. But managed to increase the speaker size, add a built-in temperature sensor, eero router compatibility, and more. Oh, and the LED display picked up new features too. Thank you, Amazon!
Amazon kept the fan-favorite LED clock from previous models but gave it more to do than just tell time. The Echo Dot with Clock (2022) can give visual feedback when responding to queries such as weather, showing artist and song that's playing, and more. It sounds simple, but this little adjustment makes it much more useful as a smart speaker and even better value for the money than before.
During our review of the smart speaker, it was clear that even the small bump in speaker size made a difference in overall audio quality. The added temperature sensor brings even more functionality to the smart home device. You can now use the room's temperature where the speaker is placed to trigger automation, like turning on a fan.
For those using one of the best mesh Wi-Fi routers on the market from eero, then using this speaker makes your internet coverage even better. The Echo Dot with Clock can act as an extender to broaden your Wi-Fi coverage by up to 1000sqft! This new smart speaker is a great option for a small but mighty desktop companion.
The best Google Assistant smart speaker value
Specifications
Dimensions:
3.85 x 1.65 inches
Privacy Features:
Physical mute switch with orange LED indicator lights
Reasons to buy
+
Upgraded processor
+
Now can be wall-mounted
+
Fabric cover made from recycled materials
+
Better bass for fuller sound
+
One more microphone than the previous generation
Reasons to avoid
-
Touch controls are not great
-
No information display
-
Still fewer microphones than Echo Dot
Nest followed a time-honored formula with the look and design of the Nest Mini (2nd Gen): If it ain't broke, don't fix it! Formerly known as the Google Home Mini, the new Nest Mini follows the first generation's design cues, with subtle but important tweaks.
For starters, the fabric mesh covering the product's exterior is made from 100% post-consumer recycled plastic bottles (more of this, please!). Nest also updated the pink and blue colors to have a more subtle shading (now Coral and Sky), and it added a nook on the back of the device to easily mount it to your wall.
The biggest improvements are on the inside (where it counts). The speakers are much better, and Google claims they are capable of twice the bass as before. There is one more microphone than the previous model so that the Google Assistant can hear you even better than before. The Nest Mini also has an updated processor, which means the Google Assistant should handle requests much more quickly, accurately, and securely.
As with the third generation of the Echo and Echo Dot (sans clock), the Nest Mini does not have any display, save for the basic LED touch controls on top. Speaking of those touch controls, some have reported that they can be a bit unresponsive and fidgety, so keep that in mind when considering this otherwise solid speaker.
The best Google Assistant smart speaker display
Specifications
Dimensions:
3.99 x 9.85 x 7.19 inches
Speakers:
Two 18mm 10W tweeters, 1 75mm 30W woofer
Privacy Features:
Physical mute switch and camera cover with orange LED indicator light
Reasons to buy
+
Cool new Face Match feature
+
Physical microphone and camera cover switch
+
Google Photos integration
Reasons to avoid
-
Nest Cam feature not fully-baked
-
Rear-firing speakers could be better
While Amazon started its smart display product lineup large with the Echo Show (1st and 2nd Gen) at 10 inches and then started making smaller smart screens, Google/Nest approached the problem from the other end. The first Google Home Hub (now Nest Hub) was a mid-sized form factor, and now Nest has followed that up with a much anticipated Nest Hub Max, which comes in at around 10 inches.
What makes the Nest Hub Max such a great product is not just its beautiful touchscreen or its surprisingly good-sounding speakers. It's all of the great Google-y and Nest-y features that come with it. With its built-in Google Photos integration, this device makes an amazing smart picture frame. Its Face Match feature lets it recognize individual faces and family members and show them their daily itinerary (multi-user support for the win!). There's simply no better way to watch YouTube videos in the kitchen while prepping your next meal.
One of the more intriguing features of the Nest Hub Max is its Nest smart home integration. Not only does the device function as a smart home hub and controller, but with its front-facing camera, you can turn it into a Nest camera to monitor your space (requires a Nest Aware subscription). The newer and smaller Nest Hub can now use its cameras and new sensors for sleep tracking, and we expect these features to come to the next Nest Hub Max as well.
The best Amazon Alexa smart speaker display
Specifications
Dimensions:
9.9 x 9 x 6.7 inches
Speakers:
2x 3-inch tweeters and 1x 3-inch woofer
Privacy Features:
Physical camera cover and mute button with red LED indicator light
Extra Features:
Display can rotate for better viewing and video chatting experiences
Reasons to buy
+
The largest and most feature-packed Echo Show
+
Disable camera/mic with one switch/cover
+
Rotating display is great for when you're in motion
+
Zigbee hub and Amazon Sidewalk built-in
+
Can use as a security camera
Reasons to avoid
-
Takes up a lot of space
-
Most expensive Echo device
-
No Dolby processing built-in
The Echo Show 10 (3rd Gen) is the ultimate screened Alexa portal and just might be the best smart display overall right now. Yes, all that innovation comes at a price — it's the most expensive Echo device you can buy, but it justifies the cost for many people.
This Echo Show has the largest screen and best speaker array of any other Echo Show and by far the best camera in a smart display. The speakers take advantage of the 360-degree base to project a fuller sound, and the 13MP camera is twice as good as that on the Nest Hub Max. Not only do those features make it the perfect home video calling device because they can keep you in the frame during calls, but they also make for a fantastic content consumption device. The display uses advanced technology to track your movements when enabled, meaning you can always see that cooking video or Netflix show while you're moving around the kitchen preparing a meal.
The Echo Show 10 (3rd Gen) is built with privacy in mind, with a built-in, physical camera cover and microphone mute switch. So even though the tracking technology cannot identify you, nor does it save any image data, you can disable it at any time. But if you want to use the device to monitor your home while you're away, you can do that too with an Alexa Guard Plus subscription.
Amazon Echo Dot Kids Edition (2022)
The best smart speaker for kids
Specifications
Dimensions:
3.9 x 3.9 x 3.5 inches
Speakers:
1.73-inch front-firing speaker
Privacy Features:
Physical mute button with red LED indicator light
Reasons to buy
+
New tap-to-control features
+
Fun animal prints
+
Comes with kid-friendly content
+
1 year of Amazon Kids+ included
+
2-year worry-free guarantee
Reasons to avoid
-
More expensive than regular Echo Dot
Amazon has created parallel product lines for its Fire tablets and the Echo Dot that it calls its Kids Edition devices. Generally speaking, these come in more playful colors and feature kid-friendly content, strong parental controls, and even stronger product warranties. Oh yeah, and they're more expensive than the "regular" versions of the products.
However, what you get for the increased price is value and peace of mind. The Echo Dot Kids Edition (2022) comes with one year of Amazon Kids+, Amazon's curated service of kid-friendly and age-appropriate content. In addition to tailored music, stories, and audiobooks, several kid-friendly skills are available on this Dot. Amazon Kids+ makes parental controls easy, allowing them to set time limits, content, and purchase restrictions.
Protecting the device is just as important as controlling what content your kids have access to. Let's face it. Kids destroy things. The Echo Dot Kids Edition comes with a two-year worry-free guarantee, which means that Amazon will replace the device if it breaks, no questions asked! So, when your child accidentally bonks their Owl or Dragon speaker to control it using the new tap-to-control features, and if it falls off the table, Amazon will replace it should it break.
As for the device itself, it benefits from all the new features that are in the Echo Dot with Clock from above. Aside from the LED display. Hopefully, Amazon and Disney will finally release the "Hey, Disney" voice assistant that's been teased now for over a year to make this excellent smart speaker even better.
The best outdoor smart speaker
Specifications
Dimensions:
3.2 x 3.2 x 8.75 inches
Speakers:
2x 25mm tweeters, 2x 55mm active drivers, and 2x 85 x 50mm passive radiators
Reasons to buy
+
Battery-powered and rechargeable
+
Pair up to eight Ulitmate Ears speakers
+
IP67 waterproof and nearly indestructible
+
"Magic Button" to control music from device
Reasons to avoid
-
Needs to be charged occasionally
-
Fairly expensive
One of the most significant drawbacks of smart speakers is their lack of portability, particularly when it comes to the great outdoors. One of the best and most rugged portable speakers on the market is the Ultimate Ears MEGABOOM 3. You can feel confident bringing this speaker with you to your next pool party or picnic since it has an IP67 water-resistance rating and can be immersed in water up to one meter for 30 minutes. It's shockproof, too, so you don't have to worry if it takes a tumble off of the tailgate!
The MEGABOOM 3 is not only tough, but it sounds great too. It has a crisp and loud 360-degree sound with a deep bass response and a 20-hour battery life to keep the party going outside. When the battery gets low, there is an available base charging unit that you can purchase so that Megablast can sit on the charger and stay in operation, allowing you to top off your power quickly without fiddling with a USB cord. If you want to really amplify the sound, you can pair it with other Ultimate Ears speakers or up to seven other Megablast speakers for a neighborhood block party!
The MEGABOOM 3 has a "Magic Button" on the top that lets you easily play, pause, and skip tracks, and you can also set up one-touch playlists with Spotify, Amazon Music, Apple Music, and Deezer.
We don't have a lot of bad things to say about the Megablast. However, one thing to keep in mind is that, because it is battery powered, you'll need to remember to charge it every once in a while (not a concern for stationary, plugged-in speakers). It's also quite pricey, but trust us — it's well worth it if you're after loud, booming sound.
The best smart speaker for Siri
Specifications
Dimensions:
3.3 x 3.9 inches
Speakers:
Full-range driver and dual passive radiators
Privacy Features:
Microphone only listens for the wake word, but no physical controls
Reasons to buy
+
Amazing sound for its size
+
One of the most affordable Apple devices you can buy
+
Tight integration with Siri and Apple services
Reasons to avoid
-
Doesn't play well with non-Apple services
-
You can get a comparable audio experience for even less with the Amazon Echo or Echo Dot
-
Siri still lags behind Amazon Alexa and Google Assistant in smarts and utility
Apple was a bit late to the smart speaker game, as it often is for many of the categories it ultimately chooses to enter. Its first attempt at a smart speaker — the HomePod — received mixed reviews initially. It's viewed as more of a fancy Apple speaker and less of a true competitor to Amazon and Google's smart offerings. However, regardless of how useful you may feel Siri is, that original HomePod sure sounded great, and many Apple fans still faithfully stand by theirs.
After relative radio silence for a few years, Apple reinvigorated its smart speaker lineup with the smaller and more affordable HomePod mini. This fits a nice spot in Apple's product lineup because it gave people who may have been turned off by the larger HomePod's price a chance to jump into Apple's walled garden and potentially ignore some of the drawbacks of Siri.
Like its larger sibling, the HomePod mini sounds fantastic and uses spatial audio to help fill the room it's in with immersive sound. It's best paired with another mini for stereo sound, and it works flawlessly with iOS devices. The main drawback here is its lack of third-party support for services and devices, at least when pitted against Nest and Echo devices. But on the bright side, Apple recently added a few more vibrant colors to the mix, moving away from the boring Space Gray and White colors that have been available since launch.
How to pick the best smart speaker
There are lots of great Bluetooth speakers out there, but you just might want to go even further and get a smart speaker to really round out your sound. If smart speakers excite you, this is a great time to be a consumer. There are more options out there that are more affordable than ever before. The tricky part is that many of them are increasingly platform-specific, so if you are all-in on Google Assistant or Amazon Alexa, that may sway you one way or another.
If you want a good-sounding smart speaker with platform and assistant flexibility, we recommend going with the Sonos One (Gen 2). It works with Alexa and Google Assistant, has the most content partnerships and sounds great.
1. Are you locked into a particular ecosystem?
While not universally true, many of the best smart speakers are made by Amazon, Apple, or Google. They are intertwined with those companies' software platforms, smart voice assistants, and overall ecosystems. Chances are, if you are an Alexa household, you're not going to be well served by considering an Apple or Google smart speaker.
Beyond platform and OS lock-in, however, you will also want to consider the third-party apps and connected home devices you want to pair with your smart speakers. Some speakers like the HomePod mini don't work with Spotify or YouTube Music, while Nest devices don't play well with Ring security products. And speakers from companies like Sonos and Bose have mixed results with smart home integrations. Before you purchase your smart speaker, take an inventory of your apps, devices, and services, and see which are compatible with what devices.
2. Do you need portability?
Many smart speakers are intended to be stationary, remaining plugged into the outlet somewhere in your home or office. You can indeed unplug and move them to another room, but unless they have a built-in battery, you're not going to be taking them to the beach or pool. So for those use cases, you're going to want to look away from Amazon, Apple, and Google and towards companies like Ultimate Ears and Sonos.
3. How much do privacy and security matter to you?
If you're concerned about always having connected microphones and/or cameras in your home, you'll want to look at devices that have built-in physical controls like mute switches and camera covers. The latest smart speakers from Amazon and Google/Nest have these features and even show indicator lights and play audio cues to let you know when they're not watching or listening. Even the more basic smart speakers these days have a mute button to prevent voice assistants from accidentally hearing something they perhaps shouldn't. And Amazon, Apple, and Google all give you various degrees of control over your voice recordings and history, with some even offering the ability to delete voice records at a certain time automatically or to do so on-demand.
Android Central Newsletter
Get instant access to breaking news, the hottest reviews, great deals and helpful tips
Senior Editor - Chromebooks, tablets, and wearables
Andrew Myrick is a Senior Editor at Android Central. He enjoys everything to do with technology, including tablets, smartphones, and everything in between. Perhaps his favorite past-time is collecting different headphones, even if they all end up in the same drawer.
Android Central Newsletter
Get instant access to breaking news, the hottest reviews, great deals and helpful tips
Thank you for signing up to Android Central. You will receive a verification email shortly.
There was a problem. Please refresh the page and try again.