How to customize photo slideshows on Fire TV and Echo Show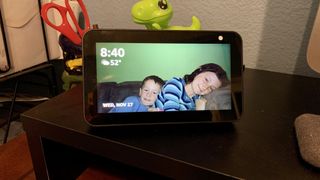 (Image credit: Jeramy Johnson / Android Central)
Amazon's Echo Show and Fire TV devices are great for watching videos, listening to music, and managing your smart home, but they also make nice electronic photo frames. In the steps below, we'll show you how to configure your devices to create the ultimate family photo slideshows from your Amazon Photos collection!
Products used in this guide
There are actually a few different ways to accomplish this task. You can customize your photo slideshow from within the Amazon Photos app, you can start the process in the Amazon Alexa app, or you can do so directly on the Echo Show or Fire TV devices themselves.
How to customize photo slideshows in Amazon Photos app
In my opinion, customizing your Amazon photos slideshows is best done from within the Amazon Photos app itself.
Open the Amazon Photos app.
Tap on More at the bottom right of the screen.
Tap on Personalize Echo Show & Fire TV.
Here you will see a list of your eligible devices. Tap on the one you want to customize.
Here you can enable/disable the Daily Memories album toggle, or add more collections based on other Albums, Groups, People, and Places.
How to customize photo slideshows in Alexa app
Open the Amazon Alexa app on your smartphone.
Tap on Devices at the bottom right of the screen.
Tap on Echo & Alexa at the top left or All Devices on the top right of the screen.
Tap on the Echo Show device you want to customize.
Scroll down and tap on Home Screen Background.
Tap to enable Amazon Photos or Facebook photo albums; this may require you to login to authorize Facebook.
Alternatively, from this screen you can upload a photo directly from your smartphone.
Once your peferred service is connected, say to your Echo, "Alexa, go to settings."
When your Echo Show displays the settings on its screen, tap on Home & Clock.
Tap on Clock.
Tap on Personal Photos.
Tap on Background.
Tap on Alexa App Photo, Facebook or Amazon Photos.
How to customize photo slideshows on an Echo Show
The steps required to customize Amazon photo slideshows directly on an Echo Show device are the same ones mentioned in the previous section in steps 9 - 13, so I won't repeat them here. It is worth mentioning, however, that once you chose the photo album that you want to showcase, you can go back to the Personal Photos screen from step 11 above, tap on Clock Face, and scroll through the list of options that control how the date and time are overlaid on your images, or you can toggle on or off the date and time overlays. Pretty neat!
How to customize photo slideshows on a Fire TV
From the home screen, select Settings.
Select Display and Sounds.
Select Screensaver.
Select Current Screensaver.
Change album to whatever Amazon Photos album you prefer.
Our top equipment picks
Perhaps you already have an Echo Show device but didn't realize that you could display slideshows on a Fire TV, or, perhaps you have a Fire TV device but no Echo Show. To really showcase your photos, why not get one of each!?
Living room slideshow
(opens in new tab)
Amazon Fire TV Stick 4K
Let the whole family watch
The Fire TV Stick 4K is acknowledged as one of the best deals in streaming media, but it can also be a great way to sit back and enjoy your family photos.
One of my low key favorite things about the Fire TV is that when I'm not actively watching something, it reverts to a slideshow of family photos. It's such a simple thing that brings such joy!
Photos at your fingertips
(opens in new tab)
Amazon Echo Show 5
Your desktop photo show
The Echo Show 5 is a great desktop assistant and an even better electronic photo frame.
Touchscreen Echo devices like the Echo Show 5, Echo Show 8, and Echo Show (2nd Gen) provide a quick and easy way to adjust all sorts of device settings, including your screensaver preferences. Just a few taps and you can make your Echo show off your favorite photos.
Additional Equipment
If you haven't already downloaded the Amazon Photos app, then go grab it. It's great, and it's free! You can order physical prints of your Amazon Photos, including posters, plaques, and photo books. Every Amazon customer is eligible to receive 5GB of photo storage, and Prime members get unlimited photo storage. Prime members can also invite up to five members to receive unlimited storage through their Family Vault.
Amazon Photos app (opens in new tab) (Free at Google Play)
Amazon Photos is a great photo storage solution on its own, but an even better redundant backup system. Search, categorize, and order prints through the apps or online.
Jeramy is proud to help *Keep Austin Weird* and loves hiking in the hill country of central Texas with a breakfast taco in each hand. When he's not writing about smart home gadgets and wearables, he's defending his relationship with his smart voice assistants to his family. You can follow him on Twitter at @jeramyutgw.
Android Central Newsletter
Get the best of Android Central in in your inbox, every day!
Thank you for signing up to Android Central. You will receive a verification email shortly.
There was a problem. Please refresh the page and try again.