The Amazon Echo Pop is a great addition for those who want to bring Alexa to more rooms without needing all of the extra features from other Echo devices. It's small, lightweight, and comes in a bunch of fun and different colors. It even doubles as an Eero extender while supporting Matter. All of this for just $40, and we can't even imagine how cheap it will get for Prime Day or Black Friday.
Pros
+

Cheapest Amazon Echo speaker

+

Unique design and compact

+

Fun colors to choose from

+

Supports Matter and doubles as an Eero extender
Cons
-

Not as feature-rich as the Echo Dot

-

Does not include an Action button to invoke Alexa

-

Sound quality isn't great in larger rooms
Why you can trust Android Central Our expert reviewers spend hours testing and comparing products and services so you can choose the best for you. Find out more about how we test.
For quite a while, it seemed as though there was a "race to the bottom" between Google and Amazon in the battle for the best smart speakers. At this point, it's pretty obvious that Amazon has taken a commanding lead, as there are so many more Alexa speakers available than what Google offers for Assistant.
The latest example of this comes in the form of the cheapest Alexa-enabled speaker, the Amazon Echo Pop. But this new speaker isn't without its compromises, so let's dive a bit deeper to see if it's worth picking up.
Amazon Echo Pop: Price and availability
The Amazon Echo Pop was announced in May 2023, alongside the 2023 Echo Show 5, Show 5 Kids, and Echo Buds. Amazon currently offers the Echo Pop in four different colors, including Lavender Bloom, Glacier White, Midnight Teal, and Charcoal. Pricing for the Echo Pop starts at $39.99, however, Amazon is also offering bundles with Amazon Music Unlimited and an Alexa Smart Plug.
Amazon Echo Pop: What you'll like
Starting off with the design, the Echo Pop shares some of the DNA from the best Alexa speakers with its fabric cover on the front. Really, you could look at the Echo Pop and think that it's just an Amazon Echo chopped in half, with its semi-sphere design.
At the top edge, you'll find the LED indicator, letting you know when Alexa is listening or if there's a notification that you need to attend to. Moving further up, Amazon implemented a trio of buttons, allowing for volume control along with a privacy button in the middle.
Something that helps the Echo Pop stand out is the different colors that are available. These aren't colors that you'll find on other Alexa speakers, hopefully providing an indication that updates to the Echo and Echo Dot are on the way.
With that out of the way, the Echo Pop operates just as you would expect from any other Alexa smart speaker. Say "Alexa, turn off the lights," and you'll get a prompt response. When the microphones actually pick up on my voice, the Echo Pop has been pretty quick, and part of this can be attributed to the AZ2 Neural Edge processor. According to Amazon, the AZ2 is 20% faster than the previous generation, and the Echo Pop is the third Alexa speaker to include this.
Something else worth taking into consideration with the Echo Pop is that it also doubles as an extender for Amazon's Eero mesh Wi-Fi system. Currently, I don't have an Eero router, so I couldn't try this out for myself, but it's one of those surprising additions.
Speaking of which, the Echo Pop is already compatible with the Matter smart home standard, out of the box. At this point, this is something that should be expected, but we have seen a few smart home products released that promise a Matter update in the future, while some won't be compatible at all. So kudos to Amazon on that front.
When it comes to actually listening to music or podcasts on the Echo Pop, it's a mixed bag. My home office isn't very big, so it sounds pretty solid overall in the smaller space. However, the same can't be said when it comes to larger rooms as the sound gets pretty muddled after you reach about 75%. That being said, a smart speaker this small shouldn't blow you away and it's unlikely that this will be your de-facto choice for media playback.
Amazon Echo Pop: What you won't
My primary complaint with this new smart speaker Amazon is using different microphones with the Echo Pop, as I couldn't get a response from Alexa even though I was a few feet out of my home office. Both the Echo Pop and Echo Dot offer three built-in microphones, but the Dot was able to regularly pick up my voice even when I was down the hall.
Another area where the Echo Pop falls short of its brethren is in some of the functionality that is offered. While we're happy to see support for Matter and the ability to act as an Eero extender, there are a few things that are missing.
These include various sensors such as the motion detection and temperature sensor found in the Echo Dot. I understand that corners needed to be cut, but with the Echo Dot costing just an extra $10, I can't help but feel as though Amazon missed out on a pretty great opportunity.
Lastly, I would have liked to see a 3.5mm audio jack on the back of the Echo Pop. This is a feature that we're already seeing removed from more and more devices as it is but is another example of how Amazon could have appeased those who wanted to use the Echo Pop connected to another device.
Amazon Echo Pop: The competition
For just $10 extra, the Amazon Echo Dot (5th Gen) is the Echo Pop's stiffest competition. It offers all of the same features as the Echo Pop, with the added bonus of featuring an LED clock, if you want. It also doubles as an Eero Wi-Fi extender but includes both motion detection and a built-in temperature sensor.
It's not really a fair comparison, but if you want a cheap Google Assistant speaker, your best bet is Google's Nest Mini. The problem is that it hasn't been updated since the 2nd Generation was released in October of 2019. Making matters worse, we aren't sure whether Google plans to actually update its cheapest speaker anytime soon.
Lastly, if you're in the Apple ecosystem and want the least expensive Siri-powered speaker, you'll have to spring for the HomePod Mini. It was released in 2020, and the only updates that we've seen are some new colors here and there. Apple recently released the HomePod (2nd Generation), but $99 puts the HomePod Mini in competition with the standard Amazon Echo as opposed to the Echo Pop.
Amazon Echo Pop: Should you buy it?
You should buy this if...
You want a cheap Alexa-powered smart speaker.
You're looking to dive deeper into the Echo ecosystem.
You want an inexpensive Eero Mesh Wi-Fi extender.
You shouldn't buy this if...
You're okay with spending $10 more to get the Echo Dot which comes with more features.
You want a loud speaker for a larger room.
You want a smart speaker with extra sensors or a dedicated Alexa action button.
At $40 the Echo Pop already seems like a pretty good deal, until you see that the Echo Dot is larger and offers more functionality for just $10 more. And while I would still recommend the Echo Pop for those who just want a speaker to have on their nightstand or in an office, I would also recommend holding off a bit.
Amazon is notorious for dropping prices of their various speakers, tablets, and other devices and I expect the same for the Echo Pop. With Prime Day 2023 slated to kick off soon, I won't be surprised if you can get the Echo Pop for $20, or less.
With that in mind, the Echo Pop serves the same purpose as the Nest Mini, as it's just designed to put Alexa in every room without being overly intrusive. It's a solid smart speaker, and I'm really keeping my fingers crossed that Amazon brings the fun new colors to the rest of the Echo speaker lineup.
Even if you aren't entrenched in the Amazon ecosystem, the $40 price tag might be too great of a deal to ignore.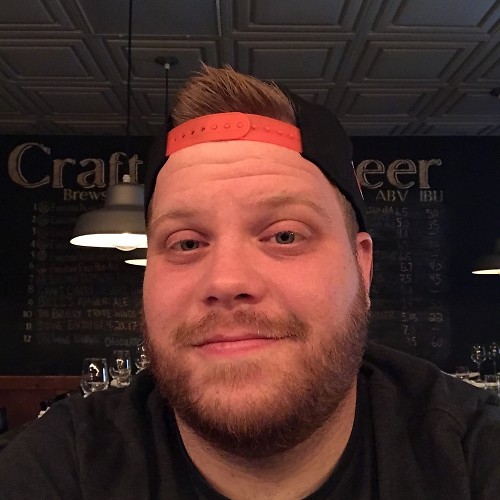 Senior Editor - Chromebooks, tablets, and wearables
Andrew Myrick is a Senior Editor at Android Central. He enjoys everything to do with technology, including tablets, smartphones, and everything in between. Perhaps his favorite past-time is collecting different headphones, even if they all end up in the same drawer.