Best messaging apps for Android 2022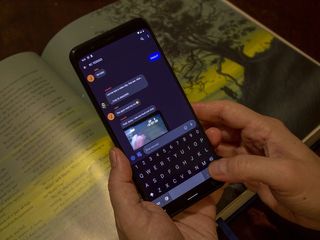 (Image credit: Android Central)
Communicating on your phone has gone far beyond simple SMS messages and voice calls. We have social messengers, secret messengers, professional messengers, and power-packed messengers, so it can be challenging to settle on which services are worth your time. If you need a little help deciding what to use to ask your friends if they're free for coffee or ranting with gifs about the latest episode of your favorite show, here are our favorites.
Message anyone and everyone with the best Android messaging apps
Why you can trust Android Central Our expert reviewers spend hours testing and comparing products and services so you can choose the best for you. Find out more about how we test.
With the exception of a few of the best Android phones, Google Messages has become the default SMS app on Android. This is for good reason as it's also the best messaging app that can handle text messages now that the feature has been deprecated from Google Hangouts.
Telegram allows you to create a robust community, or just stick to just singular conversations. But the power of the app is obvious when you start browsing the different settings and features that are offered.
Using WhatsApp has been a mixed bag, with many concerns over privacy thanks to how it's owned by Facebook. Some of those issues have been remedied, and it remains one of the most popular messaging apps across the globe.
1. Google Messages
Whether you're just trying to send a text to your friends or you want to have a full-blown conversation, Google Messages is likely the place you're going to start. Messages has greatly improved over the years, and while it's still not as great as the hey-day of Hangouts, it's getting close. RCS features have been added, creating more of an experience that you would find with some of the other apps on this list.
Perhaps the best reason for using Google Messages is that it doesn't require any finesse or convincing for your friends to use. We all know how frustrating and difficult it can be to get our friends and family members to move to a new platform, but with Messages you don't have to go that route. Just use it and Messages just works.
The app is free and already pre-installed on your phone, and more than likely, it's already in your Dock. Outside of RCS features, you also have the ability to send and receive messages from your desktop browser. That way you don't always have to keep looking at your phone throughout the day.
The first choice

With the addition of RCS features, Messages can serve more like a chat application. You'll be able to send or receive messages wherever you are while getting the most out of what Google offers from its own SMS app. You can even send chats or standard SMS in your favorite browser so you can keep chatting without your head buried in your phone.
2. Telegram
Telegram is one of those fun applications that offers a slew of great chatting features, along with others you may not even know about. You can use it to create enormous communities of like-minded folks, or just stick to sending messages with a few friends who made the leap from something else. There are fun features including the ability to create custom stick packs, like the MrMobile sticker pack that former Android Central writer Hayato Huseman created.
It's easy to use Telegram on any device that you own, regardless of whether you just grabbed the new iPad Pro or are looking to pick up one of the best Chromebooks. You can keep up with those group chats from wherever you are, or mute them if your friends are just flying off the rails on a Friday afternoon.
Telegram isn't the best chat app out there, nor is it the most private messaging app, but it's a lot better than others that you may find yourself using on a regular basis. It provides a great balance of everything you need, along with some features that you may not, and others that you'll come to know and love.
Create a community

Telegram seems to be one of the fastest-growing messaging platforms, thanks to its versatility. You can create groups with up to 200,000 members, and quickly sharing documents and other files. Plus, the app is super-quick, and you don't have to worry about paying anything to get additional features.
3. WhatsApp
When you look at the most popular messaging apps across the world (and amongst the writers here at Android Central, WhatsApp is almost always at the top of the list. The app is arguably the biggest competition to iMessage simply due to the enormous user base. However, the problem is that since it's owned by Facebook, there are more than a few privacy concerns. Facebook and WhatsApp have made strides to fix those issues, essentially putting it back in good-standing for people to use.
As for the features you'll find, you can use WhatsApp to make phone calls even if you don't have a stable connection, along with the ability to have some fun and use the likes of stickers and mini-apps built into the main app. WhatsApp has even gone so far as to integrate country-specific features, such as the ability to use India's UPI infrastructure for payments. Being able to quickly send money to your friend for a movie ticket without having to stop the conversation or switch to another app is just one reason as to why WhatsApp is as popular as it is.
Adaptable and data-light

WhatsApp is one of the most popular messengers in the world, with encrypted multimedia chat, VoIP voice and video calls, and a drop-dead setup. We liked WhatsApp more before it got bought by Facebook, but the service itself is still decent, widely-used, and in many places is more reliable than SMS.
Other great options
Though they didn't quite make it into our top three, here are the best of the rest when it comes to Android messaging apps.
Facebook Messenger
For better or worse, Facebook Messenger continues to grow in popularity. The biggest reason for this is because just about everyone you know has a Facebook account. There are some that have tried and successfully left the platform, but it's just not possible for others, especially if you use Messenger to keep in contact with friends and family.
New features have been continuously added to the messaging platform, including the ability to send payments, play games with a group of friends, and have a group video chat. There's even a "Lite" version available for those who don't want all of the bells and whistles or have internet connectivity issues.
Because everyone has Facebook

Facebook has done some pretty despicable things in the last few years, but Facebook Messenger continues to be one of the more-used messenger apps around by the simple value of everyone and their grandmother having a Facebook account.
Signal
If you're tired of worrying about your messages staying private, then there's no better option than Signal. The company offers end-to-end encryption for all of your messages, and shares specific reasons why your data may end up needing to be shared. But none of these reasons are to sell your data, and are more in line with local law enforcement or if you break the terms of service.
The UI of Signal may look a bit familiar if you've spent any time with Telegram. It offers a simplistic interface while providing a few different options to change the appearance, view any of your linked devices, and more. It's also super easy to use since it uses your existing phone number.
The biggest problem for Signal is the lack of a web or Chrome app, so if you wanted to use this on your computer, you might run into a few problems. Nevertheless, if privacy is the name of the game, Signal should be your weapon of choice.
Simplified security

Signal has been one of the most well-trusted secure messaging systems on the block for years. It's absolutely free and uses end-to-end encryption protocol to ensure your privacy with every message you send.
Discord
Discord started out as a fun messaging platform designed with gamers in mind, but it's since turned into what we expected from Slack when that app first released. There are a multitude of integrations and bots that can be added to community chats, which are super easy to set up.
But at its core, Discord makes it easy to fire it up from any platform and start messaging with your friends. It even makes for a wonderful option if you want to have a group voice chat while you're playing the latest PS5 multiplayer games.
Get your game chat on

Discord is part IRC chat, part message board, and all awesome. It's aimed more at group chatting than individual conversations, but it's available on just about any platform you can think of, and it's easy to manage, share, and moderate. Its gamer-centric focus has made it a very, very responsive service that's quick to update and expand.
Slack
At one point, Slack seemed like it was going to end up turning into the messaging app that everyone defaulted to. However, over the years it's grown and expanded into a platform that caters more to businesses. It's our primary source of communication here at Android Central, and it offers a wide array of features to make messaging colleagues easier.
You can integrate apps like Google Drive, Asana, and others to keep up with tasks or share documents. You can even have a little fun and create custom emoji that also serve as reactions for messages. Slack is a great app with wonderful custom notification settings, and just lets you jump in and message a colleague or two when you need to.
For professionals and pro-memers

We've used Slack for our in-company chatting for as long as I've worked at Android Central. I was shocked to learn that Slack was available for regular users alongside its corporate use! Whether you just want to Slack your classmates with some choice gifs or need to talk to your boss about your schedule, Slack is incredible.
Snapchat
While TikTok continues to take over the world, Snapchat is still one of the best social media apps on mobile today. No, you won't be able to take a conversation to the web or pick things up from anywhere else, but that's kind of the point. Snapchat is supposed to be fun while allowing for the self-deletion of photos. So you can send pictures or videos without being shamed.
Being able to share clips of your day-to-day life with friends and even family is always fun, and Snapchat makes it easy. Throw on one of those goofy filters and brighten your friends day, or just send them a video message to let them know you're thinking of them.
Snap it

Snapchat may be better classified as a social media network. Still, Snapchat is based around messaging, and millions fell in love with its self-deleting photos and ease of use as a way to trash talk frenemies, send pictures/videos that you don't want spreading around school, and of course its many selfie filters.
Google Hangouts
Google Hangouts is the one app that many of us wish hadn't been set to the wayside. It hasn't been completely deprecated just yet, but it's definitely on the way to the Google Graveyard. Hangouts has been split into two separate apps with Google Chat handling your messages and Google Meet taking care of your video calls and meetings.
For now, Hangouts is still alive and kicking, but Google has been migrating customers over to Chat and Meet for the past couple of years. Truthfully, part of the reason why we haven't seen the end of Hangouts as we know it is because it's used by businesses who make use of the G Suite services at a cost. But eventually those will also be integrated into Chat and Meet and it'll be the final nail in the coffin for the once-beloved messaging app.
I'm not dying

Reports of Hangouts impending "death" are highly exaggerated. While the classic Hangouts app might be sunset in a few years, the Hangouts service will continue with Hangouts Chat and Hangouts Meet, the latter of which we've been enjoying for our team meetings for months.
Security is paramount
Even if all you intend to do on your messaging service is talk to some buddies and maybe plan some jewel heists— I mean surprise parties — you should care about your messaging service being secure and trustworthy. All of the services here support two-factor authentication, and several of them support encryption for messages, including WhatsApp, Signal, and Snapchat.
Self-deleting messages and notifications of when messages are screenshotted or reshared gives Snapchat some extra appearance of security. Still, there are ways around those protocols, and Snapchat's had issues of self-deleting photos not getting deleted from their servers before. On the other hand, the ability to delete specific messages permanently from a group chat is a nice feature on Signal that I wish would come to more services. Still, at least services like WhatsApp having the ability to unsend a message a few minutes after an accidental send is nice.
How many friends can you convince to switch?
The problem with picking a messenger app is that usually, you can't just use one. Some friends will be on Facebook, some will be on Whatsapp, and there's that one weirdo that still uses Hangouts (my family still uses Hangouts just about every day for our group chats). You can try and guide your friends towards one platform or another, but remember that you may need to compromise and pick a platform your friends already use.
There's a good reason why WhatsApp takes the crown for being our favorite. It's still widely used to the point that some friends and family may be using it. You won't have to worry about creating usernames since this works off your phone number, and you can import contacts easily. Then, create group chats or have video calls to stay in contact with everyone.
Perhaps the more common choice will end up being Facebook Messenger as just about everyone and their brother has a Facebook account already. You can have group video calls with up to eight people, use Messenger as your SMS app, and even send money back and forth if need be. Facebook has also made it so you can play some games in the app with your friends to keep up some type of competition to spark some awesome trash talk.