How to enable and use end-to-end encryption in the Google Messages app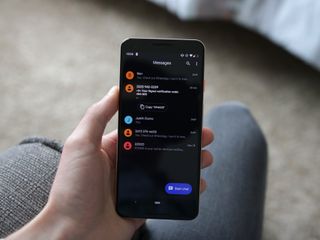 (Image credit: Joe Maring / Android Central)
If you use Google's stock Messages app to send your text and SMS messages, we have good news — your chats can now be completely secured from prying eyes! We'll show you how to enable end-to-end encryption in the Google Messages app so that you don't have to worry about your private messages potentially falling into the wrong hands.
How to enable and use end-to-end encryption in the Google Messages app
End-to-end encryption for Google Messages only works if both the sender and the receiver have it. So if you would like to send an encrypted text to someone, make sure they have it on their phone too.
Open Google Messages.
Tap the three dots in the upper right corner.
Tap on Settings.
Tap on Chat features.
Turn on the toggle for Enable chat features.
A prompt will pop up asking Enable chat features from Google?, tap Yes, I'm in.
Verify your number.
Open an existing chat or start a new one.
You should see a lock icon above the message bubble. Tap on Learn more to read about the feature.
You should see a lock icon after the Sent or Delivered notification, below the chat bubble.
As mentioned before, this end-to-end encryption will only work for messages where both the sender and receiver are using the latest version of the Google Messages app with chat features enabled. This is similar to the way that iMessage works for iPhone users, in that if an iPhone user sends a message to an Android user, the message is not encrypted.
While this is certainly a welcome feature for Google Message users, many of the best messaging apps on Android and iOS also use end-to-end encryption, so you may want to use one of these like Signal, Telegram, or WhatsApp to ensure cross-platform encryption.
Our top equipment picks
All of the best Android phones running the latest OS release are secure, but if you want the most timely security updates and ongoing feature support, you're going to want a Google Pixel device. One of the best and most affordable is the Pixel 4a.
Secure software
(opens in new tab)
Protection for all
The Google Pixel 4a packs great software with a great camera for less than most mid-rangers or flagships. It is also promised to receive monthly security updates until 2023 at least.
Google Messages (opens in new tab) (Free at Google Play)
Google's official messaging app supports SMS, MMS, and RCS and now supports end-to-end encryption between users.
Namerah Saud Fatmi is a contributing writer for Android Central. She has a passion for all things tech & gaming and has been an honorary Goodreads librarian since 2011. When she isn't writing, she can be found chasing stray cats and dogs in the streets of Dhaka or slaying dragons in the land of Skyrim. You can reach her on Twitter @NamerahS.
I think my biggest concern is cross platform texting via iOS and Android. Lots of these features are useless with people using the opposite OS. Would be really great if Google and Apple could play nice enough to at least get cross platform encryption working.

It's down to Apple. I'm sure Google would love it if they added RCS to iMessage. Also Apple have been known to historically not allow third party SMS apps in the app store under some hokum "it replicates the user experience already offered by IOS".

Which is why there are a multitude of other options, forget Google Messages and iMessage except for SMS: WhatsApp, Facebook Messenger, WeChat, Signal, Telegram etc...

Oh, sure, let me demand all of my contacts to download/install/setup/use the messaging app that *I* want instead of the app that's built in to most of our phones.

That will work out well for criminals, they won't need to use whatsapp now. I don't think end-to-end encryption is a bad thing, but I do think there need to be some back door to get the messages in certain cases. I do not use RCS or Whatsapp, I still use plain old SMS, it does what i need it to do.

It's not stopped iMessage, WhatsApp, Signal, Telegram. All of which offer encryption. Why would you not enable Google Chat if you're already using Google Messages or Samsung Messages for SMS?

It's not like governments have never abused their "backdoor" privileges. And it isn't like hackers haven't ever exploited "backdoor" privileges. Right?
Android Central Newsletter
Thank you for signing up to Android Central. You will receive a verification email shortly.
There was a problem. Please refresh the page and try again.