WhatsApp for Android: Everything you need to know!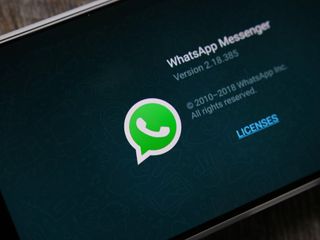 (Image credit: Joe Maring / Android Central)
WhatsApp is one of the largest messaging platforms around, with the Facebook-owned service touting over two billion monthly users. While the service may not be prominent in the U.S., its usage is near-ubiquitous in markets like India and Brazil, where it's used for everything from delivery tracking to payments.
Even though it trails behind things like Facebook Messenger and even SMS texting here in the U.S., WhatsApp is an immensely powerful app that you should familiarize yourself with.
Whether you're a WhatsApp pro or newbie, here's everything you need to know about it!
Ultimate messenger
So many features, all for free
WhatsApp stands out as one of the best messaging apps on the market thanks to its suite of features and free price of admission. You can text anyone, make voice/video calls, and access your conversations on any device. There's no reason not to use it.
WhatsApp is a free messaging platform
If you aren't entirely sure what WhatsApp is, here's the elevator pitch. WhatsApp is a free messaging app that allows you to send text, audio, and picture messages over data/Wi-Fi to anyone else that has the app.
It works just like texting does, but with a ton of extra features that make the experience more enjoyable. Some of the biggest draws to WhatsApp are easy-to-use group messaging, access to messages on your desktop, end-to-end encryption that keeps your conversations secure, and much more. You'll also get little goodies like read receipts (so you know when your messages have been seen) and typing indicators for people you're chatting with.
Outside of messaging, WhatsApp allows you to make voice calls, video calls, and it has a Status feature that's essentially its own version of Instagram Stories.
The best part? You get all of this 100% free.
Getting it set up is super easy
If you're interested in what WhatsApp has to offer and want to get started for yourself, doing so is incredibly easy. Download the app, follow the instructions it gives you, and you'll be good to go.
WhatsApp can feel a little intimidating the first time you open it, so to make sure you know what you're doing and where everything is, we created an in-depth guide taking you through the entire process of getting started with WhatsApp and all of its core features.
Need help inviting people to use WhatsApp with you? It's covered in our guide. Not sure how to use WhatsApp Status? That's explained, too.
How to set up and start using WhatsApp for Android
WhatsApp works for Android and iOS
One of the best parts about WhatsApp is the fact that it works across both Android and iOS. Unlike iMessage, which is only available for Apple devices, you can download and use WhatsApp on whichever iPhone or Android device you'd like.
Not only that, but you can chat with people on WhatsApp regardless of what phone they have. In other words, if half of your family owns iPhones and the other half has Android phones, you can have one-on-one conversations or group chats without any issues — no matter their phone of choice.
This benefit goes a step further if you ever find yourself switching from iPhone to Android. If you've been using WhatsApp on an iPhone, you can export your chats, import them to your Android phone, and back up your conversation data so that you can start chatting on your new Android handset like nothing ever happened.
How to restore your WhatsApp chats from iPhone to Android
It supports dark mode!
Dark mode is one of the hottest app trends right now, and WhatsApp supports it... kind of.
As of right now, you'll need to download the WhatsApp beta in order to access dark mode on the Android app. That's not ideal, but it's easy enough to do and is well, well worth the effort.
WhatsApp looks downright gorgeous with a dark mode, and like any good dark mode, abides by your system default so that it'll enable automatically when you change your phone's system-wide theme.
How to get dark mode in WhatsApp for Android right now
There are tons of controls for notifications
As you start getting more and more WhatsApp messages, your notifications might get out of hand. To help combat that, WhatsApp gives you plenty of controls over said notifications and how they work.
Want to change the sound you hear when a message arrives? WhatsApp lets you do that. Not happy with how your phone vibrates when you get a new message? You can change the vibration pattern. If your phone has a notification LED light, you can change the color it shows for your WhatsApp messages.
Some of these settings are pretty minor in the grand scheme of things, but if you want to play around with and customize all of these settings, WhatsApp lets you do just that.
How to manage the notification settings in WhatsApp for Android
You can send money (if you live in India)
For our readers that live in India, WhatsApp is extra-useful thanks to its support of the country's Unified Payments Interface — more commonly referred to as UPI.
Using UPI, WhatsApp allows you to send and receive money from other WhatsApp users directly through the app, making it nice and easy to settle up for dinner or the movies.
It's unclear if this feature will ever make its way to the U.S. or other countries, but we certainly hope it does.
How to set up payments and send money on WhatsApp for Android
WhatsApp data can be backed up with Google Drive
Whether you're using WhatsApp as your primary messaging app or just use it to communicate with a handful of people, it's a good idea to make sure all of your conversations are backed up to the cloud.
Cloud backups are built right into WhatsApp and handled via Google Drive. Simply link your Google account, choose how often you want backups to occur, and you're all set. If you end up getting a new phone or have to delete and reinstall WhatsApp for whatever reason, it'll search for that backup so you can restore all of your settings and conversations as if nothing ever happened.
How to back up and restore your WhatsApp messages with Google Drive
Two-factor authentication is here
Having a secure digital profile is one of the most important things anyone can do, and a great way to go about this is with two-factor authentication.
Two-factor authentication acts as an additional wall of security between you and your online account, and we're thrilled that it's available for WhatsApp.
Getting 2FA running with WhatsApp is fairly simple, but just in case, our guide below walks you through every single step.
How to set up two-factor authentication for your WhatsApp account
Deleting your account is a pain-free process
WhatsApp is arguably one of the best messaging platforms out there, but if you find yourself wanting to delete your account for whatever reason, doing so is very easy.
Deleting your WhatsApp account is a permanent process that'll completely wipe all of your personal data and conversations, so think long and hard before pulling the trigger. However, if this is something you know you want to do, you'll be done within a matter of seconds.
You can reactivate your account in the future should you choose to come back, but you'll need to start from scratch as if you were joining WhatsApp for the very first time.
How to delete your WhatsApp account
Ultimate messenger
So many features, all for free
WhatsApp stands out as one of the best messaging apps on the market thanks to its suite of features and free price of admission. You can text anyone, make voice/video calls, and access your conversations on any device. There's no reason not to use it.
Android Central Newsletter
Get instant access to breaking news, the hottest reviews, great deals and helpful tips
Joe Maring was a Senior Editor for Android Central between 2017 and 2021. You can reach him on Twitter at @JoeMaring1.
"an opportunity for businesses to reach people on WhatsApp" And an opportunity for people to ignore them as they do on every other platform.

In the UK WhatsApp is massive, practically everyone is on it. It gained popularity fast because you could send picture messages etc for free! But like everything Facebook gets involved and ruins it, it will start slowly with these status adverts and gradually get worse probably pop ups everytime you go in or something.

Yep, huge here. How come it's not big in the US? What do they use instead?

Someone can come on and tell us but I think Signal and Viber maybe? It's about time Google or Apple made something cross platform, encrypted to better this!

Think the US are still big on sms? For such a tech savvy country I still find it funny they hang onto sms and MST payment methods both of which faded out here long ago. I think I only get sms for verification codes etc these days And like you's say EVERYONE has WhatsApp here. My kids, elderly relatives, friends, work colleagues are all easy to reach on it

Most cell service providers in the US bundle unlimited or nearly unlimited SMS messaging in their monthly fees. Under that regime 3rd party messaging hasn't really been embraced as extensively as it is in other parts of the world. (After all, EVERYBODY has an SMS app, so there's no friction over finding a common platform.) In fact, the current push in the US to update SMS via RCS is intended to address most of the remaining limitations of SMS and further cement its grip on the text communications market. Of course, the situation ignores completely the desirability of encryption, but that's another issue.

Yeah it's the same here in the UK regarding unlimited sms with contacts. MMS however are very expensive and people don't want to use seperate apps for sending texts and photos so just use WhatsApp or to a lesser extent Facebook Messenger. Like you say RCS is supposed to be addressing this issue but it seems to be taking forever

People here in the US use Facebook Messenger. Almost everybody I know uses it. Only a handful of folks use Whatsapp.

Well, the case of Instagram could disprove you. And it's owned by Facebook. Everybody was up in arms when they decided to introduce sponsored content a few years ago. Today it's Facebook's most rising venture. Did the people that threatened to leave actually leave? Probably not. That's what people do, they complain. Acting on that is a whole other story, and brands know it. They keep their head down, try to shift things, and get their way. Now, Instagram is a very different medium by nature (visual) and its purpose is very much different than Whatsapp. Let's see how this will all flow...

No your right people will complain and still use it etc, (don't use Instagram never have and never will) I will see how bad it is and decide at the time. I hate adverts on Facebook, but I still have it, however my use of it is very minimal compared to back when it first came out. I wish someone like Google or Apple would do a good cross platform service, the whole messaging, SMS thing is a total mess with so many apps etc

Aaaah, so this is the part about "if it's free, you're the product", Lol.

Telegram is a beter message service, including file transfer and voice calling and no advertising or Facebook spying on everything you do.
Been using it for years never will I use anything by facefuck

And the other shoe drops. Time to start shifting to Signal I guess.

Too intrusive and too insecure. Much, much worse than any other app. And according to one recent article, there is malware in the making that sift through messages and compromise them in unwanted ways. You ask how come it's not big in the US. Well, I would ask why it is so big everywhere ekse. It is so bad i don't know how the world can trust it. My own sister and her husband went on a trip recently. They asked me to install it so we can keep in contact while they were away. I said NO.

Where is WhatsApp intrusive? What malware are you talking about? What is facebook doing to your privacy? There are no ads in whatsapp. Never seen any malware either. Like everything else internet you gotta use some common sense. Stupidity doesn't protect you! All messages are encrypted on your phone. It's the same encryption that Signal (recommended by Snowden) uses. Facebook sees and reads NOTHING message related. All they have is your phone book (most folks are on Facebook anyway and give away much more data). And so will Signal or the Ruskies at Telegram (which has its own set of headlines, btw).
I do say though, if Facebook finds ways to bombard us with ads or finds other ways to screw the app up I'd switch to Signal,the ONLY alternative messenger (free, open source, fully encrypted).

It's owned by Facebook and that in and of itself makes it a no go for me. Everything Facebook touches turns to ****.

... allows you to send text, audio, and picture messages over data/Wi-Fi to anyone else =-> that has the app !!
Off my list for sure - and then the FB owned thing.... Yikes
Android Central Newsletter
Get instant access to breaking news, the hottest reviews, great deals and helpful tips
Thank you for signing up to Android Central. You will receive a verification email shortly.
There was a problem. Please refresh the page and try again.