How to make a custom icon for Android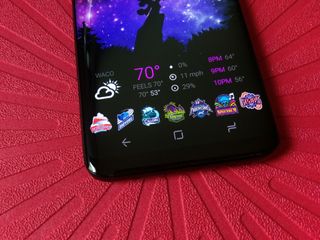 (Image credit: Ara Wagoner / Android Central)
Icon packs have holes. Icon packs don't always fit your wallpaper. And when you're theming your phone, maybe what you need isn't in an icon pack at all. That's OK. We don't need no stinkin' icon packs, especially in 2020 when apps like Icon Pack Studio (opens in new tab) exist. We can edit together our own custom icons! It's easy. All you need is some kind of photo editor — be it the latest Photoshop or free cloud-based editors like Pixlr E (opens in new tab) — and a little creativity.
Finding your image
Most third-party launchers like Nova Launcher let you set any image you want as an app icon. With that kind of freedom, it can be a bit daunting finding inspiration for your icons. While most custom icons are theme-driven — using color palettes or pictures based on a wallpaper — here are some more ideas for custom icons or where to pull them:
Game elements: Inventory items in a lot of games, like these Dark Souls items, are easy to set as icons because most are designed to fit into a square and transparent PNG images of the items are easily found on fan sites and game wikis.
Emoji: Emoji are already square images that are mobile friendly and can be decoded a million different ways. You can disguise apps by how they make you feel, what they remind you of, like a secret code only you can decipher.
Music: If you want to show off your intense love of your favorite group or band, make their already-square album covers into custom icons. ABBA's SOS for the dialer? Metallica for Chrome? Can You Feel The Love Tonight for Tindr?
Logos: Sports teams, name brands, heck even a lot of movies and bands have their logos online in transparent PNG images, ready to be set as a custom icon. If you're a sports fan, your team's logo is the easiest app drawer icon in the theming world, and in most cases it won't need any editing at all.
Vector sites: Want an emblem for a globe, or a lilypad, or bell bottoms? Icon sites and vector repositories are treasure troves of icon fodder, and once you download them, you can gussy them up with textures and color palettes. Flaticon has a fantastic selection of both free and paid icons.
If the image you find is a transparent and square image, congratulations! You can apply it as-is. If it isn't, there's a few edits you may need to make.
Editing: How to turn an image into an icon
Let's get one thing out of the way right away: you do not to pay for Photoshop just to make custom icons. You can absolutely use free photo editors, like Pixlr E (opens in new tab) and remove.bg to get the job done for free, and you can use them on your phone if you don't have a laptop handy.
Here's what can be wrong with an image and how to fix it:
If your source image doesn't have a transparent background, you need to delete the background if you want to apply it on Android (or add a color palette background on iOS), you can use Photoshop, Pixlr E, or remove.bg to get rid of it and save it as a transparent PNG.
If your source image isn't a square image, you need to pad out the image and make it a square. You can do this in Photoshop or Pixlr E using the Image > Canvas size option and then expanding the canvas out into a square.
If an image is too large — if it looks too jagged or busy — you can can resize it using Pixlr E, Photoshop, or even the built-in Gallery app in Chrome OS or Windows to resize the image to a smaller size. 500x50px is a good size for icons, as it allows them to look good even when screen zoom is turned up, but it's not so big that details will look janky.
Icon Pack Studio: Build your own icons seamlessly
Source: Android Central
If you're not interested in hunting down a new image for every single app on your home screen — to say nothing of all the apps in your app drawer — then let me share what I use for my home screen icons these days: Icon Pack Studio. This app doesn't make standalone icons, it creates a custom icon mask that it can then apply to every single app in most third-party launchers, though it's most seamless on Smart Launcher 5 since it's made by the Smart Launcher team.
You can choose the background shape, how big and what kind of app icon is used, and then add stroke, textures, gradients, and other fun effects to the mask before exporting it (for other launchers) or directly applying it (on Smart Launcher 5). You can set colors by hex code, allowing for the icon to be perfectly matched to your wallpaper or widgets.
Make it your own
Icon Pack Studio

Pick your background, pick your textures, and bam, instant gapless icon pack! This could replace all your custom icon and icon pack needs.
Applying a custom icon
The method for applying a custom icon can vary a little depending on the launcher you use. Here are the processes for applying a custom icon on the most popular launchers, and how to apply a custom icon even if your launcher doesn't support custom icons itself.
Nova Launcher
Long-press the shortcut you wish to change.
Tap Edit.
Tap the icon box to edit the icon.
Tap Gallery apps.
Tap Documents.
Navigate to and select your custom icon.
Make sure your icon is centered and completely within the bounding box before tapping Done.
Tap Done to commit the changes.
Enjoy your new icon
Action Launcher
Long-press and hold the app shortcut you'd like to edit.
Drag the icon up to Edit.
Swipe up the menu to reveal the list of sources for your icon.
Tap My photos.
Navigate to and select your custom icon.
Return to the home screen to enjoy your new icon.
The only limits for custom icons are your own tastes and your imagination! What custom icons have you used in a theme? Got a great idea for some custom icons but don't quite know how you could pull it off? Leave your ideas in the comments below!
Ara Wagoner was a staff writer at Android Central. She themes phones and pokes YouTube Music with a stick. When she's not writing about cases, Chromebooks, or customization, she's wandering around Walt Disney World. If you see her without headphones, RUN. You can follow her on Twitter at @arawagco.
Nice article, saving this for later

Why would anyone save this article? It's all filler. It's okay as a creative writing piece, I guess. But there is zero content.

Does making negative comments make you feel good?

I love this app so much! Have a little tip that I found useful
If anyone is trying to set something up on the go. (Managed to do all mine without photoshop) Google
(IMAGE YOU WANT)+Vector+png So example Poke ball + vector + png When you select the image to view it if you see a checked back ground your good to go! Probably common sence but good for the non photoshop savy or what have you. Manages to do about 30 icons this way. Hardest part is finding one you like haha Posted via the Android Central App

Vectors are nice, but you can't always find them for the theme you're looking for.

Great article! Carving out a nice little niche for yourself here Ara.

Ara is the Queen of Customisation!

@Ara, would you be willing to share that Dark Souls 3 icon pack with us? I'd appreciate that. #GITGUD

I suggest downloading and hosting them yourself if you intend to share with friends, when the Drive link says too many people have accessed it, that'll be it, I also didn't get that far into the pages of elements I found: https://drive.google.com/folderview?id=0Bw0f0IDVCEzhTkx6STFzdm5DbmM Posted via the Android Central App

I want that jaguar and horse wallpaper please Posted via the Android Central App

Those are from our Superbowl theme article. Posted via the Android Central App

Good read. Thanks! Posted via the Android Central App

Ara, is there a specific photo editing app that you use to save an image as a PNG, or to save the image at the 500 pixels square resolution? I'm assuming that desktop Photoshop does it, but it looked like maybe you had a way of doing it directly on your phone?

There are some Android-based photo editors, but it's far, far easier to use a desktop computer, even if you just use Pixlr's web-based editor. If you have to do it on Android, I'd suggest using one of the many "Background Remover" apps on Google Play and then cropping the image into a square.

Smart Launcher 3 also lets you select images and sett them as icons. Just recently, however, SL's developers issued a new app, Icon Pack Studio, that lets you create your own icon packs that DO theme every icon. Works dynamically with Smart Launcher, but also exports apks that you can install and use with other launchers.

Icon Pack Studio is a darling little mask-maker, but there's only so much it can do, but I'm hoping to see it expand and grow into a true icon pack maker.

Have you looked at Smart Launcher's Community on Google+, and seen what folks are doing with IPS? It may be a mask-maker, but it is one highly versatile mask maker already.

Are those Dark Souls weapons icons?

I bet iOS 15 will introduce icon packs, and it will change the world!!!!nnnm

Love the article. Good Info. I was wondering what weather app do you use for the weather widget on the first picture of the article? I like that layout.
Android Central Newsletter
Get the best of Android Central in in your inbox, every day!
Thank you for signing up to Android Central. You will receive a verification email shortly.
There was a problem. Please refresh the page and try again.