Best Android launchers for your phone 2022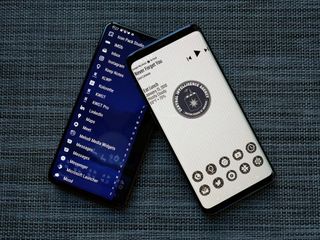 (Image credit: Ara Wagoner / Android Central)
The way we arrange, organize, and interact with our apps on Android is called the launcher. Launchers usually consist of a series of home screens, where we can arrange app shortcuts and widgets while the rest of our apps sit in an app drawer. From the best Android phones to the most basic budget smartphone, every phone comes with a launcher. Some built-in launchers are great, but when they drop the ball, there are endless third-party launchers that not only pick it up again but knock it clear out of the park. Everyone has their perfect launcher, but if you haven't found your favorite yet, then here are the best Android launchers that we at Android Central have used and loved for years.
Best Overall: Smart Launcher 6
AC
Score
5
Smart Launcher has been around for years and years, but it really kicked things up a notch with Smart Launcher 6. The home screen features a grid-less widget placement system and modular page system, but the real star of the show here is still the app drawer. Smart Launcher 6 automatically sorts your apps into several categories, and if you pay for Smart Launcher Pro, you can add your own custom categories and sort your various drawer tabs in a variety of ways, from most-used to install time to icon color.
From a responsive and comprehensive categorical app drawer to some of the most precise widget placement on Android to the most diverse icon options of any smartphone, Smart Launcher 6 has a lot to love. Its gestures are top-notch, too, especially the double-tap shortcuts for dock apps, which work worlds better than the swipe app shortcuts Nova and Action use.
Smart Launcher is also part of the holy trinity of quick home screen theming I've used for the last three years, and it's been used in our dead awesome Deadpool theme, NBA Finals themes, revamped MrMobile theme, and more. You can event combine it with Android 12's Material You and Smart Launcher's Icon Pack Studio to build a home screen experience that will automatically mesh with any and every wallpaper you set on the phone.
Pros:
Easy setup with simplified layout
Tabbed app drawer is wonderful
Quickest launcher to theme
Best home screen app gestures
Cons:
You can't place icons at the top of the home screen
Premium system can be confusing
Best Overall
Simple setup and wonderful widget pages
With a smart, widely adaptable app drawer, insane icon options through Icon Pack Studio, and a drop-dead simple home screen, Smart Launcher 6 has won my heart and my home screen.
Resurging Legacy: Nova Launcher
AC
Score
5
Nova Launcher has been a major player in the home screen market longer than most of us have even used Android. The reason for this continued dominance is simple. Nova's mix of customization, convenience, and cunning is unparalleled. Nova lets your phone look more Pixel-y than a Pixel and more TouchWiz-zy than a Galaxy and does it all with ease and grace. It also lets you build a home screen that is unique, stable, and solid while being as plain or beautiful as you'd like.
A wide feature set allows Nova to achieve all these wonderful themes and let users build exactly the home screen they want, with small but infinitely useful features like subgrid positioning and a robust backup system. For users just getting used to third-party launchers, the "import from other launchers" feature is the most consistent and reliable on Nova than just about every other launcher I've tried in previous years. If you want to ease yourself from the basic launcher to a custom experience, Nova can help you get comfortable with launcher layouts and themes.
The launcher also recently took Nova Launcher 7 to the stable channel where everyone could enjoy the overhaul to settings and launcher look that has been in beta for a year. Nova had been starting to feel a little bloated, but the Nova 7 update has refreshed things so it's easier for new users to jump in while still being as flexible as ever for those of us who are ridiculously picky when it comes to theming our home screens.
Pros:
Easy to import previous launcher layout
Tons of customization options
Great support and stability
Buy Prime once and you're set for life
Cons:
All the options can be overwhelming
Theming can take a while
Resurging Legacy
Good ol' reliable launcher for the masses
Whether you want to build complex themes or you just want a smartly laid out launcher with excellent gesture controls, Nova is for you and your style.
Swiss Army Launcher: Action Launcher
AC
Score
5
The watchword of both Action Launcher and its users is quick — Quicktheme, Quickdrawer, Quickpage, Quickbar. To ensure it can be the quickest and best launcher for users who want to set everything up just so, Action Launcher has taken it upon itself to be one of the most customizable launchers on the market.
From its robust gesture controls to its ubiquitous Covers and Shutters to hide folders and widgets under app icons, Action Launcher makes it easy to get the home screen you want. If Quicktheme's color palette misses the mark, you can now set Material palette colors or custom hex code colors to get a more cohesive look! This was a long-awaited feature and it makes Action Launcher much more useful to live wallpaper users and themers.
Action Launcher is also quick to support features from the newest versions of Android, or as much as can be replicated on a third-party launcher. Action Launcher's developer Chris Lacy is devoted, dedicated, and is quick to jump in on Android issues that impact third-party launchers — and even iOS features, adding widget stacks from iOS 15. While the actual theme-building power here isn't quite as adaptable as Nova Launcher, it's a launcher that works incredibly, well, quick about getting you set up and on your way.
Pros:
Customize almost everything
Great gesture options
Robust support
Cons:
Not quite as flexible as Nova Launcher
Premium/Plus system can get confusing
Swiss Army Launcher
Quick's the word and sharp's the gesture
Whether you want a launcher that's the peak of productivity or the height of sophistication, Action Launcher and its many quick features can help you realize your dream setup.
Best Productivity: Microsoft Launcher
AC
Score
4.5
You'd think that if Microsoft was going to bring a launcher to Android, it'd match Windows 10 or maybe the old Windows Phone look — and you'd be wrong. Not only is Microsoft Launcher a completely Android-native experience, but it's a top-quality, ever-updating launcher. It's one of few outside Nova Launcher to offer edge-to-edge widgets and subgrid positioning.
Microsoft Launcher's experience centers around a clean home screen and a smart page to the left fed by your Microsoft account, your daily phone use, and any Android widgets you wish to add. Even if you're not immersed in the Microsoft ecosystem, having a scrolling page of widgets beats having to space them out over 3-4 pages. While this launcher's settings are somewhat clunky, it has all the launcher options you'd want and then some.
While Microsoft Launcher is definitely not as simplistic as Smart Launcher 6 or Niagara Launcher, it is still a fairly lightweight launcher that's well-worth considering, especially if you have any sort of reliance on Microsoft's ecosystem for work, school, or personal use. And while the Microsoft Launcher is designed for the Microsoft Surface Duo 2, not the Z Fold series, it is yet another good option of foldable phone owners.
Pros:
Scrolling widget page
Good enterprise integration
Very active dev team
Cons:
Settings need refinement
Two-level dock is weird
Best Productivity
Integration and adaptability for the way you work
You can customize most aspects of this quite adaptable launcher, but it's also remarkably easy to have the launcher get out of your way and let you work.
Quick and Simple: Niagara Launcher
AC
Score
4.5
Niagara is still a shiny new-ish launcher that has only been around for a couple years — yes, that makes it new by launcher standards — but it's already got quite the following for being a lightning-fast launcher that's great for low-memory devices. It's also ridiculously simple to build themes around since it only has one layout. You can stick one or more widgets at the top, you have a Quicklist of your favorite apps, and the rest of your apps are a simple slide along the A-Z alphabet on the right (or left) side of the screen.
The feature set here has been steadily growing over the last year, and Niagara really hit its stride around the summer of 2021 when the Galaxy Z Fold 3 arrived and brought foldables mainstream. Niagara Launcher was very quick to adapt its minimal launcher into a big-screen-friendly launcher and in fact if you're looking for an all-business launcher for your Fold 3, Niagara has both one-column and two-column setups you can use to get to your next app and get back to work lickety-split.
If you just want to find your apps quickly and get on with your day, Niagara Launcher is a pretty great answer. It reminds me a bit of the old Z Launcher from several years ago, if you remember Nokia's experimental launcher, but I think this one is going to be around for a good while.
Pros:
Ridiculously fast
Quick setup
Drop-dead easy interface
Works well on foldables
Cons:
Very limited layout options
Gestures can overlap at times
Quick and Simple
One layout, one super-fast app drawer.
While you may not be able to spread out all your apps and widgets on five different screens, this vertically scrolling launcher is lightning quick and works well on phones that more bloated launchers start to lag on.
Bottom line
Why you can trust Android Central Our expert reviewers spend hours testing and comparing products and services so you can choose the best for you. Find out more about how we test.
My first launcher love was Nova, but Smart Launcher 6 (opens in new tab) won over my heart in 2018 and I haven't found anything else that works quite as well for my theme-loving setup. The categorical app drawer is better than one big A-Z sort once you have your categories set the way you want them, and the double-tap app shortcuts don't interfere with gesture navigation or swiping between the app drawer and home screen screens the way they do on Nova, Action, and just about every other launcher in existence.
If you want a launcher that's more like the launcher that came with your phone, Nova Launcher (opens in new tab) is the best bet because it imports from other launchers more consistently than any other launcher I've tried, allowing you to start with the setup you already had and then ease yourself into more advanced features like shortcut gestures and customizing the look of your folders, icons, and search bars. Nova Launcher is what Nicholas Sutrich uses on all of his phones, including on his Galaxy Z Fold 3, because you just can't beat Nova's flexibility.
Whichever of these launchers you opt for, the beauty of testing a launcher is that these all have a free tier that allows you to get a really good feel for the launcher and how it performs before you unlock extra features with Pro upgrades. If you have a launcher you absolutely adore, you should absolutely buy the pro key or contribute to the developers so that they can keep updating that launcher and keep it alive. Developers need to eat, too!
What happened to my gesture navigation?
If you're on an Android 10 phone that isn't on the latest patches, using anything other than the default, manufacturer launcher on your phone will force you from the new Android 10 gesture nav back to ugly old three-button nav. This was an issue at Android 10's initial launch, one that made third-party launchers suffer for Google's incompetence.
This issue has since been fixed for many phones, first Pixels and then OnePlus phones and finally Samsung phones that have the One UI 2.5 and One UI 3.0 updates. If you can't use gesture nav with your new launcher, contact your manufacturer and ask what the holdup with the update is.
And once again, shame on Google for ever allowing a major release of Android to ship like this! SHAME!
What missed the cut
There are hundreds and hundreds of launchers out there, and while there are plenty of good ones, they can't all make the cut. Here are the launchers that couldn't make the cut:
Get the Android Central Newsletter
Instant access to breaking news, the hottest reviews, great deals and helpful tips.
Ara Wagoner was a staff writer at Android Central. She themes phones and pokes YouTube Music with a stick. When she's not writing about cases, Chromebooks, or customization, she's wandering around Walt Disney World. If you see her without headphones, RUN. You can follow her on Twitter at @arawagco.
That top image ... is that CIA logo just wallpaper, or is it from an app?

Good thing it's CIA and not FBI! Those guys seem to lock/lose/smash or otherwise destroy their phones...

Do people really spend so much time tinkering with their phone screen? I set up the screen on my Pixel 4 the way I like and is most efficient for me, then leave it that way. I don't need my phone to "excite" me. It's a phone. A tool. Not my best friend.

For some of us, a launcher makes the phone far more usable. It's not just a matter of "pretty" or "new."

Customization has been a thing for phones since before smartphones. It doesn't have to be tinkering with them, but making them look and operate the way most comfortable and intuitive for each user. I might be wrong, but i assume that Pixel phones all come with Android One natively, if i am right that makes customization easier than other phones that have their own android layers.

Yes, people do. I do it for function and a first time fresh feeling. Change is good and a launcher gives you that ability.

There with you Fuzi... I might have a couple of minor tweaks, like a change in a widget, but really that's it. But look on YouTube and yeah, you can find folks who review different layouts and themes submitted by other people. Some of them are really good and you hear how some of them took a few hours to create which is more time then I care to spend laying out my phone...

People have different needs and wants. We don't always understand or agree with the decisions others make. But that's OK. What I eat doesn't make YOU fat.
I'm quite sure you do things that some folks would find strange or unnecessary. See how that works?
And I don't recall hearing about anyone being "excited" about making changes to their device of calling it their "best friend." Have you? I didn't think so. Phones are tools? They certainly are. Just as footballs, playing cards, surfboards, TVs, gloves, lawn chairs, etc., are all examples of tools also.

Good for you. Is it really that unfathomable that someone might like to explore a vast list of settings for setting up their device? Just because you don't have the patience to experiment with a launcher doesn't mean others don't. Launchers are awesome

Been using Action Launcher for years. Extremely useful and reliable

Using Microsoft Launcher all day...every day!

Yo i have over 200 apps
So i can only think to use simplicity of creating folder and SAVING AND RESTORING FEATURE of Microsoft launcher...

Other launchers have save-and-restore, too.

I believe Nova is the go to launcher I have been using it for years.

Square home FTW! Makes my Android feel like my old Windowsphones. Best UI ever. Sucks that they went the way of the Dodo bird.

Microsoft launcher for sure

What's the circular music widget on the phone in the Nova Launcher pic? I'm sure it's KWGT but is it prebuilt where I can just download it using KWGT or what?

I made a comment once on YouTube about how the lack of customization is one of the biggest reasons people choose not to buy iPhones. I got bashed for that. They said that the average user doesn't care about customization. I find that hard to believe, maybe because I get bored so quickly & am frequently changing things on my phone. That's always been the #1 reason for me not to buy an iPhone, although I am now considering buying one just for something different. iOS 14 has made it more customizable, although not near Android's level. I'm definitely a tinkerer, although I won't root my phone for fear of bricking it. As it is, especially with Samsung and its theme store, Goodlock & the right launcher, Android customization is nearly limitless.

I am completely baffled by the comment about Microsoft Launcher's two level dock being "baffling." First of all, you can have more than two levels; second of all, it is the single most used feature of the launcher that I rely upon. Highly recommended. I suggest users join the beta program for even more advanced features.

I agree completely. I've tried Smart Launcher 5 and not having an expandable dock actually turned me off. I like having my row of most used apps (the basics - phone, text, email, browser, calculator), but that's all I want showing. The Microsoft Launcher expandable dock allows me to keep important and most-used apps on the home screen without having them clutter it up. I also like Nova's rotating dock, but it's not as nice as the expandable dock.

Wish the swipe home gesture wasn't so janky on 10 and 11. It has me using the Pixel Launcher

Nova 7 is great. The beta has been fantastic.

I have been using Nova Launcher for years. No matter what brand of phone I buy, I use Nova Launcher, mostly for the scrolling app feature and secondly for the ability to use third party icons.

Would love to know where that music widget is that appears in the pic for Lawnchair 2 launcher. Imagine it's probably KWGT which I've never used. Can I assume that you always have to have KWGT installed to use widgets you either download or build on/using KWGT or without the main app those widgets would just quit? But seriously that widget would match my clock widget so I'd like to know how to get it...

Ara: On your recommendation, I decided to give Smart Launcher a try. I found the default theme extremely slick, possibly the best visual implementation ever on Android, and I loved the plethora of fonts available for customization, including Google Sans. However, the customization and power-cramming I had gotten used to with Nova Launcher since 2014 was hard to forget, so for now, I'll have to stay as I am. Keep the reviews coming, though. You're reviewing style and quality is excellent and you save me tons of time. That said, is a review of Podcast clients anywhere in your agenda in the near future?

I've tried a lot of them and settled on Pocket Casts.

Been using nova prime for quite a few years until the other day. I love all the gestures I can set and stuff but since a couple days ago, on my S21, if I turn the phone off by taping the screen I can't use my finger print to turn it back on. I have to use my pin. If I turn it off with the power button I can turn it on with the finger print. Got annoying so switched back to the Samsung ui. Kind of sticks but not sure there's much I can do.

The developers on Nova are pretty responsive. Or used to be anyway. It's been a long time since I've had to use support and I've had Nova since they first started. I can't imagine having to use the Samsung UI. Sorry.

I've used Nova Launcher since they were first a 'thing'. I tried others to see if I'd like them better, but no, came back to Nova and have stuck with them forever. The best customization thing for me (I know, simple minds) was when Samsung introduced Bixby. Nova shuts that off and I've been happy with that because Bixby is annoying and should have always been optional. Also, the ability to backup the settings which not everyone had has been great when switching to a new phone.

For those of us who loved (and still miss) Windows Phone, how about Square Home? Have used it for years since Microsoft orphaned its phone, and still love it.

Your comment made me curious, and so I loaded up SquareHome, and I LOVE it. The customization and the overall appearance are great! Thanks for mentioning it.

The two-level dock listed as a "con" for Microsoft Launcher is one of my favorite "features" of the launcher. The fact that it can be completely backed up offline, so on switching phones, reloading and restoring tells you exactly which apps to reload and where to put them is another huge bonus. Highly recommended.

I've been using Smart Launcher since version 3. About time they got some credit.

I've just installed Lawnchair 2 on my S20 FE and it's my favourite launcher, while I'm not a fan of the Pixel software overall and prefer One UI, I've always loved it's clean aesthetic and I've found I pre6the vertical app drawer which makes it easier to find apps

I've tried several launchers and always end up back with Nova. By far my favorite.

same for me. the only other one i try once in a while is Microsoft Launcher because of coming from WIndows Phones. but i come back to my Nova setup rather quickly each time i check out Microsoft Launcher again.

Smart Launcher's developers are close to releasing the beta of Smart Launcher 6, which will allow much freer placement of widgets and icons.

Wide Launcher if you want complete customizing. Widgets anywhere at any angle. Lots of great, simple ways to make it your own.

Can't recommend Niagra enough. First time in a decade that I can say I've truly been happy and content with my launcher. The have added so many updates and features, that even though it has one set up look, you really can customize the way it behaves to your liking. Can't imagine going back to Traditional home screen/app drawer setup again.

Completely agree - it really streamlines everything. Nova is obivously better at customization but I'm tired of customizing!