Best Android Browsers in 2022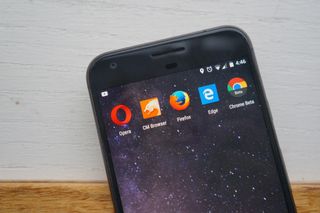 (Image credit: Android Central)
The default web browser for most Android phones is good ol' reliable Chrome (opens in new tab). If you frequently use other Google services like YouTube and Google Drive, it's the natural pick. But you do have other options. Here are the best alternatives to Chrome for Android!
Always remember you've got options
One of the best parts of owning an Android phone is the ability to customize the default apps to fit your needs, so if you've switched from a Samsung phone to a Google Pixel and miss the streamlined functionality of the Samsung Internet Browser, you can download and set Samsung's browser as your default.
I have switched over to Brave as of late because I appreciate the ad and tracker blocker functionality, and I get a kick out of tallying up BATs using the Brave Rewards program. It's still dubious as to whether they hold actual value or not, and I haven't yet used them to contribute to a site I enjoy, but I love the premise.
Beyond Chrome and Brave, I'd have to recommend the Microsoft Edge browser strongly. Edge for PC, the last time I used it, still wasn't my cup of tea, but Edge for Android works remarkably smoothly and is a solid pick especially if you do use Edge on your computer as there's excellent back and forth integration between the mobile and PC versions.
Get the Android Central Newsletter
Instant access to breaking news, the hottest reviews, great deals and helpful tips.
Marc Lagace was an Apps and Games Editor at Android Central between 2016 and 2020. You can reach out to him on Twitter [@spacelagace.
Sorry but Samsung Browser is better than all listed above in every way, its not an opinion, its a fact. Just use the browser and you will immediately see, dont even need to explain.

My favorite used to be Dolphin, but Samsung browser has gotten so much better I've switched.

Nah, used it then immediately uninstalled it and went back to Edge.

I haven't tried Edge for Android, but Edge for PC is a disaster.

Edge for Android is working well and it's still in beta.

I'd give it a try, but I'm happy with what I use. I wouldn't benefit from the "continue" feature, since I avoid Edge on my PC like the plague.

I agree I did use the Samsung browser on my xperia xz premium but tried edge and not gone back since fat and not had it cracked ext to. Also great to be able to send it to PC but if you don't like edge on PC that could be an issue

I switch between Edge and Chrome on my PC. I think Edge is great, I'm only really missing one extension for it

you might want to try explaining though, because many people won't simply just use it. you need to give them a reason to use it. you sound like a fake review unfortunately. not saying you are a fake review, just simply that you'll have the same effectiveness as one.

It's fast, easy, and it has something like 10 add-on blockers available for it (tracking blockers, ad blockers). That's why I like it.

CM Browser has the adblock turned on by default. It's also fast and easy to use.

Does it block ad tracking? Does it have any advantages over Samsung Internet or Dolphin? It's pointless to switch unless there's something better.

Firefox with Ublock Origin+Tampermonkey for Anti-adblock script

And fingerprint login. Don't forget that

I was just about to say that. It is definitely the best browser for Android.

Nice list but I'm surprised to see that Samsung Browser isn't here but Edge is. Very interesting. I used to love Opera Mini but the Samsung Browser has changed that for me lol.

Maybe check the list again???

CM Browser... welp, I still use Firefox although it isn't as snappy as it used to be but I still really prefer it on a tablet.

Was a long time Chrome use your but when Samsung release their browser for Nexus and pixel phones I started using that and now then on beta

Samsung browser has been my recent go-to. Significantly better than I wanted it to be since I loved using the Chrome browser, but I've switched and won't be going back anytime soon.

I downloaded the Edge beta. I'm pleasantly surprised! I really like the "continue on PC" feature, although it's probably a little less intuitive than just having all my recent tabs available from the history window on Chrome. It is light and fast and I love the nav buttons on the bottom.

I am a fan of Puffin. Mainly because I can set it to default to Desktop Version of website. A few of the sites I use, I cant stand the mobile version. Especially when using a tablet, the screen is big enough that I prefer the desktop version of a website. Chrome and others can do this, but you have to click the check box in settings each time. Puffin you can set it to default.

Ghostery and Firefox Focus.

And best one missing Samsung internet browser - fast with adblock adblock Via Browser - fast, adblock, bottom urlbar option, many customization.

Hey! Nice to see someone using Via too! Although not my main browser because it doesn't automatically reload unclosed tabs upon reopening. I found it to be perfect for opening Google feed articles.

Interesting to see all of the Samsung Browser love...makes me want to try it. Can't get away from Chrome because I like how it syncs across devices.

There's a Chrome Extension that will sync your bookmarks and history to your phone Its not 100% Perfect but for mobile browsing and not losing your data works great, Does what you want it to do.

Excellent...will give it a shot.

Believe it is called "Samsung Internet" in the chrome store

I work in an IT environment, showed around 20 people I work with this browser, I have never been thanked more for showing someone the way.

Brave is Chrome with some light ad blocking built in without the benefit of it syncing with your PC Chrome browser.

used to be a Chrome Head, Ever since they added the plug in to let them play nice been using Samsung Brower, Works like a dream

Fire fox is the No #1 Fire fox works really good.

LMAO @ (besides Chrome) Didn't even bother to read the article when I see crap like this.

No continue on PC, no reading mode and all controls are at the top

I use chrome mostly because I use it on my pc and passwords and bookmarks are sync'd. Not sure why Chrome eliminated the zoom to fit page feature. Now, only Opera has it so I switch over to that to read sites with tiny text.

What?! Where is Samsung's browser. It's second only to Chrome, in my opinion, and certainly deserves a place on this list ahead of Edge.

My favourite browsers are three , chrome , Samsung internet , Microsoft edge . Because they work seemlesly across the multiple devices .

Add me to the list of people backing the Samsung Browser. It's available for all Android devices not just Samsung. I even use it on my LG to tablet. After that it is Firefox Focus and Microsoft's Edge.

Samsung Internet browser is the best

First, I'll pitch in saying that Samsung Browser should be there. Now that's it available for all devices, it's definitely one to try out! Second, why do people on this website keep recommending ANYTHING made my Cheetah Mobile. Their crapware full of intrusive adware is well documented. CM has been forever banned for me and they shouldn't be publicized by any means, at least to help people protect themselves from that kind of crooked company.

I'm currently using the Samsung browser, quite nice.

firefox is just the, the boss out there in that crippled bunch ( edge,nonames ,opera...) none of them is close to functionality or customization(looks) of mozilla
long live mozilla firefox nonprofit inc

I use Dolphin and greatest thing about the browser is that you swipe the sides for quick access to bookmarks and other settings.

is Samsung browser being touted only for being fast and having adblock (not to diminish either attribute, its just those two things aren't super important to me)? how is its interface? does it have any other useful features than those two? I heavily use Edge's Continue on PC.

The navigation controls are at the bottom too, which is very nice to have. In fact, the only thing at the top is the url bar. Also dark mode is coming soon.

Samsung browser on Samsung product is just way more functional. Biometric passwords alone is the number one main reason I use it. It also connects to Samsung Pay which I use entirely over Android Pay and it in general supports extensions. Night Mode, QR Scan. Save to SD card (if applicable). Hide status bar for more screen. It's an extremely well made browser.

While Samsung browser is fast and has all these extensions /features etc it's interface is such a freaken rip off of from Apple's Safari browser! So trying to look like Safari with the exact menu layout and etc! Very original of them!

No on is talking nor cares about Safari or even Apple for that matter. Why even troll about it? Samsung has made a damn good browser and does what it's suppose to do. Who gives 2 sh# about Saf... oh you do. You know many products copy off of other products? It's 2017 and whining about what Samsung does similar to Apple (or apple copying Android for that matter) is an extremely redundant pile of horse pi$$ Keep it moving

Well it definitely matters when a company like Samsung has to rip off another company's exact interface for its browser bec they can't be original enough to do their own! That just shows how much a company like Samsung takes inspiration /follows /copies Apple for that matter to be successful! *I'm just pointing out the obvious whether you like or it not!

For me, Yandex Browser is a great one. Chrome comes second, but I wish Chrome would allow me to add an ad-block extension like Yandex and Samsung Internet Browser do. I like Samsung Internet Browser, too. But I always go back to Yandex. I use Chrome when I need to use Chromecast.

How is the Samsung browser not included. This shows either alarming bias or alarming ignorance.

Believe or not, there actually been investigation that Donald Trump uses firefox on his phone and desktop, if Trump usest it then d.a.m.n. sign me too
trump is leader u want to follow and firefox is browser you want to install
long live mozilla firefox nonprofit inc

Gotta love a jester 😀 (you not frump)

That would be a reason for me not to use it.

I really want to like the Samsung browser but can't rename a shortcut I place on the homepage like you can with Chrome. Tell me I've overlooked something?

as in on the quick links or your home screen? For quick links [when you tap on the address bar]
>Tap Adress Bar To see Quick Links
>Edit Select a Link
>Rename

Press and hold shortcuts on Samsung browser homepage. Choose Rename at top of next screen.

I refuse to use a browser without adblock any more; Chrome lags on certain websites even with a Snapdragon 835!

Edge all the way! Going to be great by official release! Syncing my favorites, history, tabs and more between my PC and phone are effortless. Continue on PC feature is awesome.

I use Chrome Dev and Edge.
Rarely do I use Firefox.

Firefox FOCUS is my browser of choice.

Coming from Windows phone I am using Edge Preview along with the Microsoft Launcher and have to say the experience hasn't been too bad... Have all my settings and favourites syncing with Edge on my Surface Pro 4 and notifications working through Cortana... Just need MS to release photo, maps and films & TV apps to complete the picture...

Chrome drained my battery and caused the phone to get HOT. Haven't used for a year. Keep trying but don't like going through several steps to get to my darn bookmarks. Samsung extension for Chrome works pretty good to sync chrome bookmarks so Samsung browser works for me!

I use Firefox and Chrome usually. Both have "incognito"/private browsing options BTW. I tried to download Samsung internet browser from the Play Store after reading the comments here, but it said it's not compatible with my device. I'm on a Samsung Galaxy S2 9.7 tablet right now so I assume that the Samsung internet browser is only good for cell phones or desktops, correct?

The tablet should have the Samsung browser installed by default. It will be simply called "Internet".I still have my Galaxy Tab S tablet and it includes the browser.
Maybe try going to the Galaxy Apps store and getting it from there if it is not installed.

Thanks g c 736. Yes I have the purple and white Samsung internet icon in my apps but when I tap on it, it wants me to create an account with them which I guess I have never done. Is that necessary in order to use their Samsung internet browser? In fact when I first tapped on it it just gave me a blank white screen.?

i tried to use chrome several times, because that is what i use on my pc and mac... but samsung browser is just so much better i ended up disabling chrome.

For a software company, I can't believe how slow and battery hogging Chrome can be. Switched to Samsung Browser and never looking back.

I like Firefox Nightly.... And Firefox Focus is great too. I am curious to try Samsung after all the love I'm seeing here.

I wish this is properly written. Not thorough and really sounds like the author only took a minute or less at each browser. A click bait of which content is completely not what I expected.

Edge! I love the fact that it will render pages eliminating the adverts.

Samsung Browser destroys all others. Period. ...and I don't even use a Samsung device.

As a matter of fact you can continue on your pc from samsung browser. Just share the page your are looking at and search for continue in pc and that's it

Samsung Internet Browser Beta is the best on Android....better then Chrome

I was a firefox user. But it can be a pain on slow connections. Chrome lacks ad block. Using brave since a few months. Its pretty fast and has built in ad block, https everywhere & no script.