Best Waterproof Phones in 2022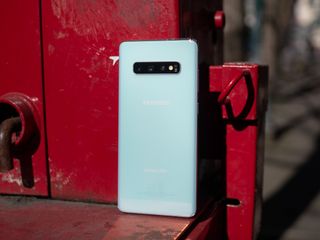 (Image credit: Android Central)
Over the years, water-resistance in phones has gone from being a luxury reserved only for top-end phones to a standard feature that's expected of almost any even remotely expensive gadget. In 2019, you really can't go wrong with any of these waterproof phones, like the excellent Galaxy S10+.
Best Overall: Samsung Galaxy S10+
Samsung Galaxy S10+
A well-rounded flagship for the masses.
Reasons to buy
+
Amazing display
+
Top-of-the-line specs
+
Versatile triple camera system
+
Terrific battery life
+
Great build quality
Reasons to avoid
-
Too large for some people
-
Very expensive
The Galaxy S10+ is one of the most popular phones on the market, and with good reason — it offers just about everything you could ask for in a modern flagship. The curved glass and metal frame practically melds into your hand, and the 6.4-inch AMOLED display looks stunning, with minimal bezels surrounding it thanks to the hole punch cutout for the cameras.
Of course, the S10+ is IP68 water- and dust-resistant, meaning it can survive through a rainstorm or accidental submersion with ease. It also packs other convenient features like wireless charging and reverse wireless charging. There's also a futuristic in-display fingerprint sensor and Samsung's One UI software, which moves elements of the interface towards the bottom of the screen to make the phone a bit easier to handle.
On the back are three great cameras; a standard wide lens backed by telephoto and ultra-wide lenses, which allow you plenty of flexibility while shooting, and there's a secondary wide-angle lens up front for more effortless group selfies. Overall, the Galaxy S10+ is exceptionally versatile, well-built, and powerful, and it offers something for just about every kind of user.
Best Camera — Google Pixel 4 XL
Google Pixel 4 XL
The best camera you can get in a smartphone today.
Reasons to buy
+
Super-smooth 90Hz display
+
Simple, useful and fast software
+
Top-end camera quality back and front
+
Nice-looking and feeling hardware
Reasons to avoid
-
Incredibly weak battery life
-
Motion Sense has little real-world use
-
Low RAM and storage for the money
The Pixel 4 XL represents the very best of Google's software. The hardware is no slouch either; that IP68-rated exterior holds similar muscle to other high-end flagships, with a Snapdragon 855 chipset and 6GB of RAM.
You also get stereo speakers and a great 90Hz display, and of course, the Pixel 4 XL has one of the best cameras on any phone you can buy. Night Sight allows the Pixel 4 XL to capture stunning photos even in near-pitch black conditions, and in daylight, you can grab great photos in any situation.
The biggest downside of the Pixel 4 XL is its battery life, which doesn't stand up to the competition and is far behind the Galaxy S10+.
Great for Videographers: Sony Xperia 1
Sony Xperia 1
Pro video settings and a pro display.
Reasons to buy
+
Incredible 4K display with pro-grade specs
+
Triple-camera system
+
Extensive manual video controls
+
Clean Android Pie software
+
Physical camera shutter button
Reasons to avoid
-
21:9 aspect ratio can be too tall at times
-
Camera is slow to capture and process photos
The Xperia 1 is Sony's sleeper hit Android flagship, backed by IP68 water resistance and a near-stock build of Android 9 Pie. It has a stunning 21:9 4K AMOLED display with the BT.2020 colour gamut, making it one of the best phones for watching (and creating) movies on the go.
It also has a versatile triple camera array, offering the same combination of wide, telephoto, and ultra-wide lenses as the Galaxy S10+. The Cinema Pro app lets you take the most advantage of those cameras with manual video controls, including 24p 4K video, custom LUTs, manual focus and shutter speed, and the robust h.265 codec.
Best With a Stylus — Samsung Galaxy Note 10+
Samsung Galaxy Note 10+
Samsung's biggest and best, with a stylus.
Reasons to buy
+
Incredible display
+
Outstanding performance
+
Great battery life and fast charging
+
Consistent triple camera
+
Best stylus experience on a phone
Reasons to avoid
-
Low-light camera isn't Pixel 4 level
-
Software requires lots of tweaking
-
No headphone jack
To understand the Note 10+, take everything that makes the Galaxy S10+ a great phone and take it up a level. All of the basics are the same, with excellent build quality, a top-end screen, consistently great cameras, and software that is packed with features. But the screen is even bigger, the battery lasts even longer (and recharges faster), and the specs have improved.
And of course you get the S Pen stylus, which simply has no equal. You can write, draw, annotate and sign documents with great precision. It can be used in a pinch to control your phone from a distance over Bluetooth. And you better see value in that S Pen, because it makes the Note 10+'s price jump: you spend much more for the Note 10+ compared to the S10+, despite most of the experience being identical — and you lose the headphone jack, and get a bigger phone that's a bit tougher to manage in your hand.
Best Wired Audio — LG G8X
LG G8X
LG's one of the last companies focusing on wired audio.
Reasons to buy
+
Quad DAC for wired audio
+
Wide and ultra-wide lenses
+
Great specs for the money
+
Second screen attachment included
Reasons to avoid
-
No OIS in secondary camera
-
Uninspired hardware design
The G8X is a fairly run-of-the-mill high-end phone, but there's simply no beating LG's Quad DAC for hi-fi wired audio with a standard headphone jack. The G8X packs an impressive pair of speakers for stereo audio without headphones as well, and a standard array of flagship-level specs inside.
Of course, the G8X is also IP68 water-resistant and features a large OLED display while still being reasonably manageable in one hand, thanks to tight bezels, rounded glass on the sides, and a small display notch up top. There's a Time of Flight sensor in that notch that allows you to unlock the G8 or control media playback by simply hovering your hand over the phone.
Best One-Handed Phone — Samsung Galaxy S10e
Samsung Galaxy S10e
The best phone, shrunken down into a one-handed device.
Reasons to buy
+
Compact size that's great for one-handed use
+
Same specs as the larger S10+
+
Excellent build quality
+
Reverse wireless charging
+
Side-mounted fingerprint sensor
Reasons to avoid
-
Lackluster battery life
-
No telephoto lens
If you want most of the features of the Galaxy S10+ but don't want a massive, two-handed slab, you're in luck. The Galaxy S10e has an identical spec sheet and even the same cameras — sans the telephoto lens. Of course, it's IP68 waterproof, too.
With a smaller 3100mAh battery, you won't get the plus-sized version's incredible endurance. But in just about every other right, you're getting the same experience for hundreds less. It's even better in some ways — not everyone is a fan of the S10+'s in-display fingerprint sensor and the S10e swaps it out for a capacitive sensor along the side.
What do these ratings mean?
While no phone is truly waterproof, there are varying levels of water resistance to keep in mind when comparing different phones. Every model in this list is rated IP68, which denotes full dust resistance and allows the phone to survive up to 30 minutes in as much as two meters of water. Other phones may be rated IP67, offering the same dust protection but only half the submersion depth at a single meter.
You may also occasionally see IPX7, which protects against one meter of water but doesn't guarantee protection against dust. Some phones, like the OnePlus 7 Pro (opens in new tab), are water-resistant to some extent but not officially IP-certified. This means it'll probably survive if you get caught in the rain or accidentally drop your phone in the sink, but you shouldn't test your luck since you're unlikely to get very far with customer service if the water damage indicator inside the phone gets wet.
On that note, while water resistance is a great feature to have, it isn't a guarantee from the manufacturer that your phone will survive any and all immersion. Especially if your phone gets badly cracked or the water sealant inside gets damaged (this typically happens when removing the back for repairs), liquid can still seep in and ruin your phone — so take the regular precautions with your phone, even if it's IP68-certified.
Most phones are water resistant these days
Whether you buy the Galaxy S10+ (opens in new tab), the Google Pixel 4 XL (opens in new tab), or the Xperia 1 (opens in new tab), you'll be getting an incredible phone that's backed by the same IP68 certification. Even if none of these phones speak to you, though, here's some excellent news: ingress protection is all but mandated in a flagship phone these days, so the next time you're shopping around, you can pretty much choose whatever phone catches your eye.
If you're shopping on a tighter budget, don't worry — there are still some options worth considering with at least moderate water resistance. The Moto G7 (opens in new tab) may not be IP68-certified; it has a "water repellent P2i nano-coating" that protects it from like splashes.
Credits — The team that worked on this guide
Hayato Huseman is a recovering trade show addict and video editor for Android Central based out of Indianapolis. He can mostly be found complaining about the cold and enthusing about prog metal on Twitter at @hayatohuseman.
Daniel Bader is the Managing Editor of Android Central. As he's writing this, a mountain of old Android phones is about to fall on his head, but his Great Dane will protect him. He drinks way too much coffee and sleeps too little. He wonders if there's a correlation.
Andrew Martonik is Executive Editor, U.S. at Android Central. He has been a mobile enthusiast since the Windows Mobile days, and covering all things Android-related with a unique perspective at AC since 2012. For suggestions and updates, you can reach him at andrew.martonik@androidcentral.com or on Twitter at @andrewmartonik.
Hayato was a product reviewer and video editor for Android Central.
Android Central Newsletter
Get the best of Android Central in in your inbox, every day!
Thank you for signing up to Android Central. You will receive a verification email shortly.
There was a problem. Please refresh the page and try again.