Best Clear Cases for the Galaxy S7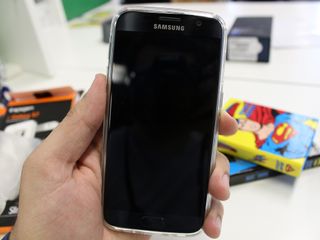 Wanting to protect your phone from scratches, nicks, and dents without having to dress your phone in medieval battle armor is a reasonable request. After all, you probably spent a hefty chunk of change on your phone and you would like to appreciate its sleek design. There are plenty of good clear cases out there for the Galaxy S7, which will allow you to keep it protected and looking au naturel – if you know what we mean.
Pleson Ultra-Thin Crystal Clear Case
Why you can trust Android Central Our expert reviewers spend hours testing and comparing products and services so you can choose the best for you. Find out more about how we test.
This case from Pleson is a single clear shell and one of the thinner clear cases available for the Galaxy S7. Made from a semi-soft plastic, this case is easy to put on and take off the phone, while still providing the protection you desire.
The charging port, headphone jack, and buttons along the side of the phone are all left open with a little extra room, so you don't have to worry about not being able to access your phone's primary functions.
A neat feature of this offer from Pleson is the texture on the inside of the case. It has tiny bumps that sit along the back of your phone to prevent air bubbles from getting trapped between your phone and your case, allowing the natural beauty of the Galaxy S7 to shine through, unimpeded.
There is a white Pleson logo on the back of the case in the bottom right corner that will contrast pretty heavily with phone, so if you were hoping for a 100% clear case, this may not be the option for you.
Spigen Neo Hybrid Crystal
This Spigen case consists of two pieces: it has a clear, TPU shell framed by reinforced polycarbonate bumper. Sometimes those hard plastic outer edges on cases don't fit the softer silicone properly, but in this... case... it fits quite well.
When on your phone this case feels solid in your hand and far less slippery than the bare S7. Neither the shell nor the bumper prevents the phone from functioning exactly as it should, nor do they prevent access to any of the ports.
This case is available in three different bumper styles — gunmetal, gold and silver — so pick the one that matches your personal style.
Trianium Clear Cushion Premium Case
This two-piece case from Trianium features a TPU shell and a PC bumper, offering great protections from drops as well as scuffs and scratches.
This case is very soft and flexible and fits the S7 like a glove — almost so well that you may forget it's there. The case features a 0.8mm raised lip around the screen to protect the screen from getting scratched when face down on a table. There's a similarly sized ridge around the camera on the back of the phone, so you can rest easy when your phone is sitting on your coffee table.
This case is 100 percent clear with just a tiny Trianium logo on the bottom edge of the bumper, so that the beautiful design of the Galaxy S7 can shine through.
SUPCASE Unicorn Beetle Hybrid
The Supcase Unicorn Beetle hybrid is the perfect case for someone who wants a clear case that is still rugged at the same time.
The most obvious thing to mention about this case is it's not quite clear, but more translucent type, plus, the outer edge is black. If you really want to show off your Galaxy S7 you may want to look elsewhere in our round-up. However, if you want strong protection and still be able to see your phone then this could be the best option for you.
It has shock-absorbent TPU bumpers around the edges and a hard polycarbonate back panel that is actually rather slim for a rugged-style case. The raised lip around the edges also gives the added bonus of protecting the screen and camera while lying down on a flat surface.
All in all, this case single-handedly breaks the perception that all clear cases are flimsy and weak-feeling.
EasyACC
EasyAcc's clear case is as simple as we can get while still talking about a case that offers good protection. Much like the TOZO case, this is an extremely flexible TPU case that feels super grippy. If you like that rubbery grip feel, this would be the perfect case for you.
This case is totally seamless and is tear-resistant, so being too flexible shouldn't be a concern. The edges of EasyAcc's case are raised a little bit, so if you drop your phone on a flat surface everything should be just fine.
If you're looking for something incredibly simple with great grip, this case is the one for you. Just beware of stretching, since it is so flexible. The TPU could also yellow over time as well since it is so light-absorbent.
Sign up for Black Friday email alerts!
Get the hottest deals available in your inbox plus news, reviews, opinion, analysis and more from the Android Central team.