Best new Android apps and games of the week: Botanicula and more!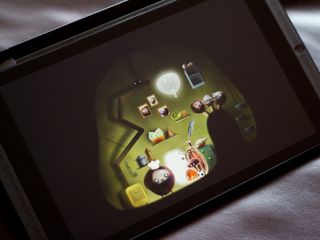 We're rounding up the best new Android games and apps for you again this week. Over the last seven days, we've seen some refreshing new video messaging apps. There's a good mix of IAP-less premium games and freemium titles to dig into as well.
If you're good to go, let's dive into our top ten Android apps to hit the Google Play Store this week.
Enterchained
Why you can trust Android Central Our expert reviewers spend hours testing and comparing products and services so you can choose the best for you. Find out more about how we test.
Enterchained is a dual-stick beat-em-up, not-so-subtly inspired from the movie Gladiator. Players hack and slash their way through coliseum battles while shackled to a fellow gladiator. Throw your weapon, execute downed enemies, complete quests for extra glory, and do your best to stay alive. The stark art style is punctuated by bright red splotches of gore. There are no in-app purchases at all here, and 45 items to unlock, each with their own unique characteristics.
Enterchained is a brutal button-masher and tons of fun.
The Bot Squad
The Bot Squad is a fun, cartoony game that combines tower defense and attack mechanics. Players manually guide their robots through a series of treacherous mazes to reach the end in one piece. Grab objective stars and orbs en route if you can manage. Occasionally the tables will be turned, and you will need to organize towers to defend against waves of enemies. Orbs are used to upgrade your bots and towers between levels. Keep in mind that freemium mechanics such as energy meters, upgrade timers, and premium currency are in play here.
The Bot Squad boasts fantastic animation and a nice strategic mix.
Joinz
Joinz is a deceptively simple puzzle game about creating shapes on a grid. Match adjacent same-colored blocks to eliminate them from the board, so long as the final result matches one of three shapes shown at the top of the screen. Use the occasional power-up to help you out and rake in the combos for successive eliminations. Joinz has no in-app purchases or ads to deal with, which is always a bonus.
The minimalist art, cool soundtrack, and straightforward gameplay make Joinz a highly accessible title.
Drone: Shadow Strike
Drone: Shadow Strike is military shooter where you rain down fire on enemies from above. The gameplay and style will be familiar to anybody that has tried out Zombie Gunship, but there are a few interesting changes in the formula here. For one, you're dealing with fully-colored 3D models, and not just silhouettes (though infrared mode can help you spot sneakier enemies). You'll need to be on your toes to deploy flares and avoid getting hit by surface-to-air missiles. After working through a series of missions, you'll get the chance to upgrade your drone with enhanced armor, radar, stealth, and countermeasures, as well as purchase new drones to fly in. Free-to-play elements such as premium currency and boosters are employed here.
Drone: Shadow Strike is a great little on-rails shooter and worth a look.
Botanicula
Botanicula comes from the creators of Machinarium, and has a similarly off-kilter art style and distinct sense of humor. Guide a troupe of five tiny forest-dwelling creatures through 150 meticulously designed locales, each full of danger. Botanicula is kid-friendly, but not without charm for older audiences too. Shifts in perspective, challenging uses of your party's abilities, and split-second decisions are bound to keep even hardened gamers entertained.
Up
Jawbone released a standalone fitness tracking app that doesn't require their dedicated wristband to work. Up does all of the fitness tracking stuff you'd expect, like keeping tabs on how much you're moving around, how much you're sleeping, and what you're eating. The app uses all of that data to offer lifestyle suggestions and help you meet health goals. A lot of that data will need to be punched in manually, though some devices will be able to feed fitness data into Up. For example, this app plays nice with Android Wear, which most folks likely wouldn't be using in addition to a traditional fitness tracking device anyway.
Grab Up if you're looking for a fresh fitness tracker but haven't made the leap for a dedicated device.
Skype Qik
Qik is a new video messaging app from Skype that helps you easily share moments with whole groups of friends. Videos can be shot straight from the app or pulled from clips you've recorded earlier. No log-in or usernames are required, and messages are wiped after two weeks, making Qik very low-maintenance. You can delete videos from group conversations easily enough, too.
Skype Qik is a neat idea with a lot of potential.
AutoInput
AutoInput is a fantastic new plug-in for Tasker. AutoInput allows you to automatically fire touch and type events after a certain trigger. This means you can now seamlessly automate interactions with any app on your Android device, even if there isn't some kind of dedicated Tasker plug-in for it. Activate airplane mode after a certain time, or log into after making a voice command. Inputs can also be used as triggers themselves. For example, a gesture on your home screen can open an app, start a search query, or do just about anything your little heart desires.
Tinkerers will have a field day with AutoInput.
Bing Rewards
Microsoft launched a new app for Android that ties into their rewards program. You earn points for making Bing searches and trying new features, then you can cash them in for all sorts of rewards, like digital movie downloads, Amazon gift cards, or charity donations. Unfortunately for now, Bing Rewards is only available in the U.S.
It's a tough sell to use Bing instead of Google, especially when you're using an Android device, but dangling incentives like this is a good effort.
Samba
Samba is an interesting social video app that lets you see the reactions of friends to the clips you send them. When they receive your message, the front-facing camera starts recording, and you get to see them laugh, cry, and otherwise react. You can get creative with your recording thanks to stop-motion effects, and unsend your videos if they're altogether too embarrassing to be seen more than once.
Samba's an interesting take on messaging, and could bear some great results with the right group of friends.
Your favorite new Android games and apps?
Those are our favorite new releases in the Google Play Store. Leave a comment with your latest Android app and game downloads!
Be an expert in 5 minutes
Get the latest news from Android Central, your trusted companion in the world of Android
Simon has been covering mobile since before the first iPhone came out. After producing news articles, podcasts, review videos, and everything in between, he's now helping industry partners get the word about their latest products. Get in touch with him at simon@futurenet.com.