Sony Ericsson announces the Xperia Neo V; all 2011 Xperia phones to get Android 2.3.4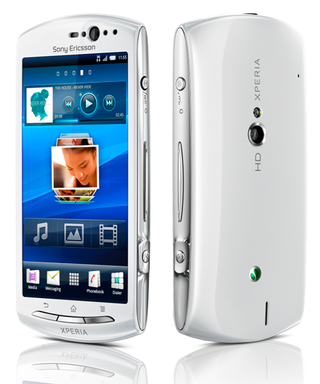 Sony Ericsson today announced the latest addition to its Xperia line -- the Neo V -- which will be the first of its phones to benefit from its new "Facebook inside Xperia" software upgrade. The Neo V also is SE's first foray into 3D, with a "3D sweep panorama" feature that records and plays back in 3D when connected to a 3D TV's HDMI input.
Neo V specs include:
Available in white, blue or silver
3.7-inch display at 480x854 resolution
Reality display powered by Sony's Mobile Bravia Engine
Android 2.3.4 Gingerbread
Qualcomm Snapdragon MSM8255 processor at 1GHz
5MP rear camera
VA front-facing camera
320MB internal storage
2GB microSD card included
1500 mAh battery
And all the usual sundries
Also, SE today announced that all of its 2011 Xperia phones will get an upgrade to Android 2.3.4 that will comprise many of the features found in the Neo V. That includes:
Google Talk with video chat
Facebook inside Xperia
3D sweep panorama
The ability to connect USB peripherals to the Sony Ericsson LiveDock multimedia station
A "swipe" (no, they didn't say Swype) text input
Screen shots
The software updates will begin in October; SE didn't say which phones would be up first.
For more, see the entire press release after the break.
Sony Ericsson boosts 2011 Xperia™ family with new experiences and new software
2011 Xperia™ range to be upgraded to Android Gingerbread platform version 2.3.4
Enhanced Facebook inside Xperia™ functionality
Introducing Xperia™ neo V Android smartphone with the best of entertainment technologies from Sony and Google
25 August 2011, London, UK – Sony Ericsson today announced new functionality and features to its 2011 Xperia™ smartphone range with a comprehensive software upgrade from October 2011. Consumers with 2011 Xperia™ smartphones will benefit from improvements to Sony Ericsson's unique Facebook inside Xperia™ offering and 3D camera functionality from Sony. The upgrade also allows consumers to enjoy the full benefits of the Android Gingerbread platform including Google Talk with Video Chat.
Sony Ericsson's unique social experience provided by Facebook inside Xperia™ has been super-charged enabling Xperia users to like, share and discover on Facebook in a faster, easier and more intuitive way. The new functionality aims to make entertainment more social by giving users the ability to share and discover apps and games with friends through Facebook.
The latest camera enhancements from Sony introduce 3D sweep panorama technology so that images can be captured and then viewed in 3D by connecting the phone to a 3D TV using the HDMI output.
"With this software upgrade, we are bringing a wealth of new and really entertaining experiences to all our 2011 Xperia™ smartphones, including those already in consumers' hands today,"said Nikolaus Scheurer, Head of Product Marketing at Sony Ericsson. "Our users will get to enjoy new features from Google, an even richer Facebook integration, and enhanced camera functionality from Sony."
Xperia™ neo V is one of the first new products to launch with the new software and will include all the features like Google Talk with Video Chat, 3D sweep panorama and enhanced Facebook inside Xperia™ functionality. Building on the success of the original Xperia™ neo launched earlier this year, Xperia™ neo V takes the latest Android software for smartphones and the best of Sony entertainment experiences, including Reality Display with Mobile BRAVIA® Engine, to even more markets. Sony Ericsson Xperia™ neo V will be available globally in select markets from Q4 2011.
The software upgrade will be available in select markets through a phased roll out starting from October 2011. Xperia™ owners will receive a notification instructing them to instantaneously download the software over the air via 3G or WiFi. Alternatively, they will have the option to connect to a computer and download it via PC companion.
Upgrade at a glance:
Xperia™ smartphones to be upgraded to the 2.3.4 version of the Gingerbread platform with new features including Google Talk with Video Chat for smartphones with front-facing cameras
Updated Facebook inside Xperia™ functionality for enhanced like, share and discover abilities
Xperia™ smartphones introducing world's first 3D sweep panorama functionality powered by Sony.
The software upgrade enables consumers to turn their Xperia smartphone into a mini-mobile PC by connecting USB peripherals (mouse, keyboard or game controller) to Sony Ericsson LiveDock™ multimedia station. Connect the smartphone to a TV via HDMI to get a big screen experience.
Swipe text input - text input by swiping the finger from one letter to the next
Screen capture - allows the user to share a screen grab from anywhere in the phone
Get the Android Central Newsletter
Instant access to breaking news, the hottest reviews, great deals and helpful tips.