OnePlus introduces a sequel to its 'Crackables' puzzle game with $10,000 grand prize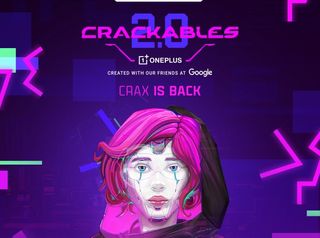 (Image credit: OnePlus)
What you need to know
OnePlus has announced Crackables 2.0, a crypto-puzzle mobile game.
The game will be available worldwide for free starting April 14.
Global registrations for the game are now open.
OnePlus teamed up with Google in September 2018 to release Crackables, a limited-time crypto-puzzle game. Due to popular demand, OnePlus today announced Crackables 2.0, which, like the original game, uses "digital puzzles as the core of the experience."
Kyle Kiang, Chief Marketing Officer at OnePlus, said in a statement:
The game will be available for free via mobile gameplay from April 14, the same day when the company will be taking the wraps off the OnePlus 8 series. The starting levels of the game will be pitched on the easy side, allowing everyone to participate and enjoy the game. Players will then have to travel through "gates" to advance to higher levels, some of which will be community-oriented.
OnePlus says the first ten players to crack the last puzzle will get to compete for the opportunity to win $10,000 and an additional $10,000 that they will be able to donate to a charity supporting people affected by the coronavirus pandemic. While gameplay is set to conclude on April 30, the grand finale tournament will be live-streamed on May 7. To register for the game, head over to the dedicated Crackables page (opens in new tab) on the OnePlus website.
Crackables 1.0 secured a total of 580,000 players, thanks to strong word-of-mouth and rave user reviews.
I participated in the first edition and even if it was quite fun, I never got the prize I was supposed to get. Had the same problem on another OnePlus event (you had to tap the screen on your phone).
OnePlus devices are great (currently running an OP6) but their PR stunts are crap. I'll give them one last chance with this one but my expectations are pretty low.
Android Central Newsletter
Thank you for signing up to Android Central. You will receive a verification email shortly.
There was a problem. Please refresh the page and try again.