Motorola RAZR i to begin shipping in the UK from October 1.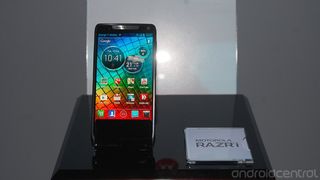 Right from launch day we'd heard early October would be the release timeframe for Motorola's new RAZR i. Now, at least one British retailer has narrowed that down further, and confirmed the device will begin shipping on October 1.
Clove Technology are set to receive stocks of the device imminently, and have taken to their official blog to confirm that they will be shipping the new Intel powered RAZR i this coming Monday. At £342 we still feel it's a little on the pricey side, but there is a lot to like. It sets the ball rolling in the Motorola/Intel partnership and we're excited to see where things go from here.
If you're interested in purchasing a RAZR i, be sure to check out our full review first, before parting with your hard earned.
Source: Clove (opens in new tab)
Nah, I'll wait for the HD Maxx to reach these shores.

Love the idea of this phone, but I'll wait for the dual-core with hyper-threading.
Android Central Newsletter
Thank you for signing up to Android Central. You will receive a verification email shortly.
There was a problem. Please refresh the page and try again.