Moto G6, G6 Play, and G6 Plus: Everything you need to know!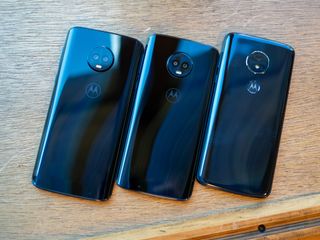 Motorola's new Moto G6 series isn't a reinvention of the product line exactly, but it moves the brand further in that luxury budget category so many companies, from Honor to Xiaomi, are vying to win.
There are three new phones in the series — the Moto G6, G6 Plus and G6 Play — and they're all intriguing in their own ways. Let's take a look at what you need to know.
Read our preview, and read our review
If you want to lust after the G6 series on video, we have a hearty preview for you. If you're ready for the full review of the G6 or G6 Plus, we have that as well. Be sure to check these out!
Moto G6 review: Finding success in compromise
There are three to choose from
The Moto G6 isn't a single phone, but three (so far), each aimed at a different segment of the budget market.
The Moto G6 Play is the cheapest, and forgoes some of the camera fanciness for a $199 price point. It's also made of shiny plastic instead of shiny glass. Its 720p display isn't great, but it's good enough in its 5.7-inch, 2:1 aspect ratio. Its rear fingerprint sensor is tucked into the Motorola batwing symbol, which is awesome.
In the middle, the Moto G6 is the one that most people will be interested in. Made of curved Gorilla Glass 3 and adorned with two rear cameras and the ability to wake and respond to voice commands without turning on the screen first. The 5.7-inch 1080p panel is bright and gorgeous, and there's a front-facing fingerprint sensor. At $249, it's going to be tough to beat in the budget segment.
The Moto G6 Plus, which isn't available in North America, adds a more powerful Snapdragon processor to the mix. It's also got a bigger 5.9-inch 1080p screen than the Moto G6, and features a slightly better camera combo, front and rear.
Moto G6, G6 Play, and G6 Plus specs
Let's take it to 11 2:1
Every model in this year's Moto G6 series has a 2:1 (aka 18:9) screen aspect ratio, aligning it with popular budget models like the Honor 7X and the new Nokia 6 as well as most high-end phones today.
That means the phones are each taller and narrower than their Moto G5 predecessors, but despite the significantly larger screen size on paper, there isn't much additional usable space on the 5.7-inch Moto G6 than compared to, say, the 5.2-inch Moto G5 Plus, which has a more traditional 16:9 screen.
A glass house
In addition to elongating each phone, Motorola has swapped out the metal enclosures of last year's G5 for glass — at least on the two higher-end Moto G6 phones (the G6 Play is made of a shiny plastic resin, much like the Moto E5).
The Gorilla Glass outer layer is surely more slippery and prone to picking up fingerprints, but its curves also shimmer in the light and feel more substantial, making the new Moto series much more attractive and premium-looking than their predecessors. Motorola also includes a simple clear rubberized case in the box to keep that glass looking pristine when you're expecting to be a bit rough on the phone.
Go out and Play
The Moto G6 Play has a 4000mAh battery which, despite the phone's last-generation Snapdragon 427 processor, ensures that it should have multi-day battery life. More importantly, it seems to be a great phone for people who just want a no-frills Android Oreo experience.
The 13MP camera isn't going to change the game, but in our brief time with it, it worked very well, and launched quickly.
The G6 is the G5 Plus sequel
It may not seem like it on paper, but the Moto G6 is the real sequel to last year's Moto G5 Plus. It has a Snapdragon 450 platform, which seems on paper to be a step down from the G5 Plus's Snapdragon 625, but it's basically the same chip with only a few minor regressions, like maximum clock speed.
For U.S. buyers, the Moto G6 is actually a pretty big upgrade, owing most to the...
Camera, man
The Moto G6 has a dual camera setup: a main 12MP sensor with an f/1.8 lens and a secondary 5MP sensor that facilitates portrait mode and a few other niceties.
Motorola is also taking the camera experience a lot more seriously than in previous generations, with an interesting Smart Camera mode that identifies objects and landmarks.
The Moto G6 Plus also has a dual camera, but its 12MP sensor has a slightly wider f/1.7 lens, and its front-facing camera has a special low-light mode that uses pixel binning to get more light from every one of its 16 megapixels.
Say it, don't spray it
On the Moto G6 and G6 Plus, Motorola has improved the popular Moto Voice functionality, allowing users to perform actions on the device itself (like turning off Bluetooth or starting to play a specific movie on Netflix) in addition to activating Google Assistant when necessary. The phones can also be activated by voice without turning on the screen first.
It's a nice compromise and something that will be quite useful for those who use their phone in the car or when it's across the room.
Get on the beta train
If you're looking to be on the forefront of Motorola innovation, you'll soon be able to sign up for the company's new Beta Experiences program, which promises to allow users to sign up for beta versions of Motorola's new and upcoming software and apps. We don't know a whole lot yet about the particulars, but it's good to know that Motorola is taking software experiences more seriously than before.
Motorola's new Beta Experiences program will let you test new Moto features before they're public
Where and when can you buy them?
The reality is that Motorola approaches each market in which it sells like a separate business, and caters the release schedule for each product to various market demographics.
The Moto G6 Play and Moto G6 are available in almost every market that Motorola operates, including the U.S. and Canada.
Unfortunately, because the Moto X4 is already so close in style and specs to the Moto G6 Plus, Motorola is choosing not to sell it in the U.S.
Where to buy the Moto G6 series in the U.S. and Canada
Should you upgrade to the Moto G6 or another phone?
There are so many great budget phones to choose from, and Motorola has some stiff competition. At the same time, if you already have a Moto G5 series phone, should you upgrade?
Moto G6 Plus vs. Xiaomi Redmi Note 5 Pro: Spec comparison
Grab some accessories!
The G6 you buy will already include a basic case, but you can always go a step further. There are already great accessories like cases, power banks, car chargers and more available. Be sure to check them out!
What's on your priority list?
Let us know what you think about the Moto G6 series? Let us know in the comments below!
Updated May 2018: Added information regarding where to buy the G6 series, as well as links to great accessories.
Get the Android Central Newsletter
Instant access to breaking news, the hottest reviews, great deals and helpful tips.
Daniel Bader was a former Android Central Editor-in-Chief and Executive Editor for iMore and Windows Central.
Big fan of the Moto G series but think I'm going to give Nokia a go as my back up phone.

A bit pissed that we're not getting the Plus. It's really the only way to go. I don't want the X4. And who are they to decide for me which model I wanna buy? Let me choose. Smh

Yep, don't understand. The G6 Plus has a much larger battery, double the storage and a better screen. Only thing X4 has is waterproofing. They must have a lot of US X4 models in their warehouse to sell.

That must be the case. They better put them on clearance and give us the choice between that and the Plus. They are losing business this way.

Not really happy with this G5S+ so nope

The G6 is most likely the one I'm going to upgrade to (unless something better, or less expensive, launches before the end of May). The size & specs are just what I'm looking for, though I'd prefer a lower price. Counting down the days!

I'll wait to see if Xiaomi is releasing a sequel to the Mi A1.

It just too bad that they no longer care about the customers that already have the G Series phones... With the updates coming so late and so slow, it's time for me to move on...

"... there isn't much additional usable space on the 5.7-inch Moto G6 than compared to, say, the 5.2-inch Moto G5 Plus, which has a more traditional 16:9 screen." Right, the 18:9 aspect ratio is basically a way for manufacturers to boast of larger screens while not in fact providing them.

Down here in New Zealand we don't get new Motorola phones usually we see them turn up in parallel importers and some retailers when Motorola has saturated the likes of Australia and ships the surplus here 6 months or so latter.

@Daniel Bader: the Nokia 7 Plus has got a 18:9 screen, not the New Nokia 6 which has a 16:9 screen

If I were in the market for a new phone(I just got a Alcatel A7), I'd much rather buy the Nokia 6 or Nokia 7 Plus, which are both superior phones with superior build quality, cameras and overall better specs than the Moto G6, and both being Android One devices means they'll get updates faster directly from Google and everybody knows Motorola suck at updates

I have no plans to give up my G5 Plus, the GYM just doesn't strike me as enough of an increase to warrant getting rid of a perfectly good phone for a new, and otherwise, perfectly good phone. The G6 Plus maybe might've been interesting. I'm kind of curious how much it'd cost to buy a G6 Plus from a reputable overseas outlet and then import it? Would it even work here in the US? Android Central should find out just out of curiosity...

The G6 Plus is available on Amazon...

https://www.amazon.com/Motorola-XT1926-7-Unlocked-Smartphone-Internation...

This brand makes way too many phones. It's confusing.

I want to know where I can purchase the Moto G6 Plus with 128GB.

You should pass on the G6 Plus and get a Nokia 6 (6.1 in the US) where you'll get guaranteed and consistent updates thanks to it being part of the Android One family.

I got a Nokia 3. Anything beyond 2gb ram on those sturdy devices HMD Global pumps out is overkill. Great hardware, smooth OS with faster updates and decent pricetags. Now that's a page Nokia stole off the erstwhile "American" Motorola.

And the G6 was supposed to pull Lenovo out of a hole they are in from destroying the 1st Manufacture to make cellular devices! Not if you dont sell the high-end models in the USA, like the G6 Plus. I found a Dual SIM G6 Plus on Amazon, luckily it has all the GSM LTE Bands, except for the TMO 600mhz band. I really hope they didnt pull an X4 and are not going to allow Boot Loader Unlocking...Package to be delivered tomorrow.....

Lenovo-owned Motorola has launched Moto 1s, a mid-range smartphone in China. When it comes to design and specs, the Moto 1s is sort of just like the Moto G6 that was launched final month. The important thing highlights of the cellphone embody a 5.7-inch full-HD show, 4GB RAM, twin rear-camera. http://trendsindia.net/2018/05/18/moto-1s-every-thing/ The cellphone has been priced at CNY 1,499 (Rs. 15,900). Here is our roundup of Moto 1s.

"It has a Snapdragon 450 platform, which seems on paper to be a step down from the G5 Plus's Snapdragon 625, but it's basically the same chip with only a few minor regressions, like maximum clock speed." Which means it's a step down. That's how I interpret "it's really just the same chip as last year, but a little slower." SMH.

Think I will stick with my z max. If I do upgrade I'm gonna go for the Nokia 6.

last year's Moto G5 Plus. It has a Snapdragon 450 platform, which seems on paper to be a step down from the G5 Plus's Snapdragon 625, but it's basically the same chip with only a few minor regressions, like maximum clock speed. .........REALLY? COME ON NOW!!!!!...............

i bought a G4. buggy as hell. took it back and traded up to the 32 gb model. same problem, then Best But wanted to give me store credit. very bad experience with both Android and Best Buy.
I bought a brand new unlocked iphone se and could not be happier except that pictures get rotated 90 or 180 degrees, but, of course, the pictures are top quality. all i'm saying is that i'd avoid Moto phones, Android, and Best Buy.

These appear to be nice, but I'm going E5 Plus when it hits, because that 5Ah battery.

I'd go Nokia over these this year.

Buy one if you want a phone that's never updated.