Moto G5 Plus review: The new standard for budget phones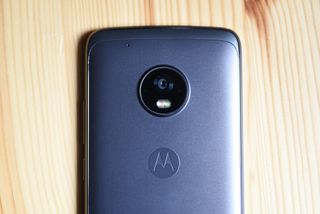 The quick take
The Moto G5 Plus is an awesome little phone, and that it's available for just over $200 is one of its greatest assets. Things could have gone either way for the Motorola brand under Lenovo, but it seems that the Moto G line has maintained what made it great in the first place: excellent hardware coupled with simple, unencumbered software, and a price tag that screams value.
The Good
Solid build quality
Snapdragon 625 gives effortless performance
All-day battery life
Restrained software touches
Competitive price
The Bad
Not all metal despite marketing
Camera isn't as good as advertised
One Button Nav is a gimmick
Lacks NFC for mobile payments
Moto G5 Plus Specs
Swipe to scroll horizontally
Category
Moto G5 Plus
Operating System
Android 7.0 Nougat
Display
5.2-inch LCD 1920x1080 (424 ppi)
Gorilla Glass 3
Processor
Snapdragon 625 2GHz octa-core
Adreno 506 GPU
Storage
32/64GB
Expandable
microSD card up to 128GB | microSD card up to 128GB
RAM
2GB / 4GB
Rear Camera
12MP, f/1.7, 1.4-micron pixels, dual AF pixels
Front Camera
5MP, f/2.2, 1.4-micron pixels
Connectivity
Wi-Fi 802.11n dual-band
Bluetooth 4.2
NFC (except U.S.)
Battery
3000mAh
Non-removable
Charging
Micro-USB
15W TurboPower charger
Water resistance
Water-repellant nano-coating
Security
Fingerprint sensor
Dimensions
150.2 x 74 x 9.7 mm
Weight
155 g
Colors
Lunar Gray, Fine Gold
About this review
This review was written after I (Daniel Bader) used the Moto G5 Plus for two weeks on the Rogers network in Toronto, Canada and the AT&T network in the U.S. It was running Android 7.0, on Build NPN25.137-33 with the January 1, 2017 security patch. The phone was provided by Motorola for review, and wasn't updated through the course of the review period.
Moto G5 Plus Full review
The Moto G4 Plus was a pleasant surprise, a significant improvement from the company's third effort, which had until that time maintained a steady stream of minor upgrades. The Moto G5 returns to that pace of slow-and-steady reinvention with an upgraded design that resembles the notion of premium without investing the entire way.
At the same time, it neither brings back waterproofing — a popular feature in the third instalment — nor dual speakers, choosing to focus on what Motorola says are its customers' two most important considerations when buying a phone today: the camera, and the build quality. (The phone does have a so-called water-repellant nano-coating which, while not preventing damage from water ingress, should be sufficient to allow the phone to get splashed or romantically caught in a rainstorm.)
The first issue is certainly addressed here, with the Moto G5 Plus gaining the same 12MP IMX260 sensor as the Galaxy S7, while the second comes in the form of a more compact, partly metal-clad chassis that, least in the Lunar Grey model I reviewed, exudes a professionalism that we haven't seen from the series.
But other improvements abound, too: the phone's screen is mercifully smaller than last year's G4 series, shrinking to a more one hand-manageable 5.2-inches at 1080p — and the IPS LCD screen is really good. It's probably the same quality as what you'd come to expect from a high-end flagship in 2014 or 2015, with excellent viewing angles, good but not class-leading brightness, and color calibration is, to my eyes, on par with devices double the price.
Below the screen is what, in my opinion, is the most important aesthetic change to the phone: the square fingerprint sensor in Motorola's 2016 lineup has given way to an oblong with, mercifully, more surface area and a less interruptive aesthetic. I fully expect this to be transposed to the Moto Z line later this year, too. The single speaker and headpiece combo rests above the screen in an etch design that hasn't changed in a number of years, with a 5MP front-facing camera to its right.
The phone's bottom vexes. It contains a Micro-USB port that Motorola couldn't offer an explanation for, other than it didn't want to alienate long-time users of the series. We've had USB-C ports in budget phones for nearly a year now, with similarly-priced phones from Samsung and ZTE sporting the new universal port, so I don't quite buy that argument. And while having to return to the single-orientation plug was jarring, it also wasn't a problem; I have a million Micro-USB cords around the house, and the G5 Plus supports Quick Charge 3.0 through its Turbo Power charger, so I didn't lose out in any way.
Turning the phone around marks the biggest departure in the G series' design since its inception: we now have a metal back. While the backplate is removable on the cheaper Moto G5 (which isn't coming to the U.S.), it's fixed (good) on the more expensive model. Unfortunately, the extent of the metal ends there: the chrome sides, while metallic, are not metal, and there's quite a marked distinction between the colors of both materials. As a result, the G5 Plus feels considerably less expensive than its initial impressions would have you believe.
To its credit, Motorola has always embraced with aplomb the compromise of material in its mid-range products. Since the first Moto G in 2013, the line has been unabashedly plastic, culminating in last year's Moto G4 line, which found beauty in its plainness. I pick it up today and still like it.
When I pick up the Moto G5 Plus, I — and I don't think I'm alone here, judging from other reviews — am confused. The phone feels like a facsimile of a more expensive product, but is betrayed by its chrome. The same problem was true of 2014's Galaxy S5 — the difference is that that phone was $650; this is $230, and therefore much more forgivably chintzy. The design is also pedestrian; gone are the small touches that made a Moto phone a Moto phone, though admittedly those flourishes began disappearing in 2016's Moto G lineup.
That said, the phone's more diminutive frame is sensible, and it also manages to pack in the same-size 3000mAh battery as its predecessor despite being considerably thinner and shorter. The battery also lasts much longer than the G4 Plus's, thanks to a super-efficient Snapdragon 625 processor that, when paired with either 2GB or 4GB of RAM, chugs along at a nice clip. I had a chance to use the phone as my daily driver for over a week, and noticed that it felt just as performant as the Galaxy S7 I came from (with a stop at the ZTE Blade V8 Pro in the middle, which also performs well for $230).
The difference is $60 between the 2GB and 4GB model, which also gives you an extra storage bump from 32GB to 64GB. I'd have loved a middle-ground option, a $250 version with 4GB of RAM and 32GB of storage, but hey, you can't always get what you want.
Given that competitors like the Honor 6X and ZTE Blade V8 Pro go with 3GB as default, I think Motorola really did its base a disservice with its core configuration — especially if it wants the phone to last the two years for it claims to support — but I empathize with Lenovo's budgetary restraints. That's why I highly recommend either ponying up for the $299 version and forgoing that nice case or microSD card, or going with Amazon's Prime Exclusive model, which offers a $45-60 discount in exchange for some lockscreen ads and pre-installed apps.
One thing the ZTE has that the Moto G5 Plus and Honor 6X lack is an NFC chip. This omission makes sense when Motorola rolls out the numbers around mobile payments adoption in the U.S., but here I am recommending you spend a bit more to future-proof your phone by spending money to upgrade the RAM and storage when neither version has the ability to perform mobile payments in the U.S. I find this to be a strange and frustrating decision; even if price would have precluded it from being on the lower-tier Plus model, it should be in the $299 version. To me, NFC is a basic requirement of any high-end smartphone, and if Motorola really wants to play in this league, it has to step up and compete.
Camera
What's identical between both configurations is the 12MP camera, which, along with the metal back, may be the single biggest distinction over last year's budget flagship, at least on paper. On paper, the phone has the same sensor and lens combination — a 12MP IMX260 with 1.4 micron pixels and an f/1.7 lens — as the Galaxy S7, but it lacks a few things to keep it at the top echelon of phone cameras. First, it doesn't have optical image stabilization, which is a problem for low-light shots; and it lacks the advanced image signal processing bestowed on all phones running the more-expensive Snapdragon 820/Exynos 8890 chipsets.
Still, Motorola claims that the phone focuses considerably quicker than its predecessor, and I can confirm that to be true. The speed at which the Moto G5 Plus, even in low-light conditions, adjusts to the scene, is astonishing. And that focus speed is even more pronounced when you see the results achievable from the depth-of-field lens. And to accommodate that extra light, Motorola added a slightly wider lens, giving the photos a bit of extra breathing room compared to the average mobile camera. All good things.
Image 1 of 4
I also spent some time trying to corroborate others' claims that the G5's camera, arguably its biggest asset, is actually not as good as last year's 16MP rear sensor inside the Moto G4 Plus. I put the two phones through the usual rigors of indoor and outdoor tests, with a few macro and low-light shots thrown in, and found that the Moto G5 Plus performed better in nearly every situation.
I did observe some softness, especially in macro subjects, but the low-light advantages — with a shaper lens, larger sensor and pixels, and improved ISP — made up for it. Indeed, the only situation the Moto G4 Plus performed better than its successor was in daylight photos, and only when zoomed in to 100%, since the extra four million pixels allow for the capture of greater detail.
Image 1 of 3
Image 1 of 3
Image 1 of 3