Moto G5 Plus review: The new standard for budget phones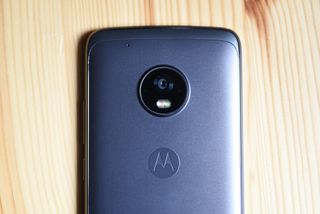 The quick take
The Moto G5 Plus is an awesome little phone, and that it's available for just over $200 is one of its greatest assets. Things could have gone either way for the Motorola brand under Lenovo, but it seems that the Moto G line has maintained what made it great in the first place: excellent hardware coupled with simple, unencumbered software, and a price tag that screams value.
The Good
Solid build quality
Snapdragon 625 gives effortless performance
All-day battery life
Restrained software touches
Competitive price
The Bad
Not all metal despite marketing
Camera isn't as good as advertised
One Button Nav is a gimmick
Lacks NFC for mobile payments
Moto G5 Plus Specs
Swipe to scroll horizontally
Category
Moto G5 Plus
Operating System
Android 7.0 Nougat
Display
5.2-inch LCD 1920x1080 (424 ppi)
Gorilla Glass 3
Processor
Snapdragon 625 2GHz octa-core
Adreno 506 GPU
Storage
32/64GB
Expandable
microSD card up to 128GB | microSD card up to 128GB
RAM
2GB / 4GB
Rear Camera
12MP, f/1.7, 1.4-micron pixels, dual AF pixels
Front Camera
5MP, f/2.2, 1.4-micron pixels
Connectivity
Wi-Fi 802.11n dual-band
Bluetooth 4.2
NFC (except U.S.)
Battery
3000mAh
Non-removable
Charging
Micro-USB
15W TurboPower charger
Water resistance
Water-repellant nano-coating
Security
Fingerprint sensor
Dimensions
150.2 x 74 x 9.7 mm
Weight
155 g
Colors
Lunar Gray, Fine Gold
About this review
This review was written after I (Daniel Bader) used the Moto G5 Plus for two weeks on the Rogers network in Toronto, Canada and the AT&T network in the U.S. It was running Android 7.0, on Build NPN25.137-33 with the January 1, 2017 security patch. The phone was provided by Motorola for review, and wasn't updated through the course of the review period.
Moto G5 Plus Full review
The Moto G4 Plus was a pleasant surprise, a significant improvement from the company's third effort, which had until that time maintained a steady stream of minor upgrades. The Moto G5 returns to that pace of slow-and-steady reinvention with an upgraded design that resembles the notion of premium without investing the entire way.
At the same time, it neither brings back waterproofing — a popular feature in the third instalment — nor dual speakers, choosing to focus on what Motorola says are its customers' two most important considerations when buying a phone today: the camera, and the build quality. (The phone does have a so-called water-repellant nano-coating which, while not preventing damage from water ingress, should be sufficient to allow the phone to get splashed or romantically caught in a rainstorm.)
The first issue is certainly addressed here, with the Moto G5 Plus gaining the same 12MP IMX260 sensor as the Galaxy S7, while the second comes in the form of a more compact, partly metal-clad chassis that, least in the Lunar Grey model I reviewed, exudes a professionalism that we haven't seen from the series.
But other improvements abound, too: the phone's screen is mercifully smaller than last year's G4 series, shrinking to a more one hand-manageable 5.2-inches at 1080p — and the IPS LCD screen is really good. It's probably the same quality as what you'd come to expect from a high-end flagship in 2014 or 2015, with excellent viewing angles, good but not class-leading brightness, and color calibration is, to my eyes, on par with devices double the price.
Below the screen is what, in my opinion, is the most important aesthetic change to the phone: the square fingerprint sensor in Motorola's 2016 lineup has given way to an oblong with, mercifully, more surface area and a less interruptive aesthetic. I fully expect this to be transposed to the Moto Z line later this year, too. The single speaker and headpiece combo rests above the screen in an etch design that hasn't changed in a number of years, with a 5MP front-facing camera to its right.
The phone's bottom vexes. It contains a Micro-USB port that Motorola couldn't offer an explanation for, other than it didn't want to alienate long-time users of the series. We've had USB-C ports in budget phones for nearly a year now, with similarly-priced phones from Samsung and ZTE sporting the new universal port, so I don't quite buy that argument. And while having to return to the single-orientation plug was jarring, it also wasn't a problem; I have a million Micro-USB cords around the house, and the G5 Plus supports Quick Charge 3.0 through its Turbo Power charger, so I didn't lose out in any way.
Turning the phone around marks the biggest departure in the G series' design since its inception: we now have a metal back. While the backplate is removable on the cheaper Moto G5 (which isn't coming to the U.S.), it's fixed (good) on the more expensive model. Unfortunately, the extent of the metal ends there: the chrome sides, while metallic, are not metal, and there's quite a marked distinction between the colors of both materials. As a result, the G5 Plus feels considerably less expensive than its initial impressions would have you believe.
To its credit, Motorola has always embraced with aplomb the compromise of material in its mid-range products. Since the first Moto G in 2013, the line has been unabashedly plastic, culminating in last year's Moto G4 line, which found beauty in its plainness. I pick it up today and still like it.
When I pick up the Moto G5 Plus, I — and I don't think I'm alone here, judging from other reviews — am confused. The phone feels like a facsimile of a more expensive product, but is betrayed by its chrome. The same problem was true of 2014's Galaxy S5 — the difference is that that phone was $650; this is $230, and therefore much more forgivably chintzy. The design is also pedestrian; gone are the small touches that made a Moto phone a Moto phone, though admittedly those flourishes began disappearing in 2016's Moto G lineup.
That said, the phone's more diminutive frame is sensible, and it also manages to pack in the same-size 3000mAh battery as its predecessor despite being considerably thinner and shorter. The battery also lasts much longer than the G4 Plus's, thanks to a super-efficient Snapdragon 625 processor that, when paired with either 2GB or 4GB of RAM, chugs along at a nice clip. I had a chance to use the phone as my daily driver for over a week, and noticed that it felt just as performant as the Galaxy S7 I came from (with a stop at the ZTE Blade V8 Pro in the middle, which also performs well for $230).
The difference is $60 between the 2GB and 4GB model, which also gives you an extra storage bump from 32GB to 64GB. I'd have loved a middle-ground option, a $250 version with 4GB of RAM and 32GB of storage, but hey, you can't always get what you want.
Given that competitors like the Honor 6X and ZTE Blade V8 Pro go with 3GB as default, I think Motorola really did its base a disservice with its core configuration — especially if it wants the phone to last the two years for it claims to support — but I empathize with Lenovo's budgetary restraints. That's why I highly recommend either ponying up for the $299 version and forgoing that nice case or microSD card, or going with Amazon's Prime Exclusive model, which offers a $45-60 discount in exchange for some lockscreen ads and pre-installed apps.
One thing the ZTE has that the Moto G5 Plus and Honor 6X lack is an NFC chip. This omission makes sense when Motorola rolls out the numbers around mobile payments adoption in the U.S., but here I am recommending you spend a bit more to future-proof your phone by spending money to upgrade the RAM and storage when neither version has the ability to perform mobile payments in the U.S. I find this to be a strange and frustrating decision; even if price would have precluded it from being on the lower-tier Plus model, it should be in the $299 version. To me, NFC is a basic requirement of any high-end smartphone, and if Motorola really wants to play in this league, it has to step up and compete.
Camera
What's identical between both configurations is the 12MP camera, which, along with the metal back, may be the single biggest distinction over last year's budget flagship, at least on paper. On paper, the phone has the same sensor and lens combination — a 12MP IMX260 with 1.4 micron pixels and an f/1.7 lens — as the Galaxy S7, but it lacks a few things to keep it at the top echelon of phone cameras. First, it doesn't have optical image stabilization, which is a problem for low-light shots; and it lacks the advanced image signal processing bestowed on all phones running the more-expensive Snapdragon 820/Exynos 8890 chipsets.
Still, Motorola claims that the phone focuses considerably quicker than its predecessor, and I can confirm that to be true. The speed at which the Moto G5 Plus, even in low-light conditions, adjusts to the scene, is astonishing. And that focus speed is even more pronounced when you see the results achievable from the depth-of-field lens. And to accommodate that extra light, Motorola added a slightly wider lens, giving the photos a bit of extra breathing room compared to the average mobile camera. All good things.
Image 1 of 4
I also spent some time trying to corroborate others' claims that the G5's camera, arguably its biggest asset, is actually not as good as last year's 16MP rear sensor inside the Moto G4 Plus. I put the two phones through the usual rigors of indoor and outdoor tests, with a few macro and low-light shots thrown in, and found that the Moto G5 Plus performed better in nearly every situation.
I did observe some softness, especially in macro subjects, but the low-light advantages — with a shaper lens, larger sensor and pixels, and improved ISP — made up for it. Indeed, the only situation the Moto G4 Plus performed better than its successor was in daylight photos, and only when zoomed in to 100%, since the extra four million pixels allow for the capture of greater detail.
Image 1 of 3
Image 1 of 3
Image 1 of 3
I also compared the Moto G5 Plus to the Galaxy S7 edge, as they share fundamental camera components, and found that you do indeed get what you pay for. Or, another way to look at it, the same hardware nets very different results.
While I in no way expected the Moto G5 Plus to compete with the Galaxy S7, the bright spot is that it comes fairly close.
The Moto G5 Plus's camera impresses in most situations. Its low-light results are certainly not comparable to the best phones out there today, but you're unlikely to get much better from a $230 solution. And Motorola still has one of the best camera interfaces out there, with a simple set of options that hide a bevy of useful manual settings. And there is, as always, the useful double-twist-to-open-camera gesture that has been a mainstay of the Moto line since its inception.
Software
On the software front, the Moto G5 Plus continues Motorola's art of minimalism. It runs Android 7.0 out of the box, it's about as untarnished as you're going to fight in this price range, too.
It has changed up the launcher to resemble the Pixel Launcher — you'll remember that Moto phones always used the now-deprecated Google Now Launcher — which includes a swipe-up app drawer and homescreen access to Google's Feed.
Elsewhere, Motorola's signature feature, Moto Display, has been revamped to be more colorful and a bit more information dense. It's still one of my favorite implementations of an ambient display, but year after year is becoming less essential as versions from Samsung, LG and Google close the gap.
One feature that Motorola is hoping will get a lot of attention is one that I discourage people to use. One Button Nav, as it's called, eschews on-screen navigation keys for gestures using the fingerprint sensor. A left swipe for "back," a right swipe for "multitasking," and various lengths of taps and holds for "home," screen off and Google Assistant. I tried using it, I really did.
I forced myself to adapt to it for three days — plenty of time to grow used to its idiosyncrasies. Instead, I found myself yearning for the touch-friendly simplicity of Google's on-screen navigation keys. It wasn't just that the swipes themselves were inconsistently registered — more than a few times a left swipe to go back would be registered as a tap to go home — but that I just found the benefits of extra screen space don't nearly outweigh the additional cognitive load. It's just not a great feature; worse, it's a gimmick portrayed as one.
I do, however, want to be sensitive to Motorola's demographic compromises here. The company is releasing a phone to compete with popular Asian brands like Oppo, Xiaomi, Vivo, and even Lenovo itself, most of which don't use on-screen buttons, along with many big U.S. brands. One Button Nav, as imperfect as it is, is not for me, but for the millions of people that have never done it Google's way. While I'm still not convinced this is the right way to do it, it's certainly well done for what it is, and can be improved through subsequent software updates.
Battery life
There are a lot of things I could nitpick about this phone, but that it doesn't match the Moto Z Play's epic uptime is not one of them. Motorola has done an amazing job getting the Moto G5 Plus to the point where I don't have to worry about it dying on me before the end of the day, and it's managed to do that in a chassis considerably thinner than its predecessor's.
While I disagree with the company's decision to maintain the legacy Micro-USB port, I can't complain about the actual charging speed, which is Quick Charge 3.0-fast, nor the phone's longevity, which handles everyday tasks with aplomb.
Which should you get?
In the U.S., you can't buy the Moto G5 Plus from a carrier, so you're going to be getting it unlocked at one of the company's many retail partners, or directly from Motorola itself.
The two configurations are identical but for RAM and storage amounts:
The $229.99 version comes with 2GB of RAM and 32GB of storage.
The $299.99 version comes with 4GB of RAM and 64GB of storage.
I'm of the opinion that you should try to find the extra cash for the extra RAM, since we've found that Android runs better over the long run with more memory to work with. That said, as long as you keep your expectations in check, and clear your open apps every once in a while (or let the OS do it for you), you should be fine with the cheaper $229.99 model.
There's also the Amazon Prime Exclusive offer (opens in new tab), which gives a $45 and $60 discount, respectively, on the two models in exchange for lockscreen ads and pre-installed Amazon apps. I am not a fan of these particular devices, mainly because they are updated on a separate track and Motorola already has a pretty poor record, but the offer is a great way to bring down the cost of the more expensive Moto G5 Plus to $229.99.
Buy it
Moto G5 Plus Final Thoughts
This is probably the best $230 phone you can buy today, though the number of competitors in the space is quickly increasing. If companies like Honor and ZTE get their software acts together and stop shipping devices with older versions of Android, Motorola's advantage will be quickly lost. At the same time, that Motorola is shipping the G5 Plus with Nougat, while good, doesn't promise that it will get its own updates in a timely fashion, either. Lenovo has drained some of that efficacy in favor of cost savings.
But judged on its own merits, right now, the Moto G5 Plus is a really good product, and is great value. While I'd recommend springing for the 4GB model, either version is worthy of consideration, and has enough improvements over the G4 Plus to be considered a serious upgrade.
4.5 out of 5
See at Amazon (opens in new tab)
Get the Android Central Newsletter
Instant access to breaking news, the hottest reviews, great deals and helpful tips.
Daniel Bader was a former Android Central Editor-in-Chief and Executive Editor for iMore and Windows Central.
Commenting as I read the article: - IMO, the enthusiast would care about USB Type-C. The average customer, especially those not in the US would likely prefer to keep micro USB as their previous device would likely have used it. No new chargers to buy.

I agree. USB-C silicon isn't stable yet, so there are still issues and corner cases with power distribution as well. Technophiles may be willing to adjust behaviour and research compatibility, but most just want to plug their phones in overnight for charging with whatever charger is handy. Micro-USB is still very much mainstream.

I totally agree. I'd say us enthusiasts represent what, maybe 10% of the phone buying public in the US. In reality, the other 90% think having to change to a new charging cable is a phone manufacturer rip-off forcing them to spend more money on for little reason.. That 90% also thinks of software updates as annoyances that prevent them from using their phones. The 90% also have never heard of NFC payments. Moto has built this phone for that 90%, not us 10%. And it will probably do well because of that, particularly the discounted Amazon models. The 90% certainly understands a $60 discount.

Why those not in the US especially? Seems like an odd qualifier... I genuinely doubt preference for type of USB connector is a cultural thing. You're​ not wrong in the first part though. I would not buy a phone with micro USB now, but I recently had to explain type C to my brother, who is relatively tech savvy for a "normal".

I didn't mean it as a cultural thing. I just don't see markets where "cheaper" phones are the normal being markets that will want to make the USB Type-C transision in 2017.

Exactly. Frankly I don't understand why enthusiasts have a hard time understanding why non-enthusiasts would see switching to USB C as a hindrance and not a feature.

Ah, so you actually meant developing markets. Believe it or not, there's quite a lot of people in countries outside the US who throw money at new phones or buy on contract. Most of Western Europe and parts of Asia, for example.

I agree. Plus I have a micro USB flash drive I will still be able to use with this phone to transfer data.

I think the same can be said for NFC. I use it all the time for mobile payments but I only know a handful of other people who do as well. There are still plenty of times when I pull out my phone to pay and the clerk looks at me dumbfounded.

I kinda like the one-button nav, though.

Me too. Using the phone currently

Same here...i was user of google on screen navigation keys...i am also enjoying this one button thing😂
Only a bit problem when closing keyboards in some chat apps...the navigation keys dont appear sometimes with keyboard and to close it i have to use the back gesture

Yeah, I"m going to keep an open mind about it. If I like it I'll use it, if not I'll turn it off. At least Motorola makes turning it off both possible and simple.

Commenting as I read the article: Does it not echo a cheaper Moto Z design or are you stuck on Motorola's third gen Moto X/third gen Moto G language?

I'm disappointed with the no USB-C, and I feel kind of like this is a backslide for the Moto G line of devices. I had lots of praise for the G4 plus, and I think it was a solid platform. However, sight unseen and only having reviews to go off of, I'd have to see it in person to form a definitive opinion. This isn't really a device in my normal price range but I hope that it fits the needs for people who are in the market for a solid mid-tier device. The downsize in screen size and no 4k is also a downer, but the specs are formidable for 1080p, and the s7 camera is a nice choice. Nice review! Thanks.

I can understand why you are disappointed with no NFC, but characterizing it as a "backslide" is inaccurate as the Moto G4/Plus did not have NFC either. Also I don't think that expecting a 4K screen at this price point is realistic, particularly when 90% of the phone buying public would never know the difference between 1080p and 4K. IMO, 1080p is exactly the kind of compromise needed to deliver a good phone at this price range.

I didn't say anything about NFC. My comments also stated that the phone wasn't for me. But, I do think that the Moto G is taking a step back with the new G plus. The only positive new feature to me is the camera. The G4 plus was a good balance of size, power, and performance. I don't really see the need for a 2gb and 4gb version, especially at such a incremental price point and the 5.2" screen is disappointing. And 1080p is perfectly fine for a budget phone. I just prefer 4k and that's what I look for in a device.

I didn't edit anything? Lol

For a cheap phone, I would prefer a decent plastic back. I rather liked the old rubbery black backs. Practical and comfortable.

Commenting as I read the article: Lack of NFC is puzzling but I imagine Moto has data on how much it's used on their other phones. Still, in the US, common places like McDonald's and Walgreens have NFC payments enabled. And pretty much every vending machine I've seen lately (in California) has a tap to pay option too.

I don't get the whole NFC thing. I don't use and don't plan on ever using it. That's why I have a credit card to use. Wouldn't NFC be less secure than a credit card? The only thing I may use NFC for is my LG washer and dryer have a trouble shooting feature that communicates via NFC (why they didn't go bluetooth?!?) - and I have an old phone with NFC that I will keep around for that. So I would gladly give up NFC any day of the week for some other feature - like maybe a LED notification light (which would be much more practical). I have no idea why they would forgo an LED notification light.

No Notification LED has been a Moto thing since 2013.

Actually no, NFC payments are more secure than credit cards, even the ones with the new chips: http://www.nbcwashington.com/news/local/Pay-It-Safe-Smartphone-Payments-...

I'd love to use Android Pay, but it's pretty limited in my corner of the planet at the moment, so.... maybe it will be important for me in the phone after my next one.

Commenting as I read the article: So for the camera, sounds like it's slightly below the S7 but still a significant step up for this class.

Commenting as I read the article: On-screen navigation buttons don't bother me. I don't expect to use One Button Nav.

Commenting as I read the article: Other phones at this price point usually don't support all four major US carriers. I rely on the best wireless network for service. Phones like the Honor 6X are irrelevant to me because they don't work on the network I need. (AT&T customers need to rely on indoor microcells in my office. T-Mobile users need to step outside. And Sprint, they're Sprint. I work in an area where every other building is owned by Qualcomm.)

This is a huge factor for me and it irks me whenever I see these other phones touted as better values than the Moto G line. Those phones barely have compatiblity for 1 or 2 US major carriers, but never all 4. In fact, AFAIK the Moto G4/5 line is the only non-flagship phone in the world sold compatible with all 4 US carriers. That's a big deal for me.

Works with all 4 major US carriers. That's a pretty big deal, when the largest US carrier is CDMA. Would be nice if the other purveyors of unlocked phones would take note of this.

Commenting AFTER I READ THE WHOLE ARTICLE,
I have to say it's a great review. And a pretty nice budget phone for a teen or a second phone for keeping the job separate from your personal life. But I do have one question: How does someone or some phone get "romantically caught in a rain storm"?

Moto cameras not knowing how to analyse a scene, just another day in Moto land. By the way, pretty surprised at a website like this actually advising its readers to clear their open apps. This isn't something you need to do as the OS does it for you—if memory is low it'll start killing processes. This is pretty known by now. I frequently see people with last-gen phones like the iPhone 7 closing all their apps and it drives me insane.

I used to think like that, but after much testing I have found it can be useful in some instances. True, the OS does clear memory as needed, but not in any predictable way. On my 2gb ram 2014 moto X, if I want to switch between 3 memory hungry apps (uber, lyft, play music) I will sometimes swipe away chrome or google maps. All it really does it speed up switching between the big apps. They are in memory so they don't have to reload.

Damm. That comment about the camera is a buzz kill, thanks. I was hoping to hear positive things.

Lol it's ******* than the old one someone should tell lenovo that the next gen is supposed to be better than the previous you tell that Motorola arnt in charge anymore

I am impressed by the camera looks a lot like the one in my Lumia 950!

No nfc? I thought it had nfc. Dang it. I was looking forward to trying this phone. I use android pay every day and nfc is a must for me. Well, that rest of the phone is great. If you don't need nfc it's a great buy. Hopefully battery life stays that good.

I was going to add nor the UK version, but I see it has NFC and 3gb RAM here. Very confusing.. http://www.androidcentral.com/e?link=http2F2Fcread.... The base G5 we get and NFC, not so much.

This is tempting. What's the speaker sound like (or did I miss that)?

I would love to see a comparison between this and the z play. Is the z play even worth it now? It sells for $450 on Amazon currently.

Well if you are dead set on having Mods, NFC, and USB C, then I'd say the Z play would be worth it. Especially considering how much extra money some people are willing to pay for higher screen res, a a better (on paper and benchmark) processor. Otherwise, if you don't care about those 3 things, I'd say the G5 is a far better value.

Isn't the processor the same between the g5 and z play?

Yep. That's why I said the G5 is ultimately a far better value if you don't care about Mods, NFC, or USB C. Which, let's face it, a while a large portion of the phone buying public might be curious about Mods, they don't give a hoot about NFC or USB C. The G5's other huge advantage is 4 carrier compatibility.

Z Play is also for people who want epic battery life.

how about camera comparison of G5 Plus vs. Moto Z play?

Good luck getting updates if you're in the USA , cause Moto doesn't give a **** about us anymore . Blame Lenovo for this.

Yep having a stock Android experience with no updates since May 2016 killed the G4 experience for me. Reading all the reviews about how the Nougat update fixed majority of the issues (screen flickering, stability, etc.) I kinda feel bad about why the US users got shafted.

I'm wondering if an international model would support Android Pay in the US.

This isn't the new standard. Especially, as current stock of the G4/Plus is flushed out of the market, prices will plummet. The G4 is a much better value than the G5 (faster CPU, bigger battery, etc.), and the G4 Plus is arguably a better buy than the G5 due to its better camera, removable back/battery (just a couple of screws and connectors), and larger screen. Admittedly, the Snapdragon 625 is a much better CPU, but I've had very few stutters during my time with my G4. And, naturally, you can never expect solid updates from Motorola anymore, so I doubt the G5 will even get O, much less the G4.

Actually, the G4 is not a much better value as the 625 is a much better SOC than the 617. So, the battery life will be better. The G4 does not have a removable battery - it has a replaceable batter. You are not going to remove screws and connectors to swap out the battery. There are a number of people who will welcome the slightly smaller frame of the G5 over the G4 . As for the camera comparison of the two phones I guess this review disagrees (with whatever sources you used to state the G4 has a better camera) so I'll leave that alone. If you're on Verizon or Sprint and want a lower cost, unlocked, full price phone then the Moto G series is one of the few choices available to those users. In fact, the G4 Play at $99 (or less on sale) is a tremendous value. It's up to each person to decide if you want to go with a Moto G (4th gen) or Moto G (5th Gen).

Really interesting review. It seems like a solid phone. I'm glad that it isn't 5.5" anymore, I wasn't a fan of that last year.

"To me, NFC is a basic requirement of any high-end smartphone, and if Motorola really wants to play in this league, it has to step up and compete." I don't understand, this is not a hogh end phone so Motorola doesn't try to compete here!

I'm sorry....If you're willing to spend $300 on a phone...and you want a bigger phone than a poultry 5.2" baby phone....Go to Amazon and buy a NEW LG V10. Oh lordy you can't handle it with one hand....waaaaa No one cares. It's a SUBSTANTIALLY better phone for that $$ than the Moto G5+. If you have to have smaller, look around, there are still 1 to 2 year old phones that will way out perform the Moto.

Cool. And this Amazon LG V10 can be used on all 4 carriers?

No. it can only be used on GSM service like T-Mobile and AT&T. No Verizon or Sprint. But use cricket or straight talk etc, they're all good and much cheaper anyways than the biggies.

That's great for you. But other people may not get good service from TMobile or AT&T and their MVNOs in their respective area. Other people like getting full features from the primary carriers. Either way, It's nice having a phone that gives you the flexibility to try out whatever service you want at whatever price you want and try another one the next month until you find one that works for you. That's why myself and a lot of people put a lot of value on a 4 carrier unlocked phone. Additionally some people like the significantly improved battery life that a SD 625 gives over the SD 808 of the LG V10. All that's to say I don't think it is a slam dunk that your LG V10 is a vastly superior buy than a Moto G5. Not for everyone.

No bootloops on my wife's V10.... And of course the battery life isn't a big issue because you can put a new battery in anytime you want.

sorry, but when it comes to performance, G5+ will do better than any of those heavy skin flagships pushed by frying Battery hog chips. we loved the v10 , but that phone was far from consistent in any area and after a few months of use , battery would last 3-3.5 hrs SOT in 12hr period. with exactly the same use, Z Play is way faster, cooler and get you about 4+× the battery. G5+ will do the same, but with 2+ × the battery. 808 is probably the worst processor released.
V10 is a better built phone for sure, looks better and gives you more features and still not enough to recommend it to anyone over this phone.

The SD808 had no major issues and has performed great for a year and a half. It had a warmth issue on android 5.0, but now on 6 and 7 has no problems. and the heating issue on the 808 and 810 processors was completely overblown and they still operated as top-notch Your statement that it's the worst processor released is just made up tripe. Except for the 625's battery performance, there's simply no comparison.

I have XPE right now running M (Android 6) and it still runs warm more often than not and overheats very easy. Same was with V10 on M. So, it's not anecdotal at all. 808 is not a frier like 810 for sure, but considering that they stripped it by 2 cores and tweaked as much as they could to avoid problems it's definitely a failure. Aside from some bs benchmarks, just curious in which real life use area 808 would outperform 625 - maybe a few games available on Android if any.
When it comes to any task thrown at them ZPlay beats V10 by a large margin.

Sorry, while my wife users a v10 with no problem I'm using a Nexus 6P which has Sd810 and I have no overheating problems whatsoever, not a fryer, French fries or otherwise by any means.

6P was well known as exceptional from the very beginning - best designed for heat dissipation by Huawei's body and Google's optimization.
there was a huge reason why SD rushed to release an inferior processor (808) and it was nothing but the frying force. that's why they had to tweak the speed of 810 ("2.0 edition") - throttle as much as they could and hope that the manufacturer would make a good housing around it. and it still wasn't assuring enough for a lot of phone makers to install it- LG opted out just like Samsung, Motorola, Blackberry, etc. I'm convinced that if LG was to build 5x in aluminum body , Google would have had it at 2k and 810 processor in it.
I would be surprised if your wife is a heavy user. few of my friends also had no issues with heat, but used it very lightly.to clarify, I'm not saying it's as bad as 810.
I'm still to see the evidence that 808 runs better than 625 in every day use.

The 6P and the Droid Turbo 2 were the two smartphones that managed to use the SD810 with no issues whatsoever. My DT2 never gets warm unless I really push it; like if I'm livestreaming on my phone with Clash Royale or something heavy in the background while on the Turbocharger, it operates lag-free and no heating issues. And same for the Nexus 6P.

The problem is, the V10 is 2 years old. I checked the specs which are similar however,
the V10 is not stock android.

Anyone have experience with the amazon prime version? Does hosts file adblock work?

So to be clear, not using capacitive buttons is an option. They are still available?

Yes, on screen buttons are an option, and I believe are present by default. You have to go into the Moto app to set up the one button control.

Cool. :) I like the swipe idea, but if it misinterprets the first touch and there was no other option I could envisage many flying out a window after a week :D

In my family we've had 1st gen Moto G's, and we still have a 3rd gen Moto G, a Moto G4, and a Moto G4 plus. Our G4 Plus is the 4/64Gb variant. Fairly durable and reasonably well featured phones at attractive prices! I had no problem with the plastic construction - and our phones have cases on them anyway. I like the 5.5" screen size on the G4. Where I do have the problem is when you are spending $300 on a phone, it should have NFC. At that price you're getting very close to a great many mid-tier, fully featured flagship killers. Maybe Moto (Lenovo) just wanted to put some separation between their G, M, and Z lines (assuming the E line is gone)? For me, I just don't see any reason to upgrade from the Moto G4 and G4 Plus to the G5 Plus..

Anyone know if VOLTE, HD Voice, Wifi calling work on Verizon?

Seeing as the Moto X pure and Moto G4/plus both worked with VoLTE on verizon, I'd wager its a good bet the G5 will do so as well. Wifi calling is unlikely however.

VoLTE yes but WiFi calling I doubt.l - been almost year and a half and my XPE is not supported

I've had phones with NFC since 2013. Other than using it to touch and transmit photos back when that was a thing, I never use it. In fact, I turn it off, because it's a battery sucker.

Same. NFC is first to toggle off when I get a new phone or do a reset also.

What is Motorola's security patch policy for this phone? Will it get Google's monthly security patches? I'm not buying any phone that doesn't get regular security patches.

forget about any Moto phone than. my xpe was 3 to 6 months behind last year (was stuck) on May and now I'm on Dec patch.

I'm my area, NFC is almost non-existent. And stores that do have it, the use by the public is so rare that employes don't have a clue what you are doing.

Same here, I live in Indianapolis and have yet to find a place to use NFC. The only place I haven't checked is the airport since I don't fly. I go to Union station in Chicago a couple of times a year and have not spotted anything that uses NFC. I see no advantage paying with a phone over a credit card at a regular checkout. Heck I don't even know how to turn it on even if I wanted to. I suspect NFC is only popular on the East and West coast big cities here in the US.

In Seattle NFC paying is just about nonexistent

I played with it last night at BB and was impressed with the way it looks and feels in hand. it's still too big for a comfortable one hand use, but def easier to handle than Z Play. I'm still not sure which one to get to replace the XPE. I'm leaning towards the latter (too many extra options + plus extra day of use) , but the size and price of G5+ are super attractive.

I disagree with your statement that 'NFC is a basic requirement of any high-end smartphone'. Not everyone wants to use the NFC payment feature that vendors are pushing these days. I for one have been turning off NFC on my phone because I don't care to make payments using my phone, and more importantly I don't care for the security risks that have been noted from unscrupulous people stealing your personal info simply by connecting to your phones NFC chip.

I've had the original Moto X when it first came out but its on its dying legs - been thinking of picking up this phone over the Pixel (Pixel is nice but its simply just too overpriced to justify the purchase and those bastards aren't discounting the phone). I am not a power user so this would be phone enough especially the 4GB model. My biggest concern is...is this phone globally unlocked? Since I do travel overseas frequently, would this phone be compatible with the foreign country's SIM card and carrier or is it locked solely to US and Canadian carriers?

I wonder why the UK version has NFC.
Then again I bought the Moto G4 Play, thinking it had 2GB of Ram however the UK version only has 1GB which was a bit of a disappointment.

I haven't used a Moto since the G3, which didn't have this... Does anyone​know if this has double tap to wake? That's a must IMO. Thanks. ☺

No the G5 doesn't have double tap, which is admittedly the one feature I do miss from my time with an LG... However set up the fingerprint scanner and you can have the next best thing to double tap. A good launcher will also allow you to mimic it. Nova Launcher Prime will let you double tap to turn the screen off and lock the device...

You can hold the fingerprint button to turn it off, which in my opinion is better.

I am interested in the new Moto G5 Plus. I wanted to get the amazon version (mainly because of price) but am concerned that the Amazon "skin" or overlay, on top of the Moto overlay, on top of Nougat 7.0 will cause problems. I don't think I really know enough about how the Amazon overlay interacts with the Moto one, and that with Nougat, but think that the Amazon version might be a bad idea for me (besides the ads). Thanks

I *think* they just install there apps and put ads on the lockscreen. I don't believe they re-skin the phone. I could be wrong. I thought I heard that you could at any time pay the difference and get the lockscreen ads removed. If the Amazon apps are installed as system apps, the best you could do is disable but not remove? I would buy the Amazon version, I am a prime member and already use music, photos, underground and movies. I would not want the kindle app, as I prefer to actually read on my Kindle Touch.

The Amazon lock screen ads are a simple swipe forget type of affair, but I'd find them annoying so I bought my G5 unlocked through Best Buy. It cost my more sure but I don't have to put up with the ads. You also can't remove the few apps that Amazon has put on your device also... That being said... There are a few tutorials on YouTube to remove the Amazon ads and bloatware for the Moto G4 if you're a little computer savvy. You know there's going to be tutorials if not already posted for the G5...

Hey! I'm in the market for a new phone, and I thought about just picking up a used LG G5. It's about the same price as this, so I'm wondering what you all would suggest?

Does the amazon version have its own UI?

No, it is the same launcher that comes with the ones sold elsewhere or from Amazon without ads. Ads appear on the lock screen, and there are some Amazon apps preinstalled, but as far as I can tell, everything else is the same. So far, it's been worth the approximately $50 savings to get the ammy version. If you don't like the ads, you can pay Amazon at any time to get rid of them - the difference between what you paid and what you would have paid for the non-Amazon version, and the ads go away. ETA: I changed out the launcher (I think it's called Lenovo 3, but I'm not sure) for the Nova (Prime) launcher, because I have it on my tablet and really like it. But the stock launcher is very good, snappy and easy to use. I was impressed by how crapware-free the phone was after having some that were just crammed with it - other than the Amazon apps, of course, most of which I already use anyway. Otherwise, it was pretty much just stock Google apps.

You forget that this is a "budget phone", saying "To me, NFC is a basic requirement of any high-end smartphone, and if Motorola really wants to play in this league, it has to step up and compete." Motorola is not trying to play in the high-end league so your point is moot. I for one would not use mobile payments and therefore would not want NFC included. I am the target for purchasing this type of phone, you have been in the realm of high-end phones so have lost sight of what budget buyers really want...a reliable device with decent performance, not bells and whistles to impress people with. What AC needs, in fact all phone reviewers need, is a person who has stayed in the budget to low-end phones to really tell us how good devices like this are.

"I had a chance to use the phone as my daily driver for over a week, and noticed that it felt just as performant as the Galaxy S7 I came from." This is what really stood out to me. My Galaxy S7 got completely messed up and I'm looking for a budget phone that just works with plenty of storage and battery life. Picking this up right after work today.

Salvation Bataye no service aa rha hai mere

Very nice hardware but overbloated OS and apps, takes up off the bat over 1 GB of my 2GB memory total just to phone home to big brother google. Also a privacy nightmare- by default puts all your photos you have on an SD-card into the cloud without asking- of course, YOU pay for the traffic, so why not? Every time you snap a picture seems that the camera application tries to contact the mothership ... I have cell DATA disabled and only connect to wifi at home, yet when I snap a picture at work it gets stuck trying to download stuff. Also apps update even if you disable updating, and permission revert to most open access behind your back. Contacts get merged with your google mail list, making a mess of personal vs work data. Ugly alarm application, big fonts that cannot be made smaller so you have to scroll through if you have more than 3-4 alarms set. If only I could revert to the apps and soft of my Samsung Galaxy while keeping the nice camera and unlocked features/universal SIM.
Also, they are not upfront that this Motorola is actually a Lenovo.

1. I prefer micro-USB because I have never had a phone with USB-C and don't want to.
2. I actually liked the one-button-nav because it let me not reach all the way across the screen to tap the back button.