Moto Z Play review: The best phone you'll probably overlook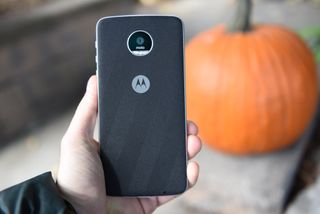 The quick take
It's hard out there for an OEM. Companies are forced to innovate relentlessly, to reinvent the way we use phones or risk being labelled old news.
When the Moto Z debuted earlier this summer, first as a Verizon exclusive and subsequently as an unlocked model available for AT&T and T-Mobile customers, the market didn't know what to think. Here's this phone, thin, light, well-made, with up-to-date specs and a whole lot of innovation thrown in there — and an ecosystem of modular components that can attach to the back to augment the core functionality. To me, it was one of the more exciting announcements of the year, and I still think the phone is an overlooked gem, albeit one with a few critical flaws for the price.
So then Moto Z Play debuts in late August, with an early September release date, and the reaction is... muted. I was a bit stunned, to be honest — I thought the prospect of taking a Moto Z, giving it some extra battery and muddling the spec sheet just enough to bring down the cost by close to half would be enough to make people stand up and notice it. Alas.
The Good
Incredible battery life
Great performance for the price
Consistently good daylight camera quality
Moto Mods support
The Bad
Some undesirable bloat on the Verizon model
Camera isn't great in low light
Fingerprint sensor is distracting
Moto Z Play About this review
This review was written after spending two weeks with the Verizon version of the Moto Z Play Droid on both Verizon's network in the States and Bell's network up in Canada.
I then transitioned to an unlocked Canadian Moto Z Play meant for the local market, which was better tuned for Bell, the network on which it remained for the balance of the testing.
Moto Z Play Hardware
If you've used the Moto Z or Z Force you know what to expect here: a slab of aluminum with a big 5.5-inch display. Solid. Dependable. Ford.
But I digress: the Z Play does make some drastic changes from its thinner, more expensive counterpart: its back is all glass, instead of a fusion of glass and metal; and it is quite a bit thicker, owing to the 3,510mAh battery inside. There are, of course, Motorola's 16 pins for attaching a Moto Mod accessory or, at the very least, a Style Shell cover to protect the glass.
The phone feels incredibly well made, easily on par with the OnePlus 3 or Honor 8. Buttons are properly calibrated and clicky, and there's even a headphone jack for those who aren't living the future.
More: Moto Z Play specs
Like the Moto Z, the Play has a USB-C port to charge with — a TurboPower adapter is in the box, because you're not an animal — and there's a squarish fingerprint sensor on the front, just below the 1080p AMOLED screen. It's not my favorite implementation of the feature; in fact compared to Apple, Samsung, Huawei, Google, Honor, LG, Sony -- practically any other OEM -- I think it's pretty horrid. Why? Because it's small, and very close to the virtual home button. That said, it does the job.
And, even though I know Motorola thinks it is being helpful here, pressing down on it for a second turns off the screen. Normally that would be great, except that I end up doing just that when logging into apps that use the fingerprint sensor itself. Moto seems to have forgotten it's a system-wide setting that cannot be disabled.
That 1080p display is fine. It's certainly on par with the OnePlus 3, with which the Play shares a number of philosophical similarities, and it's not much of a downgrade from the higher density AMOLED screen on the Moto Z. Of course, the Play has something important over the OnePlus 3, and any other phone: Moto Display. I've said it before, and I'll say it again: If you value notifications — and if you're using an Android phone, you likely do — Motorola's screen-off implementation is the best there is.
When comparing the phone to the OnePlus 3 or ZTE Axon 7, the Play's Snapdragon 625 processor is likely to be compared negatively to their Snapdragon 820, but don't let the numbers fool you: unless your intention is to spend your days playing graphics-intensive games, you won't likely notice a difference. Qualcomm hit a home run with this chip, the successor to the ubiquitous Snapdragon 615 from a couple of years ago, except that this one is actually good.
It's also much more efficient, which gives the Play its two-day battery life. I'm incredibly impressed with the longevity of this phone, and if battery life is a priority it is by far the best mid-range option on the market right now. Let me give you some use cases: I used the Moto Z Play as my main device for two weeks straight, going through my daily routine — email, Slack, Twitter, Instagram, etc. — without actively stressing it. It lasted two days.
I then used the phone as a Wi-Fi hotspot for my other devices, and it lasted 13 hours. I taxed it and taxed it, and it wouldn't die, and then I when its battery eventually depleted I charged it quickly using the TurboPower adapter, or I used the Incipio Moto Mod that has become an almost-permanent attachment to this incredible phone.
I have to say a few words about this combination of Moto Z Play and Incipio OffGrid power pack: with a combined 5,720mAh capacity, the two add up to so much more than their individual parts. Not only does the OffGrid add wireless charging capabilities to the Z Play, but it intelligently charges the phone using the customizable Moto Mod software.
The experience is seamless and absolutely intuitive, and so, so useful for travel. Together, they add up to a not-so-svelte 13.2mm thickness and 250 grams, but a rounded design and textured back make it much more comfortable to pocket, and hold, than those numbers belie.
Moto Z Play Software
I love Motorola's take on Android. But for the Nexus (and now Pixel) line, I don't think any company interprets Google's original vision for Android — taking the core code and improving upon it without adulterating its emphasis on speed and simplicity — better than the Chicago-based company. Of course, it helps that this ethos was born while Motorola was a Google company, and has thankfully not been ruined under Lenovo, but I just think the Moto Z Play's software advantage is worth far more than the perceived (or lack thereof) performance differences between a Snapdragon 820 and a 625.
Of course, some will point out that you get most of what I'm talking about, plus a Snapdragon 820, on the OnePlus 3, and those people will be right. The difference, to me, is Moto Display, which no other Android maker, not even Google with its Ambient Mode, successfully emulates. It's not even close. I just hope that Motorola brings Nougat to the Moto Z Play as quickly as possible.
Moto Display brings me back to Motorola phones in a way no other software feature lures; it has workflow advantages, battery advantages, and aesthetic advantages. It's the original smartwatch. Being able quickly check notifications by bringing a hand close to the screen or picking up the phone is incredibly useful.
Elsewhere, the various gestures embedded as Moto Actions — double-twist to open the camera; double-chop to turn on a flashlight — are just as useful as ever, but no longer unique, as they're much more easily to recreate than Moto Display.
The real advantage to Motorola's adherence to what we know as "stock" Android — albeit with a fairly sizeable delay in updates; the Play is on currently on Android 6.0.1 with September 1st security update — is that it generally feels fluid, even months or years after its release. I occasionally bust out my original Moto X from 2013 to see how it's doing, and it works as well as it did the day I got it. You just can't say that about many Android devices after three and a half years.
I also have to commend Motorola on the seamless integration with the growing ecosystem of Moto Mods that I have had the pleasure of using over the past few weeks. I disagree with my colleague Russell Holly in a number of ways when it comes to Motorola's latest series of releases, impressed that all three devices — Moto Z, Moto Z Force, Moto Z Play — are compatible with the same adds-ons. The Play, especially, arguably benefits more from each of these products given its lower asking price. As much as I like the Moto Z, I'd be tempted to buy a Play and a couple of Mods with that extra money.
Moto Z Play Camera
The 16MP camera on the Moto Z Play is comparable to many in its $400-ish range: good in daylight, with fast autofocus and vivid colors, eking plenty of detail; and mediocre in low light.
I have to commend Motorola for vastly improving its camera app; it has doubled down on simplicity, but added the manual settings and easy-access controls that many enthusiasts covet.
Image 1 of 11
One area the Snapdragon 625 chip does lag behind the 820 found in many other $400 phones today is camera IQ: the shutter isn't quite as instant as the OnePlus 3, and the 4K video capture isn't as smooth. Still, it's an imperceptible difference in most cases, and I'm pretty amazed that the sequel to the maligned Snapdragon 615 produces footage this good.
The phone also has a pretty great selfie camera, along with a front-facing flash for those times you need to be well-lit indoors. The only real knock I'd give against the camera is that it defaults to a 16:9 aspect ratio, which lowers the overall resolution to 11.9 megapixels in exchange for a fuller viewfinder. Motorola makes so many smart decisions elsewhere in its software; I wish it would wise up to this one, too.
Moto Z Play Odds and ends
As I said, I used two different versions of the Moto Z Play, the Verizon-exclusive Droid and an unlocked version of the Canadian SKU. Both of them held solid connections to the various networks I attached them to, and the front-facing headpiece, which pulls double duty as a speaker and earpiece, sounded pretty great in almost every situation except the most challenging — a loud room.
Learn about Moto Mods
Moto Mods are some of the most interesting and unique add-ons you can buy for your Moto Z Play. From a projector to a speaker to a battery add-on, there are so many interesting things you can do.
Read our overview of the Moto Mods ecosystem in our Moto Z review
As Phil mentioned in his review, you're getting some gnarly bloatware on the Droid version of this phone, much of which isn't removable. For more on that, you can check the preview I wrote when the phone was first announced, but the upside is this: you can disable most of it. On the Canadian variant, there was no bloatware to speak of, and while that may not be indicative of the retail version, I've never been offended by apps installed by Canadian carriers. They just tend to respect their customers more in that regard.
The Play supports Category-7 LTE through the Snapdragon 625 processor, and that's good for download speeds of 300Mbps and upload speeds of 150Mbps. You won't get close to that unless it's the middle of the night and no one else in your neighborhood is using the network, but it's nice to know you're not stuck with a phone that isn't futureproof.
Speaking of future proofing, the combination of 3GB of RAM and 32GB of internal storage, plus microSD expansion, should suffice for most people. Again, I noticed no major performance difference between this and the Moto Z, and that should speak volumes to both Qualcomm's and Motorola's commitment to optimization.
The bottom line
Moto Z Play Buy it
I love this phone. I think it does everything right, and sacrifices little on the way. Moto Mods are terrific additions to the Moto Z ecosystem, but I cannot say emphasize this enough: they are not necessary to enjoy this phone.
Of course, it's battery life that brings you in the door here. I haven't ever felt this confident about leaving my phone unplugged overnight, and if you're a heavy user, or just wants a bit of breathing room, the Moto Z Play is the phone for you. Heck, spend an extra $60 and get the 2,220mAh Incipio Moto Mod and unplug for half a week if you're sparing. You just can't say that about another phone on the market today.
From the vivid AMOLED screen to the ultra-efficient and performant Snapdragon 625, to the considerate software additions and promise of faster-than-the-non-Google-competition updates, this phone is almost certain to get overlooked in a sea of competitors — but it shouldn't. It's just that good.
Even better — it will soon be available directly from Motorola for $450, unlocked and compatible with AT&T and T-Mobile. Until then, it's slightly cheaper at Verizon at $408.
Get the Android Central Newsletter
Instant access to breaking news, the hottest reviews, great deals and helpful tips.
Daniel Bader was a former Android Central Editor-in-Chief and Executive Editor for iMore and Windows Central.