Moto Z Play review: The best phone you'll probably overlook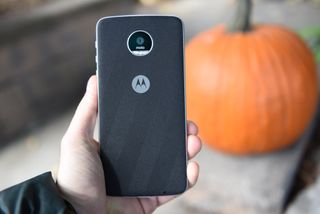 The quick take
It's hard out there for an OEM. Companies are forced to innovate relentlessly, to reinvent the way we use phones or risk being labelled old news.
When the Moto Z debuted earlier this summer, first as a Verizon exclusive and subsequently as an unlocked model available for AT&T and T-Mobile customers, the market didn't know what to think. Here's this phone, thin, light, well-made, with up-to-date specs and a whole lot of innovation thrown in there — and an ecosystem of modular components that can attach to the back to augment the core functionality. To me, it was one of the more exciting announcements of the year, and I still think the phone is an overlooked gem, albeit one with a few critical flaws for the price.
So then Moto Z Play debuts in late August, with an early September release date, and the reaction is... muted. I was a bit stunned, to be honest — I thought the prospect of taking a Moto Z, giving it some extra battery and muddling the spec sheet just enough to bring down the cost by close to half would be enough to make people stand up and notice it. Alas.
The Good
Incredible battery life
Great performance for the price
Consistently good daylight camera quality
Moto Mods support
The Bad
Some undesirable bloat on the Verizon model
Camera isn't great in low light
Fingerprint sensor is distracting
Moto Z Play About this review
This review was written after spending two weeks with the Verizon version of the Moto Z Play Droid on both Verizon's network in the States and Bell's network up in Canada.
I then transitioned to an unlocked Canadian Moto Z Play meant for the local market, which was better tuned for Bell, the network on which it remained for the balance of the testing.
Moto Z Play Hardware
If you've used the Moto Z or Z Force you know what to expect here: a slab of aluminum with a big 5.5-inch display. Solid. Dependable. Ford.
But I digress: the Z Play does make some drastic changes from its thinner, more expensive counterpart: its back is all glass, instead of a fusion of glass and metal; and it is quite a bit thicker, owing to the 3,510mAh battery inside. There are, of course, Motorola's 16 pins for attaching a Moto Mod accessory or, at the very least, a Style Shell cover to protect the glass.
The phone feels incredibly well made, easily on par with the OnePlus 3 or Honor 8. Buttons are properly calibrated and clicky, and there's even a headphone jack for those who aren't living the future.
More: Moto Z Play specs
Like the Moto Z, the Play has a USB-C port to charge with — a TurboPower adapter is in the box, because you're not an animal — and there's a squarish fingerprint sensor on the front, just below the 1080p AMOLED screen. It's not my favorite implementation of the feature; in fact compared to Apple, Samsung, Huawei, Google, Honor, LG, Sony -- practically any other OEM -- I think it's pretty horrid. Why? Because it's small, and very close to the virtual home button. That said, it does the job.
And, even though I know Motorola thinks it is being helpful here, pressing down on it for a second turns off the screen. Normally that would be great, except that I end up doing just that when logging into apps that use the fingerprint sensor itself. Moto seems to have forgotten it's a system-wide setting that cannot be disabled.
That 1080p display is fine. It's certainly on par with the OnePlus 3, with which the Play shares a number of philosophical similarities, and it's not much of a downgrade from the higher density AMOLED screen on the Moto Z. Of course, the Play has something important over the OnePlus 3, and any other phone: Moto Display. I've said it before, and I'll say it again: If you value notifications — and if you're using an Android phone, you likely do — Motorola's screen-off implementation is the best there is.
When comparing the phone to the OnePlus 3 or ZTE Axon 7, the Play's Snapdragon 625 processor is likely to be compared negatively to their Snapdragon 820, but don't let the numbers fool you: unless your intention is to spend your days playing graphics-intensive games, you won't likely notice a difference. Qualcomm hit a home run with this chip, the successor to the ubiquitous Snapdragon 615 from a couple of years ago, except that this one is actually good.
It's also much more efficient, which gives the Play its two-day battery life. I'm incredibly impressed with the longevity of this phone, and if battery life is a priority it is by far the best mid-range option on the market right now. Let me give you some use cases: I used the Moto Z Play as my main device for two weeks straight, going through my daily routine — email, Slack, Twitter, Instagram, etc. — without actively stressing it. It lasted two days.
I then used the phone as a Wi-Fi hotspot for my other devices, and it lasted 13 hours. I taxed it and taxed it, and it wouldn't die, and then I when its battery eventually depleted I charged it quickly using the TurboPower adapter, or I used the Incipio Moto Mod that has become an almost-permanent attachment to this incredible phone.
I have to say a few words about this combination of Moto Z Play and Incipio OffGrid power pack: with a combined 5,720mAh capacity, the two add up to so much more than their individual parts. Not only does the OffGrid add wireless charging capabilities to the Z Play, but it intelligently charges the phone using the customizable Moto Mod software.
The experience is seamless and absolutely intuitive, and so, so useful for travel. Together, they add up to a not-so-svelte 13.2mm thickness and 250 grams, but a rounded design and textured back make it much more comfortable to pocket, and hold, than those numbers belie.
Moto Z Play Software
I love Motorola's take on Android. But for the Nexus (and now Pixel) line, I don't think any company interprets Google's original vision for Android — taking the core code and improving upon it without adulterating its emphasis on speed and simplicity — better than the Chicago-based company. Of course, it helps that this ethos was born while Motorola was a Google company, and has thankfully not been ruined under Lenovo, but I just think the Moto Z Play's software advantage is worth far more than the perceived (or lack thereof) performance differences between a Snapdragon 820 and a 625.
Of course, some will point out that you get most of what I'm talking about, plus a Snapdragon 820, on the OnePlus 3, and those people will be right. The difference, to me, is Moto Display, which no other Android maker, not even Google with its Ambient Mode, successfully emulates. It's not even close. I just hope that Motorola brings Nougat to the Moto Z Play as quickly as possible.
Moto Display brings me back to Motorola phones in a way no other software feature lures; it has workflow advantages, battery advantages, and aesthetic advantages. It's the original smartwatch. Being able quickly check notifications by bringing a hand close to the screen or picking up the phone is incredibly useful.
Elsewhere, the various gestures embedded as Moto Actions — double-twist to open the camera; double-chop to turn on a flashlight — are just as useful as ever, but no longer unique, as they're much more easily to recreate than Moto Display.
The real advantage to Motorola's adherence to what we know as "stock" Android — albeit with a fairly sizeable delay in updates; the Play is on currently on Android 6.0.1 with September 1st security update — is that it generally feels fluid, even months or years after its release. I occasionally bust out my original Moto X from 2013 to see how it's doing, and it works as well as it did the day I got it. You just can't say that about many Android devices after three and a half years.
I also have to commend Motorola on the seamless integration with the growing ecosystem of Moto Mods that I have had the pleasure of using over the past few weeks. I disagree with my colleague Russell Holly in a number of ways when it comes to Motorola's latest series of releases, impressed that all three devices — Moto Z, Moto Z Force, Moto Z Play — are compatible with the same adds-ons. The Play, especially, arguably benefits more from each of these products given its lower asking price. As much as I like the Moto Z, I'd be tempted to buy a Play and a couple of Mods with that extra money.
Moto Z Play Camera
The 16MP camera on the Moto Z Play is comparable to many in its $400-ish range: good in daylight, with fast autofocus and vivid colors, eking plenty of detail; and mediocre in low light.
I have to commend Motorola for vastly improving its camera app; it has doubled down on simplicity, but added the manual settings and easy-access controls that many enthusiasts covet.
Image 1 of 11
One area the Snapdragon 625 chip does lag behind the 820 found in many other $400 phones today is camera IQ: the shutter isn't quite as instant as the OnePlus 3, and the 4K video capture isn't as smooth. Still, it's an imperceptible difference in most cases, and I'm pretty amazed that the sequel to the maligned Snapdragon 615 produces footage this good.
The phone also has a pretty great selfie camera, along with a front-facing flash for those times you need to be well-lit indoors. The only real knock I'd give against the camera is that it defaults to a 16:9 aspect ratio, which lowers the overall resolution to 11.9 megapixels in exchange for a fuller viewfinder. Motorola makes so many smart decisions elsewhere in its software; I wish it would wise up to this one, too.
Moto Z Play Odds and ends
As I said, I used two different versions of the Moto Z Play, the Verizon-exclusive Droid and an unlocked version of the Canadian SKU. Both of them held solid connections to the various networks I attached them to, and the front-facing headpiece, which pulls double duty as a speaker and earpiece, sounded pretty great in almost every situation except the most challenging — a loud room.
Learn about Moto Mods
Moto Mods are some of the most interesting and unique add-ons you can buy for your Moto Z Play. From a projector to a speaker to a battery add-on, there are so many interesting things you can do.
Read our overview of the Moto Mods ecosystem in our Moto Z review
As Phil mentioned in his review, you're getting some gnarly bloatware on the Droid version of this phone, much of which isn't removable. For more on that, you can check the preview I wrote when the phone was first announced, but the upside is this: you can disable most of it. On the Canadian variant, there was no bloatware to speak of, and while that may not be indicative of the retail version, I've never been offended by apps installed by Canadian carriers. They just tend to respect their customers more in that regard.
The Play supports Category-7 LTE through the Snapdragon 625 processor, and that's good for download speeds of 300Mbps and upload speeds of 150Mbps. You won't get close to that unless it's the middle of the night and no one else in your neighborhood is using the network, but it's nice to know you're not stuck with a phone that isn't futureproof.
Speaking of future proofing, the combination of 3GB of RAM and 32GB of internal storage, plus microSD expansion, should suffice for most people. Again, I noticed no major performance difference between this and the Moto Z, and that should speak volumes to both Qualcomm's and Motorola's commitment to optimization.
The bottom line
Moto Z Play Buy it
I love this phone. I think it does everything right, and sacrifices little on the way. Moto Mods are terrific additions to the Moto Z ecosystem, but I cannot say emphasize this enough: they are not necessary to enjoy this phone.
Of course, it's battery life that brings you in the door here. I haven't ever felt this confident about leaving my phone unplugged overnight, and if you're a heavy user, or just wants a bit of breathing room, the Moto Z Play is the phone for you. Heck, spend an extra $60 and get the 2,220mAh Incipio Moto Mod and unplug for half a week if you're sparing. You just can't say that about another phone on the market today.
From the vivid AMOLED screen to the ultra-efficient and performant Snapdragon 625, to the considerate software additions and promise of faster-than-the-non-Google-competition updates, this phone is almost certain to get overlooked in a sea of competitors — but it shouldn't. It's just that good.
Even better — it will soon be available directly from Motorola for $450 (opens in new tab), unlocked and compatible with AT&T and T-Mobile. Until then, it's slightly cheaper at Verizon at $408.
See at Verizon (opens in new tab)
Android Central Newsletter
Get instant access to breaking news, the hottest reviews, great deals and helpful tips
Daniel Bader was a former Android Central Editor-in-Chief and Executive Editor for iMore and Windows Central.
bought it. my SG7 and IP7 friends are so jealous :P

Lol not.. You are the number #1 moto z play cheerleader. It is a good budget phone with a nice samsung screen and awesome budget 625 chip made by samsung. If it didn't have the 625 (which many phones will have soon) . It would just be an alright midrange phone with a nice screen.

The only thing I see that could spur some envy is the battery life. Mods are cool, but are merely a novelty at this point. Still though, I'd buy a Z Play over an S7/IP7 any day.

Many phones soon will have the 625 and will cost around $200 to $300. This phone is overpriced and getting great reviews because most reviewers aren't use to a phone having 2 day battery life. In other aspects it is a midrange phone (camera)

And I would be curious to know how many people actually buy them. My guess is less than 10% of Moto Z Play owners will ever buy a Moto Mod unless they're given them for free as an incentive to buy the phone or heavily discounted for black Friday or something to like $20.

I bought it. Pretty sure majority of users will pick up at least the battery or speak mod with this phone. But Best Buy is including the battery one for free, so that saves me $60 :D

Well, I bought one. But I live in Brazil hehe. I think it is going pretty well here, it is impossible to found its accessories! Moto`s store always says: "Oh it has arrived, but we sold everything". I have seen lots of Moto Z Play on the streets. Lenovo here is selling the Moto Z retail with the Battery Mod included on the package, The "Power Edition" is the vanilla one. There are also the Power and Sound Edition, the Power and Projector Edition and the Power and True Zoom Edition. The Z Play, although, it is available only with Moto Shell, but it is also available in those version I mentioned. But, Motorola is a super power here and they have to be very with us.

You forgot it doesn't have a crappy software like other similar priced phones which is really important. OP3 Oxygen OS is nice but I will still prefer Motorola's take on Android any day. With Motorola you also get its support which I doubt about other cheaper options which will come out and mainly from Chinese companies.

Fingerprint scanner is very very good and on front, which is a plus! perfect would be: backbuttons (ala LG Flex 2, G4 ) and fingerprint scanner on front :)

I hate the fingerprint scanner on the front.

Yes the back scanner is awesome!

Unless it's on a desk. Or do you people who like the scanner on the back put your phones down on their screens? ;)

Presumably they, you know, pick them up?

I typically pick up my phone if I'm going to unlock and use it.

Would buy, but 1) No Sprint lovin, 2) hate front buttons on my phones...waste of space and reminds me too much of crapple.

It was the best feeling ever leaving Sprint. I am sure their days speeds are better now, but their is no reason for them to exist these days.

The data speeds are fine in the areas I frequent. I have some issues in states that have boonie/BFE towns (most monopolized by ATT), but cant beat the price for what I get in return. My bill would double (as I have checked) by switching to any other carrier. Even TMob is at least $40 more a month and their coverage is just as bad in those areas too.

You might be better served looking at Cricket. I was and left my SERO plan for it.

Yeah, I left Sprint for Cricket and it was the best move ever. AT&T coverage with any phone you want and unlimited data for $65 a month.

I feel you on that the day I left Sprint was the day they cancelled x factor and yeah everyone was dancing in the street having fun

I would have considered it if, like the Pure, it worked on most carriers networks. That probably should be in the 'Cons' list.

Yeah, I thought it was odd that they went back to separate models of this for Verizon and GSM. I wonder what drove that decision. Seems like it would be easier to have one model that works on all (most) carriers.

They smoke good marijuana over at Motorola kinda like they smoke excellent marijuana at ZTE and Sony.

Where did you get the idea that the Verizon edition didn't work on carriers? Unless the Play is very different from the regular Z and Z Force, it does. It only lacks T-Mobile Band 12 which isn't necessary for most people. Plenty of YouTube reviewers reviewed Verizon hardware on other networks.

my Z Play has July Security Patch, not September. Single SIM ,EU (Amazon) Version.

Verizon updated their Moto Z Play to the September patch.

Yeah, I'm on Sprint because of the amazing discounts I get. But I can't use most of the awesome phones out there.

Do you climb trees to get service?

I'd never overlook this phone,but lack of sprint support means they didn't want this phone in my hands.

Pretty sure since Moto and VZW have been in bed for like 8 years, it's that, not Sprint's fault.

Really interested in this phone as someone who spends 3+ hours on a train everyday. Does the phone have an FM radio app built in (i actually use this everyday) and does it have all bands needed for AT&T? I'm thinking about getting either this phone or the s7, and the battery life and price difference have me leaning this way. Is the camera capable of capturing pets and kids on the move?

no FM Radio ,no IR blaster, no miracast yeah it's close to the perfect phone, some details missing. batterylife ,moto.display and mods alone sets it way above the SG7, IP7, Honor8,OP3,Axon 7etc. etc. no competition, really.

To be fair, none of those are things we should expect to see on a mainstream phone in 2016. On the flip side, Moto mods put it way above nothing. They're an interesting side show, but if you're buying a phone because it uses proprietary accessories... Well, you're doing it wrong.

Let's not get carried away with the humor there sonny boy no phone's better than axon 7

According to the specs as of November 2016, Moto Z phones do have a FM chipset. That said, several carriers disabled them by default.

The Verizon version does have AT&T bands, it should be fine. Definitely capable of catching kids and pens in good light. And moving subjects don't really help phones that have OIS because it's the phone that is stabilized, not the subjects. Should be fine.

According to the B&H and BestBuy listings (and also coming to Amazon), the North American unlocked version (01095NARTL) does not have LTE band 17. This would be an issue with AT&T. Can anyone confirm?

Definitely not ideal, but it will work on Band 4. Pretty big oversight, actually.

It's the same issue the OnePlus X had. I'm hoping the listings are in error. Any way to reach out to Motorola/Lenovo to verify? Or can someone with a Z Play run LTE Discovery to check?

Just checked the Moto website. Their listing doesn't mention Band 17 either:
Network Bands (by model)
CDMA (850, 1900MHz)
GSM/GPRS/EDGE (850, 900, 1800, 1900 MHz)
UMTS/HSPA+ (850, 900, 1900, 2100 MHz)
4G LTE (B2, 3, 4, 5, 7, 13)

damn, no band 17 is a deal breaker.

AC should update the linked specs with the updated band information if true.

You can get the unlocked Z play from Amazon. It works on all carriers.

No band 12 support either for t-mobile customers. That means no 700 mhz for either GSM carrier. Phone will not have good indoor reception or might not get a signal at all. Could use an an article from Jerry explaining lte bands and what people buying unlocked phones should look for. I think people buying the GSM version will be very disappointed with lte coverage.

Courtesy of the FCC website:
it lists LTE bands 2/4/5/7/12/17/38/40/41 https://apps.fcc.gov/oetcf/eas/reports/ViewExhibitReport.cfm?mode=Exhibi...

I've had mine a week and can't get LTE, only hpsa. Website says some features of ATT network aren't available. Box says it has channel 17 though.

I just got it delivered by FedEx this morning. I got a great deal from Moto's site that I just couldn't pass up and it included a free Incipio OffGrid power pack. Since I needed to quickly replace my Verizon Note 7 (still waiting for that Samsung return box to arrive), I went with the Z Play since I had a great experience with the Moto Z Force. I did have my eye on the Pixel XL, but with shipping delays from the Google Store, the Z Play should be a solid interim phone for me.

Let me know how you like it!

I'm enjoying it. Performance is great and battery life is pretty much insane. I took it with me to Mexico and it still lasted me two days even though I was roaming and service was spotty where I was located. The camera is an obvious step down, but it still manages to put out some good looking photos.

Question did you return your Z Force ? I've been reading great reviews and I'm tempted to pick it up .

Nope. After I got the "safe" Note 7, I ended up selling my Z Force and unlocked GS7. At the time, I thought I would be keeping my Note for at least a few months. Totally regret it now. I really miss the Z Force. Super quick and the camera on it was great.

If this was released as the same time as the Moto Z Force DROID, I would have bought the Z Play.

You guys say this is a $400 phone, but it's only a $400 phone if you're on Verizon. It's pretty disingenuous since elsewhere it's $699, but I don't see that mentioned anywhere in this review. If I missed it, please let me know, but this is not a $400 phone, it's a $699 phone and you can get a $300 discount if you go through Verizon and you get the Play version. EDIT: I see it now, didn't realize the Play and Z were different.

It's $450 for the GSM unlocked model, not $700.

I literally just looked at the Moto site to double-check. The GSM version is $699.

The regular Moto Z is $699. This is the Moto Z Play review.

@duffin: it's $450. I think in your page search you looked at the Moto Z (regular) Look at the Moto Z *PLAY*

I see it now, my mistake. Either it wasn't showing for me or I missed it. Too many damn versions of this phone.

The naming convention used by Moto isn't the clearest.... :)

Then you literally read the price for the wrong phone. The Moto Z is 699, the Moto Z PLAY is 450.

The Moto Z Play isn't available yet from Motorola in an unlocked GSM SKU, but it will be $450 when it does ship. I've updated the review to reflect that.

I see the price now. I think maybe the site was cached and wasn't showing the GSM Play version or something. I looked from a different computer and see the price there now.

Dang dude that's a car payment on a VW Jetta

16 pin though.. "There are, of course, Motorola's 12 pins for attaching a Moto Mod accessory or, at the very least, a Style Shell cover to protect the glass."

Omg... I can count, promise.

"From the vivid AMOLED screen to the ultra-efficient and performant Snapdragon 625, to the considerate software additions and promise of faster-than-the-non-Google-competition updates, this phone is" .... missing the end of the sentence? Nice to see Moto competing again with a really nice phone. As always, a smartphone with a dead battery is just an expensive paperweight so the Z Play should hit the hot spot for a lot of consumers.

UGH! I had that in my draft, but hadn't saved it to the finished product. Sorry about that!

No worries! Just thought you'd want to end the article with some emphasis :)

Anybody making a Qi-only mod without the badonkadonk battery bulk? That's the Mod accessory really needed....

I wish! A Style Shell with Qi would be superb.

I was thinking the exact same thing. I'd also like the Incipio thingy as a backup for travelling as I read it can be charged by itself. Effectively like a replaceable battery.

i was considering the Moto Z Force, but at this price, it seems almost like a better decision to get the Play

Yep hand them Vaseline they'll be okay

I've had this phone for 2 weeks now. Verizon had a $200 off phone special and it worked with the Moto Z Play. Got the phone for $208. I really got it just to play with and was so impressed I sold my Moto X Pure and my Nexus 5X is now my backup phone. It looks like the phone will be updated to N before the year is up too. My only complaint with the phone is slow shutter speed at times, but I'm not a big photo taker anyways.

I'm not having so many issues with the shutter, but the app does occasionally take a couple of seconds to load. Certainly slower in that regard than the Moto Z. Still pretty quick, though.

The shutter is real quick with adequate light. In lower light situations when using HDR it can be slow.

Yup, I'm sold. Probably picking this up in December.

I love this phone only one thing that's stopping me from getting it is the scanner on the front I grew so accustom to it at the back I don't see myself going back from that

Gotta tell you, going from the V20 pre-preproduction unit to this was hella difficult.

This phone also allows adoptable storage, though you need a pretty fast card to get the best out of it. Upgraded my microSD to Samsung PRO+ from EVO and haven't had any problems. Did experience some stutter with the EVO microSD. Have had the phone about a week after returning my 2nd Note 7. All in all probably one of the best phones I've owned so far. Battery life is incredible.

This phone is very under rated. Best battery life of any smartphone that i have used. Only downside would be the camera which isn't great in low light. There are better low light camera options in this price range. As a bonus, I was able to pick it up for $20 after promotions last month with no service contract. Awesome deal!

I disagree about low light performance. If you tweak the exposure and the manual controls, you can more than compensate for the phone's inability to expose low light scenes properly. I got done very nice shots at a concert I went to over the weekend.

For $20 i wouldn't care if the whole phone shuts down at sunset.

C'mon that's my best line for months !!! I'm really getting back to form. .....or i just thought I was .... (

I was in the market for two phones for my teenage daughters. Right now VZW has a incentive for all phones in the 'Z' lineup. Buy one, get one half off. So essentially, they were $300 apiece. Which is crazy talk for a phone this good. And the more I mess around with these phones, the more I want one for myself.

Also almost twice the price.

That's the phone everyone says can fly

Hey Daniel, don't you mean the unlocked version will be compatible with at&t and t-mobile and not at&t and Verizon? I thought the unlocked version was gsm only? I bought the droid edition since I'm on Verizon and unlocked phones are usually not compatible with them. If the unlocked Z Play happens to be compatible with Verizon, I'm gonna rage.

YEP! Derp. Thanks for pointing that out.

Waiting for my preorder for the unlocked version to ship this week. I couldn't pass it up with all the glowing reviews of the battery life and the Snapdragon 625 seems like a vast improvement over the chips Qualcomm has been churning out. The preorder came with an Incipio offgrid power pack, too, so that's a plus. I agree with the reviewer about Moto Display. Nothing else compares, in my opinion. It takes the usability of the phone to a whole new level for me. i held onto my Moto X Pure 2015 a lot longer for that reason alone and the girlfriend still has hers and loves it. I pity the fools who buy this phone on Verizon, though. Dat bloatware.

Disable and ignore. I threw in a 128gb sd, no big deal.

I would buy the Moto Z Play, but it was very expensive and does not offer amazing specifications, I prefer the Nexus 5X or another.

I have both the 5x and Z Play. The only thing the 5X does better is take pictures in low light. I am finding the Z play is a lot quicker and smoother than the 5X, The 625 seems to be a lot quicker than the 808.

@db2011:. Wow. That's very helpful and interesting info on the 5X vs Z Play. Thanks!

Thanks for that bit of information. Extremely helpful as I was trying to decide between these two (amongst others)

I was so burned by my last 2 motorola support experiences that it will be a long time before I consider them for anything.

I felt that way about my last two RCA tablets

I'm averaging 7.5 SOT with high accuracy on. I play games, watch videos and stream music. The battery life on this is great.

I have a galaxy s7 edge but this phone seems so tempting. Mine lags with a snapdragon 820 and I keep having sd card issues where I have to eject it, put it into my mac and then put it back into the phone and it magically starts working again. I bought the phone for the camera though.
Switching to this would be a downgrade in terms of camera and specs but that battery life, software, and moto mods are tempting....
Oh, Samsung if you only would get software right.
I wonder if this will get discounted in a few months. Moto x 2015 pure editons are going for $200 right now with better specs than the z play.
Well if Motorola can improve on this next year they might have a no compromise phone. Make the flagship moto z have this battery life and give it waterproofing.

I'm in the same boat. I'm thinking of getting the moto z play, and depending on how it does, I'll replace it as my main phone and sell the S7 Edge. It's just been so laggy almost to the point where I just want to throw it against a wall. Posted via the Android Central App

Does yours overheat? Sometimes I throw mine in the freezer because it's so hot but that is usually when using gear VR or charging. It doesn't happen that often.

That sounds like a really bad idea.

It sometimes get warm, but I wouldn't say that it overheats. It's just really laggy at times when I use wifi or Bluetooth or turn them off. I wanted the note 7, but you know how that went. I been looking at a phone to replace my s7 edge in the meantime something better comes out. Posted via the Android Central App

Really I just cook a hot dog on mine is tasty too

The only reason I'm not using this currently, is a still perfectly reliable and easy going UX I get with my 2nd gen X.. once you've used Moto display it's hard to live without.

'Verizon Moto Z Play Droid' *rubs temples* Seems like a pretty good phone though all around. I'm kind of surprised the 625 processor doesn't suck, I expected it would, but everyone seems to agree it's pretty good. And I love that they've made battery life a priority, I wish more phones were like that! I could not go back to a phone that I wasn't SURE would last me 24 hours. Whilst I still think I might prefer the Honor 8 over this personally (it's close though), If someone was asking me for advice on a mid tier phone to buy, this would probably be my recommendation.

The Moto Z Play will be $650 unlocked in Canada.

I was looking forward to this review.
Good stuff. Superb battery life (I read other reviews), enough storage and ram, nice size.
Is it worth £200 more here than a Moto G4 16gb (£369). Probably. I hope they include the battery pack soon though. Are those pins vulnerable. That's bugging me a little. Case time I guess.
I also wish you could disable the FPS, or configure it so it's not annoying.

If it's like the Moto Z, it will come with a 'style mod' back to cover those pins. No functionality, but nice to have.

ah OK. I saw backs on the Motorola site that were not yet available.

I bought a plain gunmetal colored one from Incipio at the Verizon store. $15 and problem solved.

Looks like the Moto Z Play ships with the black nylon Style Shell.

Just a note. In Canada, it does not come with a style shell in the box. :(

Yeh I don't think they are in the UK either.

Mine did when I got mine through a Bell Canada dealer. Adding salt to your wound, I got the extra battery for free. It's not Motorola's / Lenovo fault. Carriers pick what they want to sell. I was very annoyed when I discovered that Rogers had exclusive distribution rights to the Moto Z Play. Bell and other competitors like Telus sell all the other models. Most dealers don't carry all the Moto Mods either. Just the battery and maybe the JBL speaker. The camera and projector Mods are nowhere to be found in Canada. Not even Best Buy. But they are sold in Best Buy stores in the U.S. So far, the phone is functioning better than I expected.

I'd love to see a full Moto Z Play vs OnePlus 3 shootout article. My original take is that the OnePlus is better in every single way but lacking Moto display, correct?

Agreed. I'd like to see that comparison too. I'd also like a camera comparison between the Z Play and the X Pure Edition. I've got an X PE now and love the Moto display and Moto voice.

I read a comparison of the Z Play with OP 3, and I think that overal there were pretty much a tie, depending on what you want. If you need more processing power the OP3 is better, if autonomy the Z Play is better. I'm thinking on a OP2 (it's the one I'm able to get). The issues I see with the OP is that the software might be buggy (at least at the start), but I think that both are pretty much in par.

Battery life is also better in the Z Play.

There's also this nice thing from OnePlus where if you order the phone from them, they'll do nothing for you so long as they can help it once they've got your money. I would've loved to try out the OnePlus 3 before sticking with the Z Play as an upgrade for my Moto X Pure, but they avoid customers until you miss the return deadline and avoid you even more if your phone malfunctions or isn't made right. Which looks to be much more often from OnePlus than Motorola based off online reviews and my experience with Motorola. Add that to the fact that OnePlus is still a smaller company or still probably sells less phones overalllbthan Motorola and the amount of issues you can find online is horrifying. So, good luck with that. I also hear there are bugs galore with OnePlus' UI? I'm not the type to root a phone so I'd stick with the great software experience from Motorola, who, I agree, will be gone and dead soon with the strange way Lenovo is running them now, and has slow updates but is surprisingly updating my X Pure which is from 2015. They'll at least end up completely different in some mediocre way.

Make a Z Play with identical specs, but 4.7'' 720p screen and I'm all over it.

If Google would allow it on Project Fi I'd get it.

This is one of the few phones I'm considering to replace my ageing Nexus 5. I may be an 'efficiency nerd' but I get excited about phones like this with long battery life!
For me it's not about any one feature, it's about hitting that sweet spot between price and performance.
Oh and if there wasn't the option of adding wireless charging with a Moto Mod, it would be off the table. That's why I won't consider the One Plus 3.

I just ordered it two days ago. I just can't justify spending $700+ on a phone. I can buy a laptop for that! Long battery life and price makes this the best choice for replacing my Nexus 5. I agree that wireless charging would make it almost perfect.

Just bought it for $330 today with the free InCipio battery pack. If you are a student you get an additional 10% off, and then I just left the phone in my cart and they also gave me a 5% off. $330 for this phone and the battery pack... awesome!! (From the Motorola site)

How did it come down to $330? Student discount brought it down to $380 for me, pre-tax.

Are you buying the unlocked one? The one I ordered was the Verizon model which would make sense for that price difference

Ah, I'm buying the unlocked version. Makes sense. Still seems like a decent deal. Will have to wait for the %5 off now. :P

Do you guys know if I'm on Cricket, would it matter if I get the Verizon version rather than the unlocked? I ask since Verizon phones are unlocked, and it's cheaper than the unlocked version. Posted via the Android Central App

Verizon phones are unlocked, yes. They also support the AT&T bands that you need.

I just can't put money in the pocket of Lenovoroto, they have ruined the Moto brand as far as I am concerned.

I was torn between this and the oneplus 3 for a while. I plumped for the oneplus. The weird fingerprint scanner on the moto (just to unlock/lock the phone) and the average camera reviews I had seen did it for me. I reckon with a software update they could add functionality to the scanner, it make it a home button, launch camera, launch Google search etc etc? But with on screen buttons doubt they will. Otherwise looks like the best available mid range device (I class the oneplus as flagship, in all but price).

I keep thinking we should use front fingerprint sensors to go back to the days of having track pads/balls on phones.

maybe they will do, especially with Andromeda, the track ball/pad will come in handy on a webos style interface maybe

I can't wait for toenail sensors they are the best

Really wish they had it built w all radios like XPE.i can't stand the battery on this phone Active Display is making life so much easier , that I'm having a hard time shopping non moto phones :)

When Michael Fischer did his play droid review, he said the style backs didn't fit the same on the play as they did on the force; did you experience that? And what are the chances of Nougat by January?

No issues with mine, both wood and leather backs are solid. Same feel as the Z Force from my experience.

I've had the Z Play for a little over a week and am thoroughly enjoying it. The battery life is phenomenal. I don't think I've ever had a phone that didn't require a top up mid-afternoon to make it through the night.. I go to bed with more than 50-60% left. The software is just as, if not smoother, than the G5 and the S7 I used before the Play. I had a lot of problems with the SD Card on the S7. I'd have to pull out the card and reboot to get it to read the card on a weekly basis. The camera is as advertised and is not completely useless in low light. I bought it at Telus and they threw in the JBL speaker mod and it is fantastic. I usually use flagship devices but honestly don't feel like I'm using a midrange device. It does everything I need it to do. I'm not a big gamer so the processor is not an issue. It's hard finding cases or the style mods here in eastern Canada so I've had to order some from the US. I'd say give the phone a shot. I think I'll be using it for a while.

Thanks for that. Very interesting. Glad you are enjoying it.

Z Play blows the SG7 away in terms of performance and battery life ,true Best of mobile 2016 and no competition in sight. well done Levono Moto, blew them ALL away

Just to be clear, the topic of best phone does tend to be pretty subjective. Everyone has different needs, wants and preferences

I was half way through reading this review in Chrome on the desktop when a giant pop up ad I could not close blocked half the page. Same ad did the same thing last night. I'm done with the desktop version of AC until this gets fixed. Not like I have a choice. Can't read an article when you can only see the left side of it.

It's problematic. I want to support them, but the desktop ads are getting ridiculous.

Aside from the battery, I don't think they're designed to be left on permanently.

I'm wavering between this and the Pixel XL. And I know with each there'll be 2 very different experiences, moto mods aside. Did you try bluetooth with it, Dan? how was that?

If I didn't already have a G4 plus I would buy this.

This phone reminds me of the OG Moto X in a lot of ways. Especially in the sense that it gives a very solid user-experience without needing a high-end processing package, just like the first Moto X. The insane battery life adds a pretty sweet icing on top of a solid cake.

Good luck with updates or support from Lenovo..

I have security patch from 1.12.2016. That's good enough for me.

I just returned my note 7 and got the moto z force and I absolutely love it. I bought the jbl speakers with it as well.

The Moto Z Play Droid has been the best $400 dollars I have ever spent on a device. I will never spend more for a "flagship" device. Those days are over. Lenovo hit it out of the park for once with this one.

Levono hit a grand slam, Samsung struck out looking, LG went down swinging. Nice change in mobile space. Months ago it was "cool" to own a Samsung device, now you are being laughed at. wow.

Totally agree, man. The battery alone makes me want this thing. It's unbelievable.

Moto Z Play launched in India last midnight. Placed order and waiting for delivery in a day or two. In here, we do not have carrier locked phones and most phones sell without discounts. So I have never bought a hi-end phone and this phone is as far as I go to invest on a handset. Having used Moto E, Moto G, Moto X (all 1st Gen), Moto X Play, I agree with the author on the fact that even now these old phones are butter smooth (Nexus phones also have that same feel). The downside for me has always been the heaviness which I think will remain a concern for this one too. Another concern is the absence of a gorilla glass - when has it become a premium feature! I have lost an Mi4i and an HTC Desire 828 over a fall out of my pocket. Even then its a deliberate risk I am taking with this phone. I intend to buy the moto mods, a while after getting used to the phone and then zero in on the one that best fits my need.

it has gorilla glass and is very scratch resistant. my Z play was sliding on asphalt already, display down, no scratches. Good choice btw , definitely worth it's pricetag.

Because Motorola chose to abandon me with my Moto X on Verizon, I can't ever justify doing business with them again. It's sad, because they do make good phones.

Hi..which case/shell are you using on the phone?

With this one already having great battery life I would take the JBL for my podcast listening. Maybe the wireless battery pack too lol.

The review mentions activating Moto Display by bringing a hand close to the screen. I didn't think this phone had the approach sensors of the regular Moto Z??

I thought the same. If they are in there, this might be a decent up/sidegrade from my Moto X Style. The battery life is what I need.

Instead of using the two dots on the bottom, the Play uses proximity sensor. All android phones with proximity sensor can do that now with an app called Glance Plus.

I had the various Maxx versions, the Turbo, and then I went to an S7 when the Turbo 2 was uninspiring. I've been walking around for months with an external battery pack because the S7 can't make it through a day. This thing is my new best friend. No downsides, and I just finished an 18 hour work shift without even being concerned about the phone. Paired to my Pebble, I finally felt free of battery dread without making huge performance sacrifices. This is going to be a tough phone to replace some day.

Why is it not available in Greece? :(

Because it's very hard for Greeks to understand mods

Those Canadians are so nice and loving always looking out for their customer

You mean to tell me that Canadian carriers don't bloat their phones to hell like THEY do in the USA?

Has anyone done a camera comparison between the Moto X Pure and the Moto Z Play? How about the Moto Z Play and the Moto G4 Plus?

Shame that this Z Play doesn't have ShatterShield... only Gorilla Glass 3 ('scratch resistant'). I think I will have to go with the Turbo 2, or any other with at least GG4, for SOME actual screen durability. Like most, I'm not interested in the mods... and even if I were, their MSRP is far beyond what I could ever justify anyway. I mean, you'd already be out a good $100 on accessories for this phone merely because it's USB C, with a fixed cord charger standard. I would otherwise choose this, but GG3 is an unfortunate deal-breaker. First time you'd drop it from knee high, that more likely than not would be it. Additionally, I'm not a fan of non-removable batteries.... totally transparent gimmick to charge a fortune to have someone else do what you could have done, if only the MFG had not become even greedier... But anyraod, how's about Moto going back to the drawing board, for a TurboZ hybrid? As in ditch the mods gimmick, give us the SS screen in their place, and retain the battery performance of this Z. Should please just about everyone looking for a sensible phone... all most of us REALLY want is a durable phone with decent battery life, and at an MSRP that won't demand taking out a loan... yeah, really! Get on it please, somebody. PS, 1440p is redundant on 5"... 1080p is too, just saying.
Android Central Newsletter
Get instant access to breaking news, the hottest reviews, great deals and helpful tips
Thank you for signing up to Android Central. You will receive a verification email shortly.
There was a problem. Please refresh the page and try again.