Moto G6, G6 Play, and G6 Plus specs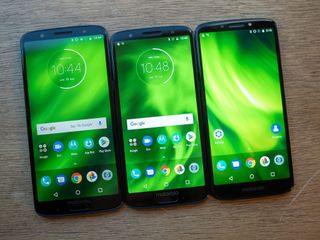 Motorola has introduced three new Moto G6 phones for 2018, the G6, G6 Play, and G6 Plus. They're all pretty similar, and familiar, but each has its own place in the market. Here's what you need to know.
Category
Moto G6 Play
Moto G6
Moto G6 Plus
Operating System
Android 8.0 Oreo
Android 8.0 Oreo
Android 8.0 Oreo
Display
5.7-inch IPS LCD
1440x720
18:9 aspect ratio
5.7-inch IPS LCD
2160x1080
18:9 aspect ratio
5.9-inch IPS LCD
2160x1080
18:9 aspect ratio
Processor
Snapdragon 427 1.4GHz quad-core
Adreno 308 GPU
Snapdragon 450 1.8GHz octa-core
Adreno 506 GPU
Snapdragon 630 2.2GHz octa-core
Adreno 508 GPU
Storage
16/32GB
32/64GB
64/128GB
Expandable
microSD card up to 128GB
microSD card up to 128GB
microSD card up to 128GB
RAM
2GB / 3GB
3GB / 4GB
4GB / 6GB
Rear Camera - Main
13MP, ƒ/2.0
12MP, ƒ/1.8
12MP, ƒ/1.7 Dual Autofocus Pixel
Rear Camera - Secondary
N/A
5MP RGB (for depth)
5MP RGB (for depth)
Video
1080p @ 30 fps
1080p @ 60fps
4K @ 30 fps
Front Camera
5MP
front-facing flash
8MP
front-facing flash
8MP (some markets)
16MP with low-light mode (APAC)
Connectivity
802.11 a/b/g/n 2.4 GHz + 5 GHz
Bluetooth 4.2
802.11 a/b/g/n 2.4 GHz + 5 GHz
Bluetooth 4.2
802.11 a/b/g/n/ac 2.4 GHz + 5 GHz
Bluetooth 5.0
Battery
4000mAh
Non-removable
3000mAh
Non-removable
3200mAh
Non-removable
Charging
Micro-USB
10W rapid charger
USB-C
15W TurboPower charger
USB-C
15W TurboPower charger (included)
Water resistance
Water-repellant nano-coating
Water-repellant nano-coating
Water-repellant nano-coating
Security
Fingerprint sensor (rear)
Fingerprint sensor (front)
Face unlock
Fingerprint sensor (front)
Face unlock
NFC
Some markets
Some markets
Some markets
Dimensions
154.4 x 72.2 x 9 mm
153.8 x 72.3 x 8.3 mm
160/161 x 75.5 x 8.0mm
depends on market
Weight
175g
167 g
167-168 g
depends on market
Audio
Front speaker
Front speaker
Front speaker
U.S. Availability
Yes
Yes
No
U.S. Price
$199
$249
N/A
Carrier support
T-Mobile, AT&T
Verizon, Sprint
T-Mobile, AT&T
Verizon, Sprint
GSM carriers
European price
TBD
TBD
€299
What do you think? Let us know in the comments below!
Daniel Bader was a former Android Central Editor-in-Chief and Executive Editor for iMore and Windows Central.
So the G6 Plus isn't coming to US? That sucks. Any Motorola phones like the G6 that have a better processor? The 450 is a turn-off for me.

Just skip Moto and go with Nokia 6 2018

3GB RAM? Hell no. I can get a Mate SE (4GB/64GB) for just the same.

Yeah but not going be getting quicker updates.

I'd prefer faster performance over updates

You mean like the Moto X4?

Wtf? Plus isn't coming to the US?

I know. That kind of saddens me.

Welp sticking to my G5s+ then I'll pass

Yeah, that's a real bummer.

Ugh, no g6 plus and still no nfc..

Again, why wouldn't Moto bring the G6 Plus to the U.S.? It makes no sense. The idea that the Moto X4 is cheaper is true in every market. And I wouldn't pick that puny 3GB RAM phone anyway.

I dig the "haha" and "LOL" on the NFC section of the spec sheet :)

People are better off buying the Nokia 6 (2018) you get the same specs for much cheaper. Motorola are finished.

So the Nokia 6 is cheaper than the Moto 6 play? Because Best Buy is selling the Nokia 6 for $229.99 while the Moto 6 play goes for $199. Not to mention the Nokia 6 has a smaller screen and a small 3000 mAh battery. 6 play has a bigger screen and a 4000 mAh battery. I'll take the 6 play over the Nokia 6 with that big of a difference in battery

But the Nokia 6 will get more updates and it'll be a smoother experience with the Snapdragon 630 under the hood compared to the 430 on the Moto Z Play and the Nokia 6 has a better design too, and nope it's 229 so it's a little more than the Z Play but with that extra 30, you're going a better phone overall, the only advantage the Z Play has is the battery and that's it.

He's talking about the new Nokia 6 aka 2018 edition , which has a sd630 chip. Its going to be on sale for 280 dollars on Amazon. That alone kills the g6.

Why don't you get it? Since you're financial situation you can't get a pixel.

I might consider it until I get my Pixel 2 XL as it's snowing Android One phone but I need to check reviews.

You can get better specs than the Nokia 6 for cheaper, too.
Huawei Mate SE in US, Honor 7X outside of US.

I'm not interested in Huawei as I want pure Android and the Nokia 6 runs Android One which is a variation of Pure Android and I care about getting fast updates and security updates which is something I won't get with Huawei who's software is ugly and an iOS clone. Personally I want a Pixel 2 XL but I can't afford one yet but I'm definitely interested in the Nokia 6 as a fall back option.

G6 plus looks nice.. But I'll hold on to my G5 plus which is working great till next year
Will also see what Nokia brings next year 😉

I'm not a spec ***** but I'm starting to get to a point where 3.5mm back and NFC should be a given. Mainly due the fact I haven't yet heard a convincing argument against. It's low hanging fruit but if a Chinese restaurant can't cook rice then it's probably an indicator that whatever else coming out the kitchen is gonna be suspect

With no removable battery and the mediocre specs, I won't be buying a Moto this year. The battery in my g4+ is degrading so of course I'll have to buy a telephone AGAIN. I'll look at Nokia, and last year's compact Sony. Where else might I look for phones with removable batteries?

You're joking, right?? There is NO phone made with a removeable battery... Did I just get punked??
Android Central Newsletter
Get the best of Android Central in in your inbox, every day!
Thank you for signing up to Android Central. You will receive a verification email shortly.
There was a problem. Please refresh the page and try again.