Moto G6 Plus vs. Moto G5 Plus: Should you upgrade?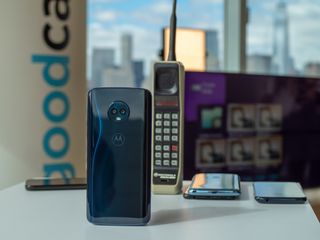 In case you missed it, Motorola just announced a handful of new low-cost devices for its wildly popular Moto G and Moto E series that finally look as nice as they perform, with rounded glass backings and dual cameras galore!
The highest-end of all the phones announced was the Moto G6 Plus, which replaces last year's Moto G5 Plus in Motorola's powerful budget lineup. The G6 Plus isn't going to be available in the U.S. — stateside customers will want to look at the smaller Moto G6 instead — but that doesn't mean it's out of the question for the rest of the world, with the G6 Plus launching in Brazil, Asia, Europe, and Latin America. So how does this new affordable powerhouse stack up to last year's top dog?
Specifications
Before comparing the value of the Moto G6 Plus's newer features against where the Moto G5 Plus still holds its own, it's good to have an understanding of how the two differ in specs.
Swipe to scroll horizontally
Category
Moto G6 Plus
Moto G5 Plus
Operating System
Android 8.0 Oreo
Android 7.0 Nougat
Display
5.9-inch 18:9 IPS LCD display
2160 x 1080, 409PPI pixel density
5.2-inch 16:9 IPS LCD display
1920 x 1080, 424PPI pixel density
Chipset
Octa-core Qualcomm Snapdragon 630, eight 2.2GHz Cortex A53 cores
Octa-core Qualcomm Snapdragon 625, eight 2.0GHz Cortex A53 cores
GPU
Adreno 508
Adreno 506
RAM
4GB/6GB
2GB/3GB/4GB
Storage
64GB
32GB/64GB
Expandable
Yes (Micro SD slot)
Yes (Micro SD slot)
Battery
3200mAh
3000mAh
Water resistance
p2i water-repellent
p2i water-repellent
Rear Camera
12MP f/1.7 + 5MP f/1.7, Dual Pixel PDAF, 4K at 30fps
12MP f/1.7, Dual Pixel PDAF, 4K at 30fps
Front Camera
8MP f/2.2, 1080p video
5MP f/2.2, 1080p video
Connectivity
WiFi ac, Bluetooth 5.0, GPS, GLONASS, USB-C
WiFi n, Bluetooth 4.2, GPS, GLONASS, Micro-USB
Security
Fingerprint sensor (front), face unlock
Fingerprint sensor (front)
SIM
Single or Dual Nano SIM
Single or Dual Nano SIM
Dimensions
160 x 75.5 x 8.0mm
150.2 x 74 x 7.7mm
Weight
167g
155g
Colors
Deep Indigo, Nimbus
Lunar Gray, Fine Gold
What's new with the Moto G6 Plus?
The Moto G6 Plus brings a lot of new features to the table, including a complete redesign that's more akin to the Moto X4 than other Moto Gs before it. In addition to the rounded glass back, the fingerprint sensor up front has been shrunken down to make room for the G6 Plus's new 18:9 aspect ratio display — that's up from 5.2- to 5.9-inches year over year. The G6 Plus also features dual cameras, which didn't show up on a Moto G until the Moto G5S Plus late last year.
The differences aren't all on the surface, though. The Moto G6 Plus stays up to date with Android 8.0 Oreo, and starts off with twice the internal storage of last year's G5 Plus. In addition, it houses a larger battery — 3200mAh vs 3000mah, respectively, though that may be negated by the G6 Plus needing to power a larger display.
The Moto G6 Plus is also smarter than last year's model. Motorola has outfitted the G6 Plus with new intelligent camera settings, allowing the phone to identify specific objects and even apply fun face filter effects. Moto Voice has gotten smarter as well, combining on-device commands ("turn off Bluetooth," "play Narcos on Netflix," etc.) with Google Assistant as a fallback when necessary.
Why you might not need to upgrade
At the end of the day, most people that buy a Moto G aren't necessarily doing so because they're tech fanatics. They're buying it because so few other series of devices are able to offer the same levels of performance and reliability at such a reasonable price. Motorola is one of the most trusted brands in the budget space for a reason, and a year later the Moto G5 Plus is still as good a deal as ever — perhaps even more so now that it's readily available at steep discounts.
Intelligent camera features can come in handy, but they're far from a requirement for most people. You probably won't miss features like object recognition in the camera app, face filters, or the G6 Plus's speedy face unlock — so why pay for them? Same goes for the newer Moto Voice features, though luckily you don't have to give up Moto Gestures if you stick with the Moto G5 Plus.
Both phones are pretty evenly matched in the specs department. The Moto G6 Plus has a slightly newer Snapdragon 630 versus the G5 Plus's Snapdragon 625, but both chipsets utilize the same Cortex-A53 microarchitectures (albeit at different clock speeds). If you still prefer the Moto G6 Plus for its 18:9 display, curved glass back, and dual cameras, then by all means, you should go for it. But with nearly equal specs and features in a smaller body, don't discount the Moto G5 Plus — leave that up to the retailers.
Which is right for you?
Are you interested in buying either of these budget champions? Or if you already have the Moto G5 Plus, does the G6 Plus bring enough to the table to make you consider upgrading? Let us know in the comments below!
Sign up for Black Friday email alerts!
Get the hottest deals available in your inbox plus news, reviews, opinion, analysis and more from the Android Central team.
Hayato was a product reviewer and video editor for Android Central.