Moto G6 Plus vs. Moto G5 Plus: Should you upgrade?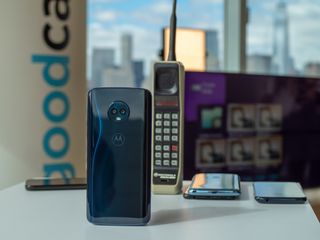 In case you missed it, Motorola just announced a handful of new low-cost devices for its wildly popular Moto G and Moto E series that finally look as nice as they perform, with rounded glass backings and dual cameras galore!
The highest-end of all the phones announced was the Moto G6 Plus, which replaces last year's Moto G5 Plus in Motorola's powerful budget lineup. The G6 Plus isn't going to be available in the U.S. — stateside customers will want to look at the smaller Moto G6 instead — but that doesn't mean it's out of the question for the rest of the world, with the G6 Plus launching in Brazil, Asia, Europe, and Latin America. So how does this new affordable powerhouse stack up to last year's top dog?
Specifications
Before comparing the value of the Moto G6 Plus's newer features against where the Moto G5 Plus still holds its own, it's good to have an understanding of how the two differ in specs.
Swipe to scroll horizontally
Category
Moto G6 Plus
Moto G5 Plus
Operating System
Android 8.0 Oreo
Android 7.0 Nougat
Display
5.9-inch 18:9 IPS LCD display
2160 x 1080, 409PPI pixel density
5.2-inch 16:9 IPS LCD display
1920 x 1080, 424PPI pixel density
Chipset
Octa-core Qualcomm Snapdragon 630, eight 2.2GHz Cortex A53 cores
Octa-core Qualcomm Snapdragon 625, eight 2.0GHz Cortex A53 cores
GPU
Adreno 508
Adreno 506
RAM
4GB/6GB
2GB/3GB/4GB
Storage
64GB
32GB/64GB
Expandable
Yes (Micro SD slot)
Yes (Micro SD slot)
Battery
3200mAh
3000mAh
Water resistance
p2i water-repellent
p2i water-repellent
Rear Camera
12MP f/1.7 + 5MP f/1.7, Dual Pixel PDAF, 4K at 30fps
12MP f/1.7, Dual Pixel PDAF, 4K at 30fps
Front Camera
8MP f/2.2, 1080p video
5MP f/2.2, 1080p video
Connectivity
WiFi ac, Bluetooth 5.0, GPS, GLONASS, USB-C
WiFi n, Bluetooth 4.2, GPS, GLONASS, Micro-USB
Security
Fingerprint sensor (front), face unlock
Fingerprint sensor (front)
SIM
Single or Dual Nano SIM
Single or Dual Nano SIM
Dimensions
160 x 75.5 x 8.0mm
150.2 x 74 x 7.7mm
Weight
167g
155g
Colors
Deep Indigo, Nimbus
Lunar Gray, Fine Gold
What's new with the Moto G6 Plus?
The Moto G6 Plus brings a lot of new features to the table, including a complete redesign that's more akin to the Moto X4 than other Moto Gs before it. In addition to the rounded glass back, the fingerprint sensor up front has been shrunken down to make room for the G6 Plus's new 18:9 aspect ratio display — that's up from 5.2- to 5.9-inches year over year. The G6 Plus also features dual cameras, which didn't show up on a Moto G until the Moto G5S Plus late last year.
The differences aren't all on the surface, though. The Moto G6 Plus stays up to date with Android 8.0 Oreo, and starts off with twice the internal storage of last year's G5 Plus. In addition, it houses a larger battery — 3200mAh vs 3000mah, respectively, though that may be negated by the G6 Plus needing to power a larger display.
The Moto G6 Plus is also smarter than last year's model. Motorola has outfitted the G6 Plus with new intelligent camera settings, allowing the phone to identify specific objects and even apply fun face filter effects. Moto Voice has gotten smarter as well, combining on-device commands ("turn off Bluetooth," "play Narcos on Netflix," etc.) with Google Assistant as a fallback when necessary.
See at Motorola UK (opens in new tab)
Why you might not need to upgrade
At the end of the day, most people that buy a Moto G aren't necessarily doing so because they're tech fanatics. They're buying it because so few other series of devices are able to offer the same levels of performance and reliability at such a reasonable price. Motorola is one of the most trusted brands in the budget space for a reason, and a year later the Moto G5 Plus is still as good a deal as ever — perhaps even more so now that it's readily available at steep discounts.
Intelligent camera features can come in handy, but they're far from a requirement for most people. You probably won't miss features like object recognition in the camera app, face filters, or the G6 Plus's speedy face unlock — so why pay for them? Same goes for the newer Moto Voice features, though luckily you don't have to give up Moto Gestures if you stick with the Moto G5 Plus.
Both phones are pretty evenly matched in the specs department. The Moto G6 Plus has a slightly newer Snapdragon 630 versus the G5 Plus's Snapdragon 625, but both chipsets utilize the same Cortex-A53 microarchitectures (albeit at different clock speeds). If you still prefer the Moto G6 Plus for its 18:9 display, curved glass back, and dual cameras, then by all means, you should go for it. But with nearly equal specs and features in a smaller body, don't discount the Moto G5 Plus — leave that up to the retailers.
See at Motorola (opens in new tab)
Which is right for you?
Are you interested in buying either of these budget champions? Or if you already have the Moto G5 Plus, does the G6 Plus bring enough to the table to make you consider upgrading? Let us know in the comments below!
Get the Android Central Newsletter
Instant access to breaking news, the hottest reviews, great deals and helpful tips.
Hayato was a product reviewer and video editor for Android Central.
This is what I keep saying about many Android users. For all those spec hounds out there, there are just as many that want a nice enough equipped phone that'll get the job done but we aren't looking for ALL the bells and whistles. I've had three different G series phones over years. I don't ask for much and the G series has really impressed me. I'll be quite happily staying with my G5 Plus until I either see something that is really compelling or I've got no choice but to upgrade...

I'd say the people who just want a decent phone that works outnumber the "spec hounds" at least 10 to 1... Probably 100 to 1. There's a lot of people who just want what's new and expensive for no reason beyond it being new and expensive though.

Most of us want to have good income but dont know how to do that on Internet there are a lot of methods to earn huge sum, but whenever Buddies try that they get trapped in a scam/fraud so I thought to share with you a genuine and guaranteed method for free to earn huge sum of money at home anyone of you interested should visit the page. I am more than sure that you will get best result. Best Of Luck for new Initiative! http://Help80.com

I will be keeping my G5 Plus for now - I like Motorola phones for their software and hardware but they are too slow with updates.

Now that I will agree with...

We had the G5 for about 3 months. Before that, the Moto X pure edition. Not sure I'd get another moto product. After a few months, they both have huge lag in opening some apps. Even opening the default text app, there is huge lag where it won't do anything for 5-10 seconds. Very frustrating. Not the way a product is supposed to work.

I've had the same problem with Moto phones. You might have a particular app that's the problem. Remove all the apps except the Google ones. One by one and them back over a few days, testing the phone to see if there is a problem. I had 2 apps I use for travel that were the offenders. Also, use your browser instead of apps where you can. It keeps the bloat down. That said, I have over 100gb of music and movies and the music app takes a while to load.

I'd say not. If you're at a Moto G level you either aren't very fussed about specs or don't have too much spare cash to burn on new phones, or both. Either way, it's not worth that kind of person upgrading every year, or even every couple of years. The G5 is still good enough and uncles there's a specific issue with your phone, so is the G4.

My G4 was a really good phone. Only reason that I upgraded was because I damaged it and in-store warranty gave me the G5 Plus as the G4 was already on its way out.

I just bought my mom a G5 Plus last month and she absolutely loves it. Her previous phone(some LG phone from Boost Mobile) was almost 4 years old and only had 8GB of storage. She basically couldn't do anything with the phone anymore. She absolutely loves the G5 plus and after helping her set it up the way she wants I'm kind of upset I didn't get one for myself. I don't really see the need to upgrade her phone at all. It runs smooth and does everything she needs it to. If/when it slows down I'll buy her a new phone, and I think I'm going to stick with G series when it comes to her phone upgrades.

Would I upgrade? No. I am done with Lenovo. Was promised Oreo update when I bought my G5. They have given the security update to March but have changed their minds on Oreo. Fool me once shame on you....

To be fair, offer than a short stint when they were owned by Google, that's how Motorola have always been.

True. I can handle not getting the latest Android update as long as the device runs the way it should.

I had the same problem with my Lenovo P2. I haven't even received any security updates since getting the phone.

If the grandparents need their G5 Plus replaced, we are going Nokia. Sadly the G6 Plus is not coming to the US and Nokia offers better updates.

How quickly does Nokia send updates?

Their north American phones are all android one, so very quick, faster than anyone besides google.

I have the Nokia 6 2017 and have 8.1 and April security update. For security updates I get them around the middle of every month.

Just bought my kid the G5+. Huge upgrade over the HTC desire 626, and as her dad, I'm really very ok with her having a crappy camera.

I'm starting to get all of the G-series phones confused. Do either of these have NFC?

No, not if you're in the US. Only overseas G's have NFC.

The G6+ has NFC currently available on Amazon and eBay, international version of course since it won't be coming to the US but I may pick one up.

What isn't said here is that, though the G6+ isn't available in the US, the Moto X4 is, and with it priced at a discount, it is definitely an upgrade over the G5+. It's basically the G6+ with the regular 16:9 screen, plus NFC, and IP68.

At first I thought the huge increase in screen size was going to make this a monster, compared to the outgoing model. but with the 18:9 ratio, it's only marginally taller. this might actually be worth it. It would depend on the camera. I'm sure it's just going to be OK, because Motorola is not known for camera quality on any of their devices.

Why would anyone buy a Moto G6 Plus over a Nokia 6? Motorola are done, Lenore has ruined them.

I am rocking the G5+ and I don't think I will upgrade. And still would have to confirm if the dual sim is really dual sim or it is hybrid dual like the G5S+ which is useless to me. Most probably I would go to Nokia on the next upgrade, I really liked Motorola, but they are slacking lately.

My wife drowned her g5s+. I looked at a bunch of other phones before I came to the conclusion that another one was the best choice. I could sure more expensive phones but do they have the battery life? Mostly not. The g6 announcement was a disappointment to me. I'm not a spec hound. I want a phone that lasts so day and doesn't lock up. This phone does that and more.

When I got my G5 Plus the day it came out, I was amazed at the performance and the fact that it was almost pure Android. I was waiting on the G6 Plus to be my next go to phone... But alas, it will not be released in the United States, plus the fact that the Android updates sucks, Lenovo you have screwed up a very good product!! Google Pixel 3 XL.... Here I come!! *Unlike most people I care less what it look like, performance means more to me.

The Moto X4 is a gyp, with only 3 gigs of RAM... Too little too late.

I own a Moto g5 and I really don't think it's worth upgrading from (I mean, the G6 still has no NFC) but I'd definitely buy a g6 over a g5 if I didn't own either. Best new thing about the g6 is aspect ratio. And by the way, the g5 has face unlock.

Should I upgrade to G6 Plus or hold on to my G5 Plus? The rumor about Band 71 is already a good reason for me to upgrade to Moto G6 to take advantage of new T-Mobile 600MHz band. There is nothing wrong with G5 Plus, but missing band 71 is no longer a good reason to keep it if T-Mobile is your cell carrier.

I will never ever buy another Motorola. Their update policy sucks and they don't keep their promises. I still don't have Oreo on my Moto G5 Plus.

This and my G5S+ is my last Motorola phone ever

I'm still sakty that I haven't received updates and the gym has a 400 series processor

The spec sheet I saw shows the G6 has a Sd 630.

Not everyone can get the G6 plus.

It's even worse as an owner of the Android One version of the Moto X4. Motorola specifically said they would update those devices shortly after the Pixels. Yet, mine still is on 8.0, when the Pixels got 8.1 two months ago or more, and Motorola can't even update the security patches before Lineage OS does.

I've always considered the X the Moto flagship I absolutely loved. X 2013 and then the MXPE 2015.

The fact this phone is not coming to the U.S. is still a shame for all Moto G customers who don't want an underspecced Moto X4. Given that the G6 Plus isn't coming to the U.S., I don't know what I will replace my Z2 Play with. I may get the new Blackberry phone since it has a SD 660 and 6GB RAM

I was forced to be without my Moto Z for a week and used the G5 plus. What a great phone. Battery lasts forever, looks and feels nice - and it's just as fast as anything. I even like the smaller 5.2 inch size. You can pick them up on eBay and elsewhere for $130-ish. There's really no reason to spend crazy money on a phone these days. Only downside, the camera was good not great. If you need that, but a flagship that's already on the market 6+ months which can save you half. I do the same thing with laptops. It pays to not be an early adopter.

I was a Motorola fan for many years. I had the 2013 motoX, the orginal turbo, the turbo2 & Zforce. Enjoyed all of them. I'm not to keen about the Lenovo takeover but the G5plus was probably their best offering last year. The G6plus is definitely a good improvement over the G5plus. So if your looking for a mid-ranger that's reasonably priced this is the ticket. I really don't think it lacks anything for the money, it will get the job done very well. But this is about the only phone I recommend from Lenovo. The Z2force for myself was a big letdown, downgraded battery & no OIS on a premium flagship was definitely a dissapointment!