Moto E5 and E5 Plus hands-on preview: Your next cheap phone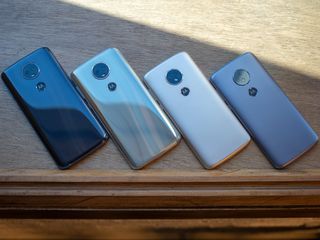 I would argue that the Moto E line is the last of Motorola's phones that stays true to the company's original vision for modern Android smartphones. The vision shown with the original Moto X of a simple, compact phone with specs that were good enough but a complete experience that far outweighed the spec sheet. That's all but gone now to make way for big, feature-packed and costly phones in the Moto Z line and even the Moto G line, which had extremely humble beginnings but has since eclipsed even what that 2013 Moto X represented.
Last year's Moto E4 wasn't flashy or exciting — but it was cheap, and in a real differentiator for a phone of that price it also wasn't crap. Actually, it was pretty good. The Moto E4 topped out at $129, could regularly be found for about $100, and had all of the entry-level smartphone basics more than covered. This is where Moto makes a killing in developing markets selling unlocked and in North America via prepaid carriers.
Now for 2018, markets around the world will get some combination of the Moto E5, E5 Plus and E5 Play. Once again they aren't flashy or exciting from the perspective of the Android enthusiast crowd, but they're incredibly important for Motorola's sales numbers and millions of people who just can't (or won't) pay any more for a phone but still need a quality experience. Here's what the entry level of Motorola's lineup looks like for 2018.
Moto E5 and E5 Plus Hands-on video
To get the quick take on the E5 and E5 Plus, you'll want to watch our hands-on video above. You can get a better feel for the phones, see how they look together and how they fit in the hand. Once you're done with the video, read our full impressions below!
Moto E5 and E5 Plus Hardware and specs
The most striking part of the new Moto E5 series is how "upscale" it has turned, sharing as much design and philosophy with the Moto G6 line — announced alongside it — as possible. The Moto E5 lineup (E5 Plus, E5, E5 Play) ranges right up to the new Moto G6 lineup (G6 Plus, G6, G6 Play) to the point where the highest-end Moto E5 Plus is near-identical in design to the lowest-end Moto G6 Play. These really aren't distinct lines anymore as much as they are continuations on the greater "Moto" lineup with easier-to-understand delineations along X, G and E names based on price.
Just look at the circular camera housing, the rear-mounted fingerprint sensor in the "M" logo and the curved sides — these are unmistakably Motorola phones, despite the fact that they're dramatically cheaper than the rest of the company's offerings.
Image 1 of 6
So, what are the differences? The Moto E5 Plus works the hardest to look very similar to the Moto G6 series. It has a thick acrylic back with a deep coloring to it that mimics the Moto G6's glass, and at a quick glance you wouldn't have any idea which is the more expensive phone — and that's a good thing for Moto E5 Plus buyers. The "regular" Moto E5 (as I've taken to calling it) has an entirely plastic back, but one that masks its price with a metallic paint that initially feels like a thin sheet of metal. You know it's plastic, but it doesn't immediately look or feel cheap — and that's great. The E5 Plus is inarguably the nicer-looking phone, but they both feel good in their own ways.
The Moto E5 Plus has a spec bump across the board over the E5 and E5 Play. It has a Snapdragon 435 processor with a more powerful GPU, and that's importantly paired up with 3GB of RAM and 32GB of storage rather than just 2GB and 16GB on the lower models. That's important now, but it's extra important a year from now when you're using this phone as apps get larger and more demanding.
Moto E5, E5 Play and E5 Plus specs
Both the E5 Plus and E5 are 18:9 aspect ratio phones, which just feels more modern, with the E5 Plus rocking a quite large 6-inch display and the E5 using a more manageable 5.7-inch panel. Both are IPS LCDs at 1440x720 resolution, which is completely fine for this price range (we're talking well under €199 here) and look just fine. The phones are hefty, at 200 and 174 grams respectively, and that purely comes down to their massive batteries — 5000mAh on the E5 Plus, and 4000mAh on the E5. Motorola designed these phones to be full-day phones without question, and they also come with TurboPower chargers for quick top-ups when you need it.
Image 1 of 6
The camera story on these phones is basic compared to the higher-end Moto G6 series. The Moto E5 Plus has a 12MP (1.25-micron pixels) sensor with an f/2.0 lens, and the E5 has a 13MP (1.12-micron pixels) sensor also with an f/2.0 lens — the only notable advantage, if any, is laser auto focus on the E5 Plus. The E5 Plus also has a higher resolution front-facing camera at 8MP, compared to 5MP, though I have to question how much you'd notice; both come with an LED flash.
Moto E5 and E5 Plus Software and features
The story of "it's just a Motorola phone" carries over to the software and features. The full suite of gestures and "nice to have" software features are to be found on a Moto E5 Play, for just over $100, as they are on a Moto X4 for four times the price. The only things that are missing here are hardware-dependent, like the extra camera shooting modes that require a secondary camera — everything else in the software suite is comparable to the models up the line.
Motorola's approach to software continues to be a success story. Speaking with executives prior to the Moto E5 and G6 launch, they continually focused on the fact that their software additions should be there "if you want them," and not in your way if you don't. If you want to use Moto Actions and different gestures, fine — but if you never touch the settings, they'll never bother you. If you open up the Moto E5's app drawer you'll see just a couple dozen apps, not a bunch duplicates or cruft.
Motorola knows the markets these phones are being sold into, so it wasn't going to remove the headphone jack — you'll find it right on the top of the phones. You'll subsequently see that there's a built-in FM radio tuner, which goes hand-in-hand with the hardwired audio output. There's also a MicroSD card slot across the line, and Motorola has made a conscious decision to have it used as adoptable storage in particular to make sure the Moto E5 and E5 Play owners with just 16GB of internal storage don't feel the pressure of that limited space as they use their phones months and years down the line.
As for the Micro-USB ports ... yeah, I'm not happy to see them here (or on the G6 Play, especially). But there are two reasons why they're here: the part is cheaper and keeps the overall cost down, and people who buy inexpensive phones don't yet want to upgrade their accessories to USB-C. Maybe next generation.
Moto E5 and E5 Plus Preview
As you can see, I'm heavily focusing on the main Moto E5 and Moto E5 Plus here. That's because the odd duck out, from my perspective, is the Moto E5 Play. Internally it's near-identical to the standard Moto E5, but is considerably smaller with just a 5.2-inch display, has a different form factor with a 16:9 aspect ratio, has a different style of plastic body, and subsequently has a dramatically smaller 2800mAh battery. It really feels like a refreshed Moto E4, not a part of the E5 family. As we saw with the Moto Z2 Play last year, the "Play" moniker no longer means "slightly cheaper with a huge battery" as much as it just means "the lowest-end model in the lineup" — and that rings true here.
Here in the U.S., we'll have access to only the larger Moto E5 Plus and smaller Moto E5 Play. Most markets will only get one or two of the three models, which Motorola says is an attempt to simplify the offerings — and indeed, when you look at these three phones it's hard to see what market would demand the choice of all three.
Provided you have the choice, you'll want to go for either the Moto E5 or E5 Plus, and skip the Play unless you really have to hit that ultra-low price point. The Moto E5 Plus is the one to get if you want a massive screen and know you need no-compromise all-day battery life — and to go along with it, you get higher-end specs that will suit you both today and in the future. The standard E5 will fit the bill for the widest number of people considering it's cheaper, easier to handle because of its smaller screen, and still has a huge battery. The lower RAM and storage will hurt you in the long run, but any other differences in build quality or camera specs won't be as noticeable as saving the extra money.
Unfortunately for every prospective Moto E5 buyer, we're looking at "the coming months" for a launch time frame — and when the phones arrive in different markets will vary. Motorola is quoting pricing of €169 for the Moto E5 Plus and €149 for the Moto E5 — we don't yet have a number for the Moto E5 Play, but can expect U.S. prepaid carriers to pick it up around $100. At those prices, you're getting an amazing deal no matter which of the three you decide to pick up. Motorola's once again done a fantastic job of making phones that are inexpensive, but not cheap.
Get the Android Central Newsletter
Instant access to breaking news, the hottest reviews, great deals and helpful tips.
Andrew was an Executive Editor, U.S. at Android Central between 2012 and 2020.