Moto G5S Plus review: You can do so much better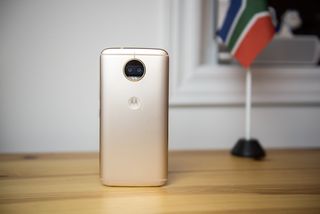 You'd be forgiven for not paying close attention to the release of the Moto G5S Plus; it snuck into the company's lineup in early August alongside the Moto G5S.
The 'S' stands for "Special Edition" (Moto G5SE Plus was too much of a mouthful?), and they're moderately improved versions of the existing Moto G5 line that debuted earlier in the year. Why would Motorola introduce slightly updated versions of existing phones less than six months after their release? Who knows?!
What I do know is that the Moto G5S Plus, which is available unlocked in the U.S. for $279, is one of the better budget phones you can buy, but the slightly better build quality, additional camera, and larger display don't justify the additional cost over the existing Moto G5 Plus.
See at Motorola (opens in new tab)
Moto G5S Plus What you'll love
There's a lot to like about the phone when you consider its $279 starting price: the metal build quality is unimpeachable, its 5.5-inch 1080p LCD display is vivid and relatively sharp, and its software is among the best in the business, replete with truly useful additions to Android that I actually rely on.
The improvements to build quality over the existing Moto G5 Plus — which, also mostly metal, is no slouch — are immediate. Dense and sizeable, the phone belies its budget status with clicky buttons, chamfered edges, and precise etching that wouldn't be out of place on a device three to four times its asking price.
Immediately recognizable as a 2017 Motorola device, too, the phone looks pretty good, especially in the new Blush Gold hue that, in the right light, appears lusciously copper. I like it — a lot. There's a fingerprint sensor below the screen, a rounded "Batwing" divot on the back, and a circular camera module with — and this is new — two sensors instead of one. We'll get to that a bit later, but suffice it to say if you've seen a Motorola phone recently, this one will not be difficult to get used to.
That's fine because the design is perfectly serviceable; count me among the people that will take a fast, reliable front fingerprint sensor over whatever shenanigans Samsung is up to these days. Here, that's exactly what you get: you can choose to use the sensor as just that (as well as an on/off button by holding it down for a second), or as a navigation tool with Motorola's One Button Nav feature. I'm still not comfortable recommending it for daily use given the tiny amount of reclaimed screen real estate, but others I've spoken to swear by it, so give it a try.
Along for the ride is Motorola's industry-leading notification system, Moto Display. Thank goodness Lenovo, Motorola's not-so-new parent company, hasn't messed with a good thing here, because there's no better way to triage Android notifications than with Moto Display. No other ambient display, from Samsung to LG to Google itself, comes close.
The Moto G5S Plus has the same 1080p screen as its G5 Plus counterpart, but it's ever-so-slightly less dense. And it's still LCD, not OLED. That's not a slight against the screen — it's fine — but if you're looking for next-gen resolution here, you're out of luck.
Here's what's significantly better than the Moto G5 Plus, though: the bottom-firing speaker is much louder and clearer than the single front-facing speaker on the smaller phone; the base model comes with 3GB of RAM instead of 2GB; and the front-facing camera gets upped to 8MP with a wider ƒ/2.0 lens and a real LED flash compared to 5MP/ƒ2.2/display flash. That front-facing camera is legit.
The phone also works with all four U.S. carriers out of the box, which is a huge boon to carrier portability. (This review focuses on the U.S. model only.)
Moto G5S Plus What needs work
I having nothing inherently against iterative improvements, but there is very little "special" in the Moto G5 Plus Special Edition. Its larger display, as mentioned, doesn't add anything to the experience, and the modicum of additional metal, while certainly appreciated from a density perspective, can't alone justify the added cost over the G5 Plus.
Motorola also chose to keep the same Qualcomm Snapdragon 625 processor inside the phone, too, which is a fine chip, but since it debuted in the Moto Z Play last year, it has since been displaced by the Snapdragon 626 and, more recently, the 630 (where it finds a home in the excellent Moto X4). Similarly, the 3000mAh battery inside the phone hasn't changed either, which means battery life hasn't improved over the Moto G5 Plus. Again, fine, but it would have been nice to see the phone achieve better uptime than its predecessor, since that phone wasn't particularly impressive in that area.
All of these decisions would be understandable were it not for the phone's biggest change, the inclusion of a dual camera setup — two seemingly-identical 13MP camera sensors with ƒ/2.0 lenses. Having two sensors obviously allows for shots with artificial bokeh, but they lack the additional connective tissue to justify what is clearly a downgrade in traditional photography from the Moto G5 Plus.
That phone has a single 12MP sensor with 1.4-micron Dual Autofocus pixels and a wide ƒ/1.7 lens. It's not the best camera — it struggles in low light — but it's damn good for its price class. In fact, it's probably unmatched under $300. Motorola sacrifices fidelity for a gimmick with the Moto G5S Plus; the 13MP primary sensor, which will be used far more often than both together, has smaller pixels, less reliable autofocus, and much less impressive low-light prowess. For all but a few situations, this is a worse camera experience than its cheaper counterpart.
In fact, even that depth gimmick is undermined by some abysmal performance in the camera app; switching to it causes the frame rate to drop precipitously, making it difficult to line up a good shot. And as we discovered with the Moto Z2 Force, which contains better camera hardware, Motorola's depth algorithms need a lot of work. The Note 8, this isn't.
That isn't to say the G5S Plus can't take great daylight photos — look at some of the ones I captured above for proof — but they're not particularly impressive, with muddy details.
Lastly, Motorola decided to maintain the Micro-USB port, which has been eliminated from nearly every other phone being released today, budget to premium. In fact, Motorola's own $399 Moto X4 is all-in on USB-C, as is the excellent Moto Z Play lineup. The company missed an opportunity to move the needle with its Moto G lineup here.
Moto G5S Plus Buy the other one
I have no idea why the Moto G5S Plus exists. It's a nice phone, and it sure looks and feels great — certainly better than any budget phone Motorola has made before. But it's just not a true upgrade over the Moto G5 Plus.
I'm not telling you to go out and buy a Huawei or a ZTE; I'm telling you to buy another Motorola. Specifically, if you're looking at the entry-level $279 Moto G5S Plus, which comes with 3GB of RAM and 32GB of storage, look instead at the upgraded Moto G5 Plus, which features 4GB of RAM and 64GB of storage. At $299, it's around the same price and, in my opinion, better prepared to handle the onslaught of the real world.
See Moto G5 Plus at Amazon (opens in new tab)
If you do insist on buying the Moto G5S Plus, you do get a few advantages: a bigger screen, a better front-facing camera, a slightly newer version of Android, and the knowledge that you're getting a special edition. If that's enough for you, grab it from Motorola directly.
Daniel Bader was a former Android Central Editor-in-Chief and Executive Editor for iMore and Windows Central.
Just bought the phone yesterday but returning it today for the Moto Z Play being sold at a discounted price. The build quality and everything else is great for the price but the camera...is really abysmal. It's so bad and grainy that it almost felt I had a lemon. Unfortunately, the Z Play is just discounted and a hard to pass deal for the same price.

A lemon! Surely you mean a potato!

Yeah, you had a lemon. The camera on mine is fantastic.

By the way, mine runs faster and has better battery life by about 50% over the Moto X PE it replaced.

They should have just saved the (minor) improvements for the G6. And add nfc + USB c while they're at it.

Yeah, lack of NFC for me is a dealbreaker. I waited for so long for Android Pay to show up in Canada and now that I'm using it, I'm not going to "downgrade".

It's very odd that US and Canada versions don't have NFC, while the International versions do (NFC payments are very rare in South America).

Yes, yes!!! Makes you curious what the G6 is going to entail now to make it an improvement over the G5 series???

This review makes me glad that I did not wait to give this phone to my mom over the Moto G5 Plus. She's enjoying the G5 Plus.

The only downside of the G5/ G5+ is that it won't be updated much more, now that the G5S/G5S+ is the latest addition to the G-Line. Damn it, Lenovo.

Won't be updated much more? Hell, it hasn't been updated to begin with. Lol 😂

Well, Lenovo promised an Oreo update.

Not speaking about upgrading to Oreo, I've gotten two security patches since I got my device this past March. I don't think upgrading OS is really that big a deal, won't deny that it's nice and all and warranted if your OS is just ancient, but really with a good launcher you can mimic. I had the Moto G1 on Kitt Katt but mimicked I had Lollipop. It's all subjective I know, but I'd much rather have the security patches - both for individual apps and the OS at large...

Whatever excuses make you feel better, drive on. Lenovorola is pathetic at updates, period.

My daughter's G5 Plus got the September security patch before my Z2 Force and both are supposed to get Oreo before the end of the year.

Don't forget that the other downsides are the rear camera jutting outwards and no NFC (here in the States).

The bigger screen is the only reason that I would choose this over the G5 Plus (or the X4). I put off buying either of those due to the smaller screen. I was waiting for this to be reviewed to see if I wanted it. Screen size can be an important consideration (both ways).

I got my wife a G5+ back in June. She's been very happy with it. One of the reasons she likes it is because it's not huge. The G5S+ screen is bigger while the phone itself is only slightly bigger, which would be nice. But she doesn't use portrait mode or other camera gimmicks, so the better regular camera performance of the G5+ is a good reason why we (still) made the right choice.

You found a woman that doesn't believe in..." Bigger is better".. Well done sir, well done !!

I'm only upvoting you because it made me laugh...

Seriously Daniel, when writing articles like this you should do your research & preface it with a "USA only" spoiler alert. If you had done said research you'd know that in markets like, say UK/Europe, this article, if i'm being kind, is somewhat null & void. Over here the G5S+ is only £10 more expensive than the G5+, & we dont get the 4Gb/64Gb option. So for £10 more you get a larger screen, dual cameras and a better front facing camera, which in anyones' books is a no brainer deal. When you have a large international readership, and regional based staff to check with it always baffles me when AC still pumps out articles like this without thinking about it's wider audience or checking internally with it's regional staff.......rant mode off...:)

I think it's fair to say that most of our reviews are US focused unless otherwise specified. Your point is well taken though and I'll update the copy to reflect the market specifics.

Thank you Daniel, apologies if i came across a bit harsh (i'm having a bad day). On wider point though do you really think most your reviews are US focused because that's not the impression i get?? One of the reasons I really respect AC, apart from the wealth of knowledge and excellent writing/videos, is due to the output of the likes of Alex & Harish which makes AC have much more of a world view/flavour than other sites and I guess why i get upset when things fall through the cracks. :)

Also why dont these phones, in Europe & UK at least, have a compass??? Weird.....

That does suck. I bet it has to do with the metal body.

USBC and larger battery that's the ticket!

I maintain that the G series should have been the "practical" phone lineup as opposed to "bang for your buck". My G3 was a durable, handsome and ergonomic hunk of seemingly invincible plastic, the screen was solid, battery life was great, camera and overall performance were well above what you'd expect from a 200 dollar, snapdragon 410 device. The whole device punched way above it's price point and I think they should have just stuck with that formula. A comfortable, durable 200 dollar phone with the previous year flagships camera, an all day battery, a budget processor and a clean build of Android. Oh well.

But that's exactly what the Moto G5 Plus is.

Thank you Daniel for giving this phone an honest review. Some of us would like a good reliable steady smartphone without all the glitz and glamour!! I've said in comments before how I appreciate Motorola having a unlocked phone that can be used on any network and it's almost stock Android. I have read other reviewers kind of trash it and that's unfortunate. I got the G5 Plus w/4 gigs ram 64 gigs rom, and I LOVE IT!! I thought about upgrading to the G5S Plus, but said "if it ain't broke". Thanks again Daniel!!

I paid for it 229 (pre-order discount) so no complaints. money well spent. My dad doesn't even use the camera :)

Got it during the "pre-order discount" for me mum she loves but if it was for me it's a pass.

Looks like X and up get USB-C. G and below still use micro USB. No?

I was surprised to see it the other day when i was to plug it in for the first charge.
Then, when you think about , it makes sense. it's probably cheaper for Moto to make it that way and super convenient and money saving for the people who are buying it. They all have dozens of old chargers laying around. this way they don't have to shop for extra wall charger to use at work maybe or one in the car.

I'd love to see a sub $300 (new phone price only, not old and now discounted) camera phone shoot out.

Fair points Daniel. I purchased the 4/64 G5S Plus at the introductory price of $299.99. For that price, I feel it's a great phone. In hand it feels like a phone twice it's cost. The LCD gets plenty bright, and has great viewing angles. Battery life, while no different than the G5, is great. Out of the box, a few weeks ago, the camera was abysmal. It has gotten two updates since then, and the camera has improved. It is much faster. Faster to focus, and faster between shots. It's definitely not Pixel quality, but it's 1/2 price. Overall I am happy with my purchase. Unfortunately it is still running the June update, and Lenovorola is not known for speedy updates.

Not sure why "only" having a 1080P screen is considered a negative here. You aren't going to notice the resolution difference between a 2k and a 1080P panel, especially on apps designed for mobile (chrome, facebook, twitter, games). And now that Android has the ability to change screen resolution, this is even less of an issue. Maybe if you hold the phone right against your eye you can say you see the pixels, but the people who are using this phone aren't going to notice, along with the other 100 phones that have 5.5" 1080P screens.

Lenovo has effed this up with weird to explain variations of each phone model. Barely a price difference and swapping around features is just confusing. Just put them all in one phone and sell more of that one model or if you must, make a cheaper version and expensive version.

Lenovo historically did this (many different models) with their own lines before acquiring Motorola.

Okay I feel better after reading this... I had the G4 but got the G5 Plus as a replacement on warranty after banging up my G4 (I swear accidentally...). When the G5S Plus came out I like a lot of G5 and G5 Plus owners probably was "...what the hell???" We all know that our devices regardless of manufacturer or tier that we buy into usually within a year we're going to then have an old device, but not within about six months. I didn't figure that I was missing anything much, for only having 2gigs internal and 32gigs memory (in addition to my SD card) my device still just flies and I really see dual camera setups as nice enough but really just a gimmick. Glad to see that I'm not missing much if anything...

I didn't know the G5S has a bottom firing speaker, I figured it would've been combined with the earpiece like most Moto phones are. Learn something new every day.😀

Even though it's placed there, it's actually as loud if not louder than Z Play.
This phone is amazing.

Daniel regarding the camera software, a recent update of camera optimizer has increased the usability of it a lot. The depth/focal plane can now properly be adjusted with a slider and the framerate isn't too horrible anymore. Also no more mis-shots due to save errors.

I bought one for myself and my wife. The phone itself is very good, but the camera is bad. It is so slow. I returned them and decided to stick with my G5 plus. Got one of those for my wife as well. The battery life on the G5 plus is also much better than the G5S plus.

"Again, fine, but it would have been nice to see the phone achieve better uptime than its predecessor since that phone wasn't particularly impressive in that area." I have the Moto G5+ and my battery life easily gets me a day and a half on average. Seems like great battery life to me. On another note, thanks for the review, was feeling a little phone envy but seems the improvements are minimal.

For $200 you could also get the Zenfone 4 Max, which runs pretty smooth despite having a Snapdragon 430, and the dual camera is very fast.

I was very impressed with the unit I saw at Best Buy.

I like the design, with the exception of the trademark, and stupid, circular Motorola camera area. The Pixel 2 and iPhone 8, two of the best, if not the best, smartphone cameras available have much smaller bulges, the Pixel in particular, so Motorola has no excuse for such an ugly design gimmick.

I hate the way the rear camera juts out with a passion. They need to make some way to have a cleaner design next year.

I like the camera bulge, but don't really care one way or the other and it's completely subjective I know. Either bulge or no bulge it wouldn't be a deciding factor for me in purchasing a device... Was watching old cell phone reviews and saw a Windows Phone with a forty-one megapixel camera that was described as a "camera crater..." Now that might've influenced my decision admittedly.

I was pumped when I saw lenovorola had finally moved away from the all-in-one earpiece/speakerphone/ringer speaker which manages at least once a month to find a way to trick me into putting it next to my ear canal just before ringing at full volume or screaming, "CALLING JOE SMITH! MOBILE!". Then I saw no compass. So my ISS finder and Sky Map apps wont work. Crap.

Thank you for pointing out no compass on g5s plus.
I just closed all the other tabs i had open for researching that phone; no compass = deal breaker for me.

"Lastly, Motorola decided to maintain the Micro-USB port, which has been eliminated from nearly every other phone being released today, budget to premium." And thanks for that! Who needs some stupid new USB port that immediately obsoletes all your chargers. Micro USB works just fine, thank you. A major reason for why I bought this phone.

I have a God honest question for Android Central, 2 parter actually. First question: does everyone that works at/for Android Central have small hands? Second question: why does Android Central hate any size phones that's bigger than 5.2 inches? When you review a large phone (i.e. S8+, Note 8, Pixel XL/2, and this one) you tend to sprinkle some hate on it because of it's size, which seems more like a preference than a negative thing. This is a DOPE phone and better than the G5 Plus. It feels and acts closer to a Flagship than the other. The bigger screen makes it worth your money and in the long run is better for the eyes and is kind of future proof as you use your phone more for media. If you have small hands, that doesn't make you a majority. Just my opinion though?

Thank God for you and your opinion, I thought I was alone. 5.5 inches is not a big screen, and they do sprinkle hate or at least a hint or negative sarcasm at this being a larger phone than 5.2......when speaking about the screen density being less. 1080 at 5.5 is OBVIOUSLY going to be less dense than 1080 at 5.2, come on. 5.2 inches is just too small for someone who is 6-2 with large hands and eyes that are less than perfect.

I know they like what they like, but there is some truth why they hate bigger phones. i had a stroke last July, i had a BIG budget phone, ZTE zmax pro. A 6in phone. I can tell you first hand juggling that beast with one-hand was a nightmare. I sold it. One-handed mode DOES NOT work, and you STILL have to juggle the phone with one-hand. A BIG device is not an issue, hold it in one hand, do stuff with the other, no prob, until you cannot AT ALL use your other hand. Mine was paralyzed due to stroke. Holding with it was NOT an option! I can tell you first hand, big phones SUCK!!! I NEVER want another one.5.5", i know still big, is AS BIG as I will go! Try it yourself. Tie one hand to your side so using it IS NOT an option, and use one-handed mode on your phone, IF you can even get THAT to wok. most SUCK and don't work without using two hands to get into one-handed mode, HUH?
Android Central Newsletter
Get the best of Android Central in in your inbox, every day!
Thank you for signing up to Android Central. You will receive a verification email shortly.
There was a problem. Please refresh the page and try again.