What do Balance, Vitality, and Wisdom mean in Kingdom Hearts 3?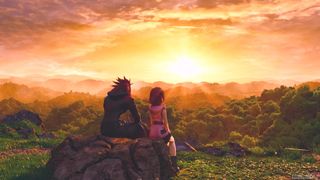 So, you've gotten your hands on Kingdom Hearts 3! Congratulations! We power on our consoles and hear the music flare, it's all feeling very familiar. Then it all becomes very confusing, what's with all the mirrors? What are all of these photos and videos for? For those who are new to the series, this will be a confusing moment for you! Even if you're a veteran to the series you may find some tips that surprise you. We'll take you through the origins of this in-game tutorial and fill you in on what this is all about.
Stations of Serenity
This is the starting point of nearly every single Kingdom Hearts game in the franchise. The Station of Serenity is the game's sacred place, it is where you learn the basics of the game. (For example: how to walk, move and interact with items). In the beginning of this tutorial, it's not possible for Sora to die, and this gives the player a safe place to learn the fundamentals of the game.
In the game, it's a very important space because it's usually where you begin to customize what stats you want Sora to have. In previous games, this has taken the shape of a sword, shield and a wand.
The Power of the Warrior
"The Power of the Warrior. Invincible Courage. A sword of terrible destruction."
Taking this would give you a higher attack value.
The Power of the Guardian
"The Power of the Guardian. Kindness to aid friends. A shield that repels all."
Choosing this would give you a higher defence value.
The Power of the Mystic
"The Power of the Mystic. Inner strength. A staff of ruin and wonder."
Choosing this would give you a higher magic value.
After you make these choices you are then asked to discard one of these powers. You would be forgiven for thinking that this would be somewhat similar in Kingdom Hearts 3. However, things are not so simple, as they are very different but at the same time very familiar.
Questions and more Questions
After Sora touches the mirror and appears in his Kingdom Hearts 2 outfit, he finds himself in an area where he is surrounded by his memories. Blink and you'll miss it, but the question you are posed with as all of these memories floating around is, "What do you desire?"
What do you desire?
You will have 3 options to choose from, all corresponding to a memory that Sora has connected to in previous games.
Balance: "Balance...a body and mind of equal merit and potential."
Vitality: "Vitality...A rugged body that will endure the toughest of challenges."
Wisdom: "Wisdom...A sharp mind that will grand you mastery of wondrous power."
It stands to reason that balance would be as the name implies, a balance between magic and attack power. Wisdom also makes sense that it would be attributed to your magical powers. However, vitality could either be your HP (Hit Points/Health Points) or your strength. There is a decent case to be made for either, and right now we'll have to wait a few more weeks before we can find out what the actual metrics are!
What power do you seek?
This is far more akin to what we know from previous games as we return to images depicting the sword, shield and staff of previous games.
The Mystic: "Inner strength."
The Warrior: "Invincible courage."
The Guardian: "Kindness to aid friends."
Going by what we know from the previous games, we know that the power of the mystic corresponds with magic, the warrior for attack damage and the guardian for defense. However, once you pick these stats that is it, there are no more questions bar the one that is confirming that this is who you want to be.
Once you've made your decisions, you're ready to take on the world of Kingdom Hearts 3.
Sign up for Black Friday email alerts!
Get the hottest deals available in your inbox plus news, reviews, opinion, analysis and more from the Android Central team.