These New Smart Displays include Google Assistant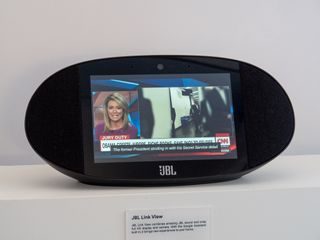 One of the big trends from CES 2018 was Google's response to the Amazon Echo Show. In 2017, Google matched the Amazon's Echo Dot with the Google Home Mini, and this year it took aim at the Show with its new smart displays with Google Assistant built in.
Smart Displays are Google Assistant-powered speakers that also feature screens, and while we likely won't see a Google Home-branded one until later in the fall, there are already four companies that have announced Smart Displays of their own. Let's take a look at what we know so far.
Lenovo Smart Display
Image 1 of 4
Image 2 of 4
Image 3 of 4
Image 4 of 4
The first of these gadgets announced was the Lenovo Smart Display. You'll be able to get Lenovo's Smart Display with either an 8-inch or 10-inch display, and while the 8-inch model opts for a traditional plastic back, the 10-inch unit has a gorgeous bamboo one.
Both models have an odd wedge on the back, and this allows you to position the Lenovo Smart Display either vertically or horizontally. There are buttons for adjusting speaker volume, and there's even a switch that places a physical lens cover over the front-facing camera that's used for video calls.
Lenovo will sell the 8-inch Smart Display for $199, and upgrading to the larger 10-inch one will cost you $249. It's on sale starting July 27.
JBL Link View
JBL's Smart Display goes by the name of the Link View, and while it serves the same general purpose as the Lenovo Smart Display, its design is quite a bit different. JBL has only announced one version of the Link View and it comes with an 8-inch screen. There's a 5MP camera above it, a JBL logo at the bottom, and both the left and right side are flanked by two 10W stereo speakers that are paired with a passive radiator on the back to enable "rich, deep bass."
The body as a whole favors an oval shape versus the rectangular nature of the Lenovo Smart Display, and while you won't find any bamboo back here, it's arguably the sleeker of the two thanks to the all-black paint job. Along with this, there's also support for Bluetooth, Google Cast, and IPX4 splash resistance.
Pre-orders for the JBL Link View are live right now for $249.95 and shipments are currently set to go out on September 3.
LG ThingQ View WK9
Image 1 of 4
Image 2 of 4
Image 3 of 4
Image 4 of 4
LG's first foray into the world of Smart Displays comes in the form of the LG ThinQ View WK9, and while we'll have to get hands-on time with the device before we can make any final judgments, it currently looks like the most underwhelming of the Smart Displays we've seen so far.
The large, boxy design looks boring and not all that aesthetically pleasing, and while the 8-inch touchscreen display itself should be fine, the fact that there's no tilt to it like there is on Lenovo and JBL's options could make for some difficult viewing angles.
Speaker tuning from Meridian Audio still has us interested, however, and this paired with the two front-facing stereo speakers will likely create a solid audio experience. Similar to the other Smart Displays on this list, you'll also find Chromecast support.
LG simply says that the WK9 is "coming soon" with a hefty price of $299.99.
Sony's yet-to-be-announced Smart Display
Google confirmed that Sony will be releasing a Smart Display, but a month on from CES and we still know literally nothing about it. Neither specs or renders for the speaker have been released, and as such, there's not a whole lot we can say about it right now.
As soon as details are released, we'll be sure to share them with you!
Might Google Assistant and the Lenovo Smart Display be the whole-home hub the Echo Show isn't?
Updated July 2018: Added the latest information available.
Joe Maring was a Senior Editor for Android Central between 2017 and 2021. You can reach him on Twitter at @JoeMaring1.
Just sell them outside the US goddammit

Well, the Lenovo is leading the race for me right now, but I want to see what Sony is going to put forth, in a big way.

Maybe I'm boring but I actually prefer the LG one, nice and plain, functional and will look decent in most rooms, that's the one for me unless of course the screen is complete rubbish

This is cool. I think ima start creating some cooking playlists. Now, I'll have all the spies at my place...Siri, Alexa, Cortana, and Google. Though Cortana is mostly muted since I don't have any mics attached to my PC. Leaning towards Lenovo since I'll be able to block the camera, something I don't intend on using.

Lenovo is the only one I would consider, the others are very uninspiring from a design aesthetic point of view...

How are these any different than a tablet on its side?

They are more expensive. Actually they have a purpose built interface that works well with the voice driven functionality. You can taken your tablet/phone and ask the same questions, but the display result won't be as well laid out. It would be cool if they delivered the functionality as an app, so you could repurpose and old tablet or a phone to be your Home device.

Maybe the Pixel dock will address this. It seems that is what they are doing with it. Code wise anyway.

They have better speakers and far-field mics.

My Mediapad M3 has stereo speakers, and mics are less important when you have a touch screen to interact with.

These look pretty cool. Do hope Google also does one.

I'm waiting for someone to complain about the massive bezels. ;-) In all seriousness, I think that the fixed angles on all three are potential negatives...I'd prefer a device with adjustable tilt. Maybe some of them will have adjustable feet on the bottom.

I actually think the LG one is better looking than the oval shaped JBL one and a better color option than the Lenovo unless you're only keeping it in the kitchen. Not sure what makes it so boring unless the writer just hates LG.

I like the LG one as well. I would place it on my home office desk where the color and shape would work just fine. The back of it would be against a wall so that only thing that would matter is that the display is clearly visible and that sound is good. With those two speakers, I'd hope it has good sound.

I like the camera/microphone shutter feature on the Lenovo Smart Display. Depending on whether or not these have the capabilities I'm looking for, I will always use them in the bedroom, and don't want to risk the possibility of someone watching or listening in. They should all have it.

completely agree, cannot believe that feature is absent from all the other smart displays

Do any of these include Google's "kick all other WiFi devices off the network" feature?

Ha - Android P exclusive on Smart Screens. You'll have to wait until October for Google's version to get that.

I may have missed it - Do all these use a forked version of Android and if yes, do we need to worry about upgrades in the future ?

They're running something called Android Things which is made for IoT (Internet of Things) devices

Over-the-air updates with Android Things are uploaded regularly (about every six weeks), unlike Android OS, which has a proprietary software layer which delays updates.

JBL for the speakers with a tiny round piece of black tape over the camera.

Gotta love it. The front of the Lenovo looks like it came from the 80's, but Marc really tries to sell you on that "gorgeous bamboo" back that most people won't ever see.

Marc didn't write the article

All the pics of the JBL version don't show a power cord!

I wondered why anyone would want anything like this, then my parents bought a Show for myself, brother and themselves so they can video chat with their grand kids. They are 3 hours away and don't get to see them as much as they want. Paid $120 each from Amazon (they gave her another discount because she called in, I don't know how she did that). Did the first chat yesterday and it worked out very well. Yeah they could use Skype on a computer or their phone but this is easier for them as they are tech illiterate. Now I know why they exist and have a place.

I'm considering it for my tech illiterate father. We have a Nest Hello at our place (he lives with me, and when someone comes and presses the doorbell, I get a notification on my phone, but since he's a dedicated flip phone user, he's got nothing. I'm hoping this will allow him to see and respond to whomever is at the door.

Yes, it should definitely work with Nest since it's powered by Google Assistant: https://assistant.google.com/explore/c/19/?hl=en-US

Google home still doesn't say the correct time zone I live in and there is no way to change it. So damn annoying! Bought an echo Dot and it let's me select my time zone. Come on Google..
Android Central Newsletter
Get the best of Android Central in in your inbox, every day!
Thank you for signing up to Android Central. You will receive a verification email shortly.
There was a problem. Please refresh the page and try again.