Best Google Pixel 6a cases 2023
Ensure your Pixel 6a stays like new for years with these cases.
From top-tier camera performance to long-term software support, Google's Pixel 6a is a feature-packed smartphone that offers incredible value for your money. Sure, it comes with a plastic back panel, but the front is still an all-glass affair like any other modern smartphone. This means that it needs to be protected well, especially if you want the hardware to last as long as the software updates will come. And this is why we've rounded up some of the best Pixel 6a cases available in the market right now.
Despite its age, the Pixel 6a is a fairly popular smartphone. That's why there is no shortage of epic cases for the device. So, whether you want a rugged cover, a clear shell, or something totally different, we have quite a few options for you to choose from!
Check out some of the best Pixel 6a cases out there
Why you can trust Android Central Our expert reviewers spend hours testing and comparing products and services so you can choose the best for you. Find out more about how we test.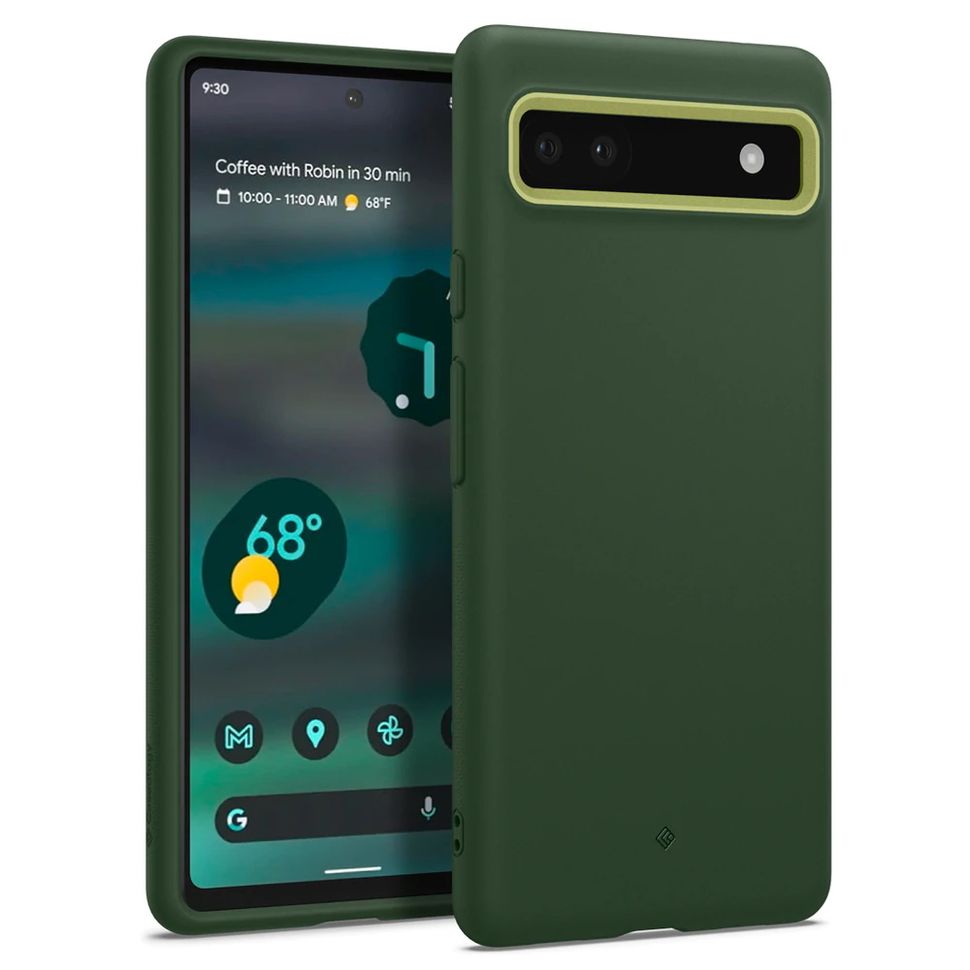 Staff pick
Colors: Black Sesame, Blueberry Navy, Avo Green
Caseology's two-toned Nano Pop series has never failed to impress us, and for good reason. As you'd expect, these Pixel 6a cases are beautiful, durable, and feature the same comfortable yet grippy build that we've come to love over the years. Ninja Turtle fans in particular will enjoy the Nano Pop in Avo Green, although Black Sesame and Blueberry Navy are awesome too.
Incipio Kate Spade New York Protective Hardshell Case
Colors: Iridescent
Incipio and Kate Spade New York's Protective Hardshell Case for Google Pixel 6a is a tad expensive for a clear case, but you get better quality in exchange. Those extra bucks get you a much higher-quality TPU design with a hardshell back panel, as well as precise cutouts and pronounced buttons. The clear back panel with flowers scattered across it lets you admire your Pixel 6a's design while keeping it protected.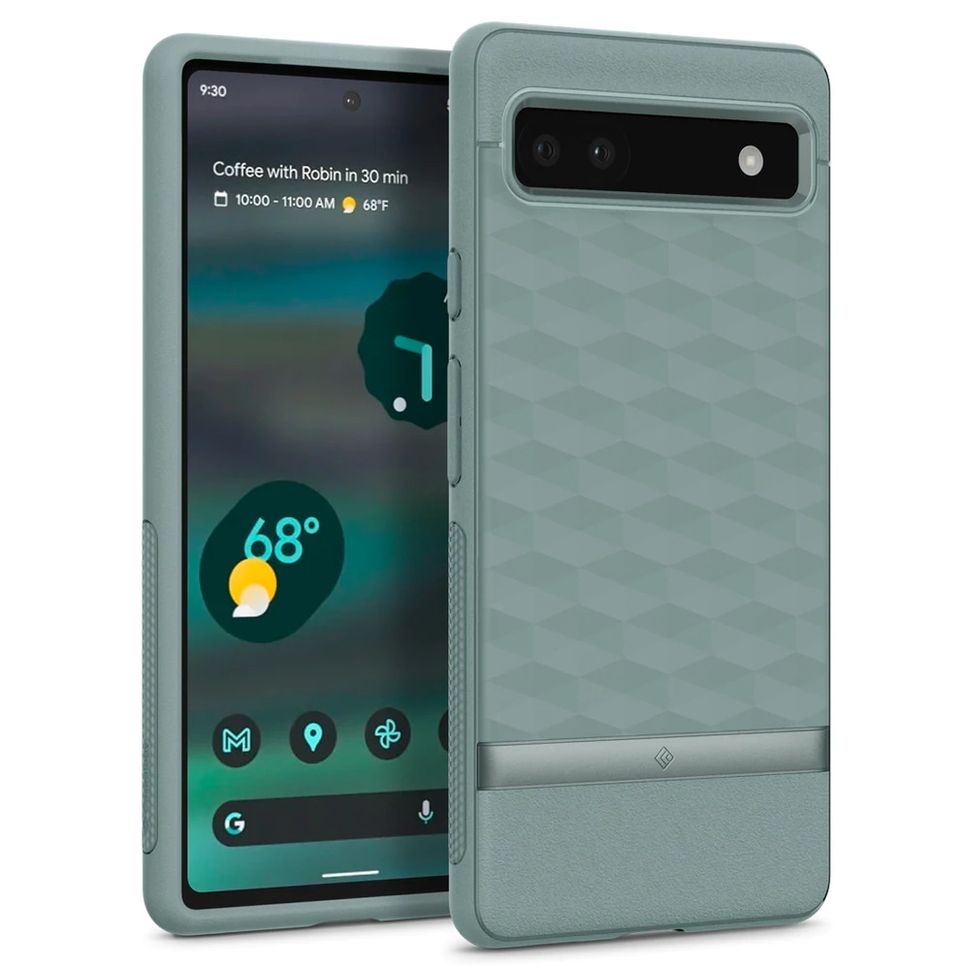 Colors: Matte Black, Midnight Blue, Sage Green
We doubt if there can ever be a case classier than the stunning Caseology Parallax series. The mix of textures on the back and the sides, coupled with the overall matte finish, makes for quite an amazing design. Raised corners for safety? Check. Intricate details? Yep. Fantastic colorways? You got it. This Pixel 6a case leaves nothing to be desired.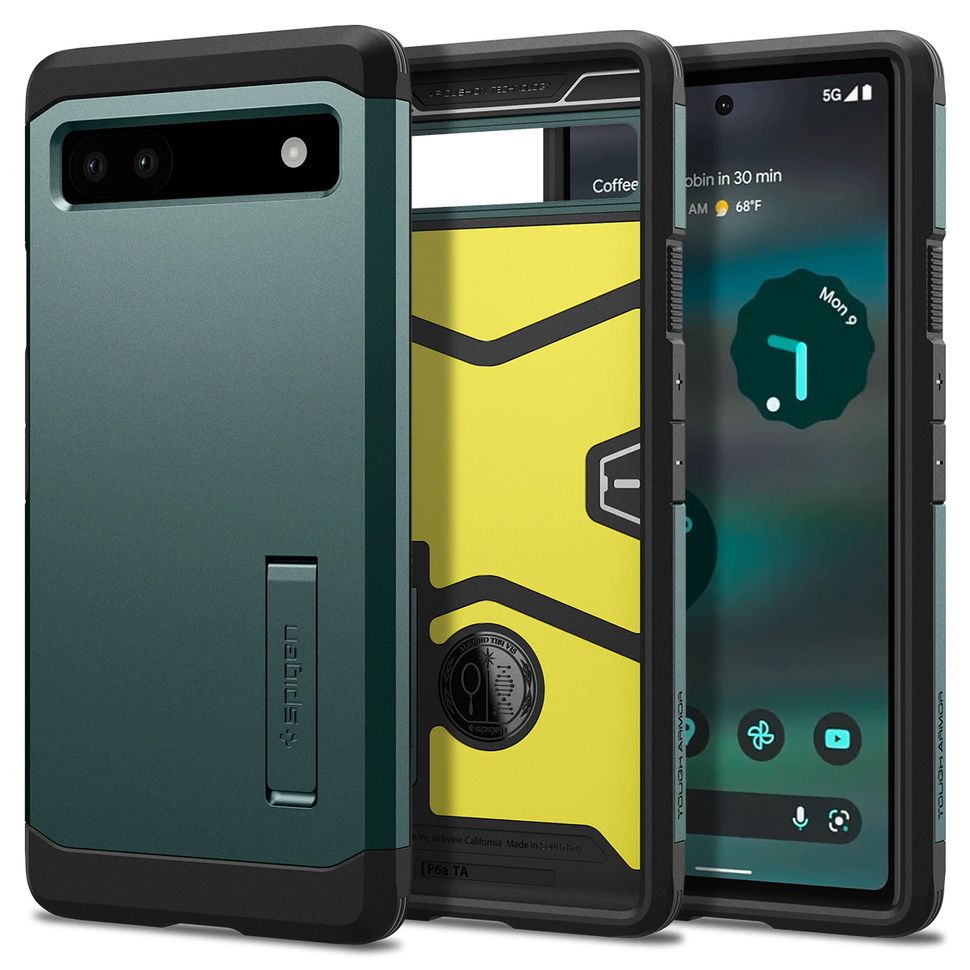 Colors: Black, Metal Slate, Midnight Green
Spigen's Tough Armor for the Pixel 6a looks amazing, especially in that Midnight Green shade. But there's a lot more to it than just good looks, as this is one sturdy case. Made from TPU and polycarbonate, it provides dual-layered protection against all kinds of damage. Then there's the nifty kickstand that lets you binge-watch all your movies and TV shows with ease.
Pela Google Pixel 6a Case
Colors: Over 70 unique designs
We can easily recommend these beautiful and eco-friendly Pixel 6a cases from Pela that we have tried and tested. Each case is made using sturdy materials that give it an interestingly smooth texture. And once you're done with it, you can simply dispose of it worry-free because it is entirely compostable. There are more than seventy unique designs and patterns for you to pick from.
Colors: Nine assorted shades
Stylish and sturdy in equal measure, Crave's Dual Guard series offers robust protection for your Google Pixel 6a. The dual-layer case is made from TPU and polycarbonate and features tactile buttons that provide reassuring feedback. You have a range of awesome cool colorways to choose from, and they're all backed by a lifetime warranty.
TUDIA DualShield Grip Google Pixel 6a Case
Colors: Gray, Indigo Blue, Green Lily, Matte Black, Pine Green, Smokey Pink
TUDIA's DualShield Grip Case for the Google Pixel 6a comes in a mix of bright and dark colors. As the name suggests, this hardy cover has two reinforced layers for impact absorption and the grippy textures all around reduce the chances of dropping your Pixel 6a.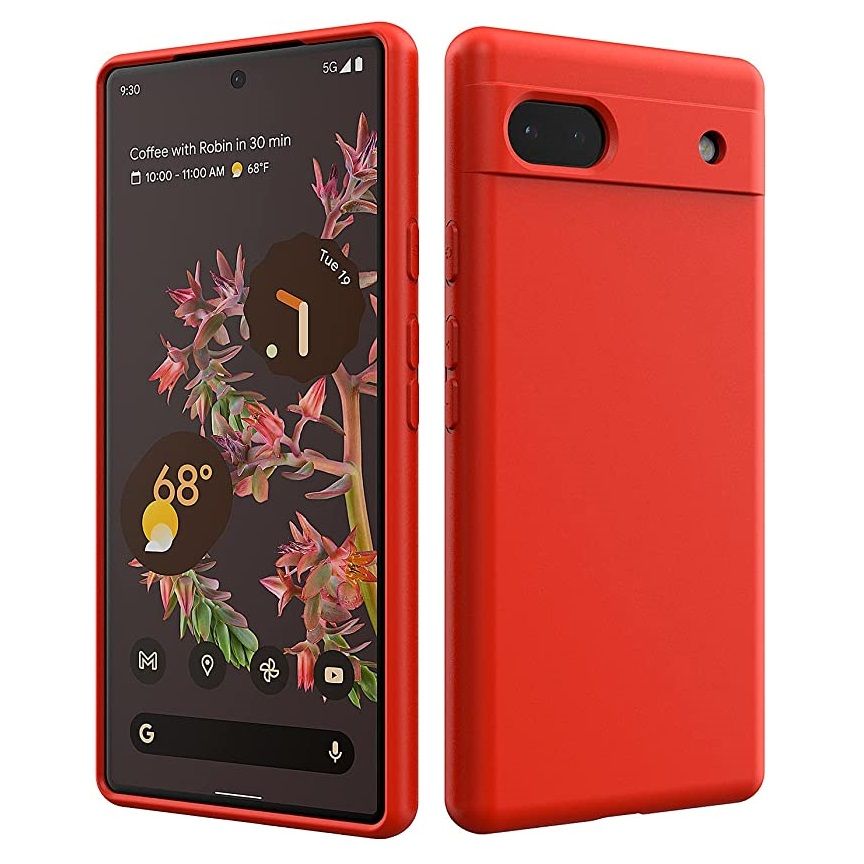 Colors: Black, Blue, Red, Lemon Yellow, Dark Green
Change up your Google Pixel 6a's look easily with these bright and splashy cases from Anccer. The silicone-based cases offer increased protection against shocks and scratches, while also improving the phone's in-hand grip. Oh, and if things go south, they are backed by a lifetime replacement warranty. How cool is that?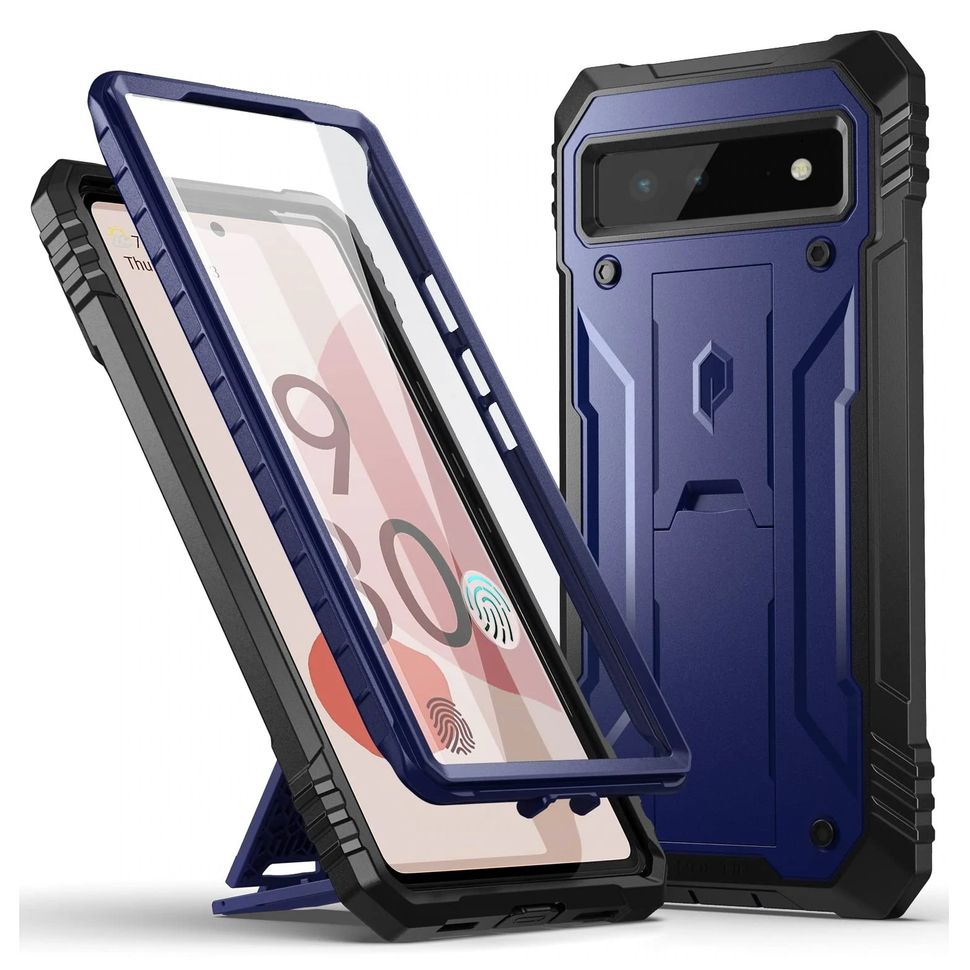 Colors: Black, Blue, Brown, Light Blue, Light Pink, Maroon Red
Prepare for the worst with this super-rugged case from Poetic, a brand renowned for its tough accessories. The burly Revolution Series provides extreme levels of durability for your Pixel 6a, in addition to a built-in kickstand for hands-free usage. And even if you fling your Pixel on the floor, the integrated screen protector will safeguard it nicely.
Teelevo Dual Layer Wallet Case
Colors: Black, Purple, Dark Green, Navy Blue
Teelevo's Dual Layer Wallet Case is the perfect solution if you want to carry more than just your Pixel 6a with ease. It comes with an integrated compartment that can hold up to three IDs (or credit/debit cards) with little to no effort. The cover of this compartment doubles up as a kickstand, and you have a bunch of funky colors to pick from.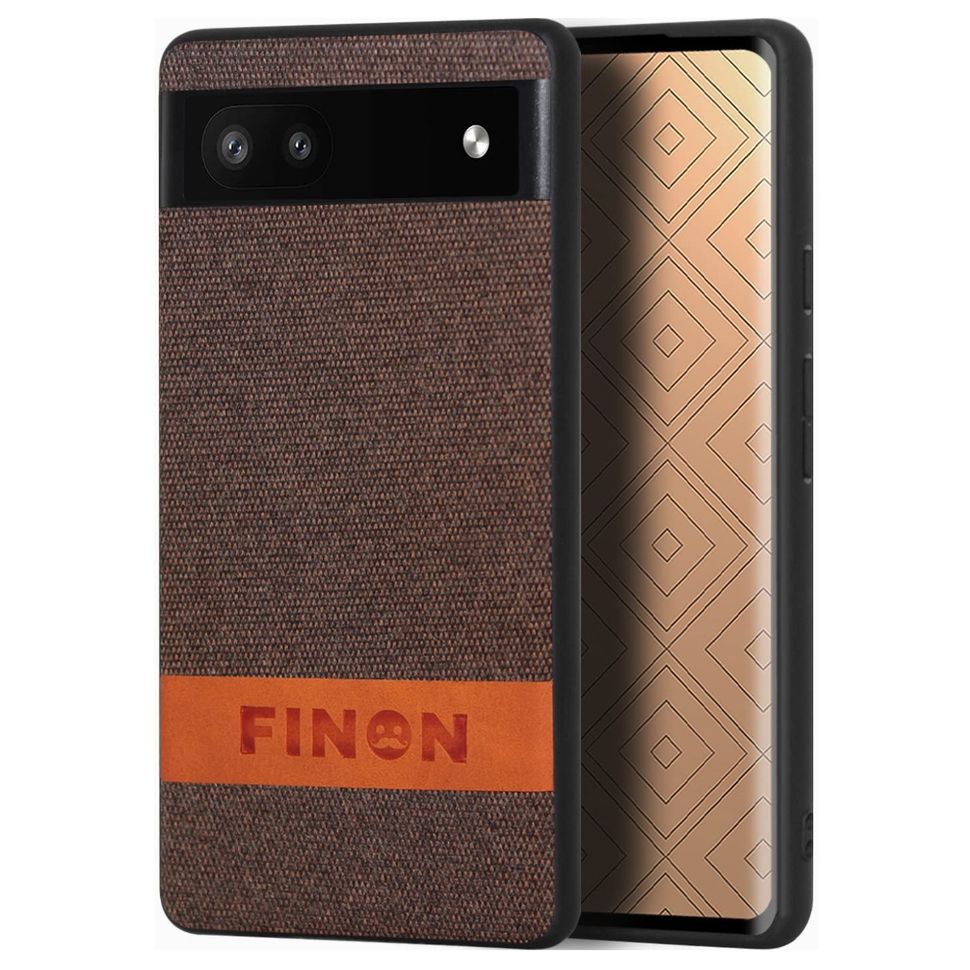 Colors: Brown, Black, Navy, Gray
FINON's Cotton series case for the Pixel 6a looks phenomenal, thanks to a woven cotton fabric on its back panel. The design is further enhanced by FINON's logo embossed on a PU leather strip running across the width of the lower part of the case's back. There are four colorways available, namely black, brown, gray, and blue (Navy).
Kowauri Leather Wallet Case
Colors: Brown, Gray
Who says wallet cases have to be large and chunky? Kowauri's Leather Wallet Case barely adds any bulk to your Pixel 6a, while still bringing the perks of slim storage pockets that are good for holding up two credit/debit cards (or IDs) with ease. It's made of PU leather on the outside for a soft-touch finish, while the inner part is made from TPU. Wireless charging is supported as well.
The best Pixel 6a cases offer protection with style
Grabbing a phone cover or two is the most sensible way to protect your Google Pixel 6a (or any smartphone, for that matter!). After all, it's still among the best budget Android phones available in the market, so you don't want to endanger it. It's time to go shopping for some of the greatest Pixel 6a cases — right after you grab a rock-hard screen protector — to ensure that your fun-sized phone stays fresh for a long time.
While we're fans of all three Pixel 6a colorways, the importance of using a phone cover is undeniable. Our favorite case of them all is definitely Caseology's Nano Pop series. It's slim enough for everyday use, robust enough to endure falls and shocks, and brings plenty of grip to the table. That sweet Ninja Turtles aesthetic on the Avo Green colorway looks especially amazing.
For those of you keen on showing off your Google phone's unusual design, a clear Pixel 6a case like Incipio and Kate Spade's Hardshell Case is a great option. We tested out the Kate Spade Hardshell Case made in collaboration with Incipio and were truly impressed at how sturdy and well-built the case was.
For clumsy folks who've cracked a phone or two in the past, we'd suggest going for something rugged like Poetic's Revolution. Then there's Crave's Dual Guard series, which includes a whole range of vibrant color options for you to choose from, with the lifetime warranty making the whole package even better.
Get the Android Central Newsletter
Instant access to breaking news, the hottest reviews, great deals and helpful tips.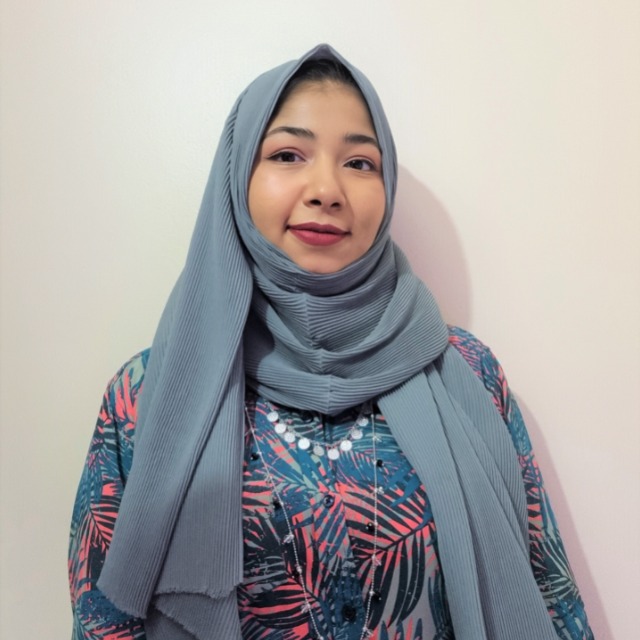 Editor — Accessories, speakers, and tablets
Namerah enjoys geeking out over accessories, gadgets, and all sorts of smart tech. She spends her time guzzling coffee, writing, casual gaming, and cuddling with her furry best friends. Find her on Twitter @NamerahS.