Philips Hue Lightstrip Plus is a flexible way to add ambience to your home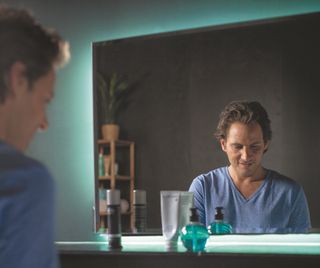 Philips has combined a flexible design with advanced lighting technology to launch the new Hue Lightstrip Plus. This new lighting fixture can be shaped, bent, even cut, and extended by up to 10 meters to introduce ambience to spaces throughout the home. If you're tired of relying on standard bulbs, and have places throughout the home where said lighting could be installed, the new Philips tech could be the ideal option for you.
The lighting itself is touted as being self-adhesive and easy to install, enabling you to place them along the bottom of a room, coving of a ceiling, or even along shelving. Since we're talking about Philips Hue here, you'll be able to configure the lighting from compatible apps and even have them change color depending on what's currently displayed on the big screen.
The only potential issue is the pricing, which may deter potential buyers. The two meter strip will set you back €79.95/$89.95, while the one meter extension strips will cost you €24.95/$29.95 each. Philips will launch the new lighting in Europe and the US come October.
Learn more about the Philips Hue Lightstrip Plus (opens in new tab)
Philips Hue Lightstrip Plus: light bright enough to paint a whole room
Enhance your home with flexible connected light that can instantly switch a relaxing environment into an energizing one
Amsterdam, The Netherlands – Royal Philips (NYSE: PHG, AEX: PHIA), the global leader in lighting, combines flexible design with cutting-edge connected lighting technology to deliver a whole new way of using light, Philips Hue Lightstrip Plus. A hidden source of light, Philips Hue Lightstrip Plus can be shaped, bent, cut and extended up to 10 meters to add atmosphere to any space in the home. With every shade of beautiful white light from cool blue white to warm yellow white as well as atmospheric colored light, Philips Hue Lightstrip Plus is a high quality, high output light that is bright enough to completely transform the character of a space. So whether it's entertaining friends or cooking a meal for the family, Philips Hue Lightstrip Plus lets you 'paint with light' to create the perfect moment.
"With Philips Hue Lightstrip Plus we're encouraging people to get creative with light and really interact with it," explains Leonardo Avezzano, Product Marketing Director of Philips Hue. "Its extendible design along with its connectivity and high lumen output, means that it's even easier for people to use light to create the experience they want across their home."
As an indirect source of light, Philips Hue Lightstrip Plus can be placed anywhere in the home to complement and enrich existing Philips Hue lights, delivering a uniformed color. Self-adhesive and easy to install, place along the bottom of a hallway choosing a beautiful shade of white light to create a sense of spaciousness; run along coving high up the walls of a room to wash the entire space with light instantly transforming its look and feel; or line along shelves and cabinets to add a stylish touch of ambience to match a mood or moment.
Taking flexible connected lighting to a whole new level, Philips Hue Lightstrip Plus is a part of the Philips Hue ecosystem, so it benefits from all the unique features of Philips Hue including interaction with more than 300 third-party apps. Check out apps that sync Philips Hue Lightstrip Plus to the TV and enjoy a completely new viewing experience where the lights change the atmosphere to enhance what's on screen. With Philips Hue Lightstrip Plus you can instantly change the ambience of any space in your home at the swipe of a finger, giving you unlimited flexibility and freedom to experience light as you want it.
Philips Hue Lightstrip Plus two meter strip including the power adaptor is €79.95/ $89.95; one meter extension strips are €24.95 / $29.95 each. Available in Europe and North America from October 2015.
Yeah the price is way too much, but then again, 1st Gen prices are always high Check out the new Nexus! https://youtu.be/u3uFOavLo_w, not a Rick roll
Android Central Newsletter
Get the best of Android Central in in your inbox, every day!
Thank you for signing up to Android Central. You will receive a verification email shortly.
There was a problem. Please refresh the page and try again.