Grab your overalls, Green Farm is now available in the Android Market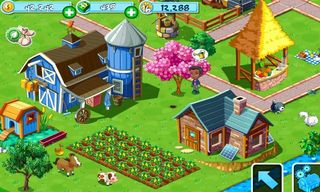 If you're a fan of farming games, you'll be glad to hear that Green Farm by Gameloft is now available in the Android Market. That's right, you can raise crops, trees, and livestock, earn coins to buy seeds, animals, and buildings and even learn to make cheese or become a carpenter, all without getting your hands dirty. (Note to Green Farm online players: This farm doesn't connect to your online farm, but you can build a new one on your mobile device.) You can grab Green Farm free in the Android Market, download links are after the break.
Gameloft Launches Green Farm on Android Market
Gameloft, a leading global publisher of digital and social games launched Green Farm for Android on the Android Market.
The addictive farming game is available on the Android Market for free.
Key Features:
• ADDICTIVE: Get hooked on farm life as you raise crops, trees & livestock.
• UNIQUE: Earn coins to buy a variety of seeds, animals and buildings.
• AWESOME: Make juice & cheese, or develop specialties like carpentry.
• NEW: The fun never ends thanks to frequent updates!
• And MORE: Customize your avatar, take on missions & utilize tractors, robots and more.
The game is currently available for the devices below:
HTC Incredible 2
HTC Desire (Bravo
HTC Desire HD (Ace)
HTC Desire S
HTC Desire Z (G2, Vision)
HTC Evo 4G
HTC Evo Shift 4G
HTC Incredible S
HTC Inspire 4G
HTC MyTouch 4G
HTC Thunderbolt 4G
LG P990 Optimus 2X (Star)
LG P999 (Star, G2x)
Samsung Google Nexus S
Samsung Google Nexus S 4G
Samsung GT-i9000 (Galaxy S, i9000M, i9000B, i9000T)
Samsung GT-i9100 (Galaxy S II)
Samsung GT-P1000 (Galaxy Tab)
Samsung SCH-i400 (Continuum)
Samsung SCH-i500 (Fascinate, Galaxy S)
Samsung SCH-i800 (Galaxy Tab)
Samsung SGH-T849 (Galaxy Tab)
Samsung SGH-T959 (Vibrant)
Samsung SPH-D700 (Epic 4G)
Samsung SPH-P100 (Galaxy Tab)
Sony-Ericsson XPERIA Arc
Sony-Ericsson Xperia Neo
Sony-Ericsson Xperia Play
About Gameloft
A leading global publisher of digital and social games, Gameloft® has established itself as one of the top innovators in its field since 2000. Gameloft creates games for all digital platforms, including mobile phones, smartphones and tablets (including Apple® iOS and Android® devices), set top box, connected TVs and consoles. Gameloft partners with leading international brands such as UNO®, Spider-Man®, James Cameron's Avatar™, Ferrari® and Sonic Unleashed®. Gameloft also operates its own established franchises, such as Real Football, Asphalt™, Modern Combat 2: Black Pegasus and N.O.V.A Near Orbit Vanguard Alliance®. Gameloft is present in all continents, distributes its games in 100 countries and employs over 4,000 developers.
Gameloft is listed on the Paris Stock Exchange (ISIN: FR0000079600, Bloomberg: GFT FP, Reuters: GLFT.PA).
Android Central Newsletter
Get instant access to breaking news, the hottest reviews, great deals and helpful tips
The QR code doesn't work. Edit: Nevermind. It's because my phone is not currently supported.

I have a droid X and can't find it in the market.
Which phones are supported?

Click on the Android Market web link under the QR code to see it from the browser. No Motorola phones are on the supported list. It's just HTC, Samsung, & 2 LG phones

Samsung infuse not supported :(

No support for the HTC EVO 3D. Major fail.

Checking it out...EVO Shft.

I'd prefer to go outside and garden :-P

Tried to find on Droid 2 and Xoom, no luck...

No love for the OG DInc either

Sad. But prob doesnt support EVO 3D because its a sharper screen. Doesnt matter, my 3D has so much ram i can play Farmville online, full screen. And for other Facebook games i use Puffin browser. Its a proxy, like the old Winmo Skyfire--when they were good lol. WCM

Works on my old worthless EVO 4G, I'm so lucky being my phone is such an embarrassment.

I have 3 android devices and none of them are on the list. Whats up with rolling launches. First netflix now this game.
Android Central Newsletter
Get instant access to breaking news, the hottest reviews, great deals and helpful tips
Thank you for signing up to Android Central. You will receive a verification email shortly.
There was a problem. Please refresh the page and try again.