Best ways to watch the Stanley Cup Playoffs on Android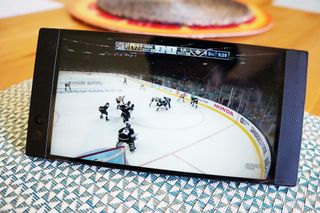 The first round of the Stanley Cup Playoffs is underway and the action is just starting to heat up. With 16 teams still in contention to raise Lord Stanley's cup, there's no better time to be sure you'll be able to follow your team through the playoffs on your phone so you'll never miss a moment of the action.
With the games being broadcast by NBC Sports in the U.S. and on Rogers Sportsnet up in Canada, you have options whether you're a cable subscriber or a cord cutter.
If you've got a cable subscription
Why you can trust Android Central Our expert reviewers spend hours testing and comparing products and services so you can choose the best for you. Find out more about how we test.
Your cable TV subscription gives you the option to stream from smartphone apps using your subscriber credentials. You're probably overpaying for cable TV, so you may as well get the most out of it right?
(Also works if you've got really awesome family or friends that are willing to share their log-in credentials with you 🙌)
NBC Sports App 🇺🇸
NBC has embraced the NHL and they offer some pretty outstanding coverage for American hockey fans, and with so many games to cover and broadcast NBC has been showing games across all its sports networks — even the Golf Channel!
If you have a cable subscription you're in luck, as you should be able to log into the NBC Sports app with your cable provider credentials and stream the entirety of the Stanley Cup Playoffs to your phone.
I say "should" because based on the recent app reviews there's a lot of people having issues logging into this app, and even when they do there are people who complain that there are too many ads. Still, it's your best bet if you're a cable subscriber looking to follow your team on the go.
The app works with Chromecast, and there are also NBC Sports apps available for Roku, Amazon Fire TV, Xbox, and Samsung Smart TVs, so even if you're somewhere that doesn't have cable you've still got options to stream the game on a TV.
Download: NBC Sports (Free) (opens in new tab)
Sportsnet 🇨🇦
Rogers basically owns hockey in Canada — from the broadcast and streaming rights to their part ownership of the Toronto Maple Leafs — so it should come as little surprise that you'll need a Rogers app to stream playoff hockey.
Fortunately, the Sportsnet app includes much more than just live-streaming content and it's worth downloading if you're a Canadian sports fan. It's a great resource for following news, highlights, and analysis for the NHL along with all the other sports leagues you follow. During the regular season there are regional blackout rules in effect, but since playoff games are all national games you can watch them all!
Download: Sportsnet (Free) (opens in new tab)
If you don't have a cable subscription
If you're a sports fan who's ditched cable, the playoffs can be really hard. All you want to do is settle in and watch the game from the comfort of your home, right?
Before you resort to illegal options, you do have some decent options — especially if you're in the USA.
Hulu 🇺🇸
Hulu is a marquee sponsor for the 2018 Stanley Cup Playoffs, so you better believe you can watch every playoff game on the platform.
You probably know Hulu as one of the bigger on-demand streaming services, but Hulu with Live TV (currently in beta) looks to kick Hulu's offering up a notch by bundling in access to live stream over 55 channels straight to your phone or other devices with the Hulu app along with all the sports you could ever need. Beyond the Stanley Cup Playoffs, you'll be able to stream NCAA, NBA, NFL and the English Premier League. Hulu is available on practically all your devices, so you can log in and watch hockey practically everywhere.
Seriously, we Canadians would be all over a service like this, and at $39.99/month it's a pretty compelling option that includes a lot more than just hockey. Plus, if you're new to Hulu you can get a 7-day free trial, so check it out!
See at Hulu (opens in new tab)
NHL App 🇨🇦
As mentioned before, Rogers really has Canadians by the balls when it comes to watching hockey. They own all the streaming rights for the NHL and make it pretty damn complicated — for example, you may have Rogers cable and NHL Centre Ice, but Centre Ice doesn't include playoff hockey If you're smartphone is running on the Rogers network.
It's all built into the NHL Live section of the NHL app and requires a rather hefty subscription for access. If you're a Rogers customer with a Share Everything Plan, you may already have a free subscription to Rogers NHL Live.
The rest of us can buy a 2018 Stanley Cup Playoff Pass for $74.99, or you can opt to buy a monthly pass for just $29.99 a month and pay as you go. Steep, but seemingly worth it if you're a hardcore Canadian hockey fan.
The problem is that the NHL app is still really unreliable as a video streaming platform, but because Rogers has it all locked down it's the only legal option available.
Download: NHL app (Free) (opens in new tab)
Who are you rooting for?
Are you following the NHL Playoffs? Have you tried watching a game on your phone? Let us know in the comments!
Marc Lagace was an Apps and Games Editor at Android Central between 2016 and 2020. You can reach out to him on Twitter [@spacelagace.
Sharks for the cup! If not then my money is on Vegas.

"Hat Trick" for the Pens!

The NHL customer support is absolute garbage. It did support Chromebooks, but an update changed that. When I emailed them about it, they told me it never supported them. Funny how the Play Store let me install it. Rude and super unhelpful. The Chromecast support is janky at best. Sadly, it's the only way to get out of area games. Go Golden Knights.

The app sucks too. Constantly had blacked out games even with a GD subscription!

What device is that in the top pic?

Yeah but if I'm traveling outside of North America those options don't work. I have Hulu live at home, in California, but it's blocked outside of the US. I tried a VPN and it's a no go. Same with the nbc sports app. Although Watch ESPN seems to work just fine.

If you're in Canada you can watch the CBC games on either the CBC TV app or the CBC Sports app for free.

Nothing better than having all the games free. Thanks Rogers! #gojetsgo
Android Central Newsletter
Thank you for signing up to Android Central. You will receive a verification email shortly.
There was a problem. Please refresh the page and try again.