Best game controllers for Android 2023
There's plenty of variety when looking for the best controller for Android.
If you want to play your favorite games on the go, you'll need to get your hands on one of the best mobile gaming controllers. We've gathered all of the best options below, from feature-packed controllers with RGB backlighting to retro picks that'll bring you right back to the early days of gaming.
Plenty of great Android games have controller support, giving savvy gamers proper controls while everyone else struggles with touchscreens.
If you're in the market for a new controller to enhance your mobile gaming experience, we've got you covered with the best Android controllers, starting with the Nacon MG-X Pro.
At a glance
Load the next 3 products ↓
Best upgrade pick
Best upgrade pick
If you like the X3 but don't care about the fan, save a few bucks and get the GameSir X2 Pro, a versatile controller with a USB-C connector, swappable buttons, and Hall Effect triggers.
Best wired controller
8. GameSir T4 Kaleid Android gaming controller
Best wired controller
Stylish and ergonomic, the GameSir T4 Kaleid comes with Hall Effect triggers, a vibration motor, and some sweet RGB backlighting.
Best battery life
9. Nintendo Switch Pro Controller
Best battery life
The Nintendo Switch Pro controller isn't for everyone, but if you're a fan of the design, you'll also enjoy a comfortable grip and over 40 hours of battery life.
Best overall
Best Android controller overall
Reasons to buy
+
Grips that mimic an Xbox controller
+
Secure hold
+
Ergonomic button design
+
20-hour battery life
Reasons to avoid
-
Bluetooth connection not as good as USB-C
Nacon created a force to be reckoned with in the MG-X Pro mobile controller, taking the best aspects of other controllers on the market and combining them with the ergonomic grips of an Xbox or PlayStation console controller. Because why fix what isn't broken? That design's been proven to work, and it works wonderfully with the Nacon MG-X Pro.
In our review, we noted that its weight distribution felt nice, a perk of clamping around your phone instead of using a phone clip. Unlike other similar models, though, the face buttons, thumbsticks, and D-pad are all naturally spaced out so your hands won't cramp, and the triggers and bumpers have an ergonomic curve that makes them easier to grip and tap. In practice, it doesn't feel like a mobile controller, which is a huge perk in our book.
With its Bluetooth connection, the MG-X Pro can also support a wider variety of phones than controllers that use USB-C connectivity. The downside is that Bluetooth can cause a slight lag compared to direct connectors; when you compare the Nacon MG-X Pro vs. GameSir X3, our two favorite game controllers for Android, that's a point in the latter's favor. But the MG-X Pro has a solid 20 hours of battery life and more comfortable grip, putting it on top for us.
Best for versatility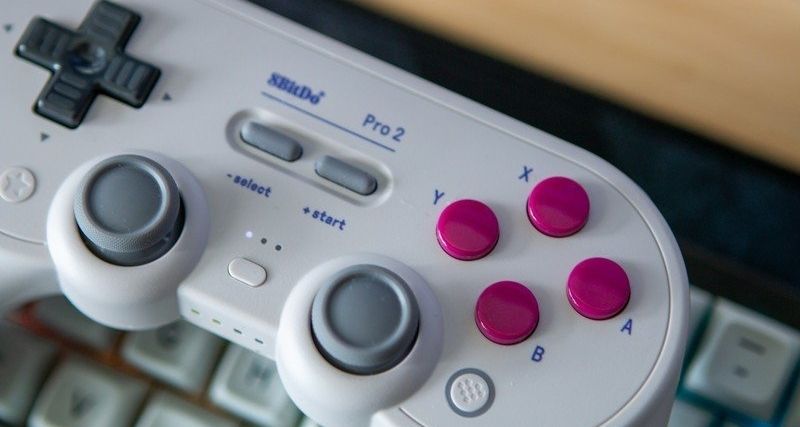 Best for versatility
Reasons to buy
+
Rechargeable battery
+
Designed for comfort
+
Four-way toggle switch makes it easy to move between devices
+
Can be used with Android, Switch, Windows, macOS, and Raspberry Pi
+
Custom button mapping available with accompanying app
Reasons to avoid
-
Back paddles could get in the way
-
Phone holder costs extra
You'll see several 8Bitdo controllers on this list, but the SNES-lookalike models aren't the most ergonomic. If you want a hybrid controller with a similar aesthetic but more modern-feeling design with proper hand grips, look closely at the 8Bitdo Pro 2.
Designed closer in line to the Xbox or DualSense controllers, the 8Bitdo Pro 2 adds "longer grips for each hand to help your hands rest easier," our reviewer explains, which makes it much more ergonomic for long gaming sessions.
It has a rechargeable and replaceable 1,000mAh battery, which is rated for up to 20 hours of battery life. Our reviewer wished that 8Bitdo sold a battery pack so you could swap it in when the other dies, but you can at least count on it lasting across an entire gaming session, or using the USB-C port to top it off in a pinch.
With the accompanying 8Bitdo app, you can map any button on the controller to something else, providing even more controls over how you play your games. This includes the two new back paddle buttons that can be remapped, which is handy for some, but the placement could end up in the way if you never plan on using them. There's a four-way toggle to switch between profiles and devices easier than before, along with the ability to use this on practically any device save for an iPhone or iPad.
Best cooling system
Best cooling system
Reasons to buy
+
Cooling fan built-in
+
Swappable ABXY buttons
+
Adjustable USB-C connector
+
Compatible with some phone cases
Reasons to avoid
-
Thumbsticks need covers to feel good
-
Limited use cases for fan
A major complaint that a lot of people have with Android gaming is that phones can get really hot, really fast. It may not be that big of an issue if you can ignore the heat while using a controller, but that doesn't solve the problem. Enter the Gamesir X3, which features a built-in cooling unit on the back that makes a noticeable difference with minimal sound.
Our Gamesir X3 reviewer explained why you shouldn't see the fan as a "gimmick." She found that the quiet fan "actually helps cool down whichever phone you're using to a noticeable degree," with the only downside being that you have to plug the fan into a power source besides your phone. That means that while you can use the controller on your morning commute, you're more likely to enjoy the best perk at home.
Unlike the Gamesir X2, this controller only comes with a USB-C connector instead of offering Bluetooth as well. That makes it sport a more reliable connection for less input lag, but also limits the number of phones with cases it's compatible with. Thankfully, our reviewer found you can adjust the clamp about a centimeter up or down to make more room for larger or thicker phones.
We love the buttons' tactile feedback, and were intrigued by the choice to make the buttons magnetically swappable — in order to let you change the configuration to match your favorite controller. We weren't a fan of the petite thumbsticks, but there are textured thumbstick covers in the box that can rectify the issue a bit. In general, the X3 isn't quite as comfortable to hold as the MG-X Pro, but upsides like the fan may sway you in this direction.
Best retro controller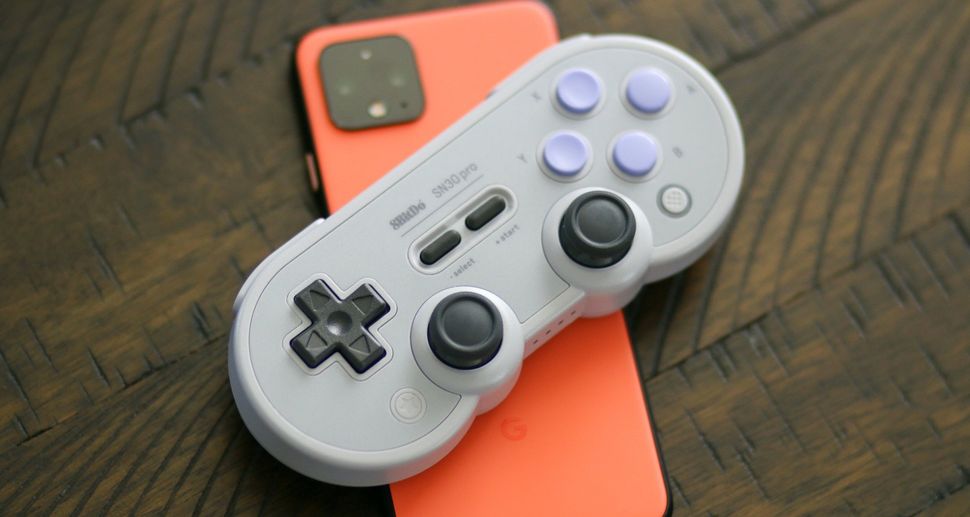 Best retro controller
Reasons to buy
+
Wireless SNES controller
+
Well-built with tactile D-pad and buttons
+
Available in nostalgic color options
+
Compatible with Android and more
Reasons to avoid
-
No dedicated switches or buttons for power or pairing
-
Bluetooth 4.0 is outdated
If your childhood involved spending countless hours playing SNES, the 8bitDo SN30 is going to give you all the nostalgic feels.
The iconic Nintendo controller design is updated with Bluetooth connectivity that lets the 8BitDo SN30 Pro work with Android, Windows, macOS, Raspberry Pi, and even the Nintendo Switch. Such versatility will be especially valuable if you happen to have a collection of retro games you love to revisit.
You'll appreciate the clickable joysticks, rumble vibration, and other modern touches to the classic design, says our 8BitDo SN30 Pro reviewer. He noted that the rechargeable 480mAh battery, which has an 18-hour max, has still mostly retained its longevity after over a year of use. The D-Pad avoids the mushiness of other controllers, and he hasn't experienced any stick drift.
Not so good is the lack of a dedicated power switch or button for pairing — instead, you use the Start and Select buttons, and that can result in unpairing by accident. It may feel fairly cramped for those with larger hands, and the weight of the phone on the clip may feel a little unbalanced. Still, the 8BitDo SN30 Pro remains one of our favorites, available in all the classic colors of the GameBoy Color.
Best for Xbox fans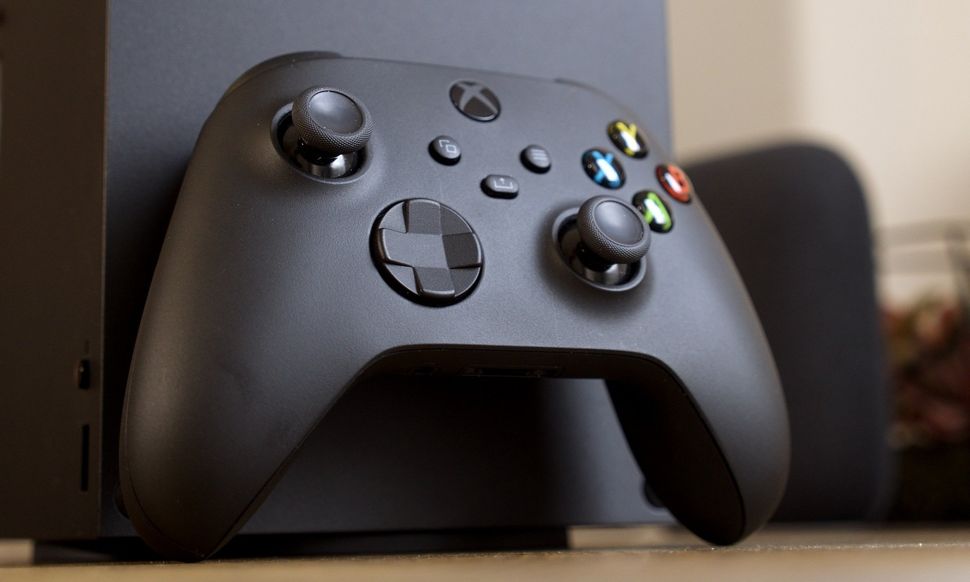 5. Xbox Series X Controller
Best for Xbox fans
Reasons to buy
+
Soft and textured grip on trigger and bumpers
+
Hybrid D-pad provides more control
+
Works with All Xbox models, PC, and Android phones
+
Customizable button mapping
Reasons to avoid
-
Does not include rechargeable batteries
-
No built-in microphone
Although Microsoft slightly changed the current Xbox Series X controller with a new button, the classic design has remained largely unchanged for years — and this is for the best. It's considered the most comfortable and popular gaming controller by most of the gamers on staff, and for most of our favorite compatible Android games, they treat the Xbox controller's button configuration as the default.
The trigger and bumpers sport a soft and textured grip that prevents slippage. The hybrid d-pad borrows from the pricier Xbox Elite Controller, though it's not interchangeable like the more expensive version. Even still, Microsoft has made it so that you can customize and map a few of the buttons to your liking, depending on which game you are playing.
Battery life is kind of a moot point with the Series X controller, however, as you will need to rely on AA batteries for power. The older Play and Charge kit is compatible with this, so you can always pick one of those up after the fact if you don't already have one. And while there is a 3.5mm headphone jack on board (like the old version), Microsoft still has opted not to include a built-in microphone, so you'll need a good headset if you plan on jumping online with your buddies.
Note that you'll want to buy a phone holder, but since Xbox is such a popular controller brand, you'll find no shortage of options. Start your search with the 8Bitdo Mobile Gaming Clip for Xbox or the PowerA MOGA Mobile Gaming Clip 2.0 for Xbox.
Best Switch-style controller
Best Switch-style controller
Reasons to buy
+
Ergonomic and comfortable design
+
Remappable buttons
+
Razer Nexus app
+
Fits more phones than the original Kishi
Reasons to avoid
-
Thumbstick design is subpar
-
Rubber inserts are difficult to install
-
Macro buttons are hard to reach
In our review of the Razer Kishi, we found that it hits just about every mark you could want in a game controller for Android. Razer upgraded this already amazing controller with the Razer Kishi V2, taking what it learned over the years and fan feedback into account to design a product that felt much better to use and hold.
Our Razer Kishi V2 review praises the comfortable textured grips that make this gen much easier to hold, as well as the "essentially perfect" D-Pad and the triggers with tons of travel that you'll "adore." Mounting phones is a lot easier than before thanks to the spring-loaded design, as is remapping buttons using the new Razer Nexus app.
The Kishi V2 certainly isn't perfect. The joysticks are carbon copies of the Nintendo Switch Joy-con sticks, for better or worse, and reaching certain buttons forces you to change your grip a lot. But it's still one of our favorites, and a big step up from the last model.
Best upgrade pick
Best upgrade pick
Reasons to buy
+
Hall Effect triggers
+
Customizable thumbsticks and back buttons
+
USB-C connection for reliable performance (no battery)
+
Swappable magnetic buttons
Reasons to avoid
-
Switch layout isn't always popular
-
Missing the X3's fan
Although the GameSir X2 Bluetooth has been one of our favorite Android controller options for years, Bluetooth has become a harder sell in the era of great USB-C controllers that remove the need to worry about battery life.
The newer GameSir X2 Pro makes a few other quality-of-life upgrades besides its USB-C port, laid out in our review. For starters, it adds remappable back buttons on the bottom-back that gives you more versatility, since you can squeeze them with your middle fingers without having to move your hands from the joysticks, and without the worry of accidental presses thanks to some built-in resistance.
The GameSir X2 Pro Hall Effect triggers can measure varying levels of pressure, modernizing where the X2 could only register one level (pressed or unpressed), while the Kailh microswitch bumpers add some lovely tactile feel. Our reviewer stressed that these "buzzwords" do actually matter in how the X2 Pro feels and performs.
Like the GameSir X3, you can swap the magnetically-attached buttons to match whichever layout is your personal favorite (Xbox or Switch). Like most Switch-style controllers, you'll have to accept that the grip is a bit less natural and more claw-like. Otherwise, this is definitely one of the best Android controllers on the market.
Best wired controller
Best wired controller
Reasons to buy
+
Extremely comfortable to hold
+
Hall Effect sticks and sensors
+
RGB backlighting effects
+
Cool customization tricks
+
Vibration and audio included
Reasons to avoid
-
Must buy phone holder separately
-
Wired only
For our list of the best Android controllers, we've focused mainly on two styles: Switch-style controllers that envelop your phone or controllers with built-in phone clips. But for people that want a controller that works across devices, including but not limited to Android gaming, the GameSir T4 Kaleid is an option to seriously consider.
Our GameSir T4 Kaleid review explains how its ergonomic design has "easy-to-reach buttons" with satisfying click travel and "well-positioned" triggers with plenty of tension. It has a satisfying weight (not too heavy or light), and it has certain features built into the design like a 3.5mm headphone jack and vibration motor that most of our other picks lack.
We praised the T4 for the same perks as the X3 and X2 Pro — good customization options and low latency — but with a more comfortable design. The RGB lighting is also customizable and quite cool, though occasionally distracting.
A wired-only USB-C controller, the T4 Kaleid can connect to an Android phone in a pinch, but the dangling wire isn't going to be especially user-friendly. GameSir advertises it as being a good option for Android TV, as well as PC and Switch.
Best battery life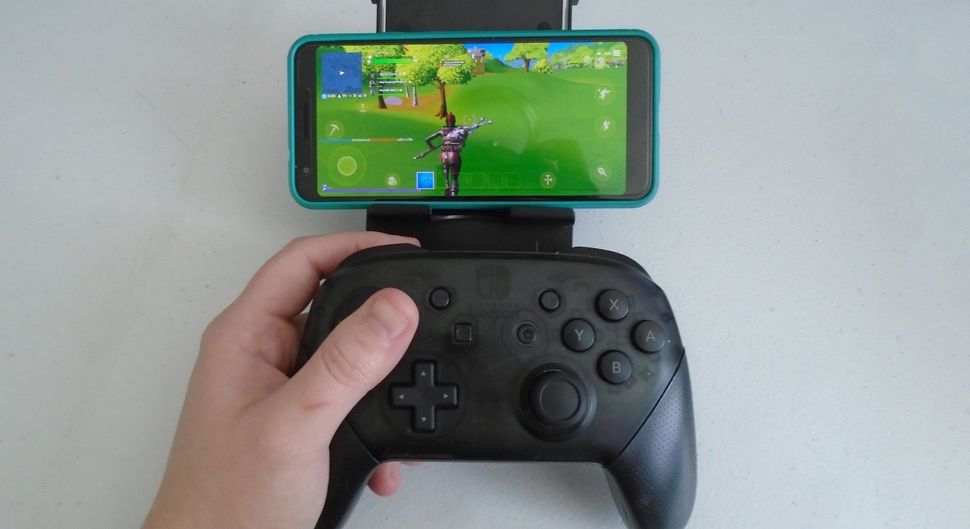 9. Nintendo Switch Pro Controller
Best battery life
Reasons to buy
+
Comfortable to use
+
40+ hour battery life
+
Works with Nintendo Switch
Reasons to avoid
-
No customization options
The Nintendo Switch Pro Controller isn't the first controller that comes to mind when someone thinks of playing games on their Android devices, but it does work. Bluetooth connectivity means you can use Nintendo's premium controller the same way you would any of the other myriad controllers around.
If you're someone who enjoys playing games on your Nintendo Switch, Nintendo Switch OLED, or if you just enjoy this particular controller and find it comfortable, grab one to enhance all your favorite Android mobile games.
The battery is very strong, lasting upwards of 40 hours on one charge. The controller uses asymmetrical sticks like an Xbox controller, so if you're used to Microsoft's controllers, you'll find this reasonably similar. The main thing is that you'll need to buy your own phone clip, but you can find one for fairly cheap on Amazon that'll convert your Switch Pro controller into an Android controller.
What are the best Android controllers?
Why you can trust Android Central Our expert reviewers spend hours testing and comparing products and services so you can choose the best for you. Find out more about how we test.
The value of a Bluetooth controller for gaming will continue to grow with game streaming services like Microsoft's Xbox Cloud Gaming, letting us do more gaming on the go. Not to mention, the rise of huge premium mobile games like Genshin Impact and some of the best Android games out there.
If you don't already have a premium Bluetooth controller like the Xbox Wireless Controller, then you're mainly going to be choosing between USB-C and Bluetooth, and between Switch-style controllers and traditional ergonomic controllers with phone clips.
The Nacon MG-X Pro and Razer Kishi V2 are two of our favorites with different points of focus: Nacon's is more comfortable to grip, while Razer's has the perk of USB-C low-latency and passthrough charging to your phone.