Best clear cases for the Galaxy S7 edge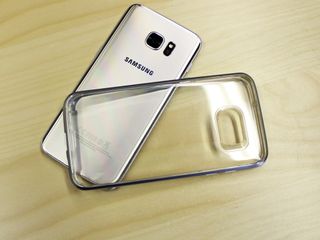 There's a reason clear cases are the most popular: phones are getting prettier and prettier. Have you seen the S7 edge in silver?!
Show off your gorgeous phone loudly and proudly with a clear case. We've rounded up the best of the best for your viewing pleasure.
Spigen Neo Hybrid Crystal
Why you can trust Android Central Our expert reviewers spend hours testing and comparing products and services so you can choose the best for you. Find out more about how we test.
This offer from Spigen is the two-piece type that has a flexible body with a harder plastic edging. Normally, those hard plastic outer edges don't fit the softer silicone properly, but in the case of this… case… the fit is superb.
The phone feels solid and neither the rim nor the silicone impede any functionality of the edge features. Sometimes the plastic has a habit of being a bit loose, so if you push near the power or volume buttons, they'd engage. Not with the Neo Hybrid Crystal; everything fits snugly and the buttons are only pushed when you want them to be.
It should be noted that the outer plastic piece could become loose over time, since it is rather flexible; however, if you aren't constantly taking the case off your S7 edge, you shouldn't have a problem. The reason we chose this case over Spigen's Ultra Hybrid, which doesn't have the harder outer plastic piece, is that you can't feel any seams on the Neo Hybrid. The Ultra Hybrid has a rather sharp seam that's just uncomfortable.
See at Amazon (opens in new tab)
Samsung Clear Cover
Samsung's own clear case adds a nice thin layer of protection to your Galaxy S7 edge, so it's great for all the minimalists who want little to no bulk added to their phones.
The top, bottom, and buttons are cut out, so all ports can be easily accessed and you're not fiddling with the buttons trying to find some tactile feedback that's never coming.
For black and silver Galaxy S7 edges, these cases have a silver rim, and for gold, they're gold.
See at Amazon (opens in new tab)
Trianium Clear Cushion
The Trianium Clear Cushion is a great option for those of us that love a 100 percent clear case that's seamless and sleek, while offering the necessary protection. With the S7 line-up being notorious for shattering when dropped on a corner, Trianium offers some peace of mind with its thicker corners and lifetime warranty. If you start to notice imperfections, then you can apply for a new one.
The Clear Cushion fits great and is less than a millimeter thick, so it's almost like your phone's wearing nothing at all, nothing at all, nothing at all…
The case is slim, but it's also proportioned in all the right places; the edges come up just enough to block you from accidentally hitting buttons, but they don't block the edge features at all. Use the edge when you want to, not when your case fits poorly.
You also have the added benefit of Trianium's scratch-resistant coating, so your pretty phone stays pretty longer.
Just watch out if you have a screen protector on your edge, as the Clear Cushion fits so snugly that it might curl up the edges.
See at Amazon (opens in new tab)
Abestbox Ulta Hybrid Air Cushion Crystal Clear
Another great one-piece entry, the Abestbox Crystal Clear is a solidly built case and when they say, "crystal clear," they mean it. It's really clear, which is great if you're someone that can't stand having to case your phone, but understand that it's probably a good idea.
Once again, this is another great fit that does not impede any edge function at all, and the super slim design doesn't add any bulk or weight to your phone. It's not slick, so you'll have no trouble gripping your S7 edge and holding on to it.
See at Amazon (opens in new tab)
i-Blason Clear Halo Series
If you're looking for heavy duty scratch resistance, then this is the case for you. It's rated 3H (pencil hardness) for scratch resistance.
Actually, i-Blason is great for all-around scratch protection, since its raised front bezel makes it ideal for phones with screen protectors. The raised bezel is also good idea, just in case you drop your S7 edge on its face.
Once again, the Clear Halo Series is really clear, leaving the beauty of Samsung's flagship on display.
See at Amazon (opens in new tab)
EasyAcc
EasyAcc's clear case is as minimalist as we can get while still talking about a case that offers solid protection. This is the most flexible entry in our round-up, so if you like the grippy rubber feeling of TPU, then this is the one for you.
It's totally seamless and tear-resistant, so you need not worry about it being too flexible. The edges of EasyAcc's case are raised just enough, just in case you drop your phone on a flat surface.
This case is ideal if you're looking for something incredibly minimalist with great grip. Just beware of stretching, since it is so flexible and also be aware that the case may yellow over time, since TPU absorbs light very easily.
See at Amazon (opens in new tab)
LUVVITT ClearView
With all the poor S7 and S7 edges that have been dropped on their corners and turned into spider webs come LUVVITT's interesting and effective answer: air.
There are small spaces for air in each corner of their ClearView case, which offer more impact support while not affecting the fit in any way. You'd think that space in a case would make it loose, but that's just not the… case (how many more can I fit into this post?).
There are raised lips on both the front and back of the case to protect your screen and the hard plastic back. The harder plastic makes for a clearer view of your S7 edge, while the rubber edging cushions impacts well.
LUVVITT offers a lifetime warranty, so if you start to notice imperfections that may compromise protection, let them know. The rubber edge is made of TPU, so keep in mind that it may yellow over time.
See at Amazon (opens in new tab)
Speck Candyshell Clear
Speck's Candyshell is a dual-layer case that has a hard polycarbonate exterior and a soft acrylic interior so it's kind of like a bike helmet for your phone. There's less risk of these materials turning yellow, so your S7 edge will shine through for a long time to come.
Unlike most polycarbonate cases, this one has a slim build and doesn't add a ton of bulk to your phone, though it can be a tad slippery, especially if your hands are dry. It's also not as clear as other cases we've mentioned, but it still offers solid protection while showcasing your S7 edge.
The Speck logo is etched into the inside of the case, so you can kind of see it on the lighter-colored S7 edges, but on block it's not horrible visible.
See at Amazon (opens in new tab)
Supcase Unicorn Beetle Hybrid
If nothing else, you should probably just pick up this case for the name! The Supcase Unicorn Beetle hybrid is for those of us who want something rugged that can withstand more than a little jostle.
I should point out up front that this case isn't totally clear but more translucent. The outer edge is black as well, so if you really want to show of your S7 edge, this may not be the case for you. However, if you want rugged protection and would still like to see your phone if you can, then have at 'er.
You've got a shock-absorbent TPU bumper around the outer edges and a hard polycarbonate back panel that come in a rather slim design for a "rugged"-style case. The corners are all reinforced and there's a raised lip on the front that protects from a faceplant while still allowing for full edge functionality.
If you want to appreciate the craftsmanship of your S7 edge while truly feeling the protection, then this case is ideal for you.
See at Amazon (opens in new tab)
If you're having second thoughts about clear cases, then check out our roundup of the best cases for Galaxy S7 edge for more options.
Your picks?
Which clear case do you use with your Galaxy S7 edge? Let us know in the comments below!
This article was originally published on April 22, 2016. It was recently updated in November, 2016 with the following changes: Added the Samsung Clear Cover.
Android Central Newsletter
Get instant access to breaking news, the hottest reviews, great deals and helpful tips
Mick is a writer and duty editor for Android Central. When he's not on the job, he can usually be found vacuuming up pet hair or trying to convince his wife that he needs more guitars.
How about the official one from Samsung? I've been using it and it's a fantastic, minimalist case!

came here to post this, I had mine for awhile and I love it

I have the same case and I don't normally put my phones in a case as I like the feel of the phone, but the samsung one is great

It is nice, I have the Clear View case from Samsung. Only concern is when it's closed you lose the messages from the edge, may as well be standard S7. (e.g. The edge time display doesn't activate unless the case is folded open and screen turned off). At the extreme price (by comparison to these reviewed ones) I'd say Samsung should have designed a better product that doesn't hide this beautiful device's special features.

Yeah, same here, the case is very beautiful and protects the phone pretty well. Too bad the phone doesn't fit inside the Gear VR with the case on.

If it doesn't have micro dots on the back, I don't want it. Without the microdots, when the case touches the glass on the back of the S7/edge it looks like there is water in between the case and the phone.

Another solution is to stick a clear matte protector on the back.

I didn't know what those microdots were about until I read your post. Thanks for posting. Mine has them. Posted via the Android Central App

That was true of the Samsung S6 edge clear case, but I haven't seen any bubbles on the one for my S7 edge. They must have improved on the design.

The Spigen case has the microdots. Not sure about the others. Posted via the Android Central App

/\/\/\ This
I have the Spigen one for my wifes S7Edge and it looks great, no bubbles. I have the same one for my Note5, same thing. Great case, no bubbles...

Spigen thin case all the way for me and my wife's gs7 edge. The fit and finish is the best and I got them on sell $3 each on amazon
Oh and no air bubbles here . No way I'm covering up this beautiful phone Posted via the Android Central App

I just ordered this one from Amazon this week. Slim clear case and also has a kick stand. Allows the kids to watch a movie while still keeping their paws off of the phone. Haven't received it yet but it has really good reviews. http://www.amazon.com/Kickstand-Crystal-Scratch-Protection-Samsung/dp/B0...

Any idea how slim it is compared to some of the others here? I have a clear and very thin case with no kickstand, and a harder one with a kickstand that isn't clear. I miss the kickstand when I use the harder one, and miss the see through nature of the clear one otherwise. This looks like a good compromise. Posted via the Android Central App

I have the clear samsung one,the spigen, and the speck all awesome cases but they didnt put and should have is the UAG one i would say that one is one nice case. Posted via the Android Central App

IMO all of these cases with the exception of the Unicorn Beetle give the phone the same look my grandma gave her fancy couches when she put clear plastic covers on them. Posted via my S7e/ Note 4/ iPad Pro 12.9

Don't knock it till you tried it I'll look way better than your gs7edge with a broken screen just saying Posted via the Android Central App

I had the Otterbox Clear Symmetry for awhile. The camera cutout was sharper than it should have been on the back...bad enough to possibly scratch a phone. The buttons were hard and stiff. The case made it super slippery when lying on its back. My S7 Edge felt well protected in that case, but in the end it felt cheap for an Otterbox product. Posted via the Android Central App

I have the Spigen Neo Hybrid Crystal on my note 5 I love the case but the thing with the clear cases is over time they yellow. Mine is starting to yellow now and it's only been on the phone for about 5 months. Posted via the Android Central App

True, but 5-6 months of use for less than $20 seems reasonable to me. I can buy two cases in a year for my $700 phone. Posted via the Android Central App

True Posted via the Android Central App

They all will yellow but that's a small price to pay for protection Posted via the Android Central App

The link for Amazon takes you to the i- Beason Halo series not Hero series. Typo? Posted via the Android Central App

I live ringke cases too! Posted via the Android Central App

Great list for the clear s7 edge cases.

That Spigen looks identical to my Ringke case. Like, somebody stole the design from the other.

I love my MODAL 2 piece case i found at best buy. It has a bit of a frosted translucent look. It looks amazing on the phone and is very protective. Here's a look at it on youtube https://www.youtube.com/watch?v=8n5jGvlCCLo

Does any of these clear cases work with the gear VR? Note 7 (just in case, hog = Harley Davidson)

Excellent comparison. Even more excellent Ned Flanders reference.
Android Central Newsletter
Get instant access to breaking news, the hottest reviews, great deals and helpful tips
Thank you for signing up to Android Central. You will receive a verification email shortly.
There was a problem. Please refresh the page and try again.