AT&T Galaxy S4 Android 4.3 update now rolling out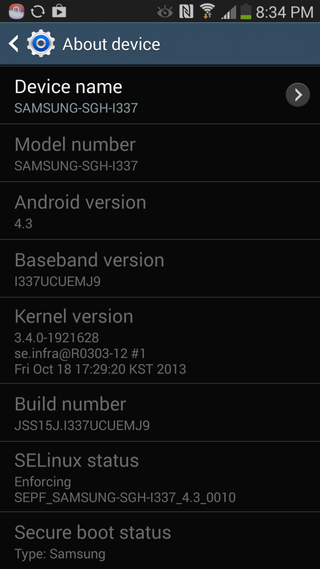 Galaxy Gear support, new features land in 719MB update
Right on the heels of its cousin on U.S. Cellular, the Galaxy S4 on AT&T is receiving its Android 4.3 update. Coming in at a whopping 719MB with build number JSS15J.1337UCUEMJ9, the update brings support for the Galaxy Gear smartwatch, a new KNOX enterprise security suite and of course the latest features from the new version of Android. It is also landing on the very day that leaked documents showed it would, be that a coincidence or not.
Several members in our forums are starting to pull down the update, so it seems to be heading out in at least some capacity. Seeing it on your own Galaxy S4 yet? Head to the forums and let others know how it's going.
Thanks, Casey!
Android Central Newsletter
Get instant access to breaking news, the hottest reviews, great deals and helpful tips
Andrew was an Executive Editor, U.S. at Android Central between 2012 and 2020.
Always a good thing. Step in the right direction. Posted via Android Central App

I know this is off topic but any word on an LG G2 update?

When ever LG G2 do get it, im sure verizon LG G2 will be 3-6 months later!! I HATE VERIZON!!

Uh, wrong manufacturer. :p

Better late than never. Posted via Android Central App

have the GS3..report said the GS3 was to get it today...LOL... wrong again~

Don't update the gs3 had mine 3days. Awful. So sluggish and buggy. Posted via Android Central App

You mean even more sluggish than the S3 already is? :-P

The European/International versions of the S3 only had 1GB of RAM, while the versions over here in North America have 2GB of RAM. Note we have the dual-core processor over here vs. your quad-core, so there are other differences. The RAM difference may be a reason the S3 update might not be an issue for those on AT&T.

Mine is available in Salt Lake City! Gonna wait for a root method first.. Posted via Android Central App

Just got mine in Milwaukee. Had to change time and date. Download is going slow on my 15/1 connection.

Mine is downloading here in little Rock, Ar

Just got mine in San Diego

Wowzies! With that sizable update, won't it eat off the already scarce internal storage? :S

Well once the update applies that OTA file doesn't stay on your phone.

Got mine in NJ. Took over an hour to download... Installing now, finally...

downloading now in salem OR..going pretty slow,but it's going..looking forward to see 4.3 on my gs4..

Thank goodness I have a 32GB model! Might have to ask Santa for a galaxy gear! Sent from my bada$$ Nexus 5

nothing here in miami FL i check on kies and my phone

kies says your device's current firmware version is not supported to update firmware via kies.

I`m on Sprint, we had our GS4 rocking 4.3 for almost four days.. AT&T to slow for the update.

I've been rocking 4.3, on both my Nexus 4 and 7, since July. Can I haz a cookie, too? Posted via Android Central App

Yes,you are using Google phone not a carrier phone. That's what we are talking about.

You said yes, that means I can haz a cookie!? Posted via Android Central App

I was only joking, brother, lol. Posted via Android Central App

Wow, you get it 4 days earlier...that's probably how long it takes to download the file on that crappy network.

All that matters is that AT&T has recieved it and everyone is happy now! Sprint received it first but AT&T is still bigger and badder than Sprint so zip it!

I'm on Verizon and I've been rocking 4.3 since October GET AT ME BRO lol Posted via Android Central App

Finally! Posted via Android Central App

Lol 4.3 rolling out 4.4 rolling out for me :) Posted via Android Central App

Thanks for beta testing it for the rest of us!

Lol, if I recall, you have a Nexus 7. That makes you a beta tester, as well. =) Posted via Android Central App

Yeah but I don't feel the need to blast a device getting 4.3 everytime someone announces it. I don't need the latest and greatest os. 4.3 is fine for right now Posted via Android Central App

Agreed. Posted via Android Central App

I hope that the date for T Mobile as accurate. I want to pick up a galaxy gear soon! Posted via Android Central App

Downloading now Sacramento Ca

change the date and now im downloading the update :D

720mb thats big of an update

yeah but most of the files are replacement files, not new ones. I would guess maybe 30MB worth would be new. Depends on the Galaxy Gear files

Updating my wife's GS4 over OTA as we speak. Posted via the awesomest of awesome Android Central App

Sweet! Posted via Android Central App

OK but I try to update and it telss me that I'm up to date

The update cancelled itself halfway through, and now it won't let me update OTA or with Kies... HELP

My s4 was downloading the update for 1 hour. And then said interrupted. And now it wont let me start it over it says up to date. Try 21 hours. Any ideas how to restart it? Posted via Android Central App

Mine too! Glad I'm not the only one, I thought it might have been a problem with me phone!

Change the date on your phone. It will then let you check for updates again.

What is the big deal sbt this update? Any major featues??? Just wanting to know if it is worth the update.... VK

Bluetooth 4.0 with LE support, and ANT+ support will help compatibility with some devices. This update is more about the tons of smaller features that came out with 4.2.2 and 4.3 than about any big features. KNOX support probably means very little to the majority of users, but is there as well.

Um, AT&T, WHAT ABOUT THE S3????

They want you to buy the S4... it's a SCAM!!! Posted via Android Central App

ITS A TRAP Posted via Android Central App

I went into settings and changed the date to tomorrows date and redid the update.. it is now starting over. I hope it works this time amd wont say interrupted Posted via Android Central App

Downloading right now....in OKC. Posted via Android Central App via Nexus 7

No update for S3 because show stoping bugs where found in the European release of 4.3....They caused issues for those that did download. Update was pulled. Posted via Android Central App

Oh yeah its God awful. I'm onGS3 O2UK. buggy sluggy 4.3 update ;( Posted via Android Central App

So happy for my stepdad to get the update but no love for the att galaxy s3

I'm in new York and nothing for me at s4

im in ny also and i got it. it didnt show up in my notification but when i manually checked for update, it was there. so i guess just check again

Currently downloading mine. Just an FYI, I believe it's currently just California. As All the other AT&T users who have upgraded are all in California (At least the people I've asked)

Downloaded, installed, up and running in Dallas, TX. Comes preloaded with Lookout Antivirus and Security. Haven't noticed much else new yet.

Sorry samsung and AT&T you get zero praise from me. Instead you get the this was 3 months later than it should of been. 3 months is the MAX time that it should of taken to get it out. Not the 6 months. So no this is shame on you for taking so long to get it to roll out. This is unacceptable.

All updated here in Sacramento. Took an hour and a half, but it is all updated now. So far so good.

Is this causing anyone else problem? I'm getting the "an application attempted to access your system without authorization " notification. And worst: I can't connect to wifi. Posted via Android Central App

Select "update" in that message box and it will update your security policy. It also wiped out my WiFi passwords, had to re-enter, but now working okay.

I'm getting the Knox notification: " Security information: An application attempted to access system on your device without authorization. This attempt has been blocked." but when I click on the notification, it just goes away. Where is the "update"?

Got mine this morning AT&T Westland, Michigan tried late last night before bed when I got up I had to set the date one day ahead because it makes you wait 24HRS so after getting up at 4:30 AM for work I tried again so far with the update I am doing well at 12 Minutes I am at 235MB of 719.16MB! Hopefully I won't be too late for work! :o

Is it recommend to back before doing this update? Any concerns about loosing anything? Settings or files? Posted via Android Central App

It's a minor annoyance, but the 4.3 update got rid of the "Hide Applications" feature in the setting menu. I can't find it anywhere now.

Facing same issue. Any comments?

This is not going to be a popular comment, but I actually don't recommend the update. I currently have 4.3 on my Note 3 and the customizable functions are more limited or don't work. I can't change my fonts except what's factory installed on my phone. My Note II I was able to change them. What is disturbing is Samsung links to where you can download more fonts and none of them work at all. Maybe I am wrong about 4.3 being the problem but they worked on 4.2.2 of my Note II Posted via Android Central App

Surprised I haven't seen this mentioned anywhere, but if you long-press the microphone/options button on the default Samsung keyboard, you can type with emoji. And they show up in full color onscreen. Different versions than the hand-drawn Google emoji, but nice nonetheless. (although when you go back to view them after you've typed them & exited the screen you did it at, they appear to revert back to the B&W Jellybean versions) EDIT: Scratch that.. **Some** emoji revert to B&W. Others stay full color. EDIT 2: Okay... for whatever reason, in the Twitter app, for some views the emoji are in color, and for others they're B&W. Whatever. Color emojis are a thing for the S4 on AT&T 4.3.

Why was the Mobile Data quick button removed from the notifications panel with 4.3 update??????????????????? WHY?? I loved it. Very inconvenient now to disable/ enable that feature. It was great to save even more battery life. Bring back the fricking Mobile Data button ASAP!!!!!!!!!

Dude I lost that feature on my last update. Posted via Android Central App

I had the Mobile Data button on my AT&T S4 with Android 4.1.2 up until this 4.3 update.

I feel the same way! Posted via Android Central App

If its anything like the 4.3 update for unbranded s3 international phones. Dont bother. Its very buggy. :(

Just updated last night. Had to uninstall my norton antivirus as it was interfering with my wifi by no letting it connect to my network. Posted via Android Central App

I noticed my Amazon Kindle app was missing after my update. Everything else is running fine. Posted via Android Central App

Same thing happened to my kindle app. I also don't like what it did to my Google+ app. I was keeping the old version because I preferred the way it worked over the new and it was updated with the firmware update :(

Has it fixed the issue with WiFi on Dlink routers? That's been a HUGE issue for me!

What router do you have? I have a DLink DIR-655 Rev. A and there is a firmware update out there for it to specifically resolve S4 issues.

ok i update my galaxy s4 but i don't have the new camera firmware

so im thinking on downgrading to 4.2.2 the upgrading to 4.3 to see if it gets fixed

how do you do this? #struggling

Downloaded last night but won't install???? ATT Galaxy S4.

I have apps I didn't have before like lookout, Amazon book store, att mobile locator. I can't uninstall them either. My battery performance is also subpar after the update. Posted via Android Central App

This update not only takes forever but it stops for whatever reason and won't let you resume unless you change the date or wait for 22 hours. wtf?

I'm just worried as I've heard too many ppl complain that the battery life is horrible after its updated. Posted via Android Central App

Weird because my battery has been great today. Also, it's much smoother with no noticeable lag that I had before. Loving this update! Posted via Android Central App

Every time there is an update, battery life, or this or that is an issue. A part of this is that when you do an UPDATE, your existing apps may have issues, or screen brightness settings, or various things you had turned off are now on again after the update. This is why doing a factory reset often helps(followed by re-installing apps), simply because the UPDATE process may cause some issues for apps that love to run all the time in the background.

I still don't have it in NYC at 9:00 PM on November 14th!

i love how i got this update and the google plus and google search updates but still havent gotten the Hangouts update which supposedly dropped before all of them. im not complaining though(actually, maybe i am)

Ok ,so yesterday I waited about an hour for this 4.3 update to download. Once it rebooted the at&t logo came up and it said applying update. Got halfway through and then said update failed when I hit OK it went back to the check for updates screen when I checked for updates it said I needed to wait 24 hours. Under the check for update it says continue update but it won't open. I tries the trick of setting the clock forward three separate times and each time it would start to download it would say update interrupted. I have 40 hours left to wait now to check again. I called at&t and they have no knowledge of any problems with the 4.3 update. They are going to call me on Sunday and have me try the update one more time and if it does not work they are sending me a new phone because it might be a hardware issue I'm just wondering if other people are having the same problems. Posted via Android Central App

Im having same problem it started the download then it stopped. Now i see the continue download button but wont let me press it. and it now says i have to wait 47 hours.

Mine down loaded 20% then just stopped

Takes to long to update. Is it worth the wwait
Android Central Newsletter
Get instant access to breaking news, the hottest reviews, great deals and helpful tips
Thank you for signing up to Android Central. You will receive a verification email shortly.
There was a problem. Please refresh the page and try again.