These Card Holders Work With Any Phone Case, Let You Leave Wallet at Home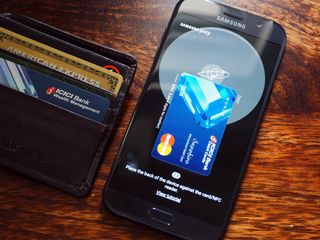 Sometimes it's nice to have the option to leave your bulky wallet at home and only carry around a little bit of cash and a few valuable cards around with you. Wallet cases for your cell phone are a standard solution to this problem; however, wallet cases can be bulky and lack the protection you need to keep your phone safe.
Adhesive card holders will affix to the back of any phone or phone case you have and give you the ability to lug a few cards around with you; here are a few of our favorites!
Cell Phone Wallet by Cellessentials
The simple design of the Cell Phone Wallet by Cellessentials is perfect for carrying around your credit card and ID without standing out from your phone or cases design too much.
The 3M adhesive on the back will stick to any surface, and shouldn't leave any gooey residue on the back of your phone. Plus, the card holder is big enough to fit three cards inside, meaning you should be able to carry all your important ones.
Cell Phone Wallet by Cellessentials comes in a three pack and three colors (black, gray, or white) for around $7.
See at Amazon (opens in new tab)
CardNinja Cell Phone Wallet
The high-rated adhesive card holder on Amazon, the CardNinja Cell Phone Wallet has an average of 4.5 stars with over 1,400 reviews.
The CardNinja claims to be able to hold up to four cards at once, thanks to its stretchy spandex-like compartment. This material also has the added benefit of making sure your cards stay in place and don't fall out.
The 3M adhesive makes installation a breeze, and you can rest easy knowing no sticky residue will be left behind.
The CardNinja Cell Phone Wallet costs around $12 and comes in a wide variety of colors such as black, gold, and blue raspberry. Plus, you can also pick one up with a fancy pattern if you'd like it to stand out from the crowd.
See at Aamzon (opens in new tab)
Bellagio Italia Leather Folding Phone Wallet
If you're looking for a card holder that provides a more prestigious look, the Bellagio Italia Leather Folding Phone Wallet could be for you.
Made from leather, this card holder looks more like a conventional wallet or billfold. It can hold up to four cards at a time, meaning you shouldn't have to leave an important one at home, and it can close making sure your cards are securely in place.
Bellagio Italia Leather Folding Phone Wallet will add some extra bulk to your phone as it is roughly half an inch thick when closed and it will also cost you a little bit more (approximately $14) for the premium materials
See at Amazon (opens in new tab)
Tell us what you think?
Do you like these adhesive card holders? Let us know in the comments below!
Great idea but I found the design to be less useful than I thought it would. Especially after I found the best in car mount was the magnetic ones and needed access to the metal plate on the back. Or others that use the ring to keep the phone from slipping out of their hands.

Card ninja is horrible. Hard to get cards in and out and it changes shape quickly.

I still like wallet cases, better drop protection than an Otterbox, plus easy to pop out if I want to "go naked"..

I already leave my wallet at home. Actually I don't have a physical wallet at all. My wallet is Samsung Pay. These wallets are worthless.

My wife uses the CellEssentials (or something very similar). As for me, no. Just no. Especially to the Bellagio; who would want that big thing stuck to the back of his phone? Might as well go ahead and carry a slim wallet - in fact, I recently put my traditional wallet away in favor of one of these https://www.amazon.com/gp/product/B01JOQF64K/ref=oh_aui_detailpage_o06_s...
Android Central Newsletter
Get the best of Android Central in in your inbox, every day!
Thank you for signing up to Android Central. You will receive a verification email shortly.
There was a problem. Please refresh the page and try again.