Samsung Galaxy S4 Mini and Mega now in stock at Clove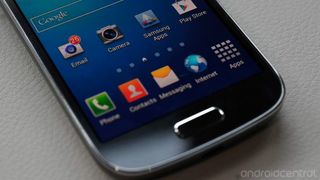 Both phones available in black and white, earliest shipments arrive June 30
Both the biggest and smallest siblings in the new Galaxy family, the Samsung Galaxy S4 Mini and Galaxy Mega (6.3) are becoming available to order in the United Kingdom.
Clove announced today they're accepting orders for both the Galaxy S4 Mini and the Galaxy Mega, priced at £376.80 and £454.80 respectively, including VAT. Both devices can be ordered in either black or white. While orders can be placed today, none will be dispatched until Friday, June 29, with shipments arriving no earlier than Saturday, June 30. That's to keep everything in line with the official Samsung launch date.
Full specifications are available for both the Galaxy S4 Mini and Galaxy Mega — also be sure to check out our first hands-on with the S4 Mini from last week's Samsung Premiere showcase event.
Source: Clove (opens in new tab)
Will we get a review of the Galaxy Mega?

Sure hope not. Reviews are for those who suck their thumbs.

i hope galaxy s4 mini comes to usa soon.

Wow... Mega 6.3 or Note 3.. Hmmm.

To many Galaxy phones, Samsung. Overkill much? Posted from my Nexus 4 via Android Central App
Android Central Newsletter
Thank you for signing up to Android Central. You will receive a verification email shortly.
There was a problem. Please refresh the page and try again.