Nokia 6.1 Plus review: HMD's best budget phone yet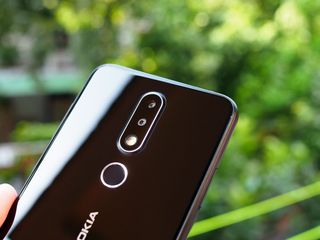 The Nokia 6 series holds special value for HMD Global. The Nokia 6 was the first Android device to feature Nokia branding, and it was one of the manufacturer's best-selling devices last year. The phone wasn't without its faults, however, as the Snapdragon 430 was underwhelming in day-to-day usage.
Nokia did a magnificent job optimizing the software to run on underpowered hardware during its Windows Phone days, which is why budget Lumia phones weren't laggy. That system doesn't work on Android though, and to its credit, HMD fixed a lot of the performance issues with the 2018 refresh of the Nokia 6, the Nokia 6.1 2018. The Nokia 6.1 2018 retained a similar design aesthetic but offered much more powerful hardware in the form of a Snapdragon 630.
HMD is now rolling out a third model in the Nokia 6 series, the Nokia 6.1 Plus. The phone made its debut a few months ago in China as the Nokia X6, and is the first from HMD to sport a notched display. It isn't just a larger verison of the Nokia 6.1 with a notch; the Nokia 6.1 Plus comes with an all-new glass design that makes it stand out in this segment, and the internal hardware has also received a boost. The phone is powered by a Snapdragon 636, and comes with 4GB of RAM and 64GB of storage as standard.
In short, the Nokia 6.1 Plus is HMD's most ambitious effort yet in the budget category.
Pros:
Android One
Excellent display
Premium design
Great for one-handed use
Robust hardware
Cons:
Notch
Average low-light camera
Nokia 6.1 Plus What I like
The Plus moniker in the Nokia 6.1 Plus' name is in reference to the larger 5.8-inch display. HMD went with a notched panel to maximize the screen real estate, and the 19:9 FHD+ screen is one of the best in this category. Colors are vibrant, viewing angles are excellent, and the phone doesn't have any issues with sunlight legibility. There's also a layer of Gorilla Glass 3 at the front and back to protect from tumbles, and the 2.5D curved front makes it easier to use the phone.
Even though the Nokia 6.1 Plus has a screen that's 0.3 inches larger than the Nokia 6.1, it is more compact than the standard model. Coming in at 147.2 x 71 x 8mm, the Nokia 6.1 Plus is shorter, narrower, and thinner than the Nokia 6.1 (148.8 x 75.8 x 8.2mm), a fact that's immediately noticeable once you start using the device. It is almost as compact as the Pixel 2, making it the perfect device for one-handed usage.
The glass back doesn't have a reflective pattern like the Honor 10 or the Huawei P20 Lite, and what the device is missing in design flourish it makes up in durability. There's an aluminum frame sandwiching the glass front and back, and although the Nokia 6.1 Plus isn't as durable as the standard model, it can still weather a few tumbles.
It's a good thing too, because the Nokia 6.1 Plus is one of the most slippery phones available today, and it managed to slide off flat surfaces no less than five times in just under a week. There wasn't any damage aside from a minor dent on the frame, but if there's ever a device that needs to be used with a case, it's this one.
Rounding out the design, there's a dual camera system arrayed vertically at the back, and a fingerprint sensor located underneath. The sensor isn't located quite where your finger rests at the back, but the minor indent makes it easy to locate the module and unlock the phone. The Nokia 6.1 Plus has a single speaker located next to the USB-C port at the bottom, and a 3.5mm jack up top. The volume and power buttons are located on the right.
Like most phones in this segment, the Nokia 6.1 Plus comes with a hybrid SIM card tray that sees the secondary SIM slot doubling up as a MicroSD slot. The Nokia 6.1 Plus has Wi-Fi ac, Bluetooth 5.0, and FM radio, but it is missing out on NFC.
| Specs | Nokia 6.1 Plus |
| --- | --- |
| Screen | 5.8-inch 19:9 FHD+ (2280x1080) IPS LCD |
| Chipset | Snapdragon 636 |
| RAM | 4GB |
| Storage | 64GB |
| Software | Android 8.1 Oreo |
| Rear Camera 1 | 16MP, ƒ/2.0 |
| Rear Camera 2 | 5MP, ƒ/2.4 |
| Front Camera | 16MP, ƒ/2.0 |
| Security | Rear fingerprint |
| Battery | 3060mAh |
| Connectivity | Wi-Fi 802.11 ac, BT5.0, FM radio |
| Colors | Gloss Midnight Blue, Gloss Black, Gloss White |
| Dimensions | 147.2 x 71 x 8mm |
| Weight | 151g |
| Price | ₹15,999 |
Powered by a Snapdragon 636, the Nokia 6.1 Plus is the most powerful budget phone HMD has launched to date. I didn't notice any lag in the three weeks I used the phone, and the robust chipset coupled with 4GB of RAM is the sweet spot in this category.
The 3060mAh battery also managed to deliver a day's worth of use consistently. The phone offers Quick Charge 3.0, but the charger included in the case goes up to just 5V/2A. I averaged over five hours of screen-on-time over the course of a day, and while the phone doesn't hold up to the likes of the Redmi Note 5 Pro in this area, it is more than enough to last an entire day.
It's business as usual on the software side of things. Like the rest of HMD's portfolio, the Nokia 6.1 Plus runs Android One out of the box and comes with two years of platform updates and three years' worth of security updates. The phone is currently on Android 8.1 Oreo, and HMD says it will deliver the Android 9.0 Pie update before the end of the year.
The Finnish brand has done a magnificent job in terms of rolling out timely updates across its entire portfolio, and there isn't a brand that comes close to HMD in this regard. If you care about updates, picking up a HMD phone is a no-brainer.
The 12MP + 5MP rear cameras on the Nokia 6.1 Plus do a great job in daylight conditions, with images offering plenty of detail and decent dynamic range. HMD is also rolling out its Bothie feature — which lets you take a photo with both the front and back cameras simultaneously — to the device.
Nokia 6.1 Plus What needs work
Honestly, there's very little wrong with the Nokia 6.1 Plus. The main issue with the device is that it has a notch, which feel unnecessary as there's a substantial chin. But as we've seen in recent weeks, it looks like HMD is standardizing the notch across all of its devices, so it looks like it is a feature that's here to stay, at least for a generation or two.
The other drawback with the Nokia 6.1 Plus is the fact that it isn't particularly great at taking photos in low-light conditions. The sensors struggling to capture any meaningful amount of detail, and there's a lot of noise in the resultant shots. This isn't an issue that is exclusive to the Nokia 6.1 Plus; most budget phones struggle with low-light images.
Should you buy it? Absolutely
It took HMD three attempts, but it has finally delivered a budget phone that can take on the likes of Xiaomi and Honor. The Nokia 6.1 Plus is one of the best phones at this price point, and the design coupled with HMD's track record at rolling out updates makes this a great option if you're in the market for a new device.
The hardware on offer is identical to what you get with the Redmi Note 5 Pro or the ASUS ZenFone Max Pro M1, and while the Nokia 6.1 Plus costs slightly more than ASUS' offering, the promise of quick updates and the design flair more than justify the price.
4.5 out of 5
Nokia phones aren't necessarily known for aggressive pricing, but HMD is changing its strategy with the Nokia 6.1 Plus, particularly in India. The phone is available in the country for just ₹15,999 ($215), making it an enticing alternative to the Xiaomi Mi A2. The Mi A2 has beefier hardware in the form of a Snapdragon 660 — and better cameras — but the Nokia 6.1 Plus is ideal if you're looking for a compact phone with a gorgeous design.
Harish Jonnalagadda is a Senior Editor overseeing Asia at Android Central. He leads the site's coverage of Chinese phone brands, contributing to reviews, features, and buying guides. He also writes about storage servers, audio products, and the semiconductor industry. Contact him on Twitter at @chunkynerd.
Was expecting Nokia 9 to be launched today.

Same here, when the Nokia 8 and 8 Sirocco are put out to pasture all Nokia will have is mid range and bargain basement devices!!!

So...this phone would work fine with the Jio 4g?
Great price, actually beats the 6.1 4gb price, odd but welcomed! :D

Yeah. It works just fine on Jio.

is this the same phone as the 6x?

Cool. Nice device. Everything you need, nothing you don't.

This is probably only going on sale in India I'm guessing? A Co worker of mine goes home to visit his family in India a month a year and always comes home with a cool new phone that we can't get here in the US. Problem is that most only get a couple of LTE bands that work here in the US. That's too bad because phone prices here in the US are getting out of control. We only get the regular 6.1 with only 3 gb RAM / 32gb Storage for around $260 usd.

This is limited to India for now, but it will launch in other markets.

I feel bad for anyone who recently purchased the 6.1 now that the Plus is being released.
The low light photo quality isn't outstanding, but it isn't horrible either.

Surprised it doesn't have Zeiss optics like the normal 6.1

Another freaking phone with a notch. Pass.

I can't believe phones are shipping without NFC still.

Completely agree. Why is this still happening!?

An absolute deal breaker for me, unfortunately.

I've never once used NFC.

I use NFC several times a day. It's great, but I acknowledge it's not everyone's cup of tea.

If only HMD would bring all of it's handsets to the USA and cover all the major LTE bands in the US. I would absolutely love to buy a Nokia but being a T-Mobile user it will never happen until they do that.

I totally agree! It's like to try out a Nokia and a One Plus, but neither is big red friendly.

The 6.1 works fine on T-Mobile.

HMD phones will work on all US carriers that aren't retarded and stick to outdated tech standards.
In other words, you'll only be out of luck if you use Verizon or Sprint.

Exactly my thoughts, that and not having to go through something like GearBeast. I do like a warranty and I do want LTE coverage.

This is good news for all those in anticipation of this phone
For me, the Start of something great from Nokia will only occur when there is a global release on the 9 or 9 plus or 10 or whatever they are gonna end up calling it

Wasn't the Nokia X the frist Nokia phone to run android?

"The phone isn't nearly as proficient when it comes to low-light scenarios, with the sensors struggling to capture detail. There was also noticeable shutter lag in a few cases, but this should hopefully be fixed in a future software update." Lol, all their phones have bad cameras. This won't be fixed.

Are we finally going to get Harish in the AC podcast this week?

I'm traveling this week, but I'll see if I can do the next one. Lots of interesting phones launching here this month.

I love Nokia and their Android phones are understated excellence.

Why are they hiding these phones from the United States?

Agree...I need alternatives to Samsung and those stupid curved screens.

What do you mean stupid curved screen? They are not an eye candy gimmick, and can be useful for... for.. for... Hold on, I'm thinking!

It looks like a really good phone for that price. I would not expect the camera to be stellar, but it seems to be appropriate for the price. You ever notice how companies are trying to use wallpapers that hide the notch or make the notch blend in? It's subliminal acknowledgement that nobody wants to look at it!

This notched abortion that violates all of real Nokia's design guidelines isn't the start of anything great. Unless it's a great piece of sh*t. That moron Sarvikas should have been fired long ago. Instead of releasing increasingly better phones, all we're getting are sh*ttier and sh*ttier phones. After hitting rock bottom by using stock Android instead of a good version of it, they've now started digging a hole with stolen designs.

As opposed to Samsung who "stole" designs from Apple and have the Samsung Experience infesting every single product they put out. Any Nokia device in their lineup would smoke the equivalent Samsung device in performance tests!!!!

How's the loudspeaker for video calls using apps like Skype and WhatsApp video?

There must be a garage sale on SD 630 and 636. Seems like every "mid range" phone uses these. Don't they know the SD 660 is also available?

"and the 2.5D curved front makes it easier to use the phone." Why does anyone think, for even a moment, that curved glass - any curve - would make a phone easier to use??? This is one of the dumbest statements I've read in some time. FLAT screens are the best because you can find tempered glass screen protectors that fit properly. However, if in fact they are using gorilla glass 3 then that is the best glass you can use short of sapphire.

I thought Nokia would be the company to abandon glass backed phones, but no such luck.

Is the Nokia 7.1 going to be launched in India? From the specs they're almost the same :)

This notched screen to body ratio is amazing

« It makes up in durability » When apple or samsung makes glass phone it is said to be fragile but not nokia ?!
Android Central Newsletter
Get the best of Android Central in in your inbox, every day!
Thank you for signing up to Android Central. You will receive a verification email shortly.
There was a problem. Please refresh the page and try again.