Android One: Everything You Need to Know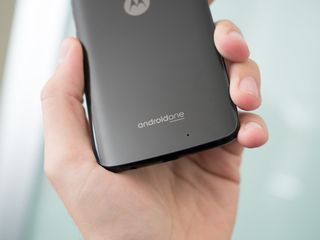 Depending on where you live, "Android One" means something different. It will also have varying levels of importance — if you've heard about it at all, that is. Android One is a Google initiative that's been around since 2014, and though the goal of the program has changed since it launched it still remains an important part of Google's strategy of bringing a cleaner, more consistent Android experience to more people around the world.
Here's everything you need to know about Android One — past, present and future.
Where Android One began
When it was first introduced back in 2014, Android One was a distinct version of Android designed for low-end phones in developing countries. But the program went beyond just software — it was truly a software and hardware partnership with Google helping a variety of manufacturers like Micromax, Spice, Karbonn, Mito, Nexian, Cherry Mobile and others make inexpensive phones ($100 and under) that still hit a minimum standard of quality and performance.
Android One was a program designed to bring Android to the "next billion" users who couldn't afford typical Android phones. The phones ran what we'd consider "clean" Android with very few customizations, and focused on speed and fluidity despite their low-end specs. It was an ambitious idea with lots of moving parts, and people who bought a cheap Android One phone undoubtedly got a better experience than they would with any other random phone of the same price.
For a variety of reasons, Android One never really seemed to take off as designed. The phones weren't very good looking, weren't clearly differentiated to consumers and definitely weren't marketed strongly. Some companies found success working with Google to release these inexpensive phones that performed better than the similarly priced competition, but others went back to doing things the way they did originally. "Android One" as a brand didn't really matter at these low-end price points so much as the price and some niche features did.
And so, Google repositioned the brand.
What Android One means today
Fast forward to 2018, and Android One means something entirely different. Android One phones are no longer exclusively low-end or entry-level, and aren't exclusive to emerging markets anymore. Instead, Google is partnering with bigger brands for more expensive phones and selling them in new markets like Western Europe and North America. This new breed of Android One phones are made by companies like Xiaomi, Motorola and HTC, and are priced in the $250 to $400 range — hardly budget devices when compared to where Android One started.
Nokia has even begun offering more expensive flagship-tier Android One options with the 7 Plus and Nokia 8 Sirocco. This comes after the company announced a partnership with Google, and committed to using Android One on almost all of its phones moving forward.
With these higher prices, Android One could really be set free. These phones have compelling designs, nicer materials, bigger screens, better internal specs and performance, good cameras, and a company name on the back you may have actually heard of before. But all of these improvements simply build on the core of what Android One was originally all about: giving you a clean, Google-sanctioned software experience. Every phone has the same basic software, with just a few extras thrown in. Google lays it out pretty clearly on its Android One website: "Everything you want. Nothing you don't."
Android One phones don't have a bunch of manufacturer or carrier software customizations. From one to the next, they work the same. In many ways, they operate just how Nexuses and Pixels do. They have all of Google's apps built in, and Google makes sure that the software operates to a high standard. Perhaps most importantly for a less-expensive phone, Google also guarantees two years of software updates.
The beauty of these new Android One phones is that they appeal to both novices who want the simplicity of the experience and enthusiasts who understand the value of having Google-backed software. They're great for someone who just wants a smartphone to do the basics, but also someone who appreciates a Google Pixel 2 and just wants to spend a bit less.
Android Go takes the reins for the 'next billion'
Google making the decision to move Android One from the super-entry-level devices up to mid-range and even flagship offerings didn't mean it was going to leave those next billion users out in the cold, though. At Google I/O 2017, a new initiative called "Android Go" was announced. Android Go isn't a replacement for the Android One program, but it aims to address the super-low-end smartphones originally targeted by One.
Android Go is simply a configuration of the operating system, going forward starting with Android 8.0 Oreo, that tweaks and optimizes the software for phones with very low specs — we're talking about 8GB of storage and 512MB of RAM here. Android "Go edition" gives manufacturers that target low-end specs a version of the operating system that can make these phones run smoothly and efficiently — and unlike Android One originally, there's no further partnership there. They can keep making phones how they want, and benefit from the streamlined version of the operating system.
Android Go uses less memory to run the operating system, and takes up less internal storage so there's more left over for the user. Critically, Google has also designed "Go" versions of its core apps that do the same — there's Google Search, Assistant, Gboard, Maps, Gmail and more. It's all designed not only to be lightweight and simple, but also tweaked for the types of situations where these phones will be used. Data-saving settings are turned on by default, things more aggressively pre-cache and download while the phone is on Wi-Fi, the operating system has peer-to-peer sharing without a network, and so on.
But just like Android One, Android Go has the simplicity and security of being offered and sanctioned by Google. You get the same basic security improvements that any phone running any version of Oreo would, even though your phone cost the equivalent of $85.
Android Go in many ways continues the original vision of Android One, and does so in a bit looser way that really targets the next billion users who will be coming online with a smartphone as their first taste of the internet. Not only is it a good solution for this problem, but it also lets Android One itself grow and expand to bring this idea of a clean Google software experience to even more people in more places.
Where can I get an Android One phone?
What Android One phones are available really depends on where you live. We have a list of all Android One phones available that you can check on as we update it regularly. Google also maintains its own list of available Android One phones.
Be an expert in 5 minutes
Get the latest news from Android Central, your trusted companion in the world of Android
Hayato was a product reviewer and video editor for Android Central.