Android One: Everything You Need to Know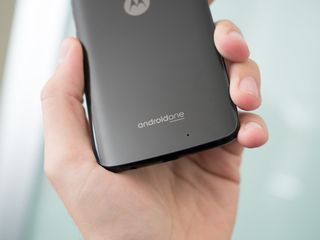 Depending on where you live, "Android One" means something different. It will also have varying levels of importance — if you've heard about it at all, that is. Android One is a Google initiative that's been around since 2014, and though the goal of the program has changed since it launched it still remains an important part of Google's strategy of bringing a cleaner, more consistent Android experience to more people around the world.
Here's everything you need to know about Android One — past, present and future.
Where Android One began
When it was first introduced back in 2014, Android One was a distinct version of Android designed for low-end phones in developing countries. But the program went beyond just software — it was truly a software and hardware partnership with Google helping a variety of manufacturers like Micromax, Spice, Karbonn, Mito, Nexian, Cherry Mobile and others make inexpensive phones ($100 and under) that still hit a minimum standard of quality and performance.
Android One was a program designed to bring Android to the "next billion" users who couldn't afford typical Android phones. The phones ran what we'd consider "clean" Android with very few customizations, and focused on speed and fluidity despite their low-end specs. It was an ambitious idea with lots of moving parts, and people who bought a cheap Android One phone undoubtedly got a better experience than they would with any other random phone of the same price.
For a variety of reasons, Android One never really seemed to take off as designed. The phones weren't very good looking, weren't clearly differentiated to consumers and definitely weren't marketed strongly. Some companies found success working with Google to release these inexpensive phones that performed better than the similarly priced competition, but others went back to doing things the way they did originally. "Android One" as a brand didn't really matter at these low-end price points so much as the price and some niche features did.
And so, Google repositioned the brand.
What Android One means today
Fast forward to 2018, and Android One means something entirely different. Android One phones are no longer exclusively low-end or entry-level, and aren't exclusive to emerging markets anymore. Instead, Google is partnering with bigger brands for more expensive phones and selling them in new markets like Western Europe and North America. This new breed of Android One phones are made by companies like Xiaomi, Motorola and HTC, and are priced in the $250 to $400 range — hardly budget devices when compared to where Android One started.
Nokia has even begun offering more expensive flagship-tier Android One options with the 7 Plus and Nokia 8 Sirocco. This comes after the company announced a partnership with Google, and committed to using Android One on almost all of its phones moving forward.
With these higher prices, Android One could really be set free. These phones have compelling designs, nicer materials, bigger screens, better internal specs and performance, good cameras, and a company name on the back you may have actually heard of before. But all of these improvements simply build on the core of what Android One was originally all about: giving you a clean, Google-sanctioned software experience. Every phone has the same basic software, with just a few extras thrown in. Google lays it out pretty clearly on its Android One website: "Everything you want. Nothing you don't."
Android One phones don't have a bunch of manufacturer or carrier software customizations. From one to the next, they work the same. In many ways, they operate just how Nexuses and Pixels do. They have all of Google's apps built in, and Google makes sure that the software operates to a high standard. Perhaps most importantly for a less-expensive phone, Google also guarantees two years of software updates.
The beauty of these new Android One phones is that they appeal to both novices who want the simplicity of the experience and enthusiasts who understand the value of having Google-backed software. They're great for someone who just wants a smartphone to do the basics, but also someone who appreciates a Google Pixel 2 and just wants to spend a bit less.
Android Go takes the reins for the 'next billion'
Google making the decision to move Android One from the super-entry-level devices up to mid-range and even flagship offerings didn't mean it was going to leave those next billion users out in the cold, though. At Google I/O 2017, a new initiative called "Android Go" was announced. Android Go isn't a replacement for the Android One program, but it aims to address the super-low-end smartphones originally targeted by One.
Android Go is simply a configuration of the operating system, going forward starting with Android 8.0 Oreo, that tweaks and optimizes the software for phones with very low specs — we're talking about 8GB of storage and 512MB of RAM here. Android "Go edition" gives manufacturers that target low-end specs a version of the operating system that can make these phones run smoothly and efficiently — and unlike Android One originally, there's no further partnership there. They can keep making phones how they want, and benefit from the streamlined version of the operating system.
Android Go uses less memory to run the operating system, and takes up less internal storage so there's more left over for the user. Critically, Google has also designed "Go" versions of its core apps that do the same — there's Google Search, Assistant, Gboard, Maps, Gmail and more. It's all designed not only to be lightweight and simple, but also tweaked for the types of situations where these phones will be used. Data-saving settings are turned on by default, things more aggressively pre-cache and download while the phone is on Wi-Fi, the operating system has peer-to-peer sharing without a network, and so on.
But just like Android One, Android Go has the simplicity and security of being offered and sanctioned by Google. You get the same basic security improvements that any phone running any version of Oreo would, even though your phone cost the equivalent of $85.
Android Go in many ways continues the original vision of Android One, and does so in a bit looser way that really targets the next billion users who will be coming online with a smartphone as their first taste of the internet. Not only is it a good solution for this problem, but it also lets Android One itself grow and expand to bring this idea of a clean Google software experience to even more people in more places.
See Nokia 1 at Nokia (opens in new tab)
Where can I get an Android One phone?
What Android One phones are available really depends on where you live. We have a list of all Android One phones available that you can check on as we update it regularly. Google also maintains its own list of available Android One phones.
These are all of the Android One phones available today
Hayato was a product reviewer and video editor for Android Central.
So when I want to jump ship from Windows Mobile 10 to Android, and I want to use the MS Launcher Arrow, am I better off getting an Android One device rather than something that has the manufacturer's custom UI, or does it matter at all?

Doesn't matter. You can add a custom launcher to any Android device. The difference between Android, Nexuses, and Pixels is those should get more frequent updates.

Okay, thanks! I wasn't sure if having a UI running over top of Andriod and then using a launcher would affect performance at all. I have never owned an Android device.

Launchers downloaded from the store only affect the Home Screen experience; they do not modify the notification shade, the Settings menus, or other UI elements.

You can add a 3rd party launcher to any Android phone. But that doesn't change the rest of the UI of the phone, only the home screen and app drawer. So those manufacturer customizations still come through in terms of the lock screen, notifications, settings, apps and other interface elements like pop-ups and dialogue boxes.

How does it affect phones running pure Android without any manufacturer customizations or UI? I have played with my wife's Android phone and found skinning themes to make Android look like Windows Mobile, but for me it's more about making the MS apps default since those are what I use all the time.

Changing the launcher only ever changes the launcher/home screen/app drawer interface. no matter the phone. There are further theme options in most phones, but that's not necessarily tied to your launcher. Some launchers are more theme-friendly in how they let you customize their colors and app icons, but typical "themes" involve changing the rest of the phone's interface. That process differs depending on what phone you have, and whether it has a built-in theme engine or support for 3rd party themes.

I just jumped from windows 10 to android with the MI A1, great valued device. And on Android one, the Microsoft Launcher works at fantastic but it should work on all Android devices. Also Microsoft apps are easily found in store or many found as shortcuts in the launcher. Overall, outside of a couple missed features, a fine experience.

I was hoping that the US released Moto Android One X4 would receive the same OS love that Nexus and Pixel models do. Nope. And not able to join in on the Android Beta Program, either. I tried. Was denied. Sad. Bring back the Nexus line, Google. I loved my Moto Nexus 6. Used it for 3 years. Make Nexus mid-level. Pixels (premium) are too damn expensive. Make Android One's your budget offering, and give them the same love that Nexus and Pixels enjoy.

Well Google never made any sort of claim that the Android One devices could be part of the beta program. It doesn't make sense for Google to expand the beta program to so many devices. The whole idea of the beta program is to help Google build and test the next OS — and building it for a dozen different devices just slows the process down.

I wonder if Android One phones are bootloader unlockable. That would make them true Nexus replacements. Maybe you wouldn't get early Google-sanctioned betas, but they'd get lots of love from 3rd party ROMs, which would get you a lot more than 2 years of updates - assuming they don't have oddball hardware that the likes of LineageOS can't support without access to blobs from the manufacturer...

For all that they could've just kept the Nexus program. Google always has to create a new program just to abandon it for no reason years later for another one instead of just building or using the existing brand. I want another Nexus dammit.

The Pixel is the continuation of the Nexus line. Google had to scrap the Nexus name because things got really convoluted. They got to Nexus 6, then Nexus 6P and 5X, they couldn't just name the next phone Nexus 7 because there was already a Nexus 7 device (a tablet). I'm not sure why people are confused about this. PS. I liked the Nexus name better than "pixel", IMO they should've went with something like Nexus 6 (2017) to just designate the year the phone was produced, but from the marketing perspective that isn't as good.

We shouldn't rely on hardware for patch updates. Google should be like Microsoft in terms of updates. Microsoft laptops and desktops will get updates from Microsoft regardless of age of hardware and support from the hardware vendor.

Windows like updates can't work the way Android model works. The phone makers compile their own code specific to the hardware. Windows supplies the compiled binary OS to PC makers. But agree that Android needs to shift the model. Correct me if I'm wrong but I think with Android One, phone makers still compile their own code. Not sure.

Didn't early Android One phones have to use specific standard internals - so that Google could provide the binaries for them? Is that out the window with this new generation of mid-range Android One's?

The Android One version of the Moto X4 is a good phone, but it has some of the same quirky software glitches that Nexus phones used to have. Moto display is hit or miss, and there is some lag. But Bluetooth works well, which is not something that was always true with Nexus phones. Is it worth $399? Borderline. $349 with a Google Home Mini? Yes.

Does it have Moto Voice??? I really miss Moto Voice on my Galaxy S8. Moto Voice was simple...yet it WORKED. Moto Display was also a Great feature!

Unfortunately, no. It just has Google Assistant, which is janky sometimes. I really liked Moto Voice on my 2014 Moto X. It answered calls, and responded voice commands much better than Google Assistant. The regular X4 does have Moto Voice, but even that has been stripped down to "show me" commands.

I - really - like what Google has done here... As a past database hobbyist programmer; updates, security updates were a high priority to get them out to my customers. I believe it shows integrity, and a commitment to your clients. My biggest take \ hope here is the mid-range and lower phones would get security updates unlike now which I believe they get little or simply none. The mid to older generations are learning what they can do on their - phone - slash - portable computer - now days and are very unaware of their consequences of what they do or leave open for possible exploits. I see this all of the time... That's why I sincerely like this approach.

The Moto E4 is a pretty decent phone and runs normal Android, I bought one for my daughter for 95 EUR and I am totally amazed with what that money can give you nowadays.

I wonder if Google Camera will be available in the Android One Devices, it would be really nice if does;

Does an Android One device work only on Fi or can it be used with any Carrier?

From my understanding Android One phones should be able to use any carriers network. So long as the bootloader is unlocked and you have the proper radios in the device. The Moto X4 is the android one version that has the capability to use Fi to it's fullest. Many of the other AO phones may not be that capable.

Stupid Question Alert! If Android One is all about this Android and Google experience. Then why doesn't the Pixel phones use Android One? I'm obviously not making "the connection" on this concept.

I like where Android One is headed but I'm interested in the Pixel line, now O know Android One and pure Android on the Pixel is virtually no different from each other but the extra year of updates swing it towards the Pixel line for me and the Pixel 2 XL is my next phone but an Android One is a great fall back option.

Everyone considering Android One Phones as mid range Pixels should be aware that at the moment, at least the HTC U11 Life Android One doesn't get the actual Android Version nor actual security patches. Latest should be Android 8.1 with March Updates, but is 8.0 with Update from January 1. Only thing you get is stock Android, which isn't that great without the Updates imo.
Android Central Newsletter
Thank you for signing up to Android Central. You will receive a verification email shortly.
There was a problem. Please refresh the page and try again.