Nokia commits to Android One software on smartphones Nokia 3 and above going forward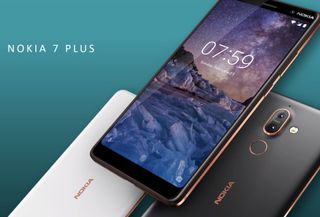 Nokia's making some waves in the Android market, and came out swinging in 2017 with several phones at affordable price points with solid design and really good specs. Its phones have been lauded for offering a very clean and well-performing version of Android, both with its initial Nougat builds and later with Oreo updates.
Now, the company says it's partnering with Google and committing to using the Android One software on all of its smartphones going forward. That means everything at the Nokia 3 level and above — the Nokia 1 is an Android Go phone, and the featurephone-level devices like the Nokia 8110 aren't running Android in the first place.
Starting with the new Nokia 8 Sirocco and Nokia 7 Plus, we're going to see Nokia's phones ship with the Android One "version" of Android — currently, 8.0 Oreo. I put "version" in quotes because it's important to understand that Android One isn't a separate track of Android at all — it's functionally identical, but simply passes an extra level of scrutiny from Google in terms of performance, functionality and user experience; plus a full suite of Google's apps and services, of course. In return for playing by Google's rules, you get help in terms of software updates and support. Win-win, really.
Functionally there isn't a whole lot different between what Nokia was already doing with software and what Android One promises to offer, but this Google partnership does provide a bit of confidence and credence to the Nokia brand as its reinvents itself.
Having Google's stamp of approval to make these new phones Android One "certified" (for lack of a better term) helps give potential buyers confidence that the performance and experience will be solid — and of course it also comes with a guarantee of two years of platform updates. The €399 Nokia 7 Plus is precisely the kind of phone the Android One program has started to target recently, with really good specs and interesting hardware at an affordable mid-range price. At the same time, the €749 Nokia 8 Sirocco is immediately the most expensive Android One phone by a wide margin — but even though it has high-end specs it can still benefit from the Google-sanctioned software experience.
We don't have details on what this means for Nokia's current handful of phones that shipped in the last year, but my best guess is that they continue on their own software paths as they're slowly replaced by new models under the Android One software branding.
Press release:
Introducing five new Nokia phones
Pure, secure and up-to-date Android reinforced with smartphone portfolio commitment to Android One programme
Barcelona, Spain, 25 February 2018 – HMD Global, the home of Nokia phones, today announced four new additions to its award-winning portfolio of Android smartphones – Nokia 8 Sirocco, Nokia 7 Plus, new Nokia 6 and Nokia 1. Delivering all the craftsmanship you expect from a Nokia phone, each new smartphone offers durability and reliability as standard, with the range setting new benchmarks in materials and design.
Furthering its promise to a pure, smart, secure and up-to-date Android experience, HMD Global also announced it is to become the first global partner to have a full suite of devices selected into the Android One programme by Google. The unwavering commitment to deliver a pure, secure and up-to-date Android experience has ensured Nokia smartphones were a natural fit for the global programme.
In addition to these stunning new Android smartphones, the iconic Nokia 8110 is reloaded, delivering 4G connectivity, apps including Google Assistant, Google Maps, Google Search, Facebook and Twitter, and the return of the slider phone.
Pure, secure and up-to-date reinforced with Android One commitment
Three new Nokia smartphones – the Nokia 8 Sirocco, Nokia 7 Plus and the new Nokia 6 – join the Android One family, offering a high quality software experience designed by Google. Each phone will stay fresh over time with the latest AI powered innovations to the highest grade of security from Google. With a pure Android installation, Nokia smartphones come with no unnecessary UI changes or hidden processes that would eat up battery life or slow them down so you can enjoy your new phone for longer. Each of the new phones comes with a limited number of pre-installed apps so that you'll get more storage space, as well as the latest innovations that help you stay ahead of the game every day.
By shipping with Android Oreo™ out of the box, you'll be able to enjoy the latest features, including Picture-in-Picture for multitasking, Android Instant Apps to discover and run apps with minimal friction, 60 fantastic new emojis and battery-maximising features like limiting background app use.
Juho Sarvikas, Chief Product Officer of HMD Global, said:
"We pride ourselves on making smartphones that address real-world needs. Our commitment to pure, secure and up-to-date Android is core to our strategy and is loved by consumers. Today, we take that commitment to a deeper level by becoming the lead partner for the Android One programme globally, delivering an experience that is endorsed by Google."
Pekka Rantala, Executive Vice President & Chief Marketing Officer of HMD Global, said:
"A smartphone is an everyday partner and something people need to know they can rely on. Last year we promised that we would deliver on all the hallmarks of a true Nokia phone experience and that we would live up to the trust people have in the Nokia brand. This year, we are delighted to join the Android One programme that reinforces our commitment to pure, secure and up-to-date Android and makes us a natural choice. Today, with our expanded portfolio, we feel every consumer can pick a Nokia phone they can truly rely on."
Jamie Rosenberg, VP, Business & Operations, Android & Google Play:
"Android One is our flagship partner programme, and this comprehensive line-up of new Nokia smartphones represents our biggest partnership to date. Now, users around the world can find the perfect device to fit their needs and know they're getting a high-quality hardware and software experience that's smart, secure, and simply amazing."
Get the Android Central Newsletter
Instant access to breaking news, the hottest reviews, great deals and helpful tips.
Andrew was an Executive Editor, U.S. at Android Central between 2012 and 2020.
Fantastic news. HTC should follow suit

Nokia and HTC are globally on two entirely different levels of cult/popularity, reputation and reliability, so I doubt even if they tried, they would have the same impact. That said, im curious as to when they will be releasing the new camera update ..they mentioned it but didnt mention when we could see the update.

Only for phones with Zeiss optics. If you don't have the nokia 8 or 7 from last year you won't get it....

Before somebody says they're becoming the spiritual successor to the Nexus Somewhat. They need unlockable bootloaders and developer support if they were to really be a spiritual Nexus successor. Does it need them to be a good phone? Not entirely, but third-party dev support from the likes of XDA was a Nexus thing.

I think it won't be a problem since Nokia announced partnership for the Android One Program. Xiaomi's Mi A1 bootloader is unlockable, so does the Moto X4 and HTC's U11 Life which is also under the Android One Program. Kernel source wouldn't be a problem now since it has a seperate Vendor Partition thanks to Project Treble that is required to be included in Android 8.0 (Google's certification process) and above so loading custom ROM is a breeze.

HMD's Chief Technology Officer said in September they'd look into unlocking one phone at a time. But I guess third-party developers would need to pick one and show enough interest first before they would allow the unlocking of the phone.

Honestly, if I can get an unbloated, pixel like experience with 2 years of security updates, solid hardware and half the price of a pixel 2XL. I don't need to be able to unlock the bootloader and root.

The Verge was none too impressed with the performance of the Alcatel 1X, saying the performance was bad even for a phone of that price. Hopefully these are kinks that can be worked out soon. Overall not a bad movie on Nokia's part, should score some points with phone nerds.

Isn't the Alcatel 1X part of the Android "Go" program? From what I've read, I think the Android One program has stricter hardware and software requirements.

Is The Verge ever impressed with anything that isn't an iPhone?

They are, but only if it still has an bitten Apple on it.
So, in reality, no. ;-)

Hopefully we can buy these in the US. They don't seem very interested in making most of these Android one phones available.

I think the new Nokia 6 will be available from Amazon, it sold well there. The others I'm not sure. I'm hoping they all are available in the US, I really want the 7 plus 😍😍😍

me too. I'll import it if I have to.

Does that Nokia 7 have an in/on display fingerprint scanner?

No, it has a rear fingerprint sensor.

I wouldn't expect in screen fingerprint sensors in budget phones for a couple years. We might see a new Pixel or Note 9 with it, but I'm thinking 2019 will be the year most flagships will have it.

I'm really looking forward to the 7 Plus, this is the phone I'm waiting for!

I'm more interested in the new Nokia 8 but I'm going for the Pixel 2 XL as its made by Google and it's not Android One so ill get updates from day 1 plus the camera on the Pixel 2 XL will obviously be miles better than either the Nokia 7 Plus and 8.

Google phones still get updates first but Android One phones should be next up on the list.....in theory

This is news I welcome very much. Only way I'd consider Chinese manufactured phones is if they're Nexus/Pixel/Android One supported. Who knows, maybe when my Nexus 6 finally croaks and I can't resurrect it, I'll buy a Nokia.

You do know that HMD Global isn't a Chinese company?