Xiaomi Mi A1 review: Best of both worlds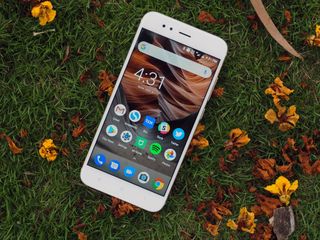 Of the hundreds of phones sold in the budget segment every year, a mere handful of devices stand out: the Moto G series, for instance, along with the likes of Xiaomi's Redmi Note phones, Lenovo's K series, and Honor's budget devices.
In 2017, that list is dominated by Xiaomi's phones. The Redmi Note 4 continues to be one of the best devices in the sub-₹15,000 segment seven months after its launch, and the Redmi 4 and Redmi 4A offer excellent bang for your buck in the sub-₹10,000 tier. Then there's the Mi Max 2, which for ₹16,999 offers a large 6.44-inch display backed by a gorgeous aluminum unibody design.
Xiaomi's aggressive positioning in the budget segment allowed the brand to catapult up the rankings, with the manufacturer now the second-largest phone vendor in India. The Redmi Note 4 and Redmi 4 are two of the best-selling phones in the country this year, and with its latest phone, Xiaomi is set to consolidate its position in this category.
The Mi A1 is a great phone in its own right, but Xiaomi's decision to partner with Google to deliver stock Android makes it a much more compelling option. A small but vocal minority of Xiaomi fans have been clamoring for a device with clean Android for some time now, and with the Mi A1, the brand has delivered just that.
Read on to find out why the Mi A1 is the best budget phone you can currently buy in India.
About this review
I (Harish Jonnalagadda) am writing this review after using the Mi A1 for two weeks in Hyderabad, India on Airtel's 4G network. The phone runs Android 7.1.2 Nougat out of the box along with the August 1, 2017 security patch. The unit was provided to Android Central for review by Xiaomi India.
Xiaomi Mi A1 Specs
Category
Spec
Operating System
Android 7.1.2 Nougat
Display
5.5-inch IPS LCD 1920 x 1080 (403ppi)
Gorilla Glass, 2.5D curved glass
Processor
Qualcomm Snapdragon 625
2.0GHz octa-core Cortex A53
14nm FinFET
GPU
Adreno 506
RAM
4GB
Storage
64GB
Expandable
Yes, up to 128GB
Battery
3080mAh
Charging
USB-C
Rear Camera 1
12MP wide-angle (OmniVision OV12A10) f/2.2, 1.25-micron pixels
Dual tone flash, PDAF
4K@30FPS
Rear Camera 2
12MP telephoto (OmniVision OV13880) f/2.6, 1.1-micron pixels
Front Camera
5MP
1080p video
Connectivity
Wi-Fi 802.11 ac, Bluetooth 4.2
IR blaster, 3.5mm jack
GPS/AGPS, GLONASS, BeiDou
Audio
3.5mm headphone jack
Dedicated amplifier
Security
One-touch fingerprint sensor at the back
SIM
Dual SIM slot (hybrid slot)
Dimensions
155.4 x 75.8 x 7.3mm
165g
Colors
Black, Gold, Rose Gold
Xiaomi Mi A1 Hardware
The Mi A1 is a rebranded variant of the Mi 5X, which sports an all-metal chassis with antenna lines at the top and bottom. There's a clear difference in the design language between the Redmi series and phones in the Mi lineup, with the latter featuring a more refined aesthetic. As a result, the Mi A1 makes recent devices like the Redmi Note 4 look outdated.
The clean lines combined with the aluminum chassis gives the Mi A1 a premium look, and the build quality is outstanding. The phone comes with a 3.5mm jack, and unlike the Redmi Note 4, there's a USB-C charging port at the bottom. The power and volume buttons at the back provide a decent amount of tactile feedback, and there's an IR blaster located up top.
The back of the device is where things get interesting, with the Mi A1 sporting a dual camera setup. The configuration is the same as that of the Mi 6 — a primary sensor augmented by a secondary telephoto lens — but Xiaomi is using different imaging sensors.
The positioning of the dual camera to the top left corner coupled with Xiaomi's decision to tuck the antenna bands at the top and bottom of the device means the Mi A1 has more than a passing resemblance to the OnePlus 5. There is a Mi logo and Android One signage at the bottom of the phone to inform the world that it isn't in fact a OnePlus 5, and the rear-mounted fingerprint sensor also makes that abundantly clear.
The fingerprint sensor is conveniently located such that your finger automatically rests on it, and it had no issues authenticating my fingerprints.
Switching over to the front, the first thing you notice is the bezels at the top and bottom, and if you're picking up the gold color option, you'll get a white front plate. The side bezels are narrow, which makes it easier to hold the phone, and the back button is in the wrong position for a phone running stock Android.
Xiaomi has a long history of offering decent LCD panels in its phones, and the situation is no different with the Mi A1. The 5.5-inch Full HD screen is one of the best in this segment, with excellent colors and viewing angles. The panel gets sufficiently bright that it isn't an issue to view the contents on the screen under harsh sunlight.
Coming over to the hardware side of things, the Snapdragon 625 paired with stock Android makes the Mi A1 absolutely fly. You're not going to notice any slowdowns or lags in everyday usage. It's astonishing just how fluid the phone is at day-to-day tasks, whether it's switching between apps, quickly launching the camera, or playing visually intensive games.
Battery life
Battery life on the Mi A1 is excellent. I was initially worried that the 3080mAh battery wouldn't last a day, but I consistently got a day and a half's worth of usage out of the battery.
Even on days when I was on cellular data throughout, I managed to get up to four hours of screen-on-time and overall battery life exceeding 20 hours. To put that into context, that's nearly double what I averaged on the Pixel XL in similar conditions.
The one downside is the lack of a fast charging option. The Mi A1 tops out at 5V/2A, and it takes nearly two hours to fully charge the phone.
Software
The software is what sets the Mi A1 apart from every other Xiaomi phone in the market today. The Chinese manufacturer teamed up with Google to offer the Mi A1 as a part of the Android One initiative, which means that for the first time, we're getting to see a Xiaomi phone with stock Android.
Google's first attempt with Android One failed miserably due to a combination of several factors. The phones were underwhelming and didn't stand out in the entry-level segment where they were positioned, and Google didn't do enough to advertize them to the masses. By partnering with Xiaomi, it is addressing those setbacks: the Mi A1 is one of the best-looking phones in the budget segment, and Xiaomi utterly dominates the mind share in markets like India, which ensures the phone gets plenty of visibility.
As for the software experience itself, it is in line with what you'd get on a Pixel or Nexus device. There's a swipe up gesture to access the app drawer, Google Now occupies the left-most pane, and all interface elements are unchanged from stock Android.
The phone runs Android 7.1.2 Nougat out of the box, and has the August 1, 2017 security patch. You get all the features built into Nougat, including split-screen multitasking, in-line notification replies, app shortcuts, granular controls for Do Not Disturb, and more. Then there's the ability to pull down the notification shade by swiping down on the fingerprint sensor, à la Pixel. There's also a gesture to quickly launch the camera by double pressing the power button.
Overall, it's a refreshing change to use a Xiaomi phone with stock Android. MIUI certainly has a lot to offer, but purists looking for an uncluttered experience finally have a device they can call their own.
Software updates
The only unknown when it comes to the software side of things is the update situation. Previous Android One devices have received updates directly from Google, but that will not be the case with the Mi A1. As the phone features a dual camera setup, Xiaomi has bundled its own Mi camera app instead of Google Camera. Xiaomi also pre-installed the Mi Remote app, which lets you use the IR blaster to control your TV, air con, or set-top box.
As a result of these additions, Xiaomi will be in charge of software updates for the Mi A1. The brand is committing to quick updates, and Google has stated that the phone will receive Oreo before the end of the year. Furthermore, the Mi A1 will be one of the first devices to pick up the Android P update next year.
Camera
The Mi A1 has two 12MP cameras at the back: the first is a wide-angle lens with 1.25-micron pixels and f/2.2, and the latter is a telephoto f/2.6 lens with 1.1-micron pixels that offers 2x optical zoom. The tagline for the Mi A1 is, "Flagship dual camera," with Xiaomi alluding to the fact that the phone has the same camera configuration as the Mi 6.
Although Xiaomi is using different imaging sensors, the image quality you get with the Mi A1 is on par with that of the Mi 6, at least in daylight conditions.
Mi 6 on the left, Mi A1 to the right.
The Mi A1 managed to hold its own next to the Mi 6, and the phone outdid its costlier sibling in a few scenarios. That said, the Mi 6 is currently on a beta MIUI build whereas the Mi A1 is running a stable version of Android 7.1.2 Nougat.
The camera app itself should be immediately familiar if you've used a Xiaomi phone in the past. You get toggles for filters and easy access to various shooting modes, which include panorama, tilt shift, a square mode for Instagram, and others. There's also a toggle for enabling the watermark, with resulting images featuring a "Shot on Mi A1" watermark in the bottom left corner.
Other options include the ability to switch between the primary imaging sensor and the telephoto lens via the 2x button, toggles for HDR, flash, portrait mode, switching between photo and video modes and the front and rear cameras. And yes, it still tries to guess your gender and age when you're taking selfies.
Portrait Mode works in a similar fashion to what we've seen on the Mi 6, with the camera blurring out the background to put the subject in focus. The mode needs plenty of lighting to work, and while the camera does a decent job in terms of blurring the background, it has a tough time delineating the edges.
Photos shot in daylight have plenty of detail, but those taken in low-light conditions tend to be very noisy. The 5MP front shooter is similarly decent for taking selfies. The camera on the Mi A1 isn't groundbreaking, but it is plenty capable considering the price point the device is targeting.
Xiaomi Mi A1 Bottom line
Xiaomi seems particularly intent on building out market share, and to that effect the brand has priced the Mi A1 very aggressively. The ₹14,999 price is astounding when you consider what's on offer with the device: sleek design, great display, clean software experience, dual cameras, and all-day battery life.
The software experience in particular is the standout feature of the Mi A1. One of the main reasons for Motorola's success in this segment was because of its reliance on an uncluttered user interface, and by teaming up with Google, Xiaomi is able to offer a similar experience to its customers.
Should you buy it? Without a doubt
The Mi A1 is the most uncompromising phone in the budget segment today. We've seen some great devices debuting in the market this year, notably the Redmi Note 4 and the Moto G5 Plus, and as an overall package, the Mi A1 handily beats both devices. For ₹14,999 you'll be hard-pressed to find a phone that offers quite as much for your money.
Xiaomi is once again leveraging its flash sales model for the Mi A1, which means that you won't be able to go to Mi.com and purchase the device whenever you want. The sale kicks off every Tuesday at 12 p.m., but if you don't want to wait, you always have the option of going to a Mi Home store and purchasing the device. Xiaomi is also making the phone available at over 600 partner stores.
It isn't the easiest process to get a hold of the Mi A1, but the device itself is well worth it.
Harish Jonnalagadda is a Senior Editor overseeing Asia at Android Central. He leads the site's coverage of Chinese phone brands, contributing to reviews, features, and buying guides. He also writes about storage servers, audio products, and the semiconductor industry. Contact him on Twitter at @chunkynerd.
Ok, I converted ₹16,999 to Canadian dollars... $323.60. That ends the discussion right there... I can get a Samsung Galaxy S8+ on a two year contract in Canada for $99 down.... Granted, your review is of use to the good people in India. The phone has no chance in Canada or America.

The phone is 14,999₹ which is 285 canadian dollars & in India we dont have carrier contracts. All phones are available unlocked & can be used on any service provider. You comparison & logic is flawed since you should compare unlocked phone prices xiaomi is available at 285cnd while an S8 is 900cnd at best buy. In a locked phone ull end up paying far more compared to what you think :) Start thinking & stop jumping the gun. Both phones are for different segments.

The point he is trying to drive home is correct, he just chose an unrelevant example to showcase what he was trying to say. You can get a locked LG G5 for $187CAD outright after taxes, which does make this Mi A1 less of a deal, considering its almost twice of the price. I've seen the LG G4 for $99CAD outright also.

India traditionally does not have phone contracts and the cost of the device is usually converted to EMI plans. This phone will sell like hotcakes soon.

True. India's good at this.

14,999 to usd is $231. Good deal. That ends the discussion here.

Yeah but it isn't sold in the US nor is it set up for US carriers (T Mo, ATT, Verizon, etc) is it? What about NFC?

Right... so how do we get these articles to start discussing availability a little bit for the uniformed like myself. I get interested in some of these phones but for North American customers accessibility and (if I did get one) support is so questionable. If there were a clear path to ownership and dependable support, i'd be very interested in this phone...

For the price - if it works - I'm good. But also - I also assumed that this phone being listed on the Android One website - that it would be usable in the US. I guess I'm going to have to follow up and make sure it does work with in the US...

Here in Australia, if you're locked in a contract, you'd end up paying far more for the same amount of calls & data comparing to a pre-paid plan on the exactly same network. ISPs aren't stupid, giving out phones for less... common sense....

Here in Canada you don't save money when not on a contract so most points are null.

No wonder Canadians are so happy, they just get things for free.

Umm 2 year contract. That ends your discussion right there too. You are paying 1200 dollars over 2 years. This phone (323 dollars) + 360 dollars gets me 1.5 tb of data and unlimited calling/text for the next 2 years, WITHOUT phone lockin.

Great Review. Thinking of picking this as a backup phone while I come to India.

Good review.
That's why Android One has my attention.
Price is right for older members of my family and younger ones also. Wide market... Traveling phone too...

But why is there no NFC?? Great phone but this is a major drawback and needs to be highlighted.

Because it is made for developing markets where NFC based payment apps are not very popular and thus people hardly use this feature. Excluding the NFC chip also reduces the cost of the phone

Wasnt the A1 supposed to have some sort of fast charging? I think it had 360V charger or something?

Wouldn't mind importing this but not with the lack of lte support for any us carrier. Oh well.

Xiaomi with stock Android: YAY! Xiaomi with stock Android and retarded capacitive buttons: OMFG what is that ****?!

I don't think that's much of an issue, but rather a nitpick for some who have a pet peeve for capacitive buttons. To each his own.

Lol... Use a Samsung device instead. Meh, I have a J7 with LineageOS. I'm like used to the buttons now, though I'm on stock AOSP xD

Nexus reincarnated... The only things I think should really be there is fast charging and NFC.

Who Needs NFC when we have TEZ app

Unless you want a better camera, you should go with the Redmi Note 4. It is cheaper, boasts of a bigger battery and also has a better more unique design unlike the MI A1 which is looks like an iPhone copy. As updates are concerned, you can easily install a custom Rom like lineage or resurrection remix for that.

The audio via headphone Jack and speaker are truly amazing on this thing . It can easily drive big headphones and the speaker is **** . Check out geekyranjit video on YouTube.

I love the design. I would definitively buy this for my wife if it was available in the US. Sadly, we the get the new Moto X with an ugly design instead of this. Bu =(

Hey! I like the new Moto X design! I'm gonna get the Android One version.

"the back button is in the wrong position for a phone running stock Android" I keep seeing people say this crap. 1. There is no WRONG position.
2. The original position (on the G1) was on the right.
3. So what if it's different than Stock Android on Google phones? The de-facto standard is determined by the biggest selling Android phone. And that's Samsung, which puts it on the right by default (you can change it).

Xiaomi fanboy huh? In the actual AOSP code, it's to the left. Samsung has *heavily* modified, leaving it incomparable. Now, it depends on your point of view whether to say it "wrong" or not.

Wondering if this beauty of a device will make its way to Canada,

Wondering if this beauty of a device will make its way to Canada!

I think combination of MI phones and Google is great deal. But still confused because of moto g5s plus. Please do a comparison video of MI A1 vs moto g5s plus

So this is basically a Pixel minus the 835. Yep this is a game changer as the 625 can hold its on in retrospect against the 835. Too bad I dont do budget phones cause this would have been it. Now if they were to make a bezel-less budget phone with these internals and its a Instabuy.

Hi, I'm an Iranian, and I live in Iran, I love this mobile phone, I wish I had this mobile phone, but unfortunately, this mobile phone did not come to my country and it will not be coming soon. I'm so sorry.

I'm from Israel, tho we do have the mi a1 here, it's quite rare to find. I ordered mine in AliExpress on the singles day sale from the Xiaomi online store, just check on the internet if your carrier support this phone's frequency range and buy it online (in eBay, AliExpress etc.)

I just got the Mi A1 exchanging the Redmi 3s Prime I had; and I regret it ! The A1's much praised camera is no match for the Redmi 3s Prime's , in my opinion. The detail of long shots is totally lacking in A1 camera shots. Is that a software issue-like pure Android vs MIUI 8 ? Can I / should I try to load MIUI 8 on the A1 ? Please advise.
Android Central Newsletter
Get the best of Android Central in in your inbox, every day!
Thank you for signing up to Android Central. You will receive a verification email shortly.
There was a problem. Please refresh the page and try again.