Huawei P20 + P20 Pro review: Camera kings
Smartphones — even shiny, expensive, high-end smartphones — are a commodity. And that means it's hard to justify what makes them worthy of attention, and perhaps even your money, compared to all the competition. But with the Huawei P20 and P20 Pro, the value proposition is pretty simple: Gorgeous, iridescent glass construction, and two of the best phone cameras out there.
But beyond aesthetics and photography, a big reason for Android fans to pay attention to the P20s, as opposed to any other Huawei phone, is the software. Huawei's EMUI, though not radically redesigned in its latest incarnation, has reached an important milestone in terms of maturity and stability. That's not a sexy new feature you'll find in any ads for these phones, but it's just as important to the overall experience — and a big part of what makes these phones worth buying.
About this review
We're publishing this review after a little over two weeks with the Huawei P20 and P20 Pro. I (Alex Dobie) have been using the P20 Pro (model CLT-L29) on the EE network in the UK, and the P20 (model EML-L29) on the Vodafone UK network, mainly in areas with average or above 4G LTE reception. Our phones were running software build 106, which Huawei tells us is not fully finalized.
Our review devices were dual-SIM models; the versions sold in most of Europe are single-SIM.
Moving pictures
Huawei P20 + P20 Pro Video Review
Oh so pretty
Huawei P20 Hardware
As in previous years, Huawei has two P-series flagships. You've got the P20 with a 5.8-inch display, and the P20 Pro with 6.1-inch screen. The aspect ratio is a slightly odd 18.7:9, because, as you can't fail to have noticed, both have iPhone X-style screen notches up top. However, the notch is considerably smaller than the iPhone's, since it just needs to house the earpiece, front-facing camera and a a couple of other sensors. If the notch bothers you, you can "disable" it in software, so you just see your status bar icons on a black background.
As we'll note later, the notch does manage to trip up a few apps, including Android staples like Instagram. Outside of one or two bugs in a couple of apps, though, the notch really hasn't bothered me at all. I'm not in love with it as a way to maximize screen real estate — there are some compromises there, like the way the split status bar can become cramped with lots of pending notifications. Overall, I don't feel like it's particularly a good thing or a bad thing... it's just a thing. It's there; I can deal with it.
If the front of the P20 is a demonstration of the design compromises necessary in a 2018 flagship, the back is a display of unrestrained spectacle.
Image 1 of 3
In other words, this is where the P20s quite literally shine.
The P20 Pro has a gorgeous curved glass panel that blends cleanly into the polished metal rim. There are a few different colors available including blue and black, but I've been using the "twilight" gradient color — and trust me, this is the one you want. It's extremely shiny — a bit of a fingerprint magnet, too — but the twilight finish looks phenomenal, starting off as purple up top, and shifting through blue to a blue-green hue lower down. The effect is topped off by an iridescent transition between these three colors that's most noticeable around the sides.
This is nothing like the generic, by-the-numbers phone designs we were seeing from Huawei just a couple of years ago.
For the first time, Huawei has built a phone that's not only smart and well-built, but really beautiful.
Image 1 of 3
Over on the standard P20, I've been using the "pink gold" color, the finish of which also has a slight color gradient, and some unique color-shifting properties of its own. The iridescent effect isn't quite as overt as the twilight P20 Pro, but it still has an almost rainbow-like pearlescent sheen when it's tilted through the light, and from the right angle, it's stunning. The regular P20 doesn't have the same curved glass on the back, though — unfortunately there's a quite noticeable plastic join between the metal and the glass. That's not a huge deal, but it does make it look just a bit less premium than the Pro, even if the in-hand feel is largely the same.
There's also a pronounced camera hump around the back of both P20s, which I don't particularly mind, despite the fact that this area quickly accumulates dust and lint when you take it out of your pocket.
On the inside, the hardware specs of P20 and P20 Pro also diverge a little. Both phones are powered by Huawei's high-end Kirin 970 processor — a speedy, AI-focused chip last seen in the Mate 10 — and both have Full HD+ displays. However, the standard P20 uses an LCD panel, whereas the Pro goes with OLED, trading sharpness for a little extra daylight visibility. Neither screen is as good as the Galaxy S9's SuperAMOLED, however, which remains the smartphone display champion.
The step up to the P20 Pro also gets you 6GB of RAM, up from 4GB in the smaller model, and full IP67-rated water and dust resistance. The standard P20, unfortunately, is only rated IP53 for splash resistance. Individually, these compromises aren't a big deal. But overall, they clearly demonstrate why the Pro costs a couple hundred extra euros.
Swipe to scroll horizontally
Category
Huawei P20
Huawei P20 Pro
Operating System
Android 8.1, EMUI 8.1
Android 8.1, EMUI 8.1
Processor
Huawei Kirin 970
Huawei Kirin 970
RAM
4GB
6GB
Storage
128GB
128GB
microSD
No
No
Battery
3,400mAh non-removable
Huawei SuperCharge
4,000mAh non-removable
Huawei SuperCharge
Display
5.8-inch 2240x1080 RGBW LCD
18:9 aspect ratio
6.1-inch 2240x1080 OLED
18:9 aspect ratio
Front camera
24-megapixel
f/2.0
24-megapixel
f/2.0
Rear cameras
20MP (mono) f/1.6 + 12MP (RGB) f/1.8
1.55-micron pixels
40MP RGB (1/1.7-inch sensor) + 20MP mono
8MP f/2.4 OIS 3X telephoto
Headphone jack
No
No
Wireless charging
No
No
Fingerprint scanner
Front
Front
Face recognition
Yes
Yes
Water resistance
IP53 (splash resistant)
IP67 (water + dust-resistant)
Colors
Twilight, Black, Midnight Blue, Pink Gold
Twilight, Black, Midnight Blue, Pink Gold
Weight
165g
180g
Dimensions
149.1 mm x 70.8 mm x 7.65 mm
155.0 mm x 73.9 mm x 7.8 mm
There's a radical new triple-camera setup in the P20 Pro too, compared to the P20's dual-camera rig, which is basically an upgraded version of the cameras from the Huawei Mate 10. We'll get to cameras a bit later in this review, but suffice to say the cameras are a big part of what makes the P20 Pro in particular so special.
A couple other caveats while we're talking hardware: There's no headphone jack on either P20 model, which shouldn't be too much of a surprise given Huawei's track record with the Mate 10 Pro. You'll need to use the flimsy type-C dongle provided for any wired audio needs. (Unless you have a pair of Type-C buds you're particularly fond of. By now you probably know whether the dongle life is a deal-breaker for you personally. For me, it's an inconvenience, but not unbearable.)
And to its credit, the built-in speaker system is solid, particularly in the P20 Pro. You'll find a Dolby-tuned audio system in both models, and the sound produced by the Pro in particular is rich and voluminous, about matching the Galaxy S9's dual-speaker combo.
Image 1 of 2
Huawei takes after Apple with its display notch, and P20 has its own answer to the iPhone X's Face ID technology too. Huawei's face unlock system uses the 24-megapixel front-facing camera, as opposed to Apples infra-red sci-fi laser blaster, but the results are quick and reliable. I wasn't able to fool it with a photo, and unlocking, even in low light, was pretty speedy. The only time I could reliably trip it up was in very dark conditions, with lots of motion thrown into the mix.
As a secondary unlock method, you've also got the tried-and-true fingerprint scanner down below, which has worked flawlessly for me. If you want to free up even more display realestate, you can also set this up to use gestures instead of the standard Android software keys. It's worth at least trying this feature, which uses a tap for back, a long press for home and a swipe for recent apps, but after years of using Android soft keys I found I couldn't quite wrap my brain around it.
The fact that a fingerprint scanner is here at all is undoubtedly a good thing. But it does seem a little out of place on the front of a device that's so focused on maximizing screen space at all costs — not least because it's flanked on either side by two big chunks of non-functional bezel. It's an odd blemish on what's otherwise a beautiful device. And it does make me a tad envious of the Porsche Design Mate RS, with its in-screen fingerprint scanner. (Though as we'll discover in our review of that device, in-screen fingerprint comes with its own set of compromises.)
It doesn't suck
Huawei P20 + P20 Pro Software
Next, we get to the part of a Huawei phone review where I have to balance all the praise I've just dished out with some cautionary words about the software... right?
Well in this case, not so much. EMUI 8.1 is only a point release up from what I've been using on other recent Huawei phones, but the extra polish and attention to detail is a welcome surprise. A huge number of small but annoying bugs have been cleared up: UI scaling works properly. You can expand notifications on the lock screen — finally. Huawei has also tuned up its software to feel more responsive. The new phone is 60 percent more responsive and 50 percent smoother, according to its own numbers — and side-by-side with a Mate 10 Pro, it turns out you can actually tell the difference.
Image 1 of 2
As a bonus, the P20s' software based on Android 8.1 Oreo, so you can use Netflix picture-in-picture — the app still requires 8.1 for that, for some reason, to the exclusion of Galaxy S9 owners. Android 8.1 also lets AI-equipped apps take advantage of the NPU through Android's neural networking APIs.
That's a pretty obscure and nerdy thing on the face of it, but there's an easy way to demo what this is all about. Huawei's own app store has an NPU-enabled demo version of Prisma, the AI photo app that normally processes its images remotely, leading to lengthy delays when changing filters. The NPU-optimized version does everything locally, and an it's an order of magnitude faster.
Uses cases for AI hardware are still few and far between, but that'll surely change throughout the lifespan of these phones.
The P20 has the most polished and least objectionable version of EMUI I've used to date, but it remains quite heavily customized, with many visuals and behaviours that are more iOS than Android. A particular pet hate of mine is the way the lock screen only shows you notifications that have arrived since you last unlocked. There are a few bizarre visual choices too, like the way music player notifications pull colors from the app icon, not the album art. Huawei's continuing penchant for bad-looking text shadows in many of its home screen widgets is another small cosmetic complaint.
But really, these are minor gripes, and shouldn't detract from what is a version polished, and dare I say it even enjoyable software experience. Don't get me wrong, I'd still drop this for stock Android in a heartbeat. It's just that basically all the roadblocks that stopped me using Huawei phones as a daily driver basically no longer exist anymore. That's not something I could say even of the Mate 10 Pro
OOO
Huawei P20 + P20 Pro Cameras
The camera experience makes up the bulk of what's new in the P20 and P20 Pro. The standard P20 goes with an iterative update to the dual-camera rig of the Mate 10 — another 12-megapixel-plus-20-megapixel setup. The big difference, aside from the lack of optical image stabilization (OIS), is the move to a new main sensor with 1.55-micron pixels, to absorb more light than earlier Huawei cameras. There's also a 20-megapixel monochrome sensor (behind an f/1.6 lens) to add in more detail and enable 2X hybrid zoom.
The P20's rear camera setup is highly capable in its own right, producing 12-megapixel photos with ample dynamic range and clear color detail even in low light. The lack of OIS means photos can appear softer in darker conditions. But Huawei's AI stabilization — an electronic stabilization system that works with its Neural Processing Unit chip — steps in to clear things up. Overall image quality is, in my opinion, close to that of the Google Pixel 2, though not quite as simple to use. (More on that later.)
The P20 and P20 Pro also share a comprehensive camera app with a ton of features. Some of them we've seen before, like the depth-sensing aperture and portrait modes. Others, like the completely wild handheld night photography mode, are new.
I'm glossing over the regular P20's camera a little here, mainly because in day-to-day use it's basically a slightly better version of the Mate 10's camera. There's a lot more to say about the triple-camera rig of the P20 Pro, which combines a massive 40-megapixel main sensor (measuring 1/1.7 inches, which is huge by phone standards) with its own 20-megapixel black-and-white camera, and an 8-megapixel, optically stabilized 3X telephoto camera.
Image 1 of 2
The main camera sits behind an f/1.8 lens, and takes 10-megapixel images by default, in a downsampled mode that allows it to shoot with an equivalent pixel size of 2 microns at that lower resolution. (A technique known as pixel binning turns a 40 megapixel sensor with 1-micron pixels into a 10-megapixel shooter with 2-micron pixels.) That's huge for low-light photography, as well as just being able to produce a high-quality image at 10 megapixels without fine detail becoming mushy. It's an ambitious camera setup to be sure, and to Huawei's credit, for the most part it works incredibly well.
Meanwhile, that monochrome sensor, behind an f/1.6 lens, is used to add in fine detail. And by combining this with the dedicated 3X telephoto camera, the P20 Pro can achieve 5X hybrid zoom. That gives you zoomed images with a unique field of view that really don't look like they were taken on a smartphone. Huawei's camera setup also sticks with the telephoto camera even in relatively dark conditions, unlike the Samsung Galaxy S9+, which quickly reverts back to a digital crop of the main sensor in even middling light. Generally that's a good thing, however the point at which the P20 Pro does switch to a digital crop of the 40-megapixel main sensor is highly noticeable, because a 3X digital crop is significantly grainier, even with that larger sensor size.
Regardless, 3X telephoto gives the Huawei P20 Pro a unique strength — you can zoom further with more detail than any other phone camera.
But where the P20 series truly excels is in the handheld night mode. Both models have it, but that's strongest on the P20 Pro, thanks to that pixel-binning magic. In this mode, the phone shoots a series of exposures over around 4 seconds, then does some number-crunching, uses AI to counteract hand motion, and normally leaves you with a mind-blowingly awesome low-light photo. (It's not unlike the HDR+ "enhanced" mode from Google's Pixel 2 phones, only shot over a longer period of time.)
In full auto mode, the P20 Pro is pretty great at low-light photography. But with this new dedicated night mode, it leapfrogs the Pixel 2 and pulls in light and colors that your eye can't even see, all while keeping fine details clearly rendered. In night mode, the P20 Pro captures all the color and bright, vivid highlights that the Pixel 2 camera does, but with reduced noise and sharper fine details.
At least... it does that most of the time. The beauty of the Pixel's camera is that there are no separate modes to worry about, just take your photo and it'll always look great. Same deal, to a large extent, with the Galaxy S9. On the P20 and P20 Pro, you need to think a little more about which mode is appropriate for the shot you're after. That trade-off gives you more control, and as a result the ceiling for image quality is arguably higher on the P20 Pro than the Pixel 2, but the effort needed to get there is also that much higher.
Artificial Intelligence is part of what makes the P20's low-light skills so formidable, and the burgeoning AI capabilities we saw in the Mate 10 have been further enhanced in the P20 and P20 Pro. The phones can now recognize more scenes automatically, and Huawei even claims it can tell the difference between different kinds of food — though I didn't really notice this in my couple weeks of use. The same goes for the phone's AI assistance with scene composition — it's supposed to help you figure out where to put the horizon line in shots, and how to frame up different kinds of scenes. Either I'm just unusually good at composition, or these features are less prominent than Huawei claims.
Overall, however, the AI Master feature, which is turned on by default, is a bit of a mixed bag. Two of the AI modes, greenery and blue sky, seemed to excessively oversaturate blues and greens, and add vignette effects while crushing blacks in a way that obliterates shadow detail. In many situations it made shots look worse, not better. It's easy to disable this feature entirely, but it's all or nothing. You can't selectively kill the AI modes you don't like, nor can you remove the AI tweaks once you've shot your photo.
And while I'm complaining, I've experienced a few instances where the P20 Pro's camera will way over-sharpen certain outdoor scenes, even with the AI turned off. This doesn't happen very often, but when it does, certain parts of images with fine detail, such as tree branches, become mired in artifacts. I noticed no such trouble with the same shots taken on a Galaxy S9.
Image 1 of 12
Tucked away in the P20's screen notch is a 24-megapixel selfie camera, behind an f/2 lens. The front-facer is a solid improvement on the Mate 10's, with the usual caveats around very-low-light situations, where competitors like the Pixel 2 pull ahead. Fine details appear slightly softer than rivals too, but that's not necessarily a bad thing. I was less impressed with Huawei's attempt to copy the iPhone's studio lighting features. Half the time I couldn't even tell they were on. The other half turned out looking weird, and in some cases comically bad.
The video feature of the P20 are more or less the same as the Mate 10 Pro — you can record at up to 4K resolution at 30 frames per second, which is a step below the 4k60 that the Galaxy S9, iPhone X and others can shoot. And worse still, video stabilization is only supported at 1080p, which is a shame because it does work very well — you just have to make do with a lower resolution.
Image 1 of 7
The big new video feature is 960fps slow motion capture, which you've probably seen by now in ads and reviews for the Galaxy S9. Huawei's version of this super slow-mo feature, like Samsung's, is limited to 720p resolution, and also needs a good deal of light to work well. The videos produced are also pretty much the same quality as the S9's, with the same trade-offs, although you miss out on one crucial feature that Samsung's built into the S9 to make slow-mo easier to capture.
On the S9, you get a handy little targeting reticule that helps you line up where the action's going to be, and when it detects motion there your slow-mo burst starts. On the P20, it's all manual — a split second after you press the trigger, you get a quarter of a second of super-slow-mo footage. Having used both, Samsung's version is just way easier — on the P20, manually timing that button press down to a fraction of a second requires superhuman reflexes. You're guaranteed to have to take a few trial runs before you get the shot you're after.
The bottom line for the P20 and P20 Pro cameras is that they're excellent overall, though not as capable as Samsung and Google's phones in video. For straight-up photography, you'll get extremely impressive results, particularly from the P20 Pro in low light. But doing so involves more tinkering around and fiddling with settings than you're probably used to. And the much-hyped AI Master feature causes at least as many problems as it solves, while Huawei's slow-mo video feature doesn't really bring anything new to the table.
Super Charged
Huawei P20 + P20 Pro Battery Life
Despite their similar footprint and in-hand feel, the roomier chassis of the P20 Pro bags you a significantly bigger battery — the larger body is filled out by an ample 4,000mAh cell up from 3,400mAh in the standard P20.
The smaller phone manages perfectly fine with this power pack, getting me to the end of the day with the standard three-to-four hours of screen-on time. Meanwhile, the Pro's battery life has also been commendable, with a one or two weird inconsistencies. Weak network connections, and camera use in particular, will quickly tank even the larger of the two batteries.
My real-world numbers have been all over the map, but at the low end you're looking at about four hours screen on time, at the high end somewhere around six. That's assuming you're not using any of Huawei's power-saving modes, which scale back the CPU and background tasks to save juice.
Battery life on the Pro is by no means bad, but after two weeks of use I did find myself finishing each day with slightly less power to spare than the Mate 10 Pro. On travel days I could push it into the danger zone by early evening. That's a bit weird, and perhaps speaks to software wonk as a root cause — again, I didn't experience this on the Mate 10 Pro, which shares a lot of the same hardware specs. With lighter use, it's absolutely possible to push a second day out of the P20 Pro in particular.
Although there's no wireless charging included, your main refill option is the excellent Huawei SuperCharge — which hasn't changed since its introduction on the Mate 9, but is still one of the fastest fast charging methods for any phone. Even if you forget to charge overnight, 30 minutes plugged into the bundled SuperCharger will guarantee you a day's worth of juice.
The bottom line
Should you buy the Huawei P20 or P20 Pro?
Buy the Huawei P20 or P20 Pro if you want a phone with striking design and cameras which, once tamed, can produce jaw-dropping telephoto and low-light photos.
If you do splash the 680-900€ required to pick up one of these phones, you'll also get excellent performance, above average battery life and Huawei's most polished software yet, running on the latest version of Android.
With such a significant price gap between the two models, and a relatively minor difference in size, the choice between P20 and P20 Pro mainly comes down to feature set and cost. If in doubt, I'd say just get the Pro — the in-hand size difference is fairly small. If you want to save some cash, you'll mainly lose out on true telephoto zoom and some of the Pro's more exotic low-light capabilities.
The Good
Gorgeous design
Impressive battery life
Strong telephoto zoom (P20 Pro)
Amazing low-light cameras
Software significantly improved
The Bad
Software copies iOS in some areas
No water resistance (small P20)
Some AI camera modes can be hit-and-miss
Video features not as strong as rivals
Huawei P20 Pro
4.5 out of 5
Huawei P20
4 out of 5
For me personally, the Huawei P20 Pro will be my daily driver for the foreseeable future. (Or at least until the next big thing I'm reviewing comes along.) That's a little surprising even to me, and it's a result of the additional software polish as much as the epic battery life or impressive camera features. I think we might eventually look back on the P20 series — and the P20 Pro in particular — as a milestone device for Huawei. It's not free from imperfections by any means, but this is one hell of a phone.
Sign up for Black Friday email alerts!
Get the hottest deals available in your inbox plus news, reviews, opinion, analysis and more from the Android Central team.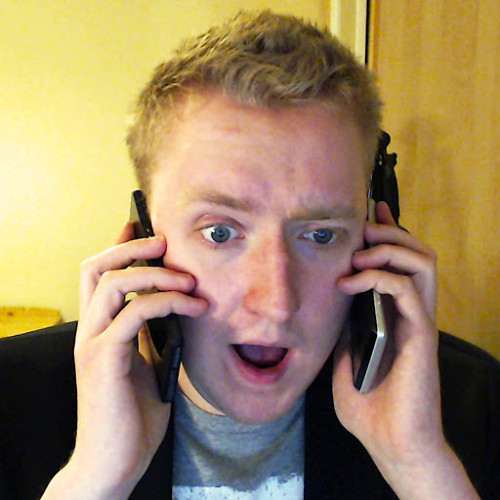 Alex was with Android Central for over a decade, producing written and video content for the site, and served as global Executive Editor from 2016 to 2022.