The quick take
It's taken us a while to get here, but Huawei finally has a phone that can stand at — or at least near — the top of the Android pile. A fresh new design, dependable performance, and an excellent low-light camera complement staple "Mate" features like epic battery life and a big screen. But unfortunately, some software hiccups remain.
The Good
Beautiful new glass design
Excellent performance, expansive storage
Multi-day battery life in most cases
Excellent still camera with great low-light capabilities
The Bad
Glass body is scratch-prone
Video camera isn't the best
EMUI software still has some weird issues
Huawei Mate 10 Pro Full Review
If you've followed the Huawei Mate series in the past, you might be expecting the Mate 10 Pro to be a giant, barely-manageable slab of a phone — the kind of device on which you'd struggle to type out a one-handed message, and which would inevitably protrude awkwardly from your jeans pocket. You might also be expecting weird software and a camera that doesn't quite live up to expectations.
Some, but not all of those things apply to the Mate 10 Pro, Huawei's new flagship phone for late 2017.
The Mate 10 line in fact consists of two high-end phones, but we're focusing on the Mate 10 Pro here, which is the only model coming to the U.S. and most of Western Europe. We'll get to the standard Mate 10 in the future, but the short version is you get slightly lower specs than the Pro, no water resistance, a bigger screen area and a headphone jack. (For what it's worth, the regular Mate 10 is also supremely slippery compared to the Pro, on account of the larger area and lack of sharp chamfers on the body.)
But with its 6-inch, 18:9 screen, and minimal bezels, the "Pro" model just feels like a big phone in the hand, as opposed to a colossus like the Mate 9. The overall heft is comparable to something like the OnePlus 5, with its 5.5-inch 16:9 panel -- big, sure, but not a tank. And while Huawei's software remains an acquired taste, with some weird quirks, the Mate 10 Pro ranks among the best when in battery life and photographic prowess.
It's another step in the continuing evolution of Huawei and one that makes for one of the best handsets of 2017.
About this review
We're publishing this review after just over three weeks with the Huawei Mate 10 Pro (BLA-L29), which was provided by Huawei for review. I (Alex Dobie) have been using a global dual-SIM version of the phone in "mocha brown" on the Vodafone UK networks in Manchester, London, and Chester, as well as Munich, Germany while roaming on Vodafone.de.
Our phone arrived with software version 8.0.0.112 and the October 5 Android security patch. It was quickly updated to 8.0.0.113 to focus a battery life bug, then to 8.0.0.115. Most of our impressions here are based on this version.
Huawei Mate 10 Pro Video Review
So shiny
Huawei Mate 10 Pro Hardware
Huawei is going all-in on glass with the Mate 10 series, and the results, in the case of the Pro, are spectacular.
It's Huawei's best-looking handset by a considerable margin, with a curved glass back panel complemented by brushed aluminum side walls. I've been using the "mocha brown" variant, which flickers between a maroon brown and a rose gold depending on the light, matching the gold color of the metal frame.
In a change from the Mate 9 Pro, the display is now completely flat, which means it lacks the front-to-back symmetry of the older device, but I'm largely fine with that. The back panel — now fashioned out of Gorilla Glass 5 — retains the same gentle curve as before, which helps with the ergonomics. And there's a unique stripe pattern around the camera lenses adds flair to the chassis when viewed from the back. You'll need to look closely to make out the shaded pattern, but when you do, you'll notice other examples of attention to detail, like the symmetry of the camera modules, and the slight grain texture to the color under the glass.
Image 1 of 2
The back of this phone is inevitably going to pick up scratches — mine already has one highly visible nick on the back, alongside a couple of less obvious ones. This is hardly a unique complaint, though, as glass designs dominate the high-end space. Same deal with the overall slickness of this phone. There's an oleophobic coating on the back now, which means it's not as much of a fingerprint magnet as other glass handsets, but this also makes it a bit more slippery in the hand.
And there's a fingerprint scanner around the back too, which does fingerprint scanner things. It's easy to reach, extremely quick, and has optional bonus features like swipe gestures to bring down the notification shade.
Around the front, that 6-inch display is impressive, even with a slightly lower resolution than other flagships. It's "Full HD+", which means 2160x1080 — 1080p and change. It's a Samsung AMOLED panel, with all the punchy colors, excellent daylight visibility and pitch blacks we expect. (And, since it's a big focus elsewhere in the smartphone world right now — no, I haven't noticed any significant burn-in in my couple weeks of testing.)
The innards of the Mate 10 Pro are packed with the very latest silicon from Huawei: The Kirin 970 CPU, based on an efficient 10nm process, and the first to feature Huawei's AI hardware, the Neural Processing Unit. We'll get to the NPU layer, but for now let's just say it's benefits are mostly contained behind the scenes.
You also get 6GB of RAM and 128GB of storage, plus dual-SIM support in the model I've been using. Powering all that is a ginormous 4,000mAh battery — a staple Mate series feature, and about the biggest capacity you'll find a high-end phone. That's backed up by Huawei's lightning-fast SuperCharge features.
More: Huawei Mate 10 series specs
Battery life, then, is predictably awesome. We'll detail just how awesome later in this review.
Oh, and the whole thing is also water-resistant, rated IP67, so no worries about using it out in the rain — that's basically table stakes for a high-end phone at this point. At the same time, you'll need to dongle up or go wireless for your audio needs, as there's no 3.5mm jack.
Image 1 of 4
Headphone jacks going away in high-end phones seems pretty much an inevitability at this point, but that doesn't make the day-to-day inconvenience of the #donglelife any less irksome. (There's a dongle in the box, by the way.)
That's a lot of high-end hardware contained in a phone that's still easy enough to carry without employing a second hand. The design of the Mate 10 Pro is more mainstream than most precious Mates, but better for it, and with no compromises in performance or battery life.
Sure, some buyers will prefer the heftier size of the regular Mate 10, but after a few weeks with the Pro, I'm not missing the old 16:9 aspect ratio at all.
EMUI 8
Huawei Mate 10 Pro Software
Software, for a long time, was the undoing of many a Huawei flagship. Over the past year, though, the company's EMUI interface has started to improve considerably, with a new look in EMUI 5.1 and fewer annoying compatibility issues and bugs.
Superficially, not a lot has changed in the 2017 version of EMUI, despite its leapfrogging over the numbers six and seven. EMUI 8 still looks a lot like the previous iteration of Huawei's UI — the basic design language is the same, even though it's now based on Android 8.0 Oreo. The look and feel is just fine — it's clean and inoffensive, though there's less of a coherent design language running through EMUI compared to Samsung or Google's software.
Case in point: You have clean, modern settings icons right next to app icons that look like they're out of a mid-2000s Windows XP theme. And although you can apply an endless number of themes, there's nothing in Huawei's Themes store that looks as sharp as the latest designs from Google and Samsung.
EMUI 8 does have some genuinely useful features that I wish were part of stock Android, though. The one-handed mode is quick and easy to activate and the shortcuts for hiding the navigation bar altogether (or using a floating button layout) is handy in certain situations. Incoming messages give you the option to use split-screen mode if you're watching fullscreen video. And the dual-SIM versions of both Mate 10 phones support Wi-Fi calling and VoLTE on both SIMs at the same time.
That's in additions to some small functional rearrangements like the consolidates Settings menu, which now has fewer top-level options, and is easier to get around.
And it should go without saying, but with Oreo, a cutting-edge CPU and six gigs of RAM, the Mate 10 Pro absolutely flies through everyday smartphone tasks and any games you'll find on Google Play.
There are also some (basically bad) feature decisions that seem needlessly different, like the fact that the lock screen only shows you notifications since you last locked your phone. (Not even iOS does this anymore.) And UI scaling also seems a little off in places, regardless of how adjust the font size and display size, it's hard to get everything looking consistent. And although Google Feed support in the launcher is nice, the transition between the two is far from seamless. This is the one place that I've found software lag, ironically.
Oh, and Oreo's colored music playback notifications aren't supported. Maybe that's a good thing for you. Unfortunately for those of us who use Spotify, parts of that app's notifications are shown in black on a black background. And the Mate 10 likes to display the annoying "app running in the background" notification even with music and podcast apps, which other Oreo phones don't do.
Stuff like this -- new Android features not quite working right initially -- is, unfortunately, vintage Huawei.
We're getting a little bit nitpicky here, but with good reason. This is an expensive phone, and the software design is the main area where it's outdone by most of its competition.
AI is the big, shiny marketing message for the Mate 10 series, but right now it's almost impossible to showcase the phone AI hardware outside of a couple of preloaded apps — Microsoft's Translator is the main one, alongside the stock camera app. Huawei also says it's using the NPU in its machine learning-based performance tuning, which should help the Mate 10 keep more of its responsiveness over time.
That's fine — nothing wrong with that, but for the moment, for almost everyone, it's kind of a sideshow. AI and the "Neural Processing Unit" is about future-proofing the Mate 10 for all the apps in the coming year with AI features — that's a good thing, but it's future stuff.
The bottom line is the Mate 10 Pro's software is basically fine. It's not horrible at all. It's not as pretty as a lot of other flagships, but it's usable.
However, if EMUI 5 was a deal-breaker for you, don't expect to see anything new in 8.
Dual f/1.6
Huawei Mate 10 Pro Cameras
Huawei has talked up its dual camera capabilities ever since it first teamed up with Leica 18 months ago. The results, on phones like the P10 and Mate 9, have been decent, but rarely spectacular. Until now.
The Mate 10 Pro's rear cameras finally hit that tip-top flagship level — the point where it can legitimately match competitors like the Galaxy Note 8 and Google Pixel 2. That's an important accolade when you're charging £699 for a phone.
This is a dual-lens setup with f/1.6 apertures — you get a 12-megapixel RGB sensor with OIS (optical image stabilization), and a 20-megapixel black-and-white sensor. So on paper it's a pretty familiar photographic loadout for Huawei — the RGB camera fills in color detail, and the monochrome camera fills out detail.
But the improved optics and some serious post-processing advancements push the Mate 10's camera to new heights. The cameras produce the same astounding dynamic range we've seen from earlier Huawei cameras, now with more fine detail and infinitely improved low-light capabilities. Speaking of which, Huawei's manual mode is a joy to use, and even without a tripod you can coax out some clear, bright, impressive long exposures.
At the launch event Huawei made a lot of noise about the Mate 10's AI scene detection, which can tell the difference between a cat and a cupcake (to give but one example) and adjust settings accordingly. In fact, it'll automatically identify the top 13 shooting scenarios and tweak the settings for best results, including selective saturation for food, or higher ISOs for anything that might move suddenly. It's a great showcase for the new NPU, and one of the few that's really easy to demo. In my experience, scene detection worked almost flawlessly, though it's hard to say what kind of impact it had on the resulting photos.
Image 1 of 11
Huawei's wide aperture mode also comes into its own on the Mate 10 Pro's superior hardware — this is the mode that lets you refocus shots after the fact through software magic. Both the accuracy of its edge-detection and the quality of the resulting photos has improved a ton since the previous generation, making the illusion of depth even more believable. But, of course, those f/1.6 lenses mean you get some pretty rich bokeh without the need for software trickery.
You can use wide aperture mode with the dedicated monochrome camera as well, and it actually works surprisingly well, even at a distance. This combination of features let's you produce shots unlike those taken on any other smartphone.
That's partly thanks to the hybrid zoom mode, which uses the extra resolution of the 20MP sensor to zoom in more clearly than you'd get from digital zoom alone. It's no substitute for a real telephoto lens, but it works better than you might expect. Again, the improvement from Mate 9 to Mate 10 in this area was what really surprised me.
It's not a perfect performance, though. I've found photos from the Mate 10's selfie camera to be a little softer than other phones like the Note 8 and Pixel 2. It's not bad, just not the very best, and shots often have an artificial look to them even with beauty mode turned off. And the same goes for the Mate 10's video capabilities. You'll get perfectly good looking 4K video most of the time (recorded in the still-not-widely-supported h.265 codec), but stabilization isn't as reliable as those two phones, there's a little smudging in darker areas, and overall video's just not quite up to the level of other phones in this price bracket. Google's Pixels, or any current-gen Samsung or LG phone will deliver more reliable video performance.
Lots of juice
Huawei Mate 10 Pro Battery Life
So — this is a phone battery with a 4,000mAh battery. It's not a question of whether it has good battery life — that's pretty much guaranteed, unless something's gone badly wrong elsewhere. No, instead the question is what can you do with all that juice.
Well, the Mate 10 Pro's battery is dependable enough to take you from an early start, through an entire day exploring a big city, through the usual dance of phone calls, browsing, tweeting, music listening and Instagramming, and still have enough juice left over in the evening for some night photography. A busy day out in London took me to the 35 percent mark by sundown — at a point where, based on my usage, most other phones would be thoroughly dead.
If you like to hear screen-on-time numbers, mine were approaching 7 hours with extensive use on WiFi and LTE. That's not a normal day, by far, and most people will easily be looking at a second day per charge from this phone.
Huawei's SuperCharge technology makes up for the lack of wireless charging with some of the fastest charging speeds I've seen — up to 5A at 4.5V for quicker, cooler refills. Technologically, it's very similar to OnePlus' Dash Charge, only Huawei's now boasts safety certification from TUV.
Super Charge hasn't changed at all since the Mate 9, but as a side note, it's funny how the phone shows your battery percentage to one decimal place when you plug in, so you can literally watch the numbers tick up. Who knows if that's anywhere near accurate, but it's a nice touch.
The bottom line
Should you buy the Huawei Mate 10 Pro? Yes
Huawei will tell you the Mate 10 is all about onboard artificial intelligence and everything that AI can bring to the smartphone experience.
And AI is all well and good. What makes the Mate 10 Pro a great buy today is its excellence in the core smartphone experience. Things like getting to the end of the day on a single charge, no matter what you're doing. And taking excellent photos even in challenging night-time conditions.
That's not as exciting and futuristic as NPUs and AI, but it's far more meaningful to most people who'll use this phone. So get the Mate 10 Pro if you want a beautiful phone with extra-long battery life and one of the best creative cameras — and if you can deal with software that's occasionally a little unconventional-looking.
Software weirdness being the main negative in a Huawei phone review is nothing new, but EMUI's quirks are far from the Achilles' heel that they used to be. The Mate 10 Pro is one of the best phones of the 2017, and a worthy alternative to that Note 8 or Pixel 2 XL you might've been thinking about.
4 out of 5
Need a second opinion?
Read: Huawei Mate 10 Pro review: A second opinion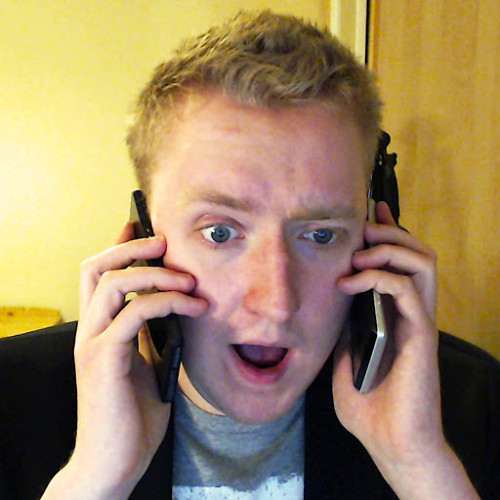 Alex was with Android Central for over a decade, producing written and video content for the site, and served as global Executive Editor from 2016 to 2022.