There are plenty of deals to be had on batteries, but the best way to save is by investing in rechargeable versions. You can reuse them again and again, which means they're kinder to your wallet and the planet. Today, select AmazonBasics Rechargeable Batteries are even on sale at up to 15% off so you can save a bit extra on the purchase. You can choose between AA and AAA batteries in various quantities while supplies last.
Home Essentials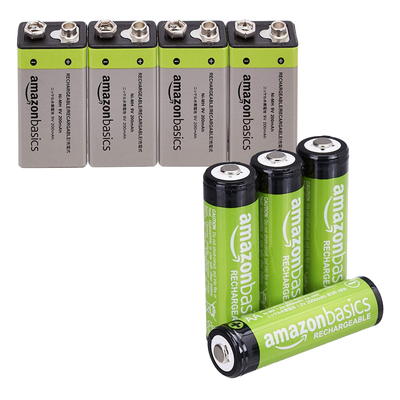 AmazonBasics Rechargeable Batteries sale
From AA to AAA, select rechargeable batteries are now on sale at Amazon with prices up to 15% off. These batteries are built to be recharged up to 1000 times and have a long-lasting shelf life as well. They come pre-charged for your convenience.
Prices Vary
The most important thing to have once you have a set of rechargeable batteries is a battery charger, and luckily, AmazonBasics sells those affordably as well. You can pick up this AmazonBasics Rechargeable Battery Charger for just $16.49, and since it works with both AA and AAA batteries, you'll only need one no matter which set you pick out today.
Choosing Subscribe & Save on the Amazon product page can usually save you a little bit extra as well. That sets up the product to be re-ordered at a monthly interval of your choosing, though you can cancel the future subscriptions at any time with no penalty.
The most affordable pick in today's sale is this 4-pack of Rechargeable AA batteries for $8.47, while an 8-pack of the same batteries is now down to $14.02. The final option for AA batteries is a 16-pack for $20.39 which is the best value of them all.
Meanwhile, the only rechargeable AAA batteries in this sale is this 12-pack of AAA batteries for $10.19. Both options are built to be recharged up to 1000 times and have a long-lasting shelf life. Even after keeping them on the shelf for two years, they retain 80% of their power. Plus, they come pre-charged so you can start using them right when your order arrives.
Shipping at Amazon is free on orders totaling $25 or more, or with an Amazon Prime membership. If you've never been a member before, you can start a free 30-day trial to score free two-day shipping with no order minimum, along with access to perks such as the Prime Video streaming service, exclusive members-only discounts, and more.
We may earn a commission for purchases using our links. Learn more.