Motorola Droid Ultra, Maxx, and Mini will not receive Lollipop upgrades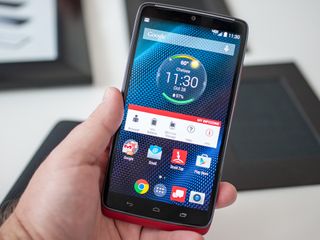 Motorola has announced that it will not be bringing Lollipop to the Droid Ultra, Maxx, and Mini as they originally intended. This will leave the three phones, originally introduced in July 2013 at Android 4.4 KitKat. The announcement was made on Motorola's forums (opens in new tab), where the company also apologized for the lack of an upgrade.
From Motorola:
As part of its apology, Motorola is offering discounted pricing on two of its newer phones, the Droid Turbo 2 and Droid Maxx 2. Both devices were unveiled in October 2015, and both run Android 5.1.1 Lollipop. You can sign up (opens in new tab) to get $100 the Turbo 2, bringing its price down to $524, and $50 off the Maxx 2, bringing its price down to $334.
Source: Motorola (opens in new tab)
So you can pay to upgrade from your phone on old, out of date software to a new phone also on old, out of date software? Umm, no thanks Motorola, that really doesn't seem that great a deal.

My guess is that Verizon probably wasn't playing ball. I doubt Moto is 100% to blame for this.

I doubt that. They are slow but they are not a roadblock. They cannot approve something they never get, it this case it is squarely on moto Posted via the Android Central App

A while ago, in a place far from my home I sat and had some beers with an engineer from Texas Instruments. We talked about OMAP processors, Samsung and Verizon — and how one particular company was a total roadblock when it came to updating the Android version on a phone when the other partner was willing and ready. I so wish I could verify it from another source. Would be such a fun article to write.

This is not the first time that Motorola has reneged on promised updates. I learned this the hard way. My Motorola Photon 4G was bought with the understanding that there would be an Android update to Ice Cream Sandwich from Gingerbread. Never happened because Motorola decided it was difficult and inconvenient to keep its word. I vowed then that I would never purchase another Motorola phone. Now, I must admit that my resolve was clearly weakening after Motorola (under new management) rolled out the first 2 years of the Moto X, which was not only a great phone but received very timely Android updates. But now it is clear that Motorola have returned to historical form and its word is virtually worthless. If I don't see a company I can trust, that company will never see my credit card.

Not a single one of the updates on the og moto x was as good as the Moto x out of the box when first released. In fact the first update, I think 4.4 (released early with nexus), made the phone almost unusable. Posted via the Android Central App

True. That photon pushed my friend over to iOS. VZW Moto X DE/N7

The Atrix/Photon not getting an upgrade almost pushed me to Apple as well. I'm on an S5 now, and apparently Samsung has leaked a couple MM updates, so at least I know one is in the works. Fingers crossed that I don't get left behind again...

That was the first thing that I thought of. So instead of keeping my out of date device, you want me to pay another $500 to get another, newer, out of date device? No thanks. I hope people do not fall for this.
I do give Moto credit for being transparent and actually saying there will be no update versus the never ending waiting game most OEMs opt for. Posted via the Android Central App

There are so many other less expensive excellent devices in the world......and less expensive carriers than Verizon.....Come to GSM ....become one with the dark side! :D Low cost providers..... $45 a month for 5 gigs...mexico and canada included.... So many great devices.........you will become one with GSM ..

Mwahahahahahaha! Posted via the Android Central App

go to xda the maybe have some goodies for you

I owned the Droid Maxx last year, followed by the Verizon Moto X 2014. I gave up on Moto after the Moto X 2014 was cut off from Marshmallow. I liked the old Moto. Now it's just a shell of a company.

It's just the name now. I wonder if illiterate people get the full effect of alphabet soup

Moto by Lenovo No thanks.

What you guys liked was Google's version of Motorola. This is just moto getting back to form. Posted via the Android Central App

Very true.. Posted via the Android Central App

How the hell have they not even done so in 2014?! Not even 2015. Good lord Lenovorola. I don't know who to blame here, so I'm putting it on both Lenovorola and Verizon. "We're sorry that we can't update those phones for some reason. Here, have a discount on some of our newer devices, even though you likely have a bad taste left in your mouth already". A small loan of a broken G4

Ummm, they could have just said they weren't updating and then said suck it. I have no clue why they would ever update something that old, but people seem to have lots of unrealistic expectations. Nice gesture IMO. Posted via the Android Central App

Nope. Those phones are on sale up to last week at that price anyway. So it is literally no gesture at all. Posted via the Android Central App

It's an upgrade to lollipop which was released in 2014 when the phones were only 1 year old. At least with Samsung it's better late than never Posted via the Android Central App

They were phones that launched with Jelly Bean 4.2.2. They were updated to KitKat and never saw anything further than that, even in 2014 when Lollipop was all the craze. That's why quite a number of us are pretty salty at either Lenovorola, Verizon or both.

Because they said they were going to update them. Posted via the Android Central App

The expectation was for the device to receive upgrades one year after release. It never did, and they're apologizing for not delivering on the promise a year later.

That phones are waiting for a Lollipop update in 2016 is mind-boggling. I'm just used to that Nexus life I guess.

With most of the carrier's going away from contracts, for me it is a no brainier to continue with nexus phones. I can't stand seeing good phones not getting updated because the manufacturer and carrier want more money. Posted via nexus 6p

Yes they want more money, they are a business. What don't you get about this? Posted via Nexus 6 running on any data plan I want

You are still in a contract korec LMAO Posted via the Android Central App

Yet another reason my next phone won't be a Lenovo... (Motorola is already dead) Posted via the Android Central App on my Droid Turbo

Now a days, Motorola sincerely sucks when it comes to updating, even though its near stock Android is easy to upgrade, its still reluctant to do it, and I guess updating is the biggest USP of this brand. But now I know that my next phone isn't going to be a Motorola at all. Posted via the Android Central App

Looks better than the M10

I suspect you commented in the wrong article... the A19 discussion is one article above this one! Posted via Moto Turbo

Yes I did :/ From Galaxy S6

Not surprised. Don't care who's fault this is, that is pathetic. Posted via the Android Central App

Could it be that Verizon just made it too much of a hassle for Motorola to even put in the work? Cuz you know, carrier stuff. Nexus 6

Motorola has done this since the Motorola Photon. This doesn't surprise me one bit and it's why I won't ever buy a their phones ever again. Doing stuff like this to your customers can make them extremely bitter. Posted via the Android Central App

Exactly why I have Nexus 5X on Verizon...Updates controlled by Google - not Verizon... Posted via the Android Central App

Maybe Verizon is to blame here and anyways those phones are out of the 2 yrs cycle that manufacturers follow. But Motorola needs to do things out of the normal if they want better sales Nexus 6 on Android 6

The phones were well within the 2 year cycle though when they were announced to be getting the update Posted via the Android Central App

All the more reason to get a nexus 6 running marshmallow 6.0.1 for just $250 Posted via the Android Central App

The irony is that it's made by......Motorola

Motorola hardware is still great. Posted via the Android Central App

I know, and being a Nexus, it will receive timely updates for 3 years. Just find it somewhat funny that we're talking about a really good phone made by Motorola in an article that's not showing Moto in a good light.

Best damn phone available. Posted via the Android Central App (Motorola Nexus 6 - US Cellular)

Aw Moto how you've fallen Posted via the Android Central App on my Frost Nexus 6P

Keller, why write an article about the Ultra, Maxx, and Mini, but use a picture of a Droid Turbo? Posted via Moto Turbo

+1 Posted via the Android Central App

It's foreshadowing of what's next for the turbo. Its the end of its road already. Posted via the Android Central App

Here's the best part. You have dildos who think a two year old phone is to old. You people can than yourselves for the way these companies treat you. Posted via the Android Central App

+1 Posted via the Android Central App

They should become non-fictional books writers. How to ruin your customer base in just one step! They really don't get it. Especially because Moto was supposed to be the Nexus experience with value add extras.

Motorola is DOA Posted via the Android Central App

For the record, VZW's Moto G 1st Gen (prepaid even) was updated to Lollipop 5.1, and works great. (I have no idea why they landed on 5.1 instead of 5.1.1.)

One of the reasons, that from now on I'm only buying Nexus or iPhone.

Yup. Posted via the Android Central App (Motorola Nexus 6 - US Cellular)

The iPhone will never get Marshmallow ;-) Posted via the Android Central App

Sounds like a challenge The tip is not included! So tip your Uber driver.

Going the way of HTC or they could stop partnering with Verizon on stupid exclusives. You don't make your best phone an exclusive. The tip is not included! So tip your Uber driver.

Contract runs though this year I think. Maybe they don't sign a new one but this year is sunk Posted via the Android Central App

Hope they don't. The tip is not included! So tip your Uber driver.

Why is there a picture of the Droid Turbo? Posted via LG G2

Motorola back to its old ways. I wish Google could have kept them and stayed the course. Every other major OEM is better at providing updates to flagships. And that is saying a lot because some are pretty terrible. Posted via the Android Central App

Shout out to all those that refused to listen to me last year when I said moto sucks at updates. I hope you enjoy your purchases. :D Posted via the Android Central App

Stupid move, Moto.. Smh Posted via the Android Central App

i like how people blame Motorola meanwhile here with Galaxy S Duos still waiting for Samsung to release that Android 4.1

Discontinue Droids already.. Posted via Techmology

Isn't that the Droid Turbo in the picture? Speaking of, it's getting a little late at this point that it wouldn't surprise me if they announce that the Turbo won't receive Marshmallow. Posted via the Android Central App

Yep. They said the original Turbo would get Marshmallow. Not seeing it yet. Been waiting. Now I'm waiting for the death knell announcement akin to this story. I'm under the assumption with the Verizon Motorola exclusives that you should assume what comes on the phone is what you get, barring a mandatory security update from somewhere that says do this or be fined. If you get an update to the next OS, that's awesome. A second OS? You're pressing your luck and waiting for the Whammy to slide onto the screen and do some funny animation and make you feel terrible for having such high expectations. I am a Verizon subscriber (and for my area where I live, the other three are not an option; they all die out in critical spots where Verizon doesn't -- and why that hasn't changed in 10 years? I'd love to know why. We're not talking deep Appalachian Mountains territory here. Anyways....) I love Motorola phones with the big batteries and I am not OS driven so no Marshmallow isn't going to kill me. But to those Verizon subscribers that OS upgrades are critical, I would not recommend a Motorola. The company can put out good phones, but I just don't see where the promises are coming through, given they've backpedaled on some already. Basically, buy the Verizon Moto exclusive phone for what it is now, and expect it to be that way in two years. Any changes are gravy on the mashed potatoes. I can do that. Others cannot. And regardless of which side of the fence you're on, that's okay. You just need to keep that in mind when considering your next phone. Other carriers, though? Well, we've seen enough articles to know the difference between their phones and these Verizon Moto exclusives. Just do your research and buy a phone through a company that works for you. But these articles pretty much tell you truth when it comes to the Verizon Moto exclusives.

Bastards... Posted via the Android Central App

I'm so damn happy the Nexus devices work on Verizon. Hopefully it stays that way with every Nexus from now on. Posted via the Android Central App

This is the same BS they used on another phone a while back (thought which model escapes me right now). Seems like this might just be their fall back now when they want to be lazy. Posted via the Android Central App

Wow that's awful. I almost considered getting a maxx,its a good thing I didn't. TO BE FAIR,I bet these phones are better off on kitkat and I can certainly see the company wanting people to upgrade by now but I'm surprised it hasn't been on lollipop this whole time. In any case,after I heard about the plans to cancel the Moto G and moto E series I decided I probably wouldn't mess with Motorola(lenovo) anymore. Posted via the Android Central App

Honestly, while the update not coming is a disappointment, I'm happy with the phone. The Maxx is a great phone and runs great on 4.4.4 and I'm glad they didn't ruin it with a half-assed lollipop update. I blame it squarely on Moto. They brought out an update for the 2013 Moto X which has the basically the same internals as the Ultra/Maxx/Mini. So I'll continue to use this very stable and functional phone until I can't, then it's off to an unlocked phone for me. Previous article here saying how the unlocked Priv gives me good vibes..

The specs on the MAXX can't handle the upgrades.....bwahahaha! Can't say that with a straight face. It means there's no point in dishing out on buying a high spec phone that can obviously handle the next few years of updates, since they're not going to update them and would rather you just buy a new device. Greed in every way possible, and %100 commitment to disloyalty is the Verizon way. The tip is not included! So tip your Uber driver.

I'll be damned if my og turbo gets marshmallow. My wife's maxx has had all kinds of stability problems too. She can't install Facebook for Pete's sake. It fails to install. I probably need to factory reset but f that. Google hardware of bust. Posted via the Android Central App

All I know is that I bought my 2014 Moto X PE in April, 2015. It was on Android 5.0 out of the box, updated to 5.1 in June, and received 6.0 OTA in late December. It may not go past Marshmallow, but that's fine, because the phone is already a year and a half old. I really don't understand why people get so upset when their phones aren't updated quickly or at all because they bought carrier versions (not smart), or $150 phones like the Moto E (exactly what do you expect?). Plus, give me an OS that works over something new that's buggy (for instance, 4.4 was way better than 5.0). Posted via the Android Central App

Carrier versions of smartphones in the ~$500 and up range at release should be updated for at least 18 months imo(preferably 24). All the major manufacturers do this, Samsung, LG, HTC... All but Motorola. And if you think this is a Verizon issue, the AT&T Moto X 2014 won't be getting Marshmallow (that was released well under 18 months from the phone's release date). Posted via the Android Central App

#nexusmasterrace Posted via my glorious Nexus 6P

I have really liked my Droid Maxx but due to lack of updates I think I will go with a Nexus next time. Especially now that they are working well with Verizon. Posted via the Android Central App

Makes me wonder how many people not in the loop with tech will just see this sort of thing as part of a rubbish "android" experience. They won't know who to blame, they'll just sit there with an outdated version of Android and eventually decide Android is outdated and rubbish and move to iPhone. I think this kind of nonsense is damaging to android as a platform in general and as we know from many other articles Moto are not alone in doing this. Posted via the Android Central App

We should thank Motorola for giving us one less option that tries to convince us that we should upgrade our phones every year. I don't know who the marketing geniuses were that convinced people that spending hundreds of dollars every year on a freaking phone was an expense that most people can afford to do, but if other manufacturers jump on this lie-apologize bandwagon, maybe more people will stop forking over their cash. Moto/Lenovo will never get a dime of my money again, and I'm only stuck with an old Moto X from 2013 that barely lasts 6 hours on a charge.

I just broke my droid ultra trying to get the batty out bc it was bad, and the screen cracked during the removal. I dont keep up with phones unless I need one and was actually just shopping for a new battery and screen when i came across this. I had been wondering what happened to android L and motos promise to upgrade the ultra that was a selling point when it was new. I bought it off-contract to avoid renewing my V contract. Now that android l is cancelled for it, ill just have to get a new phone. Not worth fixing it now, and im not going to get any more moto pones ever again. They can take their discount and shove it, im getting the s6, even though its kinda old. I cant afford another phone at full retail now with the economy the way it is, ill have to subsidize it through V and i cant afford the note5, or edge products that way. I feel screwed by moto at this point, i started with the bionic and its been dissappointment even though I felt moto would eventually get their act together under google. Oh well, they lost another faithful customer with this move. The discount they are offering is insult to injury.

Fair is fair: It may have been Lenovo/Moto that reneged on the promised update - but it was either Google/Moto or Verizon who withheld the ability to unlock the phones' bootloaders. If there were still developers interested in bringing updated software to these devices we would be in good shape, but most of that interest disappeared a long time ago, presumably due to the small number of people who bought Developer Editions, or otherwise managed to unlocked their devices. To everyone affected by this announcement, please consider joining Motorola's forums to request that they allow these devices to be unlocked. They apparently did so with the 2014 Moto X, and hopefully if enough people ask nicely, the same could happen here. [edit: there is also a Petition to Verizon requesting they allow bootloader unlocks, link is here: https://www.change.org/p/verizon-droid-family-bootloader-unlock?recruite... ]
Android Central Newsletter
Get the best of Android Central in in your inbox, every day!
Thank you for signing up to Android Central. You will receive a verification email shortly.
There was a problem. Please refresh the page and try again.