Lollipop, Android 5.0 5.1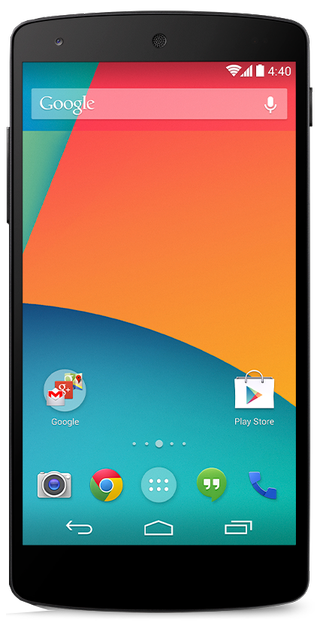 Breaking out of the mold from previous releases, Google took to the stage during its 2014 Google I/O developer conference to announce a new version of Android, dubbed simply "Android L." In October the name was finally released as "Lollipop" and given the distinction of Android 5.0. The name comes from the Android naming convention that goes in alphabetical order, where L would follow the previous release, KitKat. The difference this time around being that Google released certain parts of the OS ahead of time under the "Android L" name to get it in developers' hands, and released the naming later.
Android 5.0 Lollipop comes with yet another interface design tweak, this time coming with the name "Material Design." The design language builds heavily on some of the interface experimentation Google has done with Google Now, leveraging the "card" metaphor throughout the Lollipop interface. Cards of various colors and sizes appear throughout the system, with different colors and shadows providing a feeling of depth in the interface. Apps can respond to touch with different shadows and ripple effects to make the interface feel as though it is being manipulated directly by users, and bold new colors palettes give apps distinctive personalities. Animations are supposed to reflect user interaction, not just happen at random.
Under the hood in Lollipop are dozens of new features and over 5000 new APIs that developers can plug into as well, as part of Android API level 21. Things like new notification hooks to work with Android Wear, better control over battery with Project Volta and cross-platform compatibility with Chrome OS devices are huge pillars of Android Lollipop.
The first builds of Android L were distributed to developers at Google I/O 2014 with factory images made available for both the Nexus 5 and Nexus 7, and then launched officially with the release of the Nexus 6 phone and Nexus 9 tablet in the beginning of November, 2014.
In March 2015 Google unveiled Android 5.1, an updated version of Lollipop. Android 5.1 includes performance and stability updates, multiple SIM card support, HD voice calling and "Device Protection," which secures lost or stolen devices against factory resets. Android 5.1 also brings the platform up to API level 22, including new APIs to let developers work with dual-SIM devices, and APIs to let carriers control provisioning and other cellular services through apps on Google Play.
Get the Android Central Newsletter
Instant access to breaking news, the hottest reviews, great deals and helpful tips.
Thank you for signing up to Android Central. You will receive a verification email shortly.
There was a problem. Please refresh the page and try again.