Android 5.1's 'Google VPN' could protect your data on open Wifi networks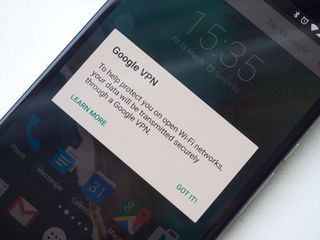 With Android 5.1 Lollipop now out in the wild, Android enthusiasts are starting to dig into the latest firmware for Nexus devices and see what's new. One interesting addition, first spotted by Pocketables, presents the possibility of Google operating its own VPN service to keep Android users' data secure over public Wifi networks.
The Nexus builds of Android 5.1 include the Google Connectivity Services app, which can be seen under "All Apps" in the app manager. Using the QuickShortcutMaker app, which can link to the activities that make up other apps, Pocketables was able to locate the activity for a Wifi assistant — presumably designed to be loaded when connected to an unsecured Wifi network.
The pop-up message that follows tells users that "to help protect you on open Wi-Fi networks, your data will be transmitted securely through a Google VPN." Press "Got it" and you're taken to a dialog asking you to confirm a VPN connection, however that doesn't seem to work. Similarly, the support pages linked in the dialog don't seem to be live yet.
While nothing's official yet, this kind of feature would certainly make sense for Google and Android. It's easy to capture unencrypted data sent to and from open Wifi networks; a VPN would be an obvious way to secure against this, and Google has the resources to pull it off.
Google Connectivity Services and the Google VPN might also relate to the company's plans to launch its own MVNO carrier in the U.S., an effort which according to Android chief Sundar Pichai will involve combining Wifi and cellular telephony. The presence of specialized software on Nexus phones might also explain why the Google MVNO is rumored to only work with the Nexus 6 initially.
It's worth taking all this with a pinch of salt in the absence of any official announcement, of course. But it'll be interesting to see whether the Google VPN sees the light of day, and if so how it connects to Google's wireless ambitions.
Via: Pocketables
Android Central Newsletter
Get instant access to breaking news, the hottest reviews, great deals and helpful tips
Alex was with Android Central for over a decade, producing written and video content for the site, and served as global Executive Editor from 2016 to 2022.
So? Google Drive is free for a certain amount of data, then they charge you for extra storage. Same thing for Business solutions, those aren't free. And I'm not sure their MVNO is going to be free either. So while chances are at least a basic version will be free (if real), it's also possible that an unrestricted VPN service will not.

You're right about drive and such, but I still expect if they switch this VPN on it'll be free to the user (at the point of service). Business is a completely different kettle of apples and prances... Wubba lubba dub dub!

This is the type of thing they'd do free. Storing massive amounts of data, or running your business off of them, make sense to charge for. This service would be a logical thing to do for free, especially because it guarantees all your traffic in these situations goes through them and their algorithms. One of the reasons the business and data services aren't free is because they DON'T have algorithms scanning them to advertise to you.

Who cares if it's free, at least their offering it, instead of us having to go out hunting for the best VPN, while most suck. Posted via the Android Central App

How sure you are that this one wouldn't be suck and your data is secure?

Quote Bl4ckSc4r: "instead of us having to go out hunting for the best VPN, while most suck." You do understand that the purpose of a VPN is to have a private encrypted network right?
And you DO see the Irony of creating a virtual PRIVATE network DIRECT to the worlds largest data miner, don't you? That is the opposite of Smart.

Use Cyber ghost, that will be give you great browsing and downloading experience. its free :)

Google's sending a F*CK YOU message to NSA

I doubt it most likely they (nsa) will have key to unlock. Because if Google, Apple, Microsoft don't play nice with government, they will make their company's life a living hell. Sad but true... Posted via the Android Central App

I'm really not that concerned with the NSA. If they want to see what I do, I'll be an open book. But on the other hand I don't want some hacker to gain access to my email or social media sites for nefarious reasons.

They both the same imo Posted via the Android Central App

"I'm really not that concerned with the NSA. If they want to see what I do, I'll be an open book" And that is exactly what the government wants you to think.

If I ever be aware of NSA scanning me I'll make sure to take more photos of my duck. No auto correct, I didn't meant duck! Posted via the Android Central App

The NSA and ISIS can both go and f**k their mothers.

Unfortunately we live in a world that if you were to put that out there on a more openly known platform, and they could know who you are, one of them would remove you from the earth, and anyone you were directly related to. Meanwhile you have Senator Palpatine trying to make deals with Iraq. Sucky times we live in. Via Nexus 6: "Takin updates for granted."

Lol that ending though. I think you mean Iran for starters. Iraq is a blooming democracy same with Libya and Afghanistan. To the world guess who's the terrorists. The United States government check Posted via the Android Central App using Chickens

I hope they make use of the system wide VPN functionality. This app might just be a prompt to let user know that we are doing this

Before you all do cartwheels,Google's generosity always,and I mean always comes with all the advertising they can cram onto your viewing pleasure(-: Setting up your own,or useing another VPN means that most if not ALL ads will be filtered out. Remember,free means you are the product! And don't forget that ads are another avenue of attacks. So while protecting you from a man in the middle attack,you are still vulnerable to others,malvertizing. Posted via the Android Central App, HTC Evo 4g LTE ,on Sprint

Testify! lol An article on the duality of ad blockers may be an interesting read... Wubba lubba dub dub!

Malvertising.....lol......please understand vpns before commenting. Thanks Posted via the Android Central App

Nice! Google gets to see everything I do, at least they'll prevent others from doing the same :p Wubba lubba dub dub!

This is a bit of a false security especially as stated. The connection to the open Wi-Fi would still be the same. Traffic would still flow through the AP and switches. Only then would the data be handed off to the VPN. I'm assuming, and what's not stated, is that this would be an encrypted VPN connection whereas the data is encrypted phone side and then passed through the open network. They are also careful of their wording stating that it may "help protect you". Being cautious of MitM attacks. Either way a step in the right direction, just wonder what Google has planned for all that information they get to gather passing through their VPN. Via the AC App On Verizon Nexus 6

The VPN would be from your phone to where ever the VPN connects to. It would still be more secure than the open WiFi, which is the whole point.

The VPN would encrypt data leaving your phone once the VPN Tunnel has been set up. On the other end Google would un-encrypt your data and pass it along to the internet. People snooping on the open AP would only see an encrypted stream from that point forward, making it much more difficult to see the information you are accessing. <tinfoil hat time> On the other hand is this some ploy to make it easier for google to see more of what you do??? <end tinfoil hat time>

Sweet, I get to route all my Web traffic through a company that makes all its money off of ads targeted at my personal info! It's the dream! Shamu to you too *splash*

I've been running my own VPN for years now. Just moved it to a Raspberry Pi. This also gives me access to my home network without directly exposing my "stuff" to the Internet. Things like web-cams and the such... Posted via the Android Central App

Its probably there for when 5.2 is released with WiFi calling so people can talk without the possibility of someone at the other table at Starbucks listening from their headphones plugged into their computer. I doubt they're starting their own VPN service that anyone can willingly use.

If u and are connected to the same wifi hotspot and on a wifi call, you would not be able to hear my conversation. It's impossible Posted via the Android Central App

Open Wi-Fi and security are oxymoron's. To use one defeats the other. If you are concerned with security DON'T use "open" networks!

That's what the VPN is for. Don't do any "secure" stuff until the VPN connects.

Syny.....lol, go back to playing with Barbi, this is for adults not idiot kids, move along idiot Posted via the Android Central App

Clearly you are the imature child here. You think everything is a laugh. You only show your lack of knowledge and perhaps it is you who needs to stop. Posted via the Android Central App, HTC Evo 4g LTE ,on Sprint

> "a Google-run VPN might keep your data secure on public Wifi networks." I guess that depends on if you call sharing all your packets with Google to be "secure". Sounds like a nice option to have, though (as long as it is optional).

I always play the Pinch of Salt drinking game when reading AC articles that might mention the upcoming Google MVNO. I always have to drink. Posted via the Android Central App

I think I'll use my third-party VPN app instead. Google already knows 90% of my online activity on the desktop, now they want 100% of my mobile browsing? No thanks.

Doesn't work? That seems to be a recurring theme with L. Posted via Android Central App

I think this is an interesting article. To think I almost missed it because of this horrendous "keep scrolling to dismiss" add that wouldn't move out of the way quick enough. Not to be off topic, but I can deal with a pop up at the bottom of the screen, and I understand the need to monetize the information being provided, but this scrolling ad is for the birds. AC has been my goto for years, but no more, I can't take this new tactic. Bookmarks have been deleted.

Don't really think it could beat the likes of services like PureVPN and IPVanish that are best VPN for android (http://www.bestvpnservice.com/blog/best-android-vpn) and the wording of the notification seems a little off... why do you want to "monitor" network traffic? might just be a marketing gaffe but any hoo... if it works its saving me money!

If you want a reliable and secure free VPN then go for RiseupVPN more secure and better than GoogleVPN.
Android Central Newsletter
Get instant access to breaking news, the hottest reviews, great deals and helpful tips
Thank you for signing up to Android Central. You will receive a verification email shortly.
There was a problem. Please refresh the page and try again.