The Nexus 9 is finally a tablet you should buy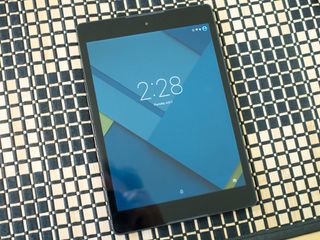 We've reviewed a lot of devices here. More phones than I can remember. A whole bunch of tablets. But things got a little weird in the fall of 2014 with the release of the Motorola Nexus 6 and the Nexus 9 tablet. And the source of that weirdness was Android 5.x Lollipop. Or, more specifically, the initial builds of it — especially on the NVIDIA Tegra K1-powered Nexus 9. And to be fair, not everyone saw the same software problems we experienced. But for us, the Nexus 9 would essentially become unusable a couple weeks or so (if that long) following a fresh install.
Here's how I put things after three months with the Nexus 9:
That was from late January 2015. We're now in the summer months and we've got Android 5.1.1 (build LMY47X) on the Nexus 9. And things are much better.
Nexus 9 hardware, 8 months in
First, though, let's revisit the tablet itself. The Nexus 9 sports an 8.9-inch display — OK, 9 inches — with a 4:3 aspect ratio. That's a deal-breaker for some of us here, but I wasn't one of them. And while I very much enjoyed the smaller size and 16:9 aspect ratio of both Nexus 7 tablets, I quickly adjusted to the N9. I've watched movies and TV shows. Countless hours of YouTube. I've read books. I've played games. The Nexus 9 has always been pretty comfortable to hold, and I've either gotten used to the CPU heat I mentioned in my three-month look, or it's been helped some by software tweaks.
And as I also mentioned in January, the air gap I had in my early unit wasn't ever a big deal — and indeed it appears to have been minimized in later hardware runs.
I'm using the foldable "Nexus 9 Cover" on the Nexus 9. It's a $39 magnetic cover that only protects the display — and that means much of the tablet has been left exposed as it's been left bouncing around in my gear bag. After six months of abuse in this fashion I can say it's held up pretty well. I've got a few cosmetic issues — mostly with a protective plastic coating coming off the matte finish, and a few dings in other places — but nothing I wouldn't call expected wear and tear after this much time. Certainly none of it affects the operation of the tablet. (And after further inspection one trouble spot is at the micro USB port. Here's to hoping the next Nexus tablet is sporting the new reversible USB-C standard.)
Image 1 of 3
The general consensus on the Nexus 9 Keyboard Folio, however, is that it's too cramped for any real daily use.
The cameras, for me, have mostly remained unused, save for some occasional Hangouts time. (But I tend to avoid video calls on Hangouts and instead use FaceTime with my family.)
As for battery life, the 6700 mAh Li-polymer battery easily gets me through a day. I generally plug in the tablet overnight (it lives on my nightstand while I sleep), so I'm not really missing wireless charging or anything. Elsewhere with the internals, I'm glad I've got the 32GB of storage – which to us should be the standard minimum now — and the 2GB of RAM seems adequate.
And that leads us to ...
Nexus 9 software: Finally, Lollipop isn't painful
I've never really had a problem with the way Android 5.x Lollipop looked. Material Design is an excellent direction for Google as a whole, and mobile in particular. And for whatever reason I've always enjoyed having a more spartan UI on my tablets. (On phones I tend to put up with more junk. Go figure.) My last three tablets have all been of the Nexus variety, up to and including the Nexus 9.
But after a couple weeks of use, my Nexus 9 would grind to halt. A restart would help things a little, but soon enough apps would take a ridiculous amount of time to load. Switching between apps left enough time to boil an egg. (Or so it seemed.) Think of a basic function that you take for granted. Opening the app drawer. Hitting the back arrow. It all took way too long. And I still have no idea if that lag had anything to do with the full-disk encryption, just general software wonk, or what. As I said before, none of that really matters to me as a user.
So there was just no way in hell I could recommend the Nexus 9 to anyone.
That's changed with the Android 5.1.1 update. The Nexus 9 is now running exactly how I'd expect it to. And as an added bonus Google has begun fixing adjusting my other major gripe — interruptions and the way it handles muting a device. I still think having a proper mute action attached to the volume keys is a must, but at least we're back in the right direction. (And notifications are less of an issue for me on a device I don't keep in my pocket most of the day anyway.)
So with that, we're now happy to recommend the Nexus 9 as an Android tablet you should buy. The hardware has held up reasonably well to punishment, and the software has finally gotten up to our standards after the latest updates. If you're looking for a larger Android tablet, the Nexus 9 should now be in the conversation.
Get the Android Central Newsletter
Instant access to breaking news, the hottest reviews, great deals and helpful tips.