Nexus 5: Past, present and future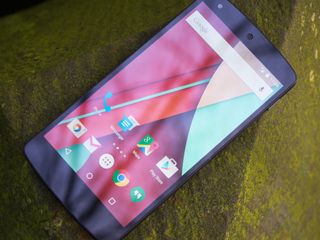 A year on — and with an all-new version of Android — how does Google's 5-inch handset measure up?
I've used the Nexus 5 — Google and LG's last Nexus collaboration — on and off for the past year. The phone never quite managed to become my daily driver, mainly due to underwhelming battery life and the arrival of newer, shinier things in the earlier part of the year. Regardless, the N5 has never been too far from my side. This summer it was the first phone to get a sneak peek at Lollipop through the "Android L" preview, and it was among the first to get Android 5.0 proper last month.
Unlike previous years, Google's keeping the older Nexus handset around for the time being, selling it alongside the Nexus 6 and Nexus 9 at the same price point it launched at in November 2013. (Though Play Store availability remains sporadic.) So the Nexus 5 isn't quite dead yet. But how does it compare to other handsets running Android 5.0? Is it still worth the money twelve months on? And might we see another smaller Nexus handset in 2015? Read on for our take on the Nexus 5, twelve months on.
We've been over the Nexus 5's physical characteristics on a couple of occasions previously, but the major points bear repeating. You're looking at a fairly utilitarian plastic body with flattened sides and a soft-touch textured back. It's not a particularly flashy handset, especially compared to the premium offerings from HTC, Samsung, Sony and others we've seen in the past year. However it is easy to hold, relatively sturdy, and it's a phone you feel secure in not babying as much as the HTC One M8, for example.
As is the case with the Nexus 7 tablet and some other Google-designed devices, the Nexus 5 is about function more than form. It's designed to put a screen in your hand, and that's really about it. By contrast there's a little more visual flair in the current Nexus handset, the Motorola-built Nexus 6, but that's also a far more expensive product.
So the industrial design isn't going to blow you away, but what about the internals? Well, a year later Qualcomm's Snapdragon 800 processor has held up pretty well. Architecturally, it's not all that different from the Snapdragon 801 powering most 2014 flagships, and we've seen that chip perform admirably in many devices over the past 12 months. Similarly, the Nexus 5's 2GB of RAM gives stock Android plenty of breathing room. And while a base of 16GB of internal storage isn't as roomy as it once seemed, it's enough for what's squarely a mid-range product by late 2014 standards. And that 1080p IPS LCD isn't as vivid as contemporary rivals, but it's still a great-looking display, and more than sufficiently visible in the sun.
We'll get to software shortly, but it's worth pointing out here how well the Nexus 5's year-old hardware handles Android 5.0 Lollipop. Whether it's perceptibly any faster than KitKat was on the same hardware is debatable, but whatever the case the N5 manages to juggle Lollipop's rich animations without a hitch. Firmware upgrades, particularly those as significant as Android 4.4 to 5.0, don't always guarantee that performance won't slip in order to accommodate more features and flashier graphics. But there should be no such concerns for Nexus 5 owners upgrading to Lollipop.
Imaging is one of the areas of smartphone hardware where there's still a lot of room for improvement, and as such mobile cameras have moved on considerably in the past year. The Nexus 5's 8-megapixel, optically-stabilized rear camera was never amazingly great, but compared to its 2013 peers it was at least pretty decent. The camera's main strength is HDR+ mode, which can capture surprisingly sharp and clear images even in fading light. And the process of taking and crunching HDR+ shots has gotten quicker over the past year too, in part thanks to Lollipop.
However, despite the camera API improvements in Android 5.0, the Nexus 5 isn't much good at shooting fast-moving subjects — nor is it as quick or full-featured as the latest camera experiences from Samsung, Sony and LG. Again, we're talking about a mid-range phone here, so you don't necessarily expect the very best camera experience money can buy. In any case, it's absolutely possible to get good-looking shots out of the N5 on the latest firmware, just don't expect to do so as often as on a really great Android camera like the Galaxy Note 4 or LG G3.
The Nexus 5 underwhelmed us with its relatively meager battery life last year. But with talk of "Project Volta" bringing improved longevity in Lollipop, there was hope the new version of Android may have been able to squeeze some more juice out of the Nexus 5's 2,300mAh cell. Unfortunately, in our unscientific testing the difference in battery life has been negligible. While Volta may help properly-optimized apps use less power in the background, the Nexus 5's Achilles heel is active use time; as was the case on KitKat, you'll be lucky to get more than three hours of screen-on time out of the N5 on Lollipop. That's a shame, but it's a problem rooted in hardware that's probably not solvable in software.
Fortunately the rest of Android 5.0 more than lives up to its promise on the Nexus 5. As we've already mentioned, Lollipop flies on the phone's year-old hardware, and you'll get the same core experience as on a Nexus 6 or Google Play edition phone — minus some fancier features like Ambient Display. That's another way of saying you'll get the best software experience on any Android phone, and with any luck a speedy update to whatever's next, beyond version 5.0.
Lollipop's not without its quirks — and we'll bemoan curiosities like the lack of a plain old mute function all day — but as we mentioned in our Android 5.0 review, this version takes big, important steps forward in making Android more useful to real people, and making stock Android more than just a blank slate for OEMs to built atop. It's the Googliest version of Android yet, and that's a great thing if you're bought into the company's ecosystem, as is likely the case if you're considering a Nexus handset.
More: Android 5.0 Lollipop review
So where does this leave the Nexus 5, and buyers looking for a solid stock Android phone that's not gigantic? Even in late 2014, the Nexus 5 is a decent choice for those seeking a mid-range stock Android phone, and in some places it even puts high-end rivals to shame with its speed and fluidity. In all areas but battery life, this is still a really great little phone. The lack of any movement on price in the past year means you're arguably getting less mileage for your $350 in 2014 than was the case a year ago, but it's still decent value for money.
Looking further a field, the options for a really great stock Lollipop phone are pretty limited. In the U.S., the Google Play edition HTC One M8 is a decent alternative with better battery life, though it's pricey at $650, and currently out of stock on the Play Store. The 2014 Moto X is another more up-to-date choice, however that device has camera and battery life issues of its own. As is often the case, then, consumers are left to decide between having the latest version of Android and the best overall experience — which includes important factors like battery life and camera quality.
That's why I'm holding out hope for a new Nexus 5 in 2015. If Google is serious about its Nexus device strategy — and when you're putting in the resources to ship on five major U.S. carriers, you're serious — then there's no way it can stick with a 6-inch handset forever. The Nexus 6 shows that Google wants to sell phones to consumers and carriers, and establishes the Nexus brand as the primary way for it to do that, following the stalling of the GPe program. That being the case, Google can't ignore the market for non-massive phones in the next twelve months. It'd be like Apple only releasing the iPhone 6 Plus.
In 2015, any of the major players in the Android world could partner with Google and produce a really compelling 5- to 5.5-inch Nexus handset. Android is a mature platform, and everyone that's left in the game at this point is really good at making high-end hardware.
So here's hoping 2013 Nexus 5 isn't the last Nexus 5. Got any hopes for a future 5-inch Nexus handset? Share them down in the comments!
Alex was with Android Central for over a decade, producing written and video content for the site, and served as global Executive Editor from 2016 to 2022.
The 5 was a solid nexus. Battery, network connectivity were issues but a solid all around performer after the camera was improved. I sold mine maybe a bit too fast...not sure I am keeping this nexus 6. Posted via my Nexus 6!

Hey well if you want a Nexus 5 white edition plus some cash for that Nexus 6 let me know in a pm btw I'm in the US ;)

I've been back and forth on it too. Still holding on to the oneplus just in case! Posted via the Android Central App

I will admit it was nice walking into an AT&T store to test out a Nexus 6. But after a few minutes I was positive I wouldn't get any more enjoyment from the Nexus 6 than my OnePlus One. It would have been a no brainer at $350 for the Nexus 6. But that is NOT the case.

+1 Posted via the Android Central App

Luckily I still have my OPO as well! Posted via my Nexus 6!

I loved my nexus 5. One of my favorite phones. Posted via Android Central App

My LG G2 still doing better than my brother's Nexus 5. Posted via "the Contest-Won" Sprint Galaxy Note 4

My sisters boyfriend's uncle's hampster shat all over my neighbors friends cousins paper delivery guy's pet llama... Go figure Posted via the Android Central App

Yea I still don't see a better phone on the market price performance wise. Hoping they do a refresh next year but I have no issue hanging onto this baby for the time being. Posted via the Android Central App

Battery..... especially on lollipop

Are you asking about it? I found that the battery was noticeably better in terms of standby performance, but about the same in regular use. I probably ended my day either plugging into the wall charger 20-40 minutes later than I normally did with KitKat, or ending the day with about 5% more battery than I normally would. Either way, it's better, just not in the ways that most people wish (Screen-on Time).

battery life really depends on use. thats different for each person.
EXample, my nexus 4 got me thru the day, from 100% to about 40% when i went to bed after a typical work day thats a 16 hour day of on battery, but 35 mins of screen on time.
my moto X 2014 does they same job, on 5.0 from 100% to 60-70% left with between 30-60 mins screen on time. I use my watch to control music and podcast, and open apps.
so really it depends how you use it. how much u use it. what wall paper u have, etc.
and a year old nexus 5 has a well used battery as well.

I loved mine on KitKat but with lollipop now it is like a whole new phone. So snit and great! If I were to get rid of my phone it would be for another nexus that is 5 inches. No way I can use a 6 inch phone.

You took the words right out of mouth - like a whole new phone! Even the battery life seems slightly improved.
I've been waiting patiently for a Moto Nexus, but 6 inches doesn't cut it for me either. Thankfully, I do not rue stretching another year out of my "new" 5, and hopefully El Googo takes the hint and revisits this format for next year...

Huh, my battery life have improved greatly with Lollipop.

I think you're one of the few based on reading around.

People who are having issues are more likely to post about them. I wouldn't use phone forums for sample sizes of how a phone is doing. Posted via the Android Central App

In my experience is depends entirely on the apps you run, when I flash stock lollipop and just download google Volta optimized apps and setup my gmail and work email and calenders I get good battery life for the nexus 5 3 1/2 - 4 hours and it easily lasts me 16 hours total. I've even got a little beyond 4 hours a few times with battery saver mode. When you start going outside of google's safezone and loading third party apps , especially know problems like facebook, your battery life starts to dwindle to standard nexus 5 battery life. The people with the worst battery life almost always have a excessive amount of apps.

You make good points, I've tried explaining to people some of these very same points. Mainly downloading 3rd party apps that aren't from the play store. Posted via Android Central App

How do you know which apps are project Volta apps

How do u know what apps are optimized for Volta?? Posted via Android Central App on The Nexus 5

It was noticeably better but still far from being optimal if you planned on using the nexus 5 (on screen time) for more then a hour an a half every day.

Has Android Central covered the nasty bug where after upgrading to Lollipop the microphone stops working for phone calls and OK Google? (Oddly, the microphone does work for phone calls if you switch to speakerphone mode). See the reports at Google under id 81093 (wasn't allowed to post the full link doing a reply -- private message if you want it)

Interesting, I think that's isolated as neither I or anyone else I know have encountered this issue.

There is more than a handful of us affected and some members of the Google Android forum found solutions but they were largely hit and miss. I tried many of them myself and no success. In fact I fixed mine with a factory reset but another user who tried it made the problem worse.

Loving the Nexus 5 with lollipop. Agree with everything you wrote. Here's to hoping there'll be a new, improved Nexus 5 in 2015 with much better battery life and much better camera.

Love mine, but wish the battery could have been even a little bit bigger. I would gladly take a couple of extra milimeters if it had a 3k battery... Otherwise, still works great for me. Hope Google comes out with another 5iinch offering

N5 is my daily driver and i love it, but as mentioned in the article both the battery life and camera are subpar. With that said, at its price its one of the better offerings in my opinion.

Loving my Nexus 5 and everything about it. The camera is nothing short of great, and here are samples: http://imgur.com/a/cpKQZ My only issue with this device is the battery life, which can sometimes be pretty good but sometimes finish too quickly. Posted via the Android Central App

Agreed about the camera being great. Certainly as competitive as just about anything that has been on the market over the past 12 months (save for something like a Lumia 1020). I am consistently surprised at how much I like the photos I take with it, and I've owned an LG G2 as well as an iPhone 5. I'm also consistently surprised at how much people don't like the N5 camera. As far as battery life, I also don't understand the complaints. I experience comparable battery life to any other smartphone I've owned recently. I mean, my wife's Droid Maxx has crazy battery life, but everything else on the market? Comparable to the N5, within reason. The biggest complaint I have with the N5 is the color profile of the screen. It's a little washed out for me. I know that this can be altered with different kernels, but it's not so bad to me that I want to go that route. Otherwise, it's the perfect size phone for me that moves around the OS as quickly and smoothly (if not more) than ANY Android phone I've tried. I still see the N5 as the best phone for the money right now. The One Plus One is also up there, but you have to be ok with the size of the phone. A co-worker of mine recently got one, and for me, it was too large. Long live the N5!

Constantly amazed at the outcome of photos I take with HDR. I know it's a gamble, but I seem to always come out ahead. I've joined a few Google+, Flickr, and Instagram groups dedicated to Nexus 5 photos, amazing pictures.

Agreed on the camera. This phone takes amazing photos. The colors and sharpness are fantastic. HDR+ makes them that much better. Never understood the complaints about it. Posted via the Android Central App

Agreed I have no issues except battery life. Camera seems fine to me. Posted via the Android Central App

I am on Sprint (never leaving it for a couple specific reasons) and my contract was up so I went for the Nexus 6 because there was no other phone I wanted but not getting a phone when you can on contract is like throwing money away. I maybe would have gotten the new Moto X but that's more of a side grade over the Nexus 5 and Sprint decided to skip it. I am still undecided whether I want a phone as big as the Nexus 6 even after using it for a couple weeks. If Sprint got a refreshed Nexus 5 I would probably sell my 6 for it if the hardware was at least as good and the speakers were on the front.

take the nexus 6, shave an inch off the display, and sell it as the new nexus 5. that's all i'd want.

You'll roughly get the Moto X Powered by the Android Central App

Are you on VZW, by any chance? You're asking for the Droid Turbo. Sent from my Nexus 5, behind six proxies

N5 still the lightest at 130g and thinnest phone with stock lolipop out there. They need to make a 2015 with the size/weight factor.

Phone lags so much on lollipop. Battery is a lot better though. Posted via the Android Central App

Lag?! Something is wrong with yours cuz mine is as smooth as butter. Sometimes feels faster and smoother than nexus 6. Just that battery and camera aren't as great. I'm running a custom ROM/kernel. That's another reason to take nexus 5 over anything else. The development behind it is INSANE.

Have you tried wiping your apps data cache? Posted via Android Central App

No lag here even the slightest bit, if anything subjectively seems snappier.

I'm getting a lot of lag too.. And yes I've cleared the cache. Posted via Android Central App on The Nexus 5

Did you flash, or OTA? Sent from my Nexus 5, behind six proxies

My friend has a nexus 5 and he's seriously going crazy since lollipop... I even saw it myself. When he plugs a charger in, the phone goes crazy. I don't think he would agree that this phone is any good... Posted via the Android Central App

He just has to change system language setting to anything else than "Francais-Canada". He can switch to " Francais-France" or English or anything else that isn't Canadian French. Give it a try and come back to tell me this phone isn't great on Lollipop. Posted via the Android Central App

I will tell him. Do you know if google are going to do anything about it? Posted via the Android Central App

Android 5.0.1 did fixed it on other devices. Posted via the Android Central App

I spoke to my friend. He did what you said. He's officially in love with you. Posted via the Android Central App

Is it unreasonable to basically just say the Moto X is the nexus 5 for 2014? That being said a 2015 nexus 5 would be very welcome. 810 snapdragon to get 64bit rolling on the phones for Android would make some sense. Posted via the Android Central App

If I needed a new phone today it'd be the Moto X. Posted from my Nexus 5 via Android Central App

I just did exactly that. Switching (back) to Verizon and needed a CDMA phone. I reluctantly went with the 2014 Moto X solely because of the camera, otherwise I'd have happily picked up a 2013 Moto X. The added features of the new X are nice, the build quality is great, it updated to Lollipop out of the box, the screen is beautiful, but man, it is just not a comfortable phone to hold. The thin edges, combined with the large overall size, make it awkward to hold. The same design, in a 4.5-4.7 inch phone would be ideal. As crazy as it is to say, even with the boxiness of the Nexus 5, I find it to be a much more comfortable phone to hold/use. Hopefully I'll get used to it, but I really can't wait for the day when the market comes to it's senses. It reminds me of when notebooks were chasing screen sizes - 14 inch, 15 inch, 17 inch, one company made a 20 inch notebook. Where are some of the most popular notebook sizes now? Around 11-12 inches. All that said, beside the size, the new MotoX is pretty awesome.

My next phone will likely be a Moto G (3rd generation). I intend to hold onto my Nexus 5 for at least another year.

Loved the Nexus 5 hated the battery life, got the oneplus one and it is great, battery also lasts all day. If it weren't for the battery life I would still be using the 5 but it is now my backup phone.

I LOVE my nexus 5. I actually bought and used the nexus 6 for a week or two then returned it. It's just too big and heavy. I've owned plenty of large devices: note 3, iPhone 6+, etc. But the nexus 6 is BIGGER than those. It's too wide. I don't mind it being tall--the width is what drives me nuts. So I've pulled my nexus 5 back out of the drawer and it runs like a dream. And it's SO SMALL AND LIGHT. Feels amazing in my hands. I really hope they make a 2015 version with updated specs!

I think an updated N5 makes a lot of sense, but not if they hang a $700 price tag on one just because it's "updated." I think if Google ultimately ignores the "regular size" phone market, it will prove a bad decision for the Nexus brand. And while they're at it, let's make an updated Nexus 7, or maybe even an 8 incher, which I find more useful than the 7" factor, without feeling like a monster in the hand.

I really don't think google cares about the nexus "brand" being successful. The program started for developers and while its true that the tablets seem to have morphed over to the consumer side I doubt it was anything google actually intended. Posted via the Android Central App

Agreed. I love Nexus enough to pay 450-500 for it, but it has to be a significant jump from Nexus 5. I just don't see that happening until 64 bit is out. I might be sticking with the Nexus 5 for a couple of years. Posted via the Android Central App

I get great battery life with my Nexus 5. Usually at least 3 hours of screen on time and still at least 20% battery left. And the pictures from my camera turn out really good. Lollipop has a ton of bugs but that isn't the phone's fault. I'm sure they'll be fixed soon.

Get a oneplus one. There's your new nexus Posted via Android Central App on 1+1

I believe in brand loyalty. Nexus is awesome. The 6 is too big for me but if they update the 5 next year I will definitely get it. I will stay with Nexus as long as it is competitive. Posted via the Android Central App

I never had the nexus 5 due to having it's big brother the LG G2 which is way better and has held up amazingly.
I have no reason to upgrade til 2016 probably. I can't wait til lollipop comes around for my phone. Posted via the Android Central App

Big brother?? Ive owned both.. More like 2nd cousin removed Posted via the Android Central App

I really like my Nexus 5. I bought it about 4 months ago and in my opinion it runs great on lollipop. Faster than kitkat I think. I have no desire to get the Nexus 6. I'll stick with the 5 for now and see if they come out with another Nexus 5 sized device later. From a performance perspective it's as good as anything on the market.

I moved to a Motorola X 2014. Still have the Nexus 5 as a backup but the nexus seems so...boring Posted via the Android Central App

Still have had it for over a year now and worth the price. It'll be a great back up when I get the iPhone 6s Posted via the Android Central App

Butthurt nexus 6 owners lurking

I like the Nexus 5 a lot.
I never buy a phone based on battery life or camera quality.
I'm more interested in performance, and if that means limiting some screen time, that's fine. I'm not a power user, and they're only snapshots. Posted via the Android Central App

Got my Nexus 5 in Nov 2013, and it's still the best phone I've ever had. I'm on wi-fi most of the day so the battery life hasn't usually been an issue. I wish that it had a removable battery like my old Galaxy Nexus, that would solve any battery problems. The camera has always worked great for me. I do use HDR+ mode and the results are really good. On a recent trip to Europe, I took over 2200 photos with my Nikon D600, but also took almost 200 with my N5 when I just wanted to relax and left the DSLR and backpack behind in the room. The photos from the N5 look great in the collection, even though they obviously have less resolution (8 Mp vs 24 Mp). Also, the video from the N5 has always been excellent, and I use video a lot. Bottom line: I love the size of the N5, and Lollipop makes it feel brand-new. Let's hope Alex is right, and Google still recognizes the need for a 5-to-5.5 inch format in a future Nexus.

My battery is great on wifi too. Don't have it at work. But, I do have a wireless charger, so I don't care lol. Posted from my Nexus 5 via Android Central App

Yeah I have a wireless charger at my desk at work.. Posted via Android Central App on The Nexus 5

Nexus 5 2015 would make 2015 a great year for smart phones. Posted via Android Central App

4 months along with My Sprint Nexus 5, very happy with the device as a whole. Battery life fluctuates , depending on my personal usage. No problem at all with camera, have made great Panorama, Photosphere, and Video for all my travel.
My only issue, which nobody ever speaks about is the speaker, it's really low for those times I don't want to use my headphones.
I have two other phones, one iPhone and a Windows Phone, my Nexus is my daily driver and the one I depend on for everything, and it never lets me down.
The final plus on this device comes from the fact of being a Sprint customer. When I finish my contract or buy another phone, unlike my old Sprint phones, I can walk away with this phone and use it on another carrier either here or in Mexico where I live part of the year.

I sold my Nexus 5 in July to try the OnePlus One. Wasn't satisfied with that, so I traded it for a brand new One M8. The One M8 was mostly great, but the camera seemed like a step down from the Nexus and OnePlus, and one side of my pictures was always especially soft. Even the replacement One M8 I got after breaking the screen had the issue of photos being abnormally soft on one side. As the camera quality of the One M8 was irritating me, Lollipop was released for the Nexus 5. Bought a new Nexus 5, sold the One M8, and couldn't be happier! Love it! Okay, I could be happier... I wish the Nexus 5 had better battery life and the camera and screen quality of the Note 4, but seeing as I absolutely can't stand TouchWiz and the Note 4 costs a ridiculous $850 unlocked off contract, I currently don't see a better option for myself than the Nexus 5. If Google were to release an updated Nexus 5, I would be all over it. The Nexus 6 is a great phone, just too big and underwhelming for my tastes.

I absolutely LOVE my Nexus 5. No, the battery isn't fantastic. It's OK. No, the camera isn't the best at capturing fast motion. But hdr gets some great shots and it's very rare that I bemoan the camera. The phone flies and only a misbehaving app trips it up, which is the case with any phone. It's without a doubt the best $400 I've spent on tech. I've no urge to get anything else; I bought the phone in February. Posted from my Nexus 5 via Android Central App

always liked the physical design. Sure its plain but its perfect for its price range. I don't see what so great about premium aluminum phones anyway, cold and slippery. Would always have a case on anyway.

I completely agree. I always liked the design and look of the Nexus 5 and I also always have a case on my phones.

I love the design as well. I think it looks better than most phones. The only thing I hate is the low sound quality when playing music. Even thru aux it's too low, even lower than cheaper phones. Posted via Android Central App on The Nexus 5

My N5 battery life was always fine for me and is now still fine on Android 5. My phone is quick and snappy on Android 5 and as the article mentioned the new animations don't slow it down at all. Overall I am perfectly fine with my N5 hardware on Android 5. I do have a WIFI problem and think it is software related rather than hardware. Specifically system software because I have booted the phone in safe mode(No other apps running) and the WIFI problem is there on the lock screen at startup. This is a problem that fixes itself for several hours and then returns to it broken state while I have the phone sitting idle on a table. I also note that there is no Android 5.0.1 that has been released for the Nexus 5 yet so perhaps Google is working to fix this problem. Overall very happy with the performance of the N5 on Android 5..no lag...no stutter...no issues...it runs as smooth as on Android 4...just with the benefit of an upgraded interface and features. Camera is a non issue for me. I have taken over 1,356 pictures and am satisfied with them.

Sold mine on EBay for $338. Was a great phone. Posted via the ACA on NEXUS 6

Nexus devices have always been pretty crappy, OEM's like Motorola, Sony, and HTC have always made better flagships. And still do even if you include the N6. The only ones who insist Nexus phones are better are here, on smartphone sites. In the real world, that's simply not the case. Google should take the advice that several OEM's gave to Microsoft when they started getting into the hardware game: Stick to what you're good at - software - and leave the hardware to the ones who know what they're doing.
Nexus is a bit different than that because the OEM's are still manufacturing them, but it's according to Google's specs, which aren't very good. If you need anymore evidence of that all one needs to do is compare the hardware quality of the OEM's own flagships compared to the same Nexus device they made

That is because nexus has always been about showcasing what android can do, and not necessarily bleeding edge when it comes to specs.

Don't forget it costed half as much as the other flagships. It is a great phone for the price, and it set a model for lower priced phones like the Moto G. It had a processor, 4G, ram, and memory of a flagship phone for a low-end cost off contract that worked with almost any carrier. All for $350 or less. Posted via Android Central App

It was solid for awhile, then it really sucked, then it got back to ok. It doesn't have a bright future but then again most phones don't. It was decidedly average which is a great compliment for a nexus Posted by my soon to be retired Note 3

AC trolled you, and you bit.

Heres to hoping for a smaller nexus that works on all carriers like the nexus 6. And no the moto x is not the smaller nexus. I am talking a phone with a top notch camera and a much larger battery.

Amen. Posted via Android Central App on The Nexus 5

Google should branch off the nexus into different oem's with different hardware to accommodate different users, in the future. More than one nexus phone launch at a time is okay with me. #choice-As for now I dub the moto X 2 the nexus most nexus fans wanted. It would have been nice if Google launched the moto s along with the moto X nexus 6 and nexus 5X or nexus X #choice. Posted via some candy

Hopefully the next Nexus phone is closer to 5". After having the Galaxy Nexus, Nexus 4 and Nexus 5 I'm going to skip the Nexus 6 because of its size.

Agree.
4.7" to 5" is the sweet spot.
Apple's research has proven that with their iPhone 6; selling 4.5 to 1 versus the 22% who prefer a 5.5" iPhone 6+ phablet. Actual sales statistics sampling millions are definitive proof. Any oem who ignores this consumer preference with their 2015 flagship will depress demand.

I love my Nexus 5. Battery isn't an issue for my usual use - I have a charger stand on my desk at work so most days it's charged and ready to go at all times. Even over the weekend I rarely end the day with less than 40%. So - the major complaint is a non issue to me. Wireless charging is a huge plus, which has kept me from looking at most of the competition over the last year. If there was a Nexus 5 (2015) I would be VERY interested...otherwise I think for once I'll be holding on to a phone until it dies...

I've just ordered a nexus 5, an upgrade from my nexus 4 that has served me well. Really disappointed with google not refreshing the 5, but I'm not willing to switch away from a pure google experience. The nexus 6 is just too big and expensive for me to warrant buying off contract. Posted via Android Central App (Nexus 7)

Absolutely love my N5. Perfect phone? No, but this thing has withstood the test of time and is still as zippy or zippier than most flagships today that I've used given a distinct lack of bloatware - that's all without even considering the price tag. Battery life has never been an issue for me (maybe since I don't do any social media?) and I've made the camera work well enough. Lollipop has breathed now life into the device, and I honestly expect to keep using this phone for at least another year.

We need another 5 inch Nexus! Posted via Android Central App

I love my N5! I recently replaced my cracked screen to upgrade but can't let it go. Great screen res and size. I think I'll hold off and hope for a 2015 N5 it there is any. Its a tough sell for a phone that was $325 from T-Mobile after discounts. Posted via Android Central App

It'd be fun if Sony did a Nexus phone. I have this strange feeling they'd be able do something really nice. Sony Xperia Z2
Nvidia Shield

As long as it's not 6 inches but it will probably be 6.5 knowing Google. Posted via Android Central App on The Nexus 5

I should have bought a Nexus 5 when it first came out, and sold my Nexus 4. I waited however figuring I'd use the Nexus 4 for two years, and pick up the next Nexus. When I saw how big the Nexus 6 was, and the price I quickly changed my mind. Of course the Nexus 5 is still the same price it was a year ago, and my Nexus 4's resale value has plummeted. So now I'm hoping Google makes a Nexus 5 size device next year while I patiently wait. I guess the Nexus 5 is that one great phone I will miss out on. Posted via Android Central App

Buy a used one on Swappa or something.. Posted via Android Central App on The Nexus 5

Love the Nexus 5. The only real issues I have with it is that the battery should have been larger (It is "OK" but doesn't have much depth) and there should have been a 64GB version offered (with the 16 dropped). Being nit-picky, I don't like the power button placement and the speaker is a bit weak (and mono). Otherwise I love the design, screen, camera, speed, features, compatibility, and price....and of course stock Android.... it was a combination nobody could touch. I have no interest in upgrading my year-old N5. But I *WOULD* like to see a next N5 come out! And maybe later next year I might upgrade. The N6 is way too big- both in size and price.

Right on, brother Tux. There's nothing out there right now that would make me get rid of my Nexus 5. Has been a great phone. But if they come out with a 2015 version, I'll probably be all over it.

My N5 battery lasts from the time I wake until the time I go to bed.. Not sure how much more it needs to last.

There wont be any 5" Nexus in 2015. Google have Nexus-deal with Motorola now. They are not so stupid that they will hurt moto x sale. Posted via the Android Central App

Love my Nexus 5, and also hoping to see a new one soon. Posted via Android Central App

This is off-topic, but I'm curious to see how they handle naming Nexus devices in the future. The numbers go by screen size but also increment with new models. So the next Nexus phone would logically be the Nexus 7, but that's already a tablet. The newer model large tablet regressed from 10 to 9. And after years of having a new name for each device, sticking with the Nexus 5/Nexus 6 name and attaching a model year would probably confuse the average consumer (who, being fair, isn't the target buyer for these devices). They have a pretty interesting branding issue on their hands.

maybe new nexus 4 2015 could accompany nexus 6...and everybody is happy Posted via Android Central App

The battery is still a huge deal breaker, and I used it as my daily driver for 5-6 months. The standby time is horrific.

Had the N5 since fall 2013. Still one of my favorites. Also currently use iphone6 and sony ultraz. Wish the N5 could get a replacement battery with significant more juice, it would be back to being my daily driver. Loved my galaxy nexus, for the time probably my favorite phone. I think android will move back to offering a smaller 4-5" phone in their line up next year. A small handy phone that fits nicely in a shirt pocket still has some practical advantages in real life.

Google only provides the black nexus 5 now

Decided to switch from blackberry this fall and after looking around the N5 turned out to be my phone. Would likely have gone with a moto x if it had wireless charging, which is now a deal breaker for me. Considering it's a year old now, I'm super impressed and 5.0 has been running great for me. I just ordered another for my wife for Xmas. We have spotty 4G where we live so turned it off, maybe that's why I don't have complaints about battery life. Posted via the Android Central App

I'd like to see a GPe of an lg G3. The only thing I like more about the nexus line is stock android.

I'd kill for a new, AMOLED N5 with a big battery. Posted via the Android Central App

Very disappointed that the Moto Maxx/Turbo wasn't the Nexus... it would have been the king of the cell phones and sent all the isheep home... now if there is a GPE version I will be the first in line to buy it and sell my N5.

Still rocking with my Nexus 5. Despite having T-Mobile JUMP, I've stuck with it since I first got it in January. Lollipop breathed life into this thing. Feels like a brand new phone honestly. I don't even want to go to another phone if it doesn't have Lollipop guess I can wait a couple more months. Battery life is still the only downside of this phone. Posted via the Android Central App

I loved my nexus, it was a great improvement over the nexus 4. There was nothing it couldn't handle, but it's battery life was so poor that after a year I had to charge it at least twice a day and constantly walk around with an extra battery pack to make sure I'm not left without juice when I needed it. It failed me a lot when because of its poor battery life. I couldn't stand waiting any longer to replace it. Everything else was great about it. It's really the reason why I upgraded to the nexus 6, after getting used to the size it's hard to go back to a phone that just can't keep up with the amount of time I need my phone off the charger everyday. Also quick charge is really awesome. The nexus 5 had a great year, I just hope Google's next small phone isn't going to have the same issues with battery life.

So here's hoping 2013 Nexus 5 isn't the last Nexus 5. This. Posted via Android Central App on a N5

Didn't Google just kill the Nexus 5? I thought I saw a headline about it somewhere.. Posted via Android Central App on The Nexus 5

Yep. Google announced they are stopping production of the 5. After all the stock is gone, the model will be gone. Posted via Android Central App

http://www.androidauthority.com/nexus-5-production-stopped-573907/ Posted via Android Central App

That sucks. They need a 5 incher. Just having one size doesn't cut it anymore. GPE phones don't count. Posted via Android Central App on The Nexus 5

Nexus 5 was my first Android phone, had it for close to a year now. Think I'll keep using it for possibly another year. I really do like this phone. Posted via the Android Central App

I wouldn't be surprised if we didn't see a 5" Nexus 5 replacement this year, maybe around IO. While the Nexus 6 is great (or so it seems since I've still waiting for mine to ship) it's just not for everyone. So if we don't see a refresh this year I'd bet they have 2 sizes next year.

I find it funny people will say I have to pass because the opo is better. I've owned all nexus devices including the g1 and the opo and if u think that the 6 and the opo are on the same playing field keep telling yourself that if it makes you feel better. The 6 has a better outtershell and is top of line only to be comparable to the note 4 but touchwiz is horrible. Don't hate on a phone cause they up the price and you can't have the best flagship for 299$ anymore. I sold my opo and I've been with Steve kondik (cyanogenmod) and Jesus freak since day one. Keep telling yourselves what you want but deep down the 6 is pound for pound spec for spec the best on the market.

Had my nexus 5 for about 6 months now and still enjoy using it. Great size and comfortable in the hand. Fits in the pocket nicely too. Keep looking at other phones but can't really see any good reason to change. Yeah, it's not perfect but which phone is? The best thing about the nexus 5 is that it's smooth and generally lag free and works a treat with chromecast. Love the Qi charging too..

Production of the 5 is stopped. http://www.androidauthority.com/nexus-5-production-stopped-573907/ Posted via Android Central App

Loving my nexus 5 on lollipop. I never regret getting it. Superb performance at a killer price. Battery life is fine for me since I'm carrying a power bank. (Well I'm not sure if it is still a killer price in 2014, Google should have decreased it after a year of launch) Posted via the Android Central App

Uhmm hey. I just want to say that I got 5 hours of screen on time like 2 days ago on my stock nexus 5 running lollipop. Great. Battery.
While i guess some people just use their phone in different ways, I don't see how people are getting such bad battery life. If you play a game for 5 hours non-stop then it's gonna suck battery but other than that...

I'll be keeping my N5 32gb another year. Battery life is bad once you do some Web browsing and gaming, but I invested in mugen battery case to use when at home anyway. Looking forward to upgrading, but happy to wait. Posted via the Android Central App

Is Samsung fixing the battery issue? The only way I can get a charge is on my wireless pad. I think it is a problem with their connection port. Posted via Android Central App

With Sony's Z3 Compact availability in the US most other "right" sized phones became obsolete. I found the Nexus 5 a tad too large so went with OG Moto X. Great phone, but it's hardware is starting to show it's age. Tried the new Moto X; while faster than the OG it was just too big for my liking.
Right now I switch back and forth between the Xperia Z3C/OG Moto X. My Moto has those great software features plus still runs well. Sony's hardware is top notch. Camera, build quality, SD support to 128G
it's just superior all over the spec sheet. Camera is the most compelling upgrade IMO. Keeps drawing me back. While software "bloat" is there most Sony touches are very light and helpful. Like a "close all" selection on recent app panel.
Anyway, my point: Like others, this size explosion forced me into a Sony Z3C, which is not a bad place to be.

I found that the snapdragon batteryguru app really helps my nexus 5 get through the entire day now... certainly worth a look if you haven't tried it yet. Snapdragon BatteryGuru is a battery life saver app that extends battery and since it's from the cpu manufacturer they really did it right! I love my nexus 5 and after seeing what people are saying about the nexus 6 and it's size this may be the first nexus device I don't buy. Still haven't decided on nexus 9 either yet... still have my nexus 10 and both it and the nexus 5 will be lollipop soon I've just been hesitant to flash right away but it sounds stable now with 5.01. I'm thinking about waiting for the 810 snapdragon devices!!!

The size is the only thing that's keeping me from even thinking of upgrading to Nexus 6. I'm using N4 now, I think maybe I will buy new phone for my gf (whatever that she may want) and then I'll use her N5 as my next phone.. Posted via Android Central App on Nexus 4

I am really disappointed to read this article. The Nexus 5 with Android 5 is almost unusable. It is a disaster. I have had a Nexus 5 for almost exactly one year and I loved it until a few weeks ago when Android 5 came. I hear these Android Central guys say that bugs can be expected and they refer to Nexus S updates for what to expect. Google sold millions of Nexus 5, the comparison to Nexus S is wrong. All I can say is that it is a disaster and that Android Central does not recognize that a flagship phone is unusable puts into question the touch they have with reality. So unacceptable.

Whilst all this N5 love is going on I would actually point out that Lollipop works just as great (maybe better IMO) on the Nexus 4. (Oh my god see that, this guy is using a phone from 2012...poor guy...must live in the third world) Yes...amazing to some but two year old hardware still works fine also. I bet it will still be working fine this time next year. Just a shame we didn't get the new camera API, that was the one thing I was looking forward to.

This is my favorite device still. When using it amongst the others in the office here including (S4 GE, S5, HTC One M7 X, and Moto X to name a few, it's amazing. It's clean, smooth and free of bloat. My kind of phone and preferred still over all the others. Hard to explain why its all around better for me, but everything has performed beyond par to the others; pretty much everything.

I too am hoping for a next-gen Nexus 5 in 2015. I personally cannot handle (pun intended) those larger phones. One-handed operation is too good a thing to give up, practically speaking in my day-to-day life. The perfect form factor IMO was the iPhone 4. Easy to operate with one hand, fits in a lot of places, and just large enough for apps. That's a winning form factor and if it becomes extinct that will be quite a mistake from the manufacturers.

I'm in love with nexus 5. If they make a new nexus 5 in 2015 with the same screen size and not bigger than 5 inches, i'll definitely buy one.

Funny I was just reading an article by Androidguys on how much love they still have for the N5, What's most amusing to me is I literally took to twitter the day if the Galaxy S6/HTC one M9 announcements to declare my pure joy and love of my N5, and not even those two new phones or the 6th gen iPhones could sway me away. Having gone from a Nexus 4 (wouldn't have switched had it not been destroyed in a fall on a sharp rock, screen first) to a Galaxy S4 then to the HTC One M7, then the 5S which having gone through 3 defective models put me on the Nexus 5. That should have been a step back, though I have yet to really look back. What's even more impressive, my best friend who is a die hard Apple fanatic, is constantly impressed with my Nexus and he's currently rocking the iPhone 6+ If that doesn't speak volumes, not sure what does. I just hope the next Nexus 5 improves on battery, of course the norm, needed hardware upgrades (don't necessarily need the 2k screen) along with the aluminum frame of the N6 and there's no way I could resist. Fingers crossed.

Hey, Alex Dobie. Kudos for your closing argument for a "new Nexus 5" in 2015. That's what we got, and from LG no less.
Android Central Newsletter
Get the best of Android Central in in your inbox, every day!
Thank you for signing up to Android Central. You will receive a verification email shortly.
There was a problem. Please refresh the page and try again.